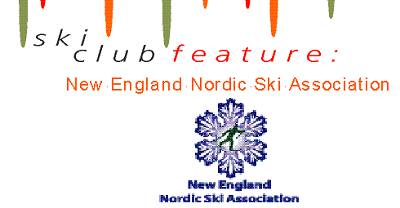 By Lou Dzierzak
"We were looking for a responsive organization not so much to govern but to facilitate growing the sport," said Fred Griffin. In 1996, Griffin along with John and Zach Caldwell and a few other passionate Nordic enthusiasts recognized a need for a regional organization to develop cross country skiing in New England. Today, New England Nordic Ski Association (NENSA) is a loose knit collection of 41 clubs, 12 districts and more than 1,500 members.
"Our philosophy stated we would treat the sport as if we were a new nation that had just come into being and NENSA had been given the mandate to bring skiers to the Olympics in 15 years," said Griffin, who served as NENSA's first executive director. Without relying on USSA for support, NENSA designed everything from scratch. Within two years, they had a coach's manual followed the next year by the Bill Koch manual. Shortly, a coach's certification program developed. For members, the New England Nordic News, published six times per year, covers race news, club information, previews, follow-ups, Bill Koch Festival updates and articles about ski equipment and sports medicine.
In Griffin's first two months on the job, he made cold calls to spread the word about the organization. "I happened to reach the Volvo marketing director the second day on her job. Since Volvo was introducing a new model, the Cross Country, it was a great fit," he said. With Volvo's help, NENSA funded an executive director and a program director. Membership benefits followed, along with visibility for the organization. "We needed a critical mass of dollars that would have never happened without Volvo," explained Griffin. With funding in place, the founders created a three-year strategic plan to achieve their objectives. Taking shape over the last 18 months of board retreats and member surveys, a new five-year plan will lead NENSA into the future.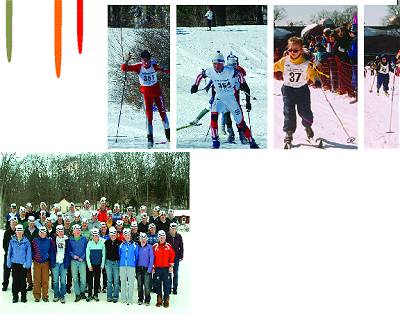 NENSA's employees are scattered across the Northeast. Communicating via email and telephone, NENSA organized more than 45 competitive events and 20 teaching clinics in 2004. "We're the glue that holds everybody together. We will start a program like the New England Women's Ski Day, then be there to support, inform and guide members to put on the events in the future. We're here to facilitate communication and education," reported Dorcas Wonsavage, NENSA's Information Services Manager. Clubs affiliated with NENSA receive insurance coverage for their events, administrative support, training advice and publicity. Most importantly, NENSA operates as the parent organization of the New England Bill Koch League. The mission of the Bill Koch League (BKL) is to "introduce young people to the lifelong sport of cross country skiing with all of its recreational, social, fitness and competitive opportunities." With emphasis on children, the BKL builds future skiers. "It's all about the kids," said Wonsavage. "The community changes as the kids come in and out. That's the commonality that holds it all together."
Operating the Koch League supports NENSA's original vision to develop Olympic caliber athletes. Progressing through the NENSA system, several skiers have become United States Ski Team members. "We've had incredible success with our skiers," Griffin reported. "Kris Freeman and Andrew Johnson came up through the Bill Koch Ski League." This winter, NENSA's interest in promoting Nordic skiing extends far from New England. In a bi-annual exchange, a group of junior skiers will travel to St. Petersburg to ski with the Russian Nordic ski club. "This is the fourth year of this exchange," Wonsavage explained. "We've hosted Russian junior skiers in 2002 and 2004, and our juniors had a wonderful trip to St. Petersburg in 2003."
NENSA's success in operating races, creating training manuals and running clinics all depends on help from Mother Nature. "No one has as many ski centers as we do in New England. Nobody is more than 20 minutes from skiing," said Griffin. Located in the Appalachian Mountains, early and late snows contribute to long ski seasons. "Craftsbury, Bretton Woods, Waterville, Sugarloaf--we're well set with the sites we've have developed and grown," continued Griffin. "We've never cancelled a race, and that's huge for sponsors."
In addition to its already packed calendar of events, NENSA adds a new marathon ski event this winter. With the support of NENSA's title sponsor Banknorth, Maine's Carrabassett Valley will host the Banknorth Sugarloaf Ski Marathon on February 12, 2005. A freestyle marathon, the race offers both 25 and 50 km distances.
In March 2004, USSA honored NENSA when Nordic Director Luke Bodensteiner named NENSA official Jeff Hixon an Ambassador of Excellence. Clearly, the New England Nordic Ski Association has become a model for clubs across the country.
Contact:
New England Nordic Ski Association
P.O. Box 99
Westford, VT 05494
802/654-7498

info@nensa.net
www.nensa.net