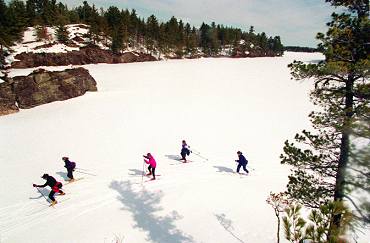 SKATING THE BOUNDARY WATERS
by Steve Piragis
Up north along the border between Minnesota and Ontario, spring comes later than you may think. If you don't live here, by our spring you've had your skis stored away in the garage rafters for a couple weeks; you may have the bike or canoe out by the time the best skiing season dawns up north. By the spring equinox, the skate skiing on Boundary Waters lakes is at its absolute best. It's the magic season.
Skate skiers in Ely, Minnesota, wait all winter like spring peepers for the long days of March and April. When the deep snows of winter settle, a granular crust stretches all the way to Quetico Park in Canada. After an early start, we head for landings at lakes known best to paddlers: Snowbank, Moose, Lake One and Burntside. With a light pack, sunglasses and sun screen, we carefully walk down icy paths to the lake while robins sing in the jack pines above. We test the snow, strap on the skis and give a push with the poles; we're off and flying.
The Boundary Waters Canoe Area Wilderness attracts over 100,000 visitors each year. Almost all come in summer to paddle and camp in the one-million-acre wilderness. In winter, the lakes freeze deep. Winter campers and dog sleds lay sparse tracks across this motor-free land. A few hardy souls ski and snowshoe up to the Canadian border to fish for lake trout, but for recreational skiers the season starts and ends under the Laurentian spring sun. In a good year, there can be six weeks of great lake skiing. In a late spring with a fast melt, the magic season may only last a few days.
Lake snow in spring can vary from bare ice to velvety thin powder. Ideally, it's just soft enough for a good bite and hard enough for fast gliding. South facing shore lines soften early in the morning. The snows there are thin and fast, but soon turn too mushy on warm days. Protected from the ravages of spring sun, north facing bays can be smooth even until noon on a warm day. There's not enough Os in smooth to describe the feeling. Your skis carve elegant diagonals, leaving ephemeral evidence of your passing. To discover such a bay with pure virgin snow is the best reward of all.
Out on the lake's wind blown middle, early morning can be dicey at best. There, icy patches offer risk and reward. With a light breeze at your back, you can double pole at outrageous speed. With a fall out there, you'd be better off wearing motorcycle leathers than spandex tights. The sun-eaten surface resembles a billion knife blades all aimed at the first elbow or hip to touch down.
By late morning on a warm spring day, the deeper snow near shore will bog you down to a labored crawl while the bare off shore granular ice skis fast, like ball bearings. By late afternoon, the ice covers with pools of water, but it's remarkably fun skate skiing. Although your boots will be soaked and a fall will turn you into a human sponge, you'll never travel faster self-propelled on water.
The streams of the Boundary Waters can be even more glorious than the lakes on the right days. Sinuous rivers like the Little Indian Sioux and Stewart meander for miles through open sedge meadow and bogs on their way to Hudson Bay. When the river ice is still white and the snow pack compressed, the river skis like a race course. Going out of bounds means flying over deep crusted snow on the bog mat. Dwarf pine, spruce and tamarack set the slalom course to the next bend of the river. If you choose a river course, arrive early in the morning, for bog crust breaks down early. As the sun decays the surface, you'll find yourself breaking through into two-foot deep powder. On the river ice, the snow is thinner, but the route longer.
Dangerous, you say? Well, not with a little common sense and a healthy cautious attitude. Black ice everywhere is dangerous. In mid-stream as spring progresses, the ice will slowly decay and turn black well before lake ice. Avoid beaver dams in spring and beaver food caches where branches protrude from the ice near a lodge. Know where streams enter a lake and exit; skate wide around those areas. Shallow lake areas open up first in spring: look for obvious rock protrusions or black ice. Ski only on white ice over deep water. Stay safe by testing the ice; pound your poles especially on rivers and do it frequently. Near shore when water levels go down over winter, ice on rivers can be suspended. Bring a throw rope and safety ice picks just in case. Above all, always ski with a partner.
For the best chances for great conditions, come north between mid-March and mid-April. Since conditions change daily, you may want to call ahead. Early in spring, the rivers may be the best skiing, but be very cautious or hire a guide. Lake chains—like the Lake One, Two, Three chain—with current between lakes are similar to rivers. Big lakes like Snowbank and Burntside keep their ice longest into spring. Stay near shore if you don't know the lake well. The Moose Lake chain to Prairie Portage and the Canadian border is a favorite spring route, and Basswood Lake offers miles of track beyond Prairie Portage.
No matter where you ski, nature is always a part of the experience. When spring skiing in the Quetico-Superior country, you may never notice the time. Your mind is occupied by what you are seeing, discovering a new world around each point and in each hidden bay. Follow the tracks of wolves made late yesterday in soft snow to a beaver lodge where they sniffed around, gave up the scent of prey and moved on. Bald eagles start home repair work early and may even lay eggs before spring skiing ends. Otters sit on the ice edge where the current keeps water open. Common mergansers and goldeneye flaunt their mating displays with pomp and passion undeterred by a strange mammal on skinny boards. Ski carefully close to the mouth of a shallow stream and your reward may be a mating swarm of long toothy northern pike. Munch your lunch on a bare sunny shore with the ever present gray jays stealing a piece of your sandwich right out of your hand.
Although several restaurants remain open year round in Ely—the nearest town—it is not busy in early spring. After a long day of skating the lake's crust, try the Ely Steam Bath just south of the main street on First Avenue for real immersion in local color.
Few people ever experience the Boundary Waters on the cusp of spring the way skate skiers do. Don't put the skis away so quickly this year, and you may have the best ski of your life way up north in the Boundary Waters Wilderness.
Contacts:
Piragis Northwoods Company (for ski conditions and guides)
www.piragis.com
218/365-6745


Ely Chamber of Commerce
www.ely.org
218/365-6123

Day touring permits: available at self-help kiosks at most BWCAW entry points.
Group size limit: 9 people.