NEW EQUIPMENT FOR 2004/2005
In an age when we've seen numerous ski product lines phased out and manufacturers drop by the wayside, it's encouraging to see bold actions on the part of one industry veteran and another relative "newbie." The debut of Salomon's new line of touring cross country skis and Whitewoods entry into the XC boot market are refreshing steps in an industry that has become a virtual oligarchy where only a few surviving players have been calling the shots for over a decade. This is not to say the rest of the mainstay manufacturers do not have a few things to crow about. Alpina continues to court the women's market with several female specific boot offerings. Karhu is now distributing Exel poles, with the C1 Raptor World Cup as its flagship pole. Fischer is excited about the high-performance Centrix race boot, citing it as a significant addition to their product line. Atomic brings in a new fitness line with the FX series, while Rossignol beefs up its backcountry line-up. Toko, once known primarily for its waxes, has assumed the Yoko product lines under its own banner and has aggressively pursued the pole market with a small, but high quality range of poles.
It is our philosophy that a seasonal new equipment feature is not the place for endless columns of eye-glazing technical specifications, presenting little more than a rehash of manufacturers' catalogs. With the advent of the Internet, this information is readily available at each company's website, with more detail and photos than we have space to include. We do, however, feel it is important to keep our readers abreast of the latest equipment developments. The best way to accomplish that is by presenting the highlights with enough information to pique your curiosity and direct you to an appropriate web site for more details.
So here we go…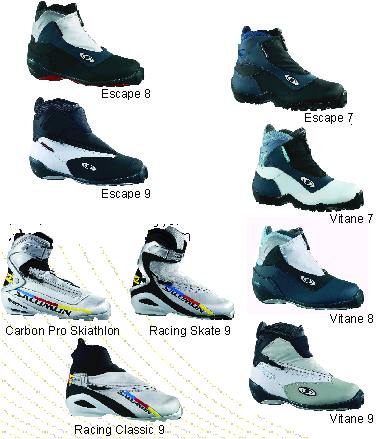 SALOMON
Starting with the biggest news first, Salomon's entry into the cross country ski market, rumored for a couple of years, is the first phase of a three-year plan to step up its presence in this end of the market. Long the dominant boot and binding manufacturer in this country, Salomon begins its entrée to the Nordic ski market with three models in its new Snowscape line including women's specific models (Vitane). These waxless tourers are shorter, sized from 163cm to 193cm. In addition, there's also the mid-length Escape 5 Contragrip plus the Equipe Junior Combi, a mid-length waxable, combi junior racing ski. Obviously targeted to attract new skiers into the sport, the Snowscape/Escape lines feature a wide platform for stability, short length for maneuverability and light carving sidecut with the narrowest point toward the rear of the foot for greater control during the glide phase. Experienced skiers will find them heavier, softer and perhaps less agile if they are already comfortable on higher performance skis, but for its designated target, the new Salomon Nordic boards are right on.
In concert with the new line of skis, look for Salomon's new Escape boots in three models plus corresponding Vitane models with women's specific last and a fleece lining.
The Carbon Pro Skiathlon boot could be described as a high-end combi boot. Designed for the relatively new rolling pursuit style of competition where a skier must transition from classic to skate, this boot has been well received by racers and in many cases has become a boot of choice due to its versatility.
Salomon's second tier Racing Skate 9 and Racing Classic 9 take on a similar cosmetic look as the Carbon Pro and also adopt the SNS Pilot Equipe and Profil Equipe binding technology, as do the third tier, Active Pilot and Vitane Pilot. What's next for Salomon? In each of the succeeding two seasons Salomon will phase in a new level of its cross country ski lines, with performance skis slated to hit the market in 2005/06 and racing skis the following year.
www.SalomonNordic.com
ATOMIC
Look for a new line and several AT/Tele skis from Atomic plus a number of new features in its 2004/05 products, including: Skating Learning Sidecut – a new skating sidecut that makes it easier for new skiers to learn how to skate; Atomic Power Grip (APG) – a new waxless base with triangular gliding surfaces between the cutting edges; and Start Tape – a grip tape from Start wax that is easy to use and provides grip over a wide range of temperatures. All Atomic skis will also come with Race Ready Tuning. The skis have been waxed, brushed, polished six times and given a universal base structure for all types of snow and weather conditions.
Designed for those interested in winter wellness, better health and an outdoor workout, Atomic introduces the FitnessCross Series in 2004/05. These reasonably priced short touring and skating skis are built with Atomic's Beta construction and a high Densolite core to provide stability and fast glide for in-track skiing. They employ an easy turning sidecut and Atomic's new double-cut APG waxless pattern for improved grip and glide. FitnessCross skate and classic versions models for 2004/05 include FX10 APG, FX:10 Skate, FX:9 APG and FX:8 APG.

Atomic also rolls out a new Mountain Cross ski—the MX:9 utilizing Beta construction for both on and off-piste use. It has a wide tip for easy turn initiation and ample float. The MX:9 uses lighter weight materials to help preserve the skier's energy on the uphill portion of the alpine touring experience. The MX:9 is available in lengths of 150, 160, 170 or 180 cm and has a sidecut of 102/70/94. The MX:9 weigh in at 2,670 grams for the pair.
Atomic has learned a great deal from its research about how men and women apply pressure when turning a ski. Men and women of similar weight apply fairly equal pressure at the initiation and apex of a freeheel turn. It is at the end of a turn, however, when exiting the apex that women apply less pressure than men. The data shows that a telemark ski designed for women should have similar tip and mid flex to men's skis, but the tail section should be close to 8% softer in flex. These features have been incorporated into the new Femme Fatale, an all mountain women's specific tele ski with equal on or off piste application. Though primarily designed for telemark, it is expected to perform equally well as an AT ski. The Femme Fatale is expected to be in stores by the end of January. The Beta construction, Densolite core Femme Fatale sports a side cut of 106/72/98 and weigh 2,895 grams per pair, in lengths of 150,160,170 and 180.
www.atomicski.com
www.atomicsnow.com
WHITEWOODS
Whitewoods, distributed by Erik Sports in Matawah, NJ, jumps "feet first" into the boot business by offering two categories of NNN touring boots, each with several levels; three NNN backcountry boots, plus a three-model line of 75 mm boots. Decidedly more conservative in their approach to colors and graphics, Whitewoods boots are handsome and conceived with comfort and affordability in mind.

In addition, Whitewoods will introduce three levels of waxless skis: Tracker – wood core with air channels, cap construction and 52mm parallel sidecut; Explorer – 68-60-65 sidecut in shorter lengths; and Whitetail – similar in construction, but longer plus a 7/8 metal edge. Whitewoods Coyote series is designed for the youth market.
Whitewoods has been named an official supplier of the Snowsports Industry Association's national promotion Winter Feels Good.
www.eriksports.com.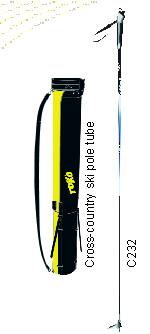 TOKO
Toko' C232, a 100% carbon fiber pole with sublimated graphics, has been designated the official pole of Team Rossignol and the Subaru Factory Team. The new A161 is a 70% carbon fiber pole that comes with a cork grip and removable strap and a racing powder basket. The A141 is a 50% carbon fiber pole that comes with a cork grip and adjustable strap and a racing powder basket. The T81 pole is 30% carbon fiber, has a dual density grip, and a loop strap with neoprene backing for more cushion and width for support. The T81 comes with a racing powder basket. The A161, A141 and T81 come with a racing powder basket that is very light and stiff, but offers a greater surface area to prevent the pole from punching through soft snow. All Toko poles except the P232 will have sublimated graphics.
Highlights of some of the other new products for 2004/05 from Toko include:
Carbon Grip White, a new grip wax appropriate for snow temperatures between 9 and 19 F and particularly recommended for cold artificial snow.
Champion WS glove with a new soft-shell material known as Windstopper Taifun with a Clarino palm and a Velcro wrist closure. It is black and smoke in color and also available in women's specific models and 232 integrated models.
Cross country ski pole tube—an adjustable length tube that can accommodate up to five pairs of poles. It comes with a carrying strap and additional top pocket for replacement parts.
www.TokoUS.com


ALPINA
Women's boots and skis continue to be a high priority for Alpina with four new models. The new CSL women's racing boot sports the familiar racing red with accents of black. The skating boot features an ergonomically designed, hinged cuff and power strap and an entirely new waterproof lacing cover. It utilizes the NNN Racing sole with a mid-sole offering a balanced flex pattern intended for women's size to weight ratios. The Alpina Sports Performance line continues to evolve with the introduction of the S35, S25 and S15. The S35 with a medium flex mid-sole NNN Racing sole, polyurethane heel counter and hinged cuff leans toward skating. The S25 is lower cut for classic, but could still be used for skating. The S15 is lower cut with a softer mid-sole and flex for classic.

Alpina's popular women's BC 1550L, built on the NNN BC sole has seen some minor changes. The collar now features a water resistant material improving comfort and creating a better snow cuff. Alpina utilizes a new "autofit" padding that molds to the ankle and helps secure the heel and the D-rings have been replaced by nylon speed lacing hardware. For warmth the boot features Thinsulate in the forefoot and a comfortable synthetic lining. The BC600L, built on the NNN BC sole, utilizes many of the same comfort features, but is intended for in or out of track use.

In touring, Alpina continues the "Frame Concept" which features ecto-skeletal polyurethane components that enhance performance, while reducing the overall weight of the boot. The entire TR series is built on the NNN Touring sole and incorporates Alpina's medium flex mid-sole. The top end TR40L features a removable polyurethane hinged cuff and power strap for added stability. Complementing these features are a polyurethane heel counter and wrap-around instep. The TR30L drops the removable cuff and power strap, while the TR20L does not have the speed lacing zippered cover, requiring a slight change to the cuff and lining materials. Finally, the TR10L entry-level boot incorporates the instep, wrap-around component of the Frame Concept, with a reinforced internal heel counter, speed lacing and a warm synthetic lining.
In Alpina's women's specific skis the non-wax base position has been moved forward to take advantage of a woman's different center of gravity for improved grip. In addition, the flex of the skis has been changed to compensate for the lighter weight and weight distribution of a female skier. The two Alpina women specific skis, Pursuit and Vantage, will have a revamped lower profile tip, but continue with the same overall functional characteristics. The Pursuit, for touring, has a longer kick zone and flex pattern, while the Vantage has a special backcountry sidecut and 3/4 length offset steel edge.
www.alpinasports.com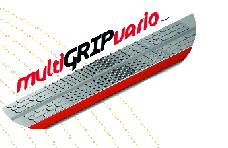 MADSHUS
Madshus has improved the flex and kick zones of its Hypersonic Classic Cold and Wet and made some subtle tweaks to the Hypersonic Vario 3Z introduced last year. The graduated kick area has shallow, elongated scales toward the transition zones and the scales become shorter and deeper where there is more intense contact. The grip is enhanced and drag is minimized because of the elongated patterns, also reducing the tendency to ice up. The glide areas utilize a split base with P-Tex 4000, the same as the Hypersonic Cold and Wet waxable skis.
www.madshus.com
www.alpinasports.com
ROSSIGNOL
Last year we saw the introduction of a series of condition-specific X-ium skate skis—F1, F2, and F3. This coming season look for three models of X-ium classic skis: C1 for powder conditions, C2 for packed conditions and C3 for glazed conditions. To insure a positive kick, Rossignol employs a shaped camber and softer flex for easier kick. Rossignol's X-ium boot line gets a cosmetic makeover for 2004/05 with silver, red and black now the dominant color scheme for this line of boots.

The silver color theme trickles into the Delta and Max lines as well. In its backcountry line-up the BC X7 and women's Saphir BC 7 offer a solid top end off-track backcountry boot, accompanied by the BC X3 and Saphir BC3. The latter are comparably designed, but offer a few less features. To round out the backcountry arena, Rossi re-tools its ski offerings also, with the BC65 AR, BC70 AR and BC90 AR and CL The model number corresponds to the width of the shovel. The 65 and 70 both have the Rossitop Cap, steel edges and a posi track base. The 90 also has ABS sidewalls and comes with a universal (CL) or posi track (AR) base. All three skis are wood core construction.
www.rossignol.com

FISCHER
The Fischer Centrix boot series is a radical departure in design. All three 9000 models, skate, pursuit and classic share the same components. The footbed is a multiple layer construction that, from top to bottom, consists of an integrated footbed system comprised of toe box and heel counter, a molded sole, a technique-specific midsole, an integrated power wedge and a technique-specific anatomically shaped sole. The rigidity of the material varies from skate to pursuit to classic. The biggest difference is that the skating and pursuit boots do not have a cuff, relying instead on the synergistic effect of frame sole construction, twin skin (inner boot) concept and the Centrix integrated footbed system to provide lightweight ankle support. Many of the Centrix line features trickle down into the next tier. The balance of the line includes: C 5000—a classic boot for advanced and intermediate skier; S 7000 Pilot—a race boot for high school, club and citizen racers with the addition of the molded Team Cuff; S 5000 Pilot—an entry level race boot; S 5000—same as the S 5000 Pilot but using the SNS Profile sole; and Combi 5000—for both classic and skating.

Women's specific products are all the rage this year with most manufacturers. Both boot and ski products receive attention. Fischer's women's line includes a collection of recreational boots with a specific female last, thinner insoles and additional padding.
Nordic Cruising continues to be a strong member of the Fischer family. The accommodating ski has held great appeal for those just getting acquainted with the sport and may not be that comfortable with the speed of truly skinny skis. Fischer's Nordic Cruising line gets a new member in 2004/05—the Challenger Skate for fitness enthusiasts and entry level skiers. New construction features include an updated sidecut on the Cruiser, a stiffer XL size in the Orbiter, Cruiser, Voyager and Jupiter; and a narrower shovel on the Voyager and Jupiter.
www.fischerskis.com