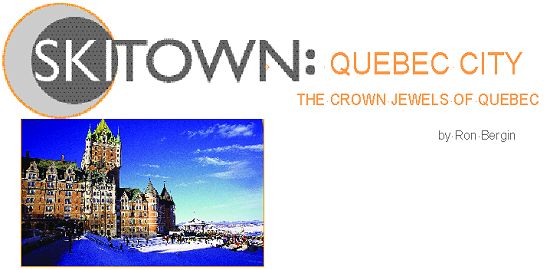 SKI TOWN: QUEBEC CITY
By Ron Bergin
Imagine an area with over 2,000 kilometers of groomed cross country skiing. Imagine snowfall so abundant that you can ski from November to April. And imagine a culture of cross country skiing as vital as anywhere in North America. No need to imagine; the reality sits just north of the U.S. border, in the Quebec City area. Within the Association of Cross Country Ski Centers in Quebec, 41 Nordic ski areas cluster smaller, community based trail systems and some of the most significant ski centers in all of Canada and North America.
Last March, four of us visited Quebec City for a bit of spring skiing. Obviously, we couldn't ski all 41 trail systems during a three-day tour, but we sampled the three shining crown jewels: Station Touriste Duchesnay, Camp Mercier and Mont Sainte Anne.
Planning a cross country ski trip in the third week of March might be a naïvely optimistic undertaking in much of the United States. But in the Quebec City area, skiing at this time of the year is a matter of fact. Yes, klister conditions prevail in some parts of the region, but a pleasant surprise, hard kick wax can still be the wax du jour, even well in to the latter half of the month.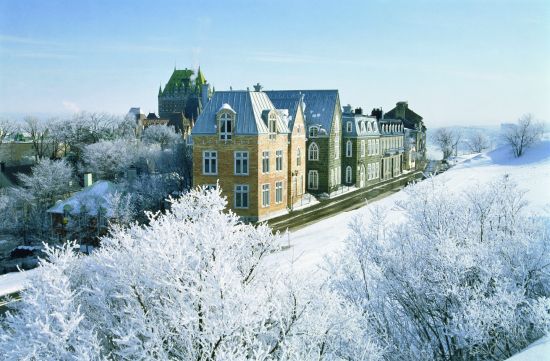 Station Touriste Duchesnay
A tourist resort only 30 minutes from downtown Quebec City, Station Touriste Duchesnay provides an ideal base of operations from which to explore the area. Upon first inspection, the resort is a curiosity with large three-story log-sided buildings of some vintage scattered across a snowy hillside linked by driveways and adjoining parking lots. I immediately wondered, "Where is the sking? And the hotel?" The Auberge we eventually found--after a brief auto tour of the grounds--to the rear of the property; the inn tucked into the hillside with a view of Lake Saint Joseph below. In addition to the 48 room hotel, three of the log-sided buildings serve as lodges with 8, 12 and 20 rooms available, as well as meeting facilities. Other similar structures function as administration and maintenance buildings.
Deceptively plain on the outside, the recently renovated lodges offer simple, yet comfortable accommodations and would be ideal for a large group traveling together. Their exterior appearance is due to the station's first incarnation as a school of forestry. Along the lake, 14 fully-appointed cottages are also available with everything one would need, including cooking facilities, to take up short-term residence.
The contemporarily designed Auberge Duchesnay has comfortable and stylish rooms, but enough rustic touches that it doesn't feel stuffy or pretentious. The inn's centerpiece is a 120-seat dining room wrapped around a massive stone fireplace. Morning and evening meals are served in two seatings with an intriguing menu featuring outstanding greens and items of local color including élan (moose), wapiti (elk) and venison as well as salmon and several pasta dishes. And the dessert menu—oh my, I'm glad we came to ski.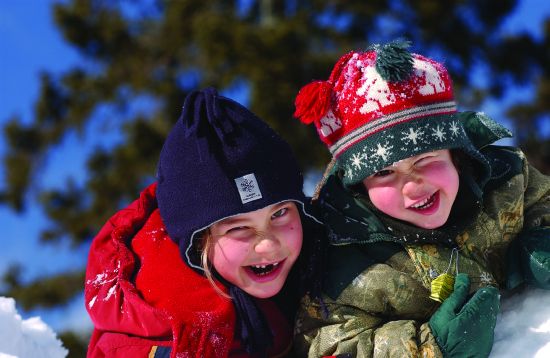 And ski you can, on 125 kilometers of double tracked classic and skate trails. Though we didn't hit prime conditions, the tracks held up well for most of the day except in direct sun. But in late March, who could complain? The trails wind around and through an 89 square kilometer maple forest, a nostalgic reminder of New England where I grew up. In the spring, you can experience the transition from winter with a taste of regional culture at the resort's sugar shack, learning how to prepare maple syrup. And to set yourself up for skiing, the full service ski center comprised a spacious waxing area, rentals, a boutique ski shop with the basic necessities and an adjoining cafeteria.
Mostly easy to intermediate, the trails threw a preponderance of rolling terrain and swooping descents at us. Two expert trails not groomed in spring looked quite steep, judging from the closeness of the trail map's contour lines. The finishing climb to Le Sommet warming hut climbed to a high point over 400 meters (1,312 feet) in elevation from the 180 meter (591 feet) base. Seven funky cabins sprinkled about the trail system, with well stocked wood racks and rustic construction--a throwback to a different era.
Perhaps the greatest attraction at Duchesney, besides the ski trails and dessert menu, is the Ice Hotel. Located just down the hill from the inn, the Ice Hotel (featured in Cross Country Skier, December 2002) is a marvel of engineering and splendor. Constructed of 100-pound blocks of ice, it is a massive complex, complete with its own chapel where services and even weddings are held--ice pews are covered with deer hides for warmth. In the Ice Palace, as we called it, two bars quench thirst, one with a stage, lighting and dance floor and cozy seating cubbies carved into the wall.
For overnight stays, several wings hold uniquely styled rooms and themed suites. As unlikely as it might sound, its 24 rooms are sold out most weekend nights. With ornate ice chandeliers, an exhibit of ice sculptures and art, the Ice Hotel is cool, literally, and a beautiful sight to behold. Though we didn't spend a night at the hotel, we could readily identify those who had when they arrived at the inn for breakfast: They were the ones still wearing parkas, stocking hats and scarves. When asked how they enjoyed their evening, almost to a person they replied, "Fun. We'd do it again." Sadly, at the season's end, the entire Ice Hotel is bulldozed into a heap for melting into the adjacent lake.
Camp Mercier
After a day of typical spring conditions—corn snow and klister—at Duchesnay, we expected deja vu all over again at Camp Mercier, our second stop on the crown jewel tour. About 50 kilometers north of Quebec City, however, Camp Mercier is higher in the mountains where quite different conditions prevailed. Much to our collective delight, the wax board proclaimed "blue." A group smile spread across our faces like "the wave" in a football stadium. Could snow conditions get any better?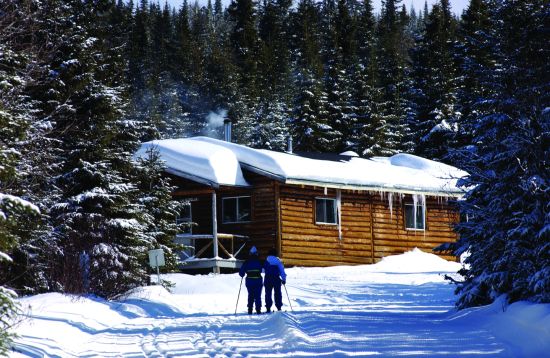 With 79 kilometers of trail, Camp Mercier offers a well-balanced blend of difficult (25%), intermediate (55%) and easy (20%) trails—truly something for everyone. In contrast to Duchesnay's sugar bush, however, Camp Mercier wandered predominantly through a coniferous forest. From the large ski center with another roomy waxing area, trails emanated in expanding loops to the furthest reaches of the system connecting with the more difficult Foret Montmorency loops. We skied the majority of the system's perimeter, sans Montmorency, at a steady but leisurely pace soaking up the spring sun and enjoying the fast, firm, blue wax conditions. "What a way to wind down the season!" I thought.
The highlight of the day came on the approach to La Pie, one of six warming cabins scattered throughout the Camp Mercier network. We could see the cabin from below as we rounded Lac aux Sables, not even realizing that we'd soon be climbing up to it. And climb we did, on one of the steeper pitches and few herringbone ascents of the day. But the grunt was worth it; the cabin perched on a rocky outcrop afforded a long distant view. Except for the Hydro Canada powerline interrupting the vista, it was as spectacular a view as we'd had. Maybe it was the day, or the conditions, or the great company, but I just wanted to keep on skiing and skiing and skiing. I'd love to return to stay in one of the 18 cabins and chalets located adjacent to the trails.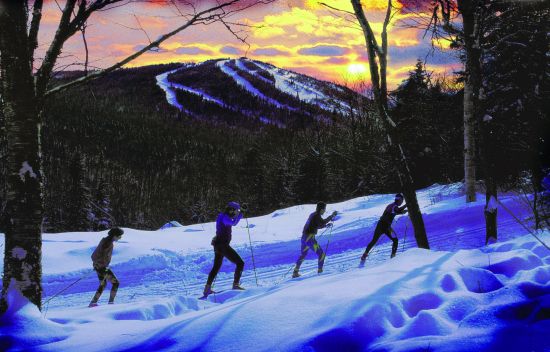 Mont Sainte Anne
A trip to the Quebec City area to cross country ski would not be complete without a visit to Mont Sainte Anne. Adjoining the downhill ski area of the same name, this is not just another poor-cousin-Nordic-center tacked onto a big alpine area. Mont Saint Anne has all the essential ingredients of a top flight cross country ski destination: mixed forest types, numerous tightly wound trails with optional cut-offs and fun, classy warming huts. The ski center itself was the largest we encountered, with an excellent ski boutique, waxing, changing rooms and cafeteria. The center had plenty of parking, which was nearly full when we arrived--a testament to the strong Nordic skiing culture of the region. But once on the course, though we encountered other skiers, the trails did not feel crowded.
Needless to say, with 212 kilometers of trail, Mont Sainte Anne has enough different trails to keep you entertained for several days. A few trails extend a considerable distance from the ski center connecting with ungroomed backcountry trails. While the other centers had some skating trails, up to now we primarily skied classic. At Mont Sainte Anne, we finally got a chance to break out the skate skis. I particularly enjoyed the ski along the Riviere Jean Larose, thick with a blanket of pillowy snow at least 30 inches deep. Four bridges en route provided cut-offs if needed. The pleasant skiing was only interrupted by the outstanding scenery. Accessible from either direction on the 11.5 kilometer loop, a warming cabin at Pont Delise provided a convenient respite. Throughout the trail network, seven warming cabins as well as a small centrally located hostel are available for overnight stays. Time did not permit a full exploration of Mont Sainte Anne's extensive trail collection, but I did taste enough to know that I want another helping soon. With the center scheduled to stay open another two weeks, a late March escape would not be out of the question.
Our trip to Quebec City unfortunately did not permit an in-depth encounter with the Old City's charm and history. But a quick dinner trip into the city on our final night merely teased my desire to see more--all the more reason to plan a return adventure, eh? While the quantity and quality of cross country skiing rivals the city's innate charms, if you visit Quebec City area, plan on a week if you really want to experience the full package.