The Fine Art of Skiing has become one of the most highly anticipated features of our publishing season. When we published our first feature in 2003, we weren't sure there would be a sufficient body of work to sustain it into the future. We have been pleasantly surprised to find that there are far more artists out there producing Nordic skiing themed art than we could have imagined.
How does all of this great art work come to us? Much of it is by happenstance: We see a piece at someone's cabin, home or in a Nordic center. Plus, word of mouth about the feature has spread and artists have begun to approach us to be considered for the issue.
This year we continue to bring you a diversity of media, styles and geographic representation with featured artists from Colorado, Idaho and Michgan. We are particularly excited to add sculpture to our exhibit this year. Our 2005 cadre of artists is also one of the most highly experienced and credentialed we have presented to date.
What began as simply a fun and different way to look at our favorite sport has, in fact, begun to take on a life of its own. Last year we issued a limited edition print of Nordic Genesis, the cover image from the 2004 Fine Art of Skiing issue. This year we introduce our own series of holiday and all-occasion cards based on the artwork of artists featured in the The Fine Art of Skiing. In addition, we will present an exhibit representing over a dozen of our featured artists and nearly 40 works at this year's American Birkebeiner, February 23 - 25 at Telemark Resort in Cable, Wisconsin. If you are in the area for the Birkie, be sure to check it out.
It is with great pleasure that we bring you the fourth annual installment of The Fine Art of Skiing.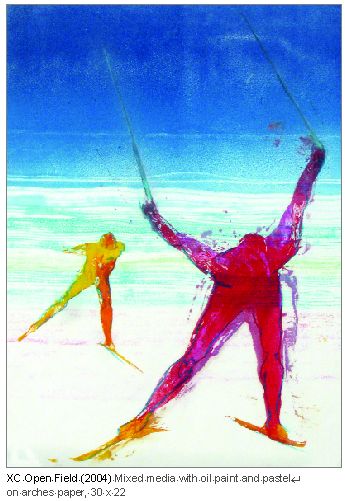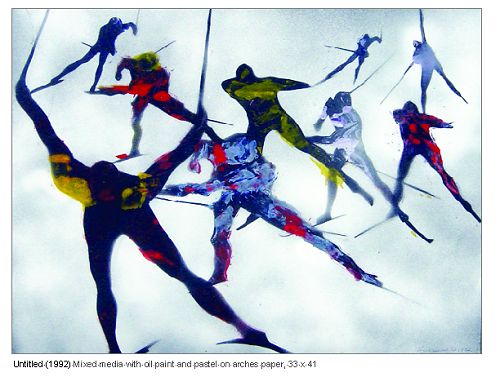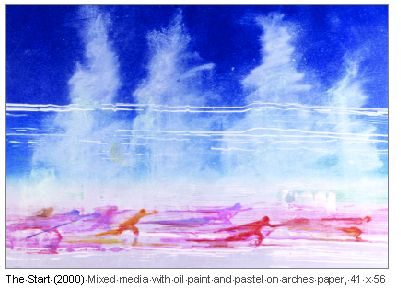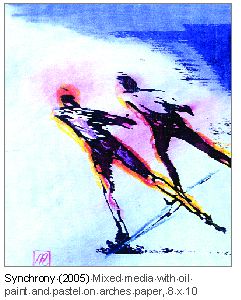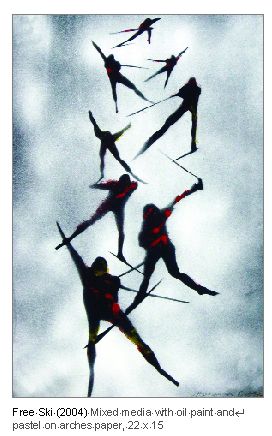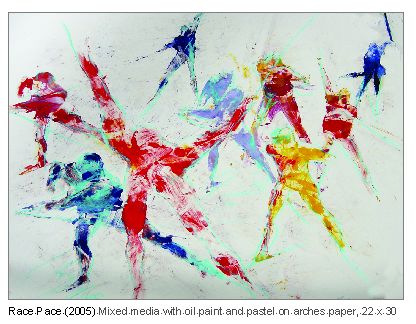 Nancy Flanders Lockspeiser
Nancy Flanders Lockspeiser is a native of Boston, MA and current resident of Denver, Colorado. Her love of movement and the exhilaration of athleticism are explored in paintings, prints and sculptures included in corporate and private collections throughout the United States. Her purpose is "to celebrate our adventurous aspirations and life's vitality, its diversity, its humor, its magnificence." She is a firm believer in the benefits of beautiful sun and terrain to always keep her "in training"—her motto for living —especially in places like Colorado charged by the energy of big spaces, long hills and high vistas.
She is a graduate of Cornell University with postgraduate studies at Radcliffe Institute, University of Colorado and the British Institute in Florence. Her work has been exhibited throughout the U.S. as well as in Africa and China, and is the recipient of numerous awards. Listed in Who's Who in the World, she shares her love of the West by skiing, biking, running and hiking with her husband Les, daughter Tai, son Brett—but leaves her three cats to read at home.
Nancy Flanders Lockspeiser
770 Lafayette Street
Denver, CO 80218
303/839-1687
snakeloose@yahoo.com
Dave Hayes
Dave Hayes is retired from the U.S. Forest Service and recent received a BFA in Painting and Sculpture from Boise State University.
His study emphasizes artistic anatomy and representation of the human figure by modeling in clay, mixed media and carving in wood and stone. He focuses on representation of the gesture, realism and craftsmanship to highlight the expressive potential of the figure. He seeks inspiration from athletes, especially runners and cross country skiers.
Dave ran cross country and track at the University of Michigan in the mid-1960s and began to cross country ski shortly after. He has been a citizen racer for many years and regularly competes in the Boulder Mountain Tour and the Yellowstone Rendezvous and skied the Norwegian Birkebeiner in 2003. He skis with Idaho Nordic, a Boise-based club dedicated to promoting cross country skiing throughout Idaho.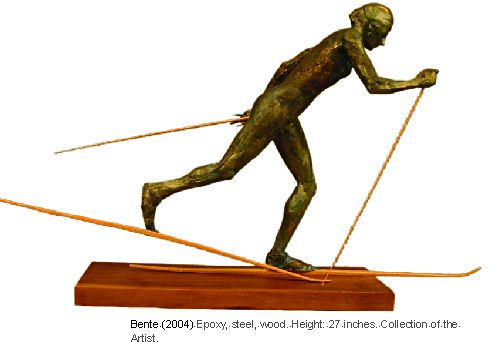 His works are held in private collections in Boise and Ketchum, Idaho and are on display at the Frontier Point Lodge at Bogus Basin Resort and The Gallery at Hyde Park, in Boise.
Dave Hayes
1102 North 17th Street
Boise, ID 83702
208/342-0545
hayesdb@rmci.net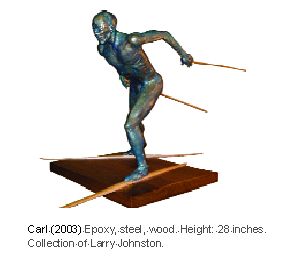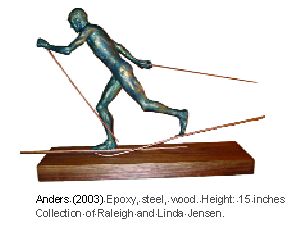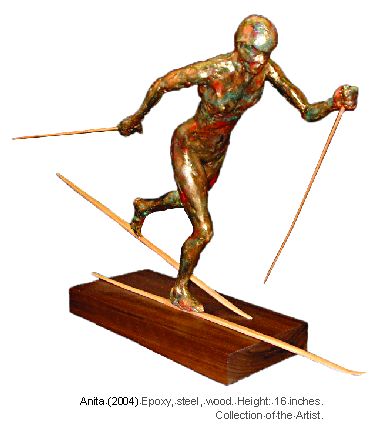 Dennis Rogers
With a Master's degree from the prestigious Art Center College of Design in Los Angeles, Dennis Rogers is an award winning and versatile professional illustrator. He has received recognition for his advertising and editorial work in magazines, calendars, record album covers, posters, puzzles, limited edition prints, PBS television, catalogs, brochures and specialty projects for advertising agencies, corporations and clients such as National Geographic, 3M Corporation, Red Barron Pizza, General Mills, John Deere, United States Army, the Canadian Navy, Honeywell, GE and others.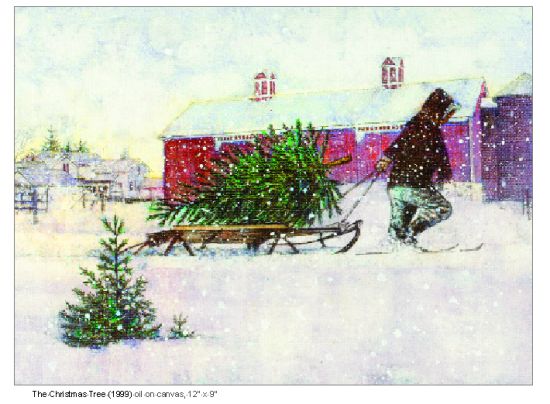 His range of illustration styles encompass whimsical and cute, technical, editorial and conceptual. He is comfortable with both conventional media and digital imaging skills. With over 20 years experience with airbrush, watercolor, dyes, acrylic, oil, colored pencils and more, he now works predominantly on high-end Macs with a graphics tablet and the latest design and page layout software. A former Wisconsin resident, he now lives and works in Frisco Colorado, where he also teaches Nordic skiing for the Breckenridge Nordic Center.
Dennis Rogers
Winterwood Creative
P. O. Box 4543
Frisco, CO 80443
wwcreate@mac.com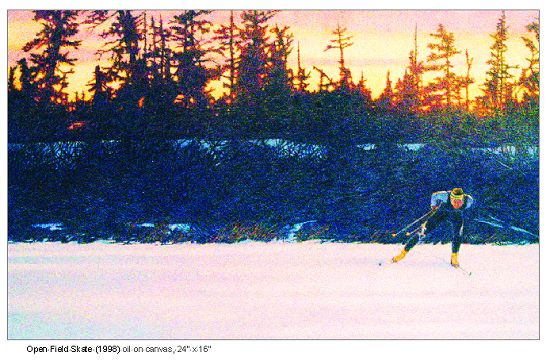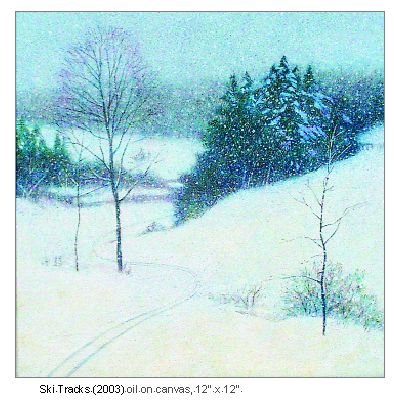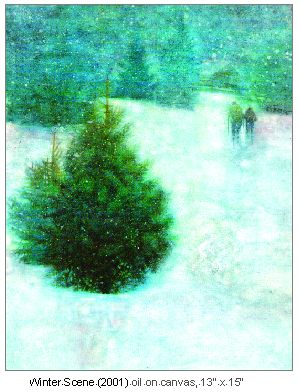 Carolyn Scott Risk
Artist Carolyn Scott Risk combines realism with the looseness and transparency of watercolor. She is an award winning Traverse City, Michigan artist who is a popular workshop leader and adjunct instructor at Northwestern Michigan College. Carolyn has been an exhibitor at numerous art fairs and juried shows and markets fine art prints at several locations throughout Michigan. Her work can be found in many private and public collections and in a number of local galleries. Lake Superior, waterfalls, northern lights, rivers and streams, Mackinac Island, majestic pine trees and wildflowers are natural resources that are frequent subjects in her work. "I'm inspired by the wealth of riches that surround me," she says. "Every time I go out, there are fresh ideas for colors, compositions and themes and the people here are also great sources of inspiration. Art has a way of connecting people and places and everything can build from there, which is part of what makes the work so exciting."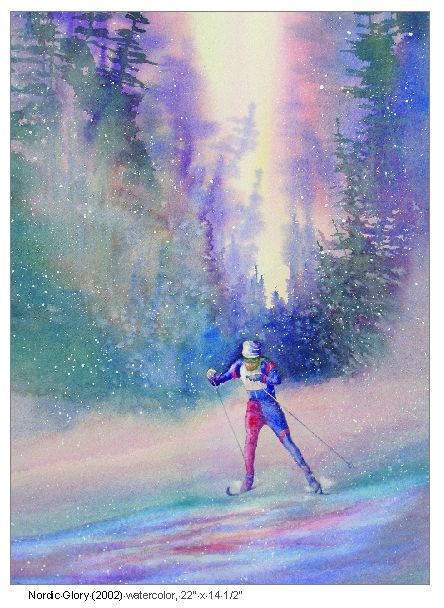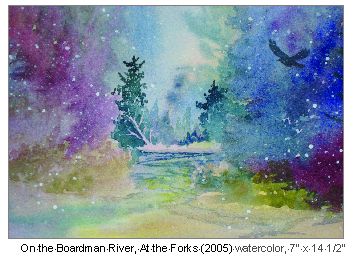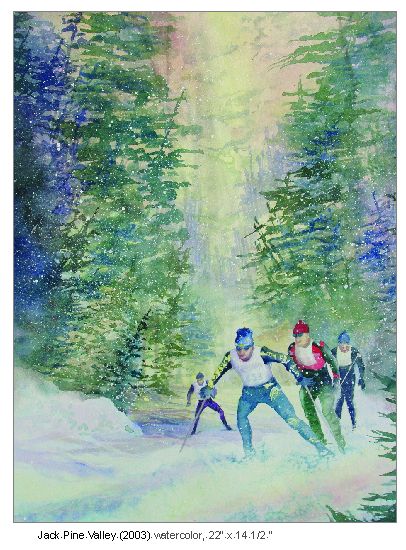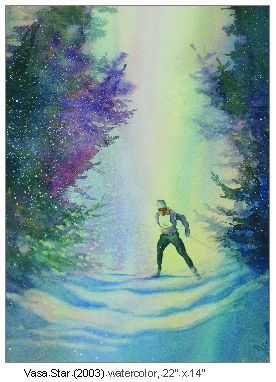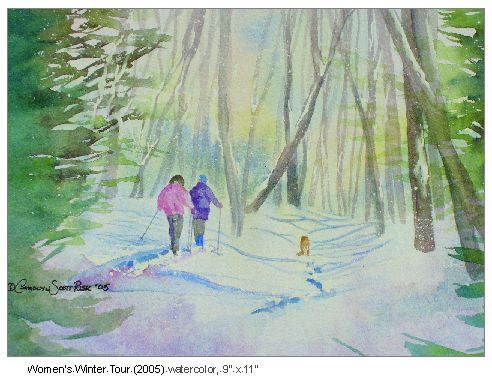 Carolyn is an active participant in cross country skiing, bicycling (she's done the DALMAC-Lansing to St. Ignace, MI and other touring rides), kayaking, canoeing and also rides a Harley Sportser 883 anniversary edition.
Carolyn Scott Risk
48 Highview Rd.
Traverse City, MI 49686
231/946-9476
risk@netonecom.net