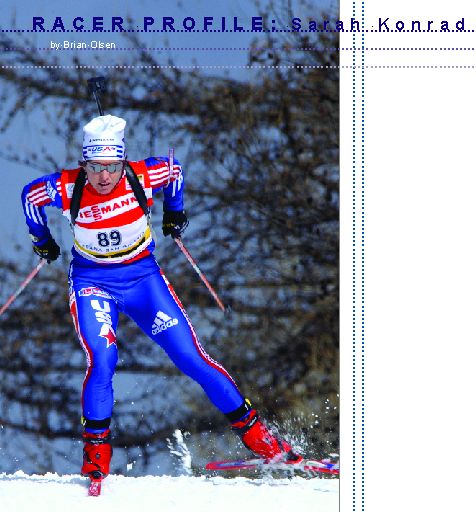 RACER PROFILE - SARAH KONRAD
Brian Olsen
"The smartest thing I ever did was to teach my Ph.D. advisor how to skate ski," laughs Sarah Konrad. Perhaps her ingenuity in cultivating a supportive crew of flexible people around herself also explains how she is able to balance so many things on one tightrope. Konrad is the first American to race at the World Championships in both cross country skiing and biathlon. While earning her doctorate, she also won all possible titles at the collegiate road cycling nationals. Currently at 38, she's still a girl of many talents, pursuing spots on the 2006 Olympic Team in both biathlon and cross country skiing.
For Konrad, cross country skiing started as a need. While taking one semester off from studies at Dartmouth College to work as a telemark instructor in Sun Valley, she entered the Triple Crown, a two-day alpine, telemark and skate skiing race. "I could alpine ski and telemark," says Konrad. "I just had to figure out how to skate 30 kilometers." To her surprise, she fared best in the distance race.
Bitten by the ski marathon bug, she joined Dartmouth's Development Team and won the Blueberry Hills Marathon. After graduation, Konrad pursued her newfound passion over the next five years, finding odd jobs to support racing on the American Ski Chase series. In winters, she groomed trails, worked at a bed and breakfast and butchered wild game in Bozeman. She also taught skiing in Zermatt and washed laundry in Garmisch-Partenkirchen. During summers, she taught with National Outdoor Leadership School—sea kayaking to backcountry skiing in places like Alaska and Chile.
After acquiring her Masters degree in geology at Seattle's University of Washington, Konrad headed to the University of Wyoming to pursue a doctorate in glaciology. While there, she added competitive cycling to her mix. In the 15 km freestyle at her first U.S. Cross Country Nationals in 1999, she finished fifth, 2:36 behind champion Nina Kemppel.
Now she had a full plate: cycling in summer, skiing in winter and pursuing her doctorate year-round—none at slouch levels. In January 2001, she started in her first World Cup race at Soldier Hollow, placing 37th in the pursuit and anchoring the relay to an impressive sixth place. But her results showed an obvious strength in freestyle, not classic.
The following season, Konrad pursued a spot on the 2002 Olympic Team. While she lost her bid for a spot on the team, during the ski season she received her Ph.D. She settled in Laramie, Wyoming, to research and race.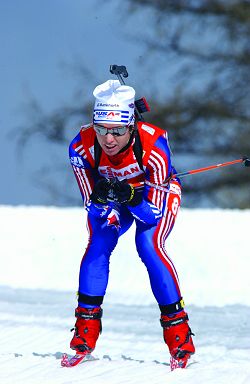 Determined to qualify for 2003 World Championships in Val di Fiemme, Italy, Konrad became the top American in the 5 km freestyle race and placed third in the 30 km mass start freestyle race at U.S. Nationals. Despite being one of America's top freestyle skiers, the U.S. Ski Team passed her over, perhaps because of her age and classic weakness.
Frustrated, Konrad called on U.S. Biathlon. She was stunned by how warmly they welcomed her. "As long as I could ski fast, and had the results to prove it," she recalls, "they did not care about my age. It was unbelievably positive after my experience with skiing."
Konrad had never seriously shot a firearm in her life. But biathlon coach Algis Shalna believed she had the talent and motivation to be successful. "In some ways, I have been told, it is actually an advantage because I had not learned any bad habits," Konrad says.
After a rough first biathlon race against skilled competitors where she missed six of her ten targets, she bopped over to 2004 U.S. Nationals happening just a few hours away. There, she won her first national title in the 30 km freestyle race. Even though she was also the second American in the 5 km freestyle race, the U.S. Ski Team would not select her for World Cups.
Disappointed, she entered as many races as she could—biathlon and skiing. One of them was the American Birkebeiner, where she placed as the top American.
Despite shooting difficulties, biathlon coach Shalna still wanted to work with Konrad. After receiving the summer biathlon training schedule, she realized that training would require all of her time. "I wanted to see what I could do in the sport, so I had to step away from geology," she recalls of her June 2004 choice. "It was not an easy decision."
Opening the 2004-05 season in Norway with 53 percent shooting, a marked improvement from the prior season, but a long way from the 85 percent usually necessary to win a World Cup, she also found time to compete in a 5 km freestyle race, finishing only 1:10 behind Marit Bjørgen, who would go on to win the overall World Cup. Biathlon had made Konrad a faster skier. At World Cup Team Trials in late December, Konrad hit 65 percent of her targets in one competition, placing second. The next day, she placed second again, thereby securing the fourth and final spot on the biathlon World Cup team.
Immediately after the final biathlon event of three races in three days, Konrad traveled to Utah for U.S. Nationals, but illness forced her to skip her strongest event, the 15 km freestyle. To prove she could qualify for World Championships, she entered the 5 km freestyle and finished second, only eight seconds behind Rebecca Dussault. That did it. The U.S. Ski Team finally chose her to compete at the World Championships.
Konrad became the first American in the same season to be named to World Championship Teams in both biathlon and skiing. From the 2005 Biathlon World Cup, she moved onto the World Championships for skiing in Oberstdorf, Germany. "There was absolutely no communication between the teams, so I was in charge of my transportation," she explains. "To get between the two, I took trains." In Oberstdorf, she proved to be a valuable asset for the U.S. with the top non-sprint finish of any American. From there, she traveled to Austria for the World Championships in biathlon. Her ski speed improved, propelling her to a 50th place finish in one race, despite missing half of the targets. She was the second best American. "Last season was my best yet," Konrad says, rejecting the suggestion she is past her prime. "There is no reason why I cannot be better. In biathlon, I was 36 years old when I picked up a rifle, so I definitely have a long way to go. But the experience I am acquiring outweighs any negative effects from becoming older."
This winter, Konrad aims to one-up herself: qualifying for the Olympic Games in both biathlon and skiing. Let's hope she can do it.
Sarah Konrad and Brian Olsen were teammates last season on the Biathlon World Cup. Olsen is also pursuing a spot on the 2006 Olympic Team. He maintains a biathlon website at www.frozenbullet.com.