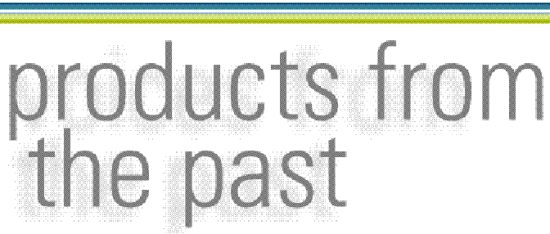 PRODUCTS FROM THE PAST

The best is yet to come. In 25 years of publishing stories about cross country equipment, thatís the common thread that holds the winters together. Every year, editors, staff writers, expert contributors and freelancers breathlessly announced the latest, greatest, most innovative collection of gear ever assembled on the snow-covered half of our fair planet. Okay, maybe the breathless part is a bit of stretch, but the point isnít that far off.
How can I race faster? Skate or classic? Touring or backcountry? Salomon or NNN? How to pick, what to choose? The readerís cried, "We want answers." Serving the readers insatiable need for knowledge about the next step in ski evolution, the magazine has been filled with gear reports outlining new construction techniques, new materials and the most cutting edge designs for skis, boots, bindings, poles, clothing and accessories. Even when the most exciting announcement from ski manufacturers amounted to little more than, "Introducing exciting bold new graphics for Ďinsert year hereí," the audience still clamored for news.
Innovative boot/binding systems seemed to come along every year or two, announcing that once and for all the perfect partnership of boot, binding and ski had been created. At least until next year. Miracle fabrics created by Nobel caliber chemists promised us that we that we could ski longer and faster if we just wore their clothing. Warmer and dryer, sure, but they still canít stop the stink. Wait until next year.
Weíve assembled excerpts from past issues to commemorate some of the innovations that moved our sport from wooden boards to todayís state-of-the-art.
November 1981
Lateral Stability in Boot/Binding Systems
By Eric Evans

Five years have passed since Adidas developed the revolutionary 38-millimeter-wide boot/binding system-five years filled with innovations at every turn. And still, it is the tried and true 75-millimeter Nordic norm boots and bindings that make the cash register ring.
Why? Because recreational skiers are not convinced that the new, narrower systems have anything to offer them.
December 1981
Facing Up to Fabrics | By Rob Schultheis

Modern and traditional fabrics-from wool to polypropylene-offer a variety of choices in winter clothing. Understanding which fabrics best serve your needs will lead you to the right clothing.
Polypropylene has all the virtues of wool and none of the drawbacks. Todayís polywear is thick enough to be tough while still retaining its lightness and flexibility. It is also inexpensive-less than half the price of fine wool.
"The earliest Gore-Tex material had flaws. Dirt and body oils ruined the fabricís water-resistant capabilities. As cross country skiers are often sweaty and dirty, this was a real problem for them. Also, the seams in Gore-Tex garments leaked-the stitching destroyed the delicate surface tension of the fabric and purchasers of Gore-Tex garments had to reseal the seams at home. W.L. Gore and Associates say they have solved both of these problems.
October 1982
Hot off the Bench: Test report on the í83 Racing Skis
By Barbara Brewster

The 1983 racers are softer up front and stiffer in the tails than their predecessors. This means, that, like hydroplanes skipping over the water, the tips of these skis will dart smoothly over the snow. Some skis are faster than others, and this is still the result of blending engineering variables into a rational compromise. "the fastest test skis were all characterized by a medium-soft torque and high gripping power."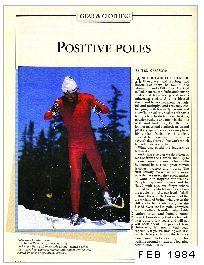 February 1984
Positive Poles | By Ted Kerasote

"And God said, let there be fiberglass and carbon and boron. Let there be Tonkin, and aluminum and 7178 alloys. And God called them racing shafts and touring shafts and telemarking and mountaineering shafts. And he blessed them, and bade unto them, be fruitful and multiply. And this they did, bringing forth butterfly baskets and snowflake baskets, baskets of shark teeth, claw baskets, rake baskets, powder baskets and moon baskets as well. And God said, let there be leather grips and synthetic grips and plastic grips so every skier may have his choice. Multitude of choices created he them and thus on the seventh day from all his work which he made he rested."
February 1985
Lycrawear Arrives | By Eric Evans

Beyond the ubiquitous Casio wristwatch and the pursuit of cardiovascular fitness, aerobic athletes today share a common trait: they wear clothing made with DuPontís Lycra if theyíre interested in performance.
Itís easy to see why Lycra is so popular. Providing warmth yet extremely light, it does not absorb moisture. Itís sleek, stretchy and fits very snugly-aerodynamic and R-rated.
My tried and true barometer to decide if equipment is suitable for touring: Would my mother use it?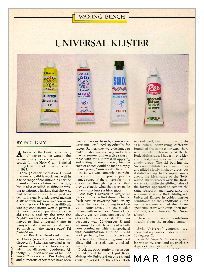 March 1986
Universal Klister | By Paul Daly

Always on the hunt for esoteric, high-performance waxes (the cross country skierís version of the search for the Holy Grail) I picked up my first tube of universal klister in 1982.
Through experimentation, I found that not only did it work very well in a wide range of conditions, as per the manufacturerís claims on the box, but it also excelled in difficult waxing conditions.
Word spreads quickly across the ski tracks, I was dismayed to find universal klister in many a hand and on many a ski base. So much for "the racerís edge" Iíd planned on.
October 1986
Feet First | How to Choose the Right Boot/Binding System
By Rod Blacklock and Didi Yunginger

In the constantly changing world of Nordic skiing, it isnít unusual for ski designs to become almost redundant overnight. For example, boot/binding systems are being redesigned radically, with new systems appearing nearly every year for the last decade. And the new 1987 systems are no different.
Life has been simpler. For decades, the "norm" in cross country ski bindings was the three pin, 75-millimeter Nordic Norm, which was exactly that, compatible with many boots and suitable for many uses. Then in 1976, Adidas, with its 38-mm racing model, became the first company to introduce a boot/binding "system." Now the marketís flooded with them, most notably the widely advertised Salomon Nordic System (SNS).
By last December, systems had become one hot item, accounting for an all-time high of 61 percent of that monthís cross country retail sales.
November 1989
Field TestóPatagonia Cool Weather Tights | By Don Cuerdon

Iím not embarrassed to ski in Cool Weather Tights nor to wear them to a grocery store or bistro. In fact, I have a habit of climbing into them first thing in the morning, skiing in them at midday, wearing them to dinner, and then reminding myself that I should at least take them off to sleep. Theyíre like a pair of sweatpants that you can ski in.
December 1989
Field TestóRottefella NNN Backcountry Boot/Binding System
By Don Cuerdon

Rottefella, the Norwegian binding company, has introduced a new boot/binding system called, "NNN Backcountry," which could do for cross country skiing what mountain bikes did for cycling.
Jack Lufkin of Exel, Inc., an importer of Artex NNN boots, adds, "Itís the best recreational skating boot Iíve tried." Boot prices will range from $120 to $250.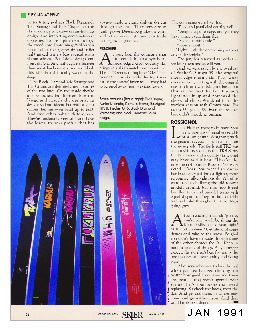 January 1991
Flexing At Bend | Metal Edge in Review
By Allan Bard

For 1991, there are over 40 pairs of metal-edged backcountry and lift-served skis to choose from. Rather than get bogged down in a mountain of rhetoric that pleases the manufacturers and confuses the rest of us into believing that all skis are created equal, let me cut right to the chase-or to the choice. In my opinion, there are only about ten or twelve skis of note.
Karhu. The XCD Ultimate was the testersí overall favorite. Pick your superlative: The ski-wrights from Finland have done it again. Woodward put it most succinctly: "Theyíre silky." This is Karhuís first wood core ski, although itís surrounded by and impregnated with foam for a kind of "unibody" construction. Wood core skis are a product of a once-living thing. No surprise then that they are lively. They are Karhuís widest and heaviest. But the XCD Ultimate is a big ski that isnít a spruce goose.
November 1991
The Fischer Power Edge | By Jim Chase

People are suspicious of things they canít see, so when Fischer began a while back to tout its Power Edge on its racing skis, even we were skeptical.
The Power Edge is a band of composite material set in the edges of the ski beneath the base material. Its purpose is to reinforce the edge so it is more durable. It affects performance by making the edge stiffer and, because it is more durable, keeping the edge sharp for better edging. The verdict on the Power Edge is: it works and itís definitely an improvement.
Spring 1993
Fischerís "The Revolution"
There are times when someone throws away the book and comes up with something truly new. This is one of those times. | By John Dostal

At first glance, the Revolution seems more like a Childrenís Crusade. At a scant 147cm it has the dimensions of skis that often sport Snoopy graphics. But the Revolution is no joke-or toy. One-size and one flex-fits-all, itís a radical rethinking of ski design. And Fischer thinks enough of it to introduce it mid-season.
The idea behind it, Fischer says, is to make a ski thatís not only easy to learn on, but is as much fun even for veteran skiers as a pair of inline skies.
The Revolution comes in a smooth base skating version and one with a waxless Crown base. Theyíre priced at $179.
December 1993
The Short Ski Debate | By John Dostal

Now weíve got shorter skating skis. And already weíre into the how-many-angels-can-dance-on-the-head-of-a-pin phase of asking whether theyíre faster than conventional skate skis.
Iím on the sidelines on this one. Iím not interested in being able to do headstands and cartwheels on the suckers. And Iím completely unmoved by headlines that this or that shortie was the first to cross the finish line at this or that ski marathon. This way madness lies.
I was more impressed with short skaters being useful tools. Just the thing for narrow snowmobile trails or tight trails and freeway-free ski areas. And students preferred the shorties when learning to skate. Redefinition and redesign are in the air. Let the games begin.
Spring 1995
Nordic Poles- Up Close

Standard nylon strap, powder basket, fiberglass shaft, snowflake graphics. Tough to get excited about, good for a few kilometers around the golf course, fine as houseguest loaners, right?
Thereís a lot more to poles if you are willing to take a closer look. The latest breed of poles, especially in the race and sport-performance categories, do more to improve your skiing than ever before. Ergonomic grips, power straps, lightweight shafts and undersized baskets are designed specifically to make skiing light, relaxed and efficientóat any speed. Take straps. A more technically-advanced animal is anchoring skiers to their poles with precision and ease. Tagged "Power Strap" by Leki, "Control Strap" by Exel and "SR94 Racing System" by Swix, theyíve replaced the basic narrow loop strap on nearly every high end pole, and theyíre available to interchange on any grip that will accept the strap.
The best news about poles is that performance features like power straps and lightweight shafts are no longer only available in the ultra-high end race lines.
January 1998
Gear Report | Kestrel 2000

The Kestrel 2000 is a device known as a thermo-anemometer that measures wind speed, temperature and wind chill. Itís easy to use; all functions are controlled by two buttons. It displays measurements in knots, kilometers per hour, meters per second, miles per hour, feet per minute and degrees in C and F. Retail price is around $119. Donít laugh. Itís serious.
November 1998
An Off Year in Gear

This yearís motto among ski manufacturers seems to be, "If it ainít broke, donít fix it." With the exception of a new boot/binding system that was typically introduced exclusively for racers, there isnít much innovation this season. There are some impressive models in backcountry and telemarking and some new racing gear. Since some lines have been cut back somewhat, there is also less duplication in certain categories.
But for most skiers, the news on equipment this year is that the gear is excellent, although mostly unchanged, and you should be able to find good prices-unless it snows early and the equipment there is in stores sells out before Christmas.
December 1998
Gear Report | Releasable Poles
The Exel Avanti QLS, already the stiffest and one of the lightest poles on the market, adds a new method of connecting the pre-existing ultra-secure strap to the pole itself. The strap is connected with an interlocking plastic piece. With a press of a button, you can release the whole hand strap from the pole, allowing you to easily adjust gloves, put on a race bib, or make that last minute trip to the bathroom before the start. The plastic piece snaps back in place almost as easily.
December 2001
Try Nordic Skating this Winter
By Jamie Hess

Imagine slipping into your cross country ski boots, stepping into your Salomon or NNN bindings and gliding through a frozen landscape in the bright sunshine. Think about going twice as fast as youíve ever skied in your life. To make that fantasy real consider trading in your skis for a pair of clip-on ice skating blades.
Nordic skate blades have long curved tips to handle the rough stuff. You donít need to skate behind a Zamboni and you can go anywhere.