FOREST QUEEN HUT SKI TO A GHOST TOWN
By Molly Murfee
Once a booming Colorado silver mining town that rivaled the population of Crested Butte, Gothic exploded in 1879 into a bustling community of 1,000 people, innumerable saloons, and dance and gambling halls. What once were roads departing from Gothic like rays of sunshine are today a maze of cross country ski tours, all handy from Forest Queen Hut. With the hutís easy access, your grandmother can ski there. Or your kids. Or your boyfriend who has never been on cross country skis. In the Colorado Rockiesí rugged Elk Mountains, surrounded by the Maroon Bells-Snowmass, Ragged and Collegiate Peaks Wilderness Areas, Forest Queen Hut sitsóa member of Gothicís ghost town. Along an easy four miles downhill--leaving the uphill return for when your pack totes less weight--one wide and obvious path leads here, requiring simple route finding. Fox cross the path, as do snowshoe hares and ptarmigans clad in their winter white. Despite the routeís effortlessness, rewards gain no shortage of open vistas toward Gothic Mountain, White Mountain and Avery Peak. Schofield Pass looms in front. Mount Bellview and Mount Baldy, too.
Enroute to Gothic, skiers retrace the tracks of mail carriers who hauled the post from boom town to boom town during the 1800s rush. At the Gothic town site, the road continued over Schofield Pass, through dangerous Devilís Punchbowl littered with rock fall and avalanches, to the mining town of Crystal. Many a postal carrier claimed local fame in braving it all to deliver the mail over this route.
As the supply hub to the neighboring mining towns of Aspen, Crystal and Marble, in its heyday Gothic held 200 buildings. Adding to its seedier side, more sober businesses also sprung up: five law firms, four grocery stores, three restaurants, two general merchandising stores, one bank, three doctors and two hotels. Strings of burros carried ore and supplies to and from the various communities and mining camps.
In 1882, a mere three years after its height, residents vacated Gothic. By the decadeís end, it was nearly a ghost town, most of its inhabitants lured on to more lucrative mining booms. Now, the town site is home to the Rocky Mountain Biological Laboratory, a renowned high altitude field station dedicated to biological education and research. During the summer, it is alive with students studying geology, ecology, botany and animal behavior. Scientists from prestigious universities flock to Gothic for researching hummingbirds to marmots, pollination to global warming.
Some of Gothicís original buildings have been restored, some have collapsed and new buildings erected. In a winter trip to the ghost town, you sense what the old mining town might have felt like and the difficulties of chasing buried riches in such rugged, cold country.
Gettiní to Gothic
From a skierís standpoint, a hut that doesnít demand a long resume of winter backcountry skills serves a special purpose. It gives experienced cross country skiers the opportunity to introduce the wonders and silence of the backcountry to those less experienced--to sit on the deck while sipping hot chocolate and to bundle up by the fire when night falls.
To find Gothic and Forest Queen Hut, drive 3.9 miles north of the four-way stop in Crested Butte, heading towards Mount Crested Butte, passing the ski resort and winding through a neighborhood. Winter road maintenance ends at a gate with an obvious parking lot and the resortís cat barn across the road. Two trails depart from the parking lot: Snodgrass heads left and uphill while the Gothic trail sits to the right and straight. This is your trail. Circumvent the "No Winter Maintenance" gate. If you donít see the gate, just look around; in deep snows, a berm covers it.
Because the route follows a summer road, skiing is pretty easy on the broad path. Road signs that say "Gothic" and "Schofield" confirm you are on the right route. After winding around a hillside, the trail runs slightly down for several miles before opening onto a big meadow at Gothic Mountainís base. A few town site buildings cluster across the East River, looking in winter more like a creek. Ski through the meadow, swing right, cross the bridge and enter Gothic.
Pass the old Town Hall, one of the many deserted town site buildings. In fact, no one is here, but the caretakers and you. Where the big hill leads out of town, Forest Queen Hut sits to the left, signed and just off the trail.
Amenities Count
While rustic, the hut is comfortable. Itís stocked with five gallons of water in a jug, a wood stove for heating with plenty of firewood and a hatchet. Sleeping seven, the hut has one bedroom with two single beds and a loft with a combination of beds and sleeper sofa. Electricity fires up lights, a microwave and toaster while gas heats the stove top and oven. Pots, pans, bowls, plates, cookie sheets, baking pans, eating utensils and pitchers assure you need to bring next to nothing in terms of cookware. However, many skiers still carry a light weight backcountry stove, small pot and lighter for emergencies. Although the outhouse is stocked with toilet paper, bring a headlamp to find it in the dark.
With the well-equipped hut, skiers carry lighter packs, bringing only sleeping bags, sleeping pads, warm layers, waterproof shells, dry hut clothes, sun protection, down booties and food. While you may bring your grandmother, kids and boyfriend, Fido must stay home.
Exploring Slopes
Due to sensitive scientific experiments conducted by the Rocky Mountain Biological Laboratory, exploration throughout the town site is not allowed. But from Forest Queen, touring options web in different directions as well as some classic places to grab a few turns. Ski up Copper Creek to peek at frozen Judd Falls or head toward Schofield Pass. The views even warrant just skiing a few hundred yards to simply stand here.
For the most adventurous and avalanche savvy, ski the Schofield Road over to Crystal and Marble. Because of the extreme length of this trek and severe avalanche danger, only those skilled in backcountry winter travel should attempt it. If youíre a freeheeler looking to bend a knee, Snodgrass Mountain presents moderate to difficult terrain; Gothic Mountain and Mount Baldy amp the adrenalin up a notch for those technically competent in skiing and avalanche protocol. Here, maps help with orientation. Youíll need four topographical 7.5 minute maps: Oh-Be-Joyful, Gothic, Maroon Bells and Snowmass Mountain quadrangles. If you plan on remaining at the hut, the Gothic quad is sufficient. If Trails Illustrated maps are more your style, purchase the Crested Butte/Pearl Pass (map #131), Maroon Bells/Redstone/Marble (map # 128) and the Kebler Pass/Paonia (map # 133) for an overview of the entire area. For the hut only, you can squeeze by with the Crested Butte/Pearl Pass and Kebler Pass/Paonia maps.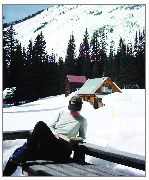 Avalanche Scoop
The road to Forest Queen doesnít cut across major avalanche chutes or over cornices, but runs valley bottom, where skiers cause little disturbance to the snow pack. However, the route crosses a few smaller slide paths to avoid when avalanche danger is high. Fortunately, the local avalanche forecasting service, the Crested Butte Avalanche Center, hits the airways with their live daily updated avalanche reports every morning at 8 a.m. on local radio station, KBUT (90.3 FM). Daily updates rating conditions as low, moderate, high or extreme are also posted on their website and available by phone. With high or extreme forecasts, reconsider your trip. While Gothic and Forest Queen Hut themselves present little avalanche threat, skiers still must contend with the slide paths enroute and beyond. If the snow pack rates moderate risk, donít cancel your adventure, but carry beacons, shovels, probes and the skill to use them. For those zoning in to turns on steeper terrain or skiing far beyond the hut, youíll need avalanche gear regardless of the forecast for the terrain here is slide prone. Minimally, be able to identify avalanche terrain: If youíre not confident skiing through it, stay out of it. With its ease of access, Forest Queen Hut is truly the next destination for your grandmother, kids or boyfriend. Waking up, with the snowy faces of stoic mountains painted a rosy pink from the morningís alpenglow, youíll wish youíd made your reservation for perhaps just one more day.