SKI TOWN: BRECKENRIDGE, COLORADO
By Ron Bergin
Le Cirque de Nordique
Gene Dayton's vision began with a mere 22 kilometers of ski trails. Forty years later, though his original trail network is no longer in use, 100 kilometers of ski trails in three distinctly different yet highly complimentary Nordic centers now serve upwards of 35,000 skiers annually. Supported by community partnerships, the Nordic skiing culture now present in the Breckenridge area is testament to Dayton's vision to create the "Minnesota of Nordic skiing in the west."
Though overshadowed by the magnitude of Breckenridge's internationally renowned alpine skiing legacy, the combined efforts of Breckenridge Nordic, Frisco Nordic and Gold Run elevated the town's cross country skiing to national acclaim in a veritable three-ring "Cirque de Nordique." And their efforts established the town as a model of public-private partnerships.
Like many western ski towns, Breckenridge oozes with history. Gold put the town on the map in the 1860s while skiing launched another "gold rush" a century later. Only Ute Indians and fur traders frequented Breckenridge's Blue River Valley until 1859 when fur trappers discovered molten gold forced between layers of quartz into the cool air where it solidified into rolls of gold wire. They just had to gather it up. When stories like this—and later that of a 13-pound gold nugget called "Tom's Baby"—reached the blackened ears of eastern coal miners, they packed their knapsacks for destination Breckenridge.
A century later, Gene Dayton built the town's first Nordic trails. While he may have pitched the first Nordic ball, his wife, Therese, is the duo's energetic dynamo. Together they make a formidable pair. At the annual Cross Country Ski Areas Association conference held this year in Breckenridge, organized in part by Therese, Gene said: "If I were to die, Therese would just pick up and keep everything going. But if she were to die, we'd just board the place up and leave town."
Dayton's first groomed cross country ski trails—the first in Summit County—were located three miles north of Breckenridge near the present-day Gold Run Nordic Center, where a 105-year-old log mining building called the Retort House served to launch guided backcountry tours and ski mountaineering courses. Close to a Blue River dredging operation, the building housed a smelter that between 1898 and 1938 produced $600 million dollars worth (in today's currency) of 20-pound gold bars. That original building renamed the Hallelujah Hut is now located on Peak 7, an area the Daytons dub the New Nordic World. From these humble beginnings, the Breckenridge Nordic programs flourished. After moving to a small igloo and trail system near present-day downtown, Dayton launched the Breckenridge Outdoor Education Center—still in operation today with year-round special needs programs.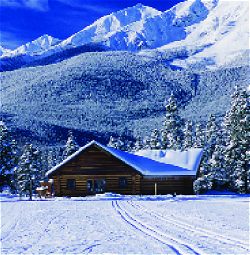 As alpine skiing exploded in Breckenridge, property values climbed. Dayton relocated once more, finding a permanent home on Shock Hill in the Cucumber Gulch Protective Management Area with another 2,500 acres under a special use permit from the White River National Forest. Natural plateau open areas served to create easy to low intermediate trails. Around the hill's perimeter, a snowshoe trail followed the Pince Miller ditch.
Breckenridge Nordic Center
Just a short drive up Ski Hill Road only one-half mile from downtown, the Breckenridge Nordic Center (BNC) flagship facility has a comfortable, recently remodeled day lodge and over 32 kilometers of conscientiously groomed classic and skating ski trails. Accessible door to door by a free Ski and Ride bus with stops located at downtown resorts and outlying parking areas, the BNC's seven trails meander through grassy open meadows, in and out of wooded areas and traverse an active beaver creek in Cucumber Gulch. Easy to moderate long gradual climbs and descents wander below the drop dead gorgeous Peak 8 of Breckenridge Ski Resort.
Northwest of Shock Hill lies the New Nordic World, a 1,580-acre skinny ski view-laden paradise with the Hallelujah Hut. Along with a 25-minute snowshoe hike from the Peak 7 trailhead, two ski trails lead up to the 11km New Nordic World loop: Gluteus Maximus or Gluteus Minimus. Skiing from the lodge it's a 16-kilometer round trip. The Gluteus Maximus Trail demands aerobic capacity, as it's a steep puppy before mellowing into a wider easier flowing trail. But the return offers a nice payback, with quick descending, technical turns. Future plans call for developing additional trails in this area. Five kilometers from BNC, you pass Kathy's Viewpoint, a remote wood fired sauna and picnic shelter—a simple looking cabin with a small deck and picnic table, its interior nicely finished with pine paneling, a table and chairs. Built by Dayton and airlifted to the site, the sauna project garnered him the Summit Huts Association Volunteer of the Year award. Named in memory of Dayton's sister-in-law, an accomplished skier and top Birkie age class finisher who passed away five years ago, Kathy's Viewpoint cabin originally sat near the Hallelujah Hut, but was recently relocated one mile further up the mountain. A sign at the previous location offers skiers a word of encouragement, "Kathy was always one to go the extra mile. We encourage you to do so, too."
From an old road part way up the mountain, I skied to the Hallelujah Hut with Gene on a relatively easy going trail, despite elevation over 10,000 feet. A roomy cabin with plenty of space for a large group to take a break, the Hallelujah Hut warms up chilled skiers by a gas stove. On a sunny day, taking a break on the large deck to enjoy its 180-degree panoramic view is a must-do. And as Gene promised, "It was about an hour ski up and a quick 20-minute return."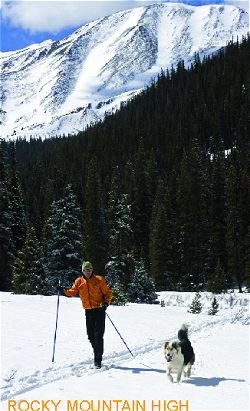 At an average elevation of 9,500 feet, cross country skiing in Breckenridge puts some extraordinary demands on those coming from lower environs. Oxygen here is significantly reduced compared to sea level, which means not only is it more difficult to breathe when exerting yourself, but you may also fall victim to altitude sickness. Even the fittest person, including those who live at altitude, can be affected. Though rarely serious, most symptoms of altitude sickness will pass in time, or if necessary can be alleviated by returning to lower elevation. Symptoms include headache, shortness of breath, listlessness and vomiting—akin to an all-day hangover, but without the fun of the previous night's party. To adjust to the altitude easier, follow some basic guidelines: If possible, gain elevation gradually, perhaps spending a day slightly lower first; drink plenty of water prior to your arrival and keep pushing the fluids after you arrive; avoid alcohol and caffeine until you have acclimated; and take it easy on the trails. If necessary, medications such as Diamox are available to help prepare you for a trip to higher elevation. And in Breckenridge, advertisements for oxygen commonly grace drug and grocery store windows; at less than 100% oxygen, it is available without prescription.
Frisco Nordic Center
Also operated by the Daytons, Frisco Nordic Center sits seven miles east of Breckenridge in Frisco—its 230 acres of land extending into Dillon Lake on a peninsula. In the late 1980s when the only Nordic skiing in town was an old ski jump, the town of Frisco purchased half of the peninsula for $1.5 million from the U.S. Forest Service originally to develop a golf course. Subsequently, however, the Forest Service issued a recreation permit—recently extended for another 20 years—and Bill Koch designed 42 kilometers of Nordic trails.
With Frisco Nordic as home, the Summit Nordic Ski Club is coached by the Dayton's son Matt, who moved into the family business from professional ski racing—a former member of the U.S. Nordic Combined Ski Team and competitor in the 2002 Salt Lake City Olympics, anchoring the team events. Presently, the club trains over 30 high schoolers; their Bill Koch Ski League sees 250 youngsters on skis.
To pump up the heart rate, head to the local's favorite skate skiing corduroy on Crown Point Trail. Because Frisco Nordic intersperses gentle terrain with rolling to challenging hills, Rocky Mountain News named the ski area as "the best Nordic center to get in shape." On hills such as the Buzz Saw, skiers reach speeds up to 40 mph.
Snowshoeing is also big here. Last year, snowshoers catapulted a benefit for the Susan G. Komen Breast Cancer Foundation into one of the larger winter events in the area. Over 1,350 participants entered the Romp to Stomp Out Breast Cancer. Linda Lichdendahl, Frisco's Community Relations representative, is very positive about the town's partnership with the Frisco Nordic Center. "It's taken 17 years to develop," she said. "But it's now come to the point where everybody trusts everybody." And that partnership is paying off.
Frisco Nordic is abuzz with change. After experimenting with snow making, a recent agreement with the town will provide the Frisco Nordic operation with 12 acre/feet of water to make snow for 10 kilometers of trail. For the coming season, if the weather cooperates, Dayton estimates they should be able to cover five to six kilometers of trail with man-made snow, 20 feet wide by one foot deep. The Nordic center is also connecting the Crown Point and RJ Vista trails to create a loop instead of the previous out and back configuration, increasing terrain for intermediate skiers and providing a beautiful, serene winter setting running along Dillon Lake's edge. Future plans also call for Buzz Saw to be lengthened and connected to Crown Point.
Gold Run Nordic Center
Previously managed by the Daytons on a two-year experimental basis, Gold Run Nordic Center is now operated by the town of Breckenridge. As they say in the music business, Gold Run is on the charts with bullet and rising: It has seen growth of up to 38% with annual records of 6,000 – 7,000 skier days.
A Rossignol demo venue, the center features a small retail shop offering rentals, lessons, equipment, clothing and accessories. In addition to its regular PSIA lesson program, the center offers sleigh rides and a one-hour "Espresso" clinic on Saturdays as well as regular Wednesday women's clinics. Home of the annual Ullr Fest bonfire where Breckenridge's no-holds-barred winter festival's King and Queen are crowned, the center plays host to several special seasonal events: the Gold Run Classic 5 km/10 km; the Gold Run Volks March, a non-competitive snowshoe tour of 4 km or ski of 10 km; the Gold Run Loppet, a 15 km/30 km freestyle; the Dogterra, a canine/skier/snowshoer fundraiser; and the Gold Run High Alpine Winter Triathlon.
Gold Run Nordic Center is not your typical cross country ski center. Located in a stylish, modern country club building with a posh restaurant and bar, it is decidedly more up-scale than most Nordic centers around the country. It's this very contrast, however, that makes Gold Run a perfect compliment to Breckenridge Nordic Center, because it offers a very different experience, both in terrain and environment.
Winding across and up the historic Delaware Flats, Gold Run situates 80% of its 22 kilometers of trails on a golf course. The moderate terrain, while varied, is oriented more toward the entry level to intermediate skier, with about six kilometers on the difficult spectrum.
Breckenridge has taken a novel approach to the Gold Run center; it is actually run as part of the town's recreation department, utilizing Gold Run to add more year-round business. Employing a staff of 10 people, Gold Run bounces summer golf course maintenance workers to winter Nordic Center groomers. But on the golf course, the grooming team must balance creating a superior skiing experience while preventing trails from negatively impacting the golf course. Since many of the ski trails follow cart paths, groomers strive to preserve skiing as long as possible, while still clearing the greens in March to be prepared for golf. So far, Gold Run has seen great support from grooming staff; it doesn't hurt that the superintendent's son is a top Rocky Mountain division cross country racer.
Though slightly removed from town, Gold Run is easy to access with plentiful parking. An added plus, it's an ideal racing venue with good visibility and an easy walk from the start to finish areas. Because of its layout and infrastructure with the very comfortable Breckenridge Clubhouse, it's perfect for big events including the Colorado State High School Cross Country Ski Championships.
Indecision
If you can't decide between the three ski areas, you can purchase a three-way trail pass. Gold Run partnered with Breckenridge Nordic Center to create the pass that also includes Frisco Nordic Center for a whomping total of over 100 kilometers of cross country skiing packed within 10 miles.
Beginning in November, the Breckenridge cross country ski season barrels well through mid-April or later. This year, Breckenridge Nordic skied in early October, following a 30-inch dump of snow on October 8 and 9. When you add it all up—three great Nordic centers, a culture of Nordic skiing driven by the sport's true visionaries, a wealth of history and a spectacular mountain setting—it might be more appropriate for Minnesota to aspire to be the "Breckenridge of the Midwest."
If You Go: • Breckenridge Resort Chamber
970/453-2913, Central Reservations 888/251-2417
www.gobreck.com

• Town of Frisco
800/424-1554
www.townoffrisco.com

• Summit County Chamber of Commerce
800/530-3099, 970/668-5800
www.summitchamber.org

• Breckenridge Nordic Center
970/453-6855
www.breckenridgenordic.com

• Frisco Nordic Center
970/668-0866

• Gold Run Nordic Center
970/547-7889
www.goldrunnordic.com