The A to New Zealand of Cross Country Ski Training Camps
In recent years pre- and early season training camps, particularly women's programs, have blossomed across the country. While a couple of the long established venerable camps continue to flourish, new camps have begun springing up in every region of the country. And what better way to get a jump on the season?
But I'm not a racer, you say? You don't need to be a hard-bodied racer to benefit from expert coaching and technique instruction. Plus how much more fun could it be than to be fully immersed in a cross country skiing environment for up to a week with like-minded individuals sharing the learning, fun and camaraderie.
We've assembled a guide to some of the most prominent camps so that you can start your season with a bang. If you know of other good programs, be sure to let us know so that we may include them in the future.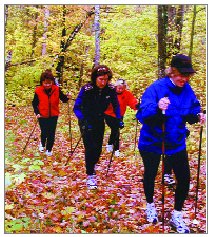 The American Birkebeiner Women's Cross Country Ski Clinic, sponsored by Outdoor Ventures, Telemark Resort and the American Birkebeiner Ski Foundation, is set for October 7 - 9, 2005 at Telemark Resort in Cable, WI. The event, for women seeking fitness or pre-race training, features three days of instruction from some of the best female cross country skiers and coaches in the U.S.
In addition to dry land drills, pole hiking and roller ski techniques, the weekend features Pilates and strength training, equipment demonstrations, waxing clinics, networking, camaraderie with women from across the U.S., and just plain fun.
Check-in: Friday, October 7; 8 - 11 a.m.
Clinic ends: Sunday, October 9: 1 p.m.
Cost: $350—includes Friday and Saturday night lodging, meals, tax, gratuities and seminar fees; $25 off if registered by September 1; Double occupancy package: $275; Triple occupancy package: $256; Quad occupancy package: $242; No housing package: $252; Thursday night lodging: additional $65, no meal.
Program materials will be sent approximately 30 days prior to the event.
For more information call 715/634-4447, or e-mail birkie@birkie.com. To register call 877/798-4718 ext. #547 or email tefi@cheqnet.net.
Editor's note: We just learned at press time that this camp has been cancelled due to low registration. It is included for future reference.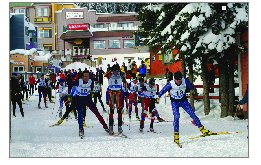 Atomic XC Camps 2005 at Silver Star Mountain—the granddaddy of XC Camps is in its 18th year. This will be a particularly special year as World Cup Nordic competitions being held in the area December 10 - 11 will attract top international athletes to train during the time the camp is scheduled. The famous Silver Star Night Sprints will be back and held in the village center the evening of December 6.

The usual top of the line instructors and coaches will be joined this year by Magnar Dalen, former coach of the Swedish National Team and now an international cross country skiing television commentator.

A new camp option for summer athletes, "Cross-Training" camp will be offered with a weekend two-day camp and a five-day mid week camp. This camp will focus on skate skiing and on giving the summer athlete a complete winter training opportunity.

The regular Technique Tune-up weekend camps and week-long Technique Camps are available for those wanting to start XC skiing or wanting to improve. For the racing enthusiast, the LSD/LTL (Long, Slow, Distance and Learn to Loppet) camps are offered with the final camp ending on December 9, just in time to watch the World Cup events.

Camp Schedule:

Technique Tune-Up Camps: Nov. 18 - 20, Nov. 25 - 27, Dec. 2 - 4

Technique Camps: Nov. 20 - 25, Nov. 27 - Dec. 2, Dec. 4 - 9

LSD/LTL Camps: Nov. 26 - Dec. 2, Dec. 3 - 9

Cross-Training Camps: Nov. 18 - 20, Nov. 20 - 25

All camp options, prices and information are available at www.xccamps.ca.

The daily agenda at the Crested Butte Nordic Center's Thanksgiving Camp, November 25 - 27, 2005, includes waxing instruction, beginning, intermediate or advanced classic or skate clinics with video analysis, wax clinic, pastries and lunch. Saturday's program features a Grey Hares Refresher, Nordic Dinner and Silent Auction, Women's Skate Clinic with Ingrid Butts and Backcountry Awareness for the Nordic skier/snowshoer. The Camp wraps up on Sunday with a 5K Classic race and 5K Skate race, Grey Hares Refresher, and, of course, pastries.

Clinic sessions are $30, lunch is $5 and pastries are complimentary. The Camp is usually held right in town at 8,885 feet, but occasionally it is necessary to move higher to Kebler Pass and the Lily Lake area at 10,000 feet. However, the camp has never been cancelled because of lack of snow. Each clinic is limited to a maximum of eight skiers.

Clinicians include: Ingrid Butts—3-time Olympian and Birkebeiner champion; Kendall Butts—former U.S. Nordic Team Coach, former Head Coach U.S. Disabled Team and former Western State Nordic Ski Coach; Jesse Crandall—Western State College Nordic Ski Coach; Andrew Kastning—University of Vermont Nordic Ski Team and Junior Nordic coach; Ross Matlock—PSIA National Demo Team and Rossignol rep.

For more information or to register call 970/349-1707, email info@cbnordic.org or visit www.cbnordic.org.

Craftsbury Outdoor Center is offering a Marathon Ski Fitness and Technique Camp, December 22 - 24, 2005 prior to the TD Banknorth Craftsbury Marathon on January 28, 2006. Sections of the marathon course are quite challenging and race organizers recommend that less experienced skiers develop strong intermediate level of skills and strength prior to participation. Emphasis will be on development of an efficient classical technique and negotiation of difficult downhill terrain. Upon registration participants will receive a three-month training program designed by Craftsbury Outdoor Center's head ski school instructor, Pepa Miloucheva. Pepa will also conduct the evening camp marathon training seminars. Videotaping and critiquing will be conducted during the on-snow technique sessions by experienced staff marathon coaches. Skiers who register for the marathon may participate in the camp at a reduced cost of $195, which includes two nights lodging, all meals, evening seminars, technique sessions and the written training program. Skiers interested in enrolling in the camp may register on-line at www.craftsbury.com, obtain a printed registration form by phone at 802/586-7767 or email at stay@craftsbury.com.

Jump start your season at the fourth edition of the Devil's Thumb Thanksgiving Ski Camp November 25 - 27, 2005 at Devil's Thumb Ranch in Tabernash, CO. The 2005 camp offers top-notch coaching and many improvements in the camp.

Denver University Nordic Coach Knut Nystad and Fischer FSx team member Nathan Schultz will lead the three-day camp. Several former NCAA skiers and special guests will join the coaching staff to provide all levels of skiers with technique coaching, video analysis and lots of information about topics ranging from training and racing advice to waxing clinics and snow crystal science. The camp is designed for all levels of skiers, from novice to citizen racer and will combine significant technique work with a good amount of skiing.

Discount lodging packages will be available and will include free trail passes for those staying at Devil's Thumb. A reduced price trail pass for the three days of the camp will be available to camp participants not staying at the resort. The trail fee is not part of the camp fee and all participants must have a valid trail pass.

Morning and afternoon coaching sessions will take place on Friday and Saturday, with one longer morning session Sunday to allow for early departures. Skiers will be grouped according to ability with no more than eight skiers per coach to provide the best coaching experience possible.

Skiers are encouraged to be prepared to ski both classical and freestyle techniques; however, those skiers who wish to receive coaching in only one technique can be accommodated. All skiers who wish to have skating or classical instruction only must indicate this during registration so coaching can be coordinated quickly and smoothly.

During evening sessions on Friday and Saturday the coaches will lead discussions and present videos taken during the daily coaching sessions. Informal social activities and a wax clinic are also planned.

Registration is available online. The coaching fee for the three-day camp is $225 for those who register before the early deadline of November 4 and $255 up until November 18. Space is limited and registration will close either when the camp fills or at the final deadline. A Nordic club discount of $10 is available to anyone who can show a valid membership card to a ski club at registration.

For more info visit www.devilsthumbranch.com or call 970/726-5632; call 800/933-4339 for reservations. To register on-line visit www.nsavage.com/signup.

Come join the crew at Lone Mountain Ranch for a positive, supportive learning experience that will boost your confidence on skis. Experience the camaraderie of women who share similar interests and ski with a staff of certified instructors who are experts in meeting the needs of ranch guests. Women's Camp at Lone Mountain Ranch will help you improve your downhill control on all trails and enhance all aspects of your Nordic skiing.

Included in the package are: six nights lodging, three meals daily, all day instructional sessions devoted to downhill control, classic skiing and skate skiing with video analysis, a Northwest corner of Yellowstone Park guided ski tour, a sleigh ride dinner and airport shuttles. Evenings will be spent participating in a variety of ski programs (slide shows, videos, ski tuning).

Extra cost options: Snowcoach tour into the interior of Yellowstone National Park with a variety of skiing opportunities or a day of telemark skiing at Big Sky Ski Resort.

Camp dates: December 12 - 18, 2005; January 9 - 15, 2006; March 6 - 12, 2006

Cost (5 day/6 nights):
Small Cabin: December - $1,510 per person;
January - $1,600 per person; March - $1,510 per person.
Large Cabin: December - $1,900 per person;
January - $1,990 per person; March - $1,900 per person.

Single supplement is an additional $200 per camp.

For more information or to make reservations contact Lone Mountain Ranch at 800/514-4644, 406/995-4644 or reservations@lmranch.com.

December 7 - 11, 2006
Oregon Fall Camp features top coaching, world-class physiology testing, a training plan lecture series and is designed specifically for intermediate to expert adult skiers and racers. Reliable and high quality early season snow in the Oregon Cascades and easy air access from throughout North America. For more information visit www.xcoregon.org or call 541/317-0217.

Tentative dates: April 13 - 16, 2006
Reliable and high-quality spring snow in the Oregon Cascades plus afternoons working on dryland skills; top coaching; world-class physiology testing and training plan lecture series. This program is designed specifically for intermediate to expert adult skiers and racers. For more information visit www.xcoregon.org or call 541/317-0217.

The annual Christmas-New Year Winter XC Ski Camp sponsored by Rainbow Resort in Waubun, Minnesota on December
26 - 28, 2005 will include on-snow cross country ski techniques (skate & classic), coaching, seminars, video and more. Contact Amy Xu at 612/991-4912 or info@rainbowresort.com or visit www.rainbowresort.com/events.

Ski the Sovereign Lake trails with world-class athletes by participating in the 2005 World Cup Masters Camps hosted by Sovereign Lake Nordic Club in Vernon, British Columbia. Under the direction of June Hawkins participants will learn the latest techniques from professional coaches, no matter what your ability level. Sovereign Lake Nordic Centre is the race site for the 2005 Viessman FIS World Cup.

World Cup Tune-up Dec. 3 & 4
Upgrade your technique in classic, skate or both during this weekend tune-up. Coaching for three hours each morning begins at 9:00 am, with time for video analysis. After lunch enjoy skiing the trails with the world's best as they gear up for World Cup action. Cost of $199 includes instruction, video analysis, trail fees and GST.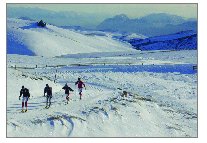 Four Day My Way Dec. 5 - 8
Expand your ski horizons with a four-day camp, designed for both classic and skate. This in-depth camp includes work on the flats, uphill and downhill techniques and basic training techniques and includes video analysis. With three hours of coaching each morning, you will have the afternoons to work on your technique or take in many of the World Cup Festival events. Cost of $349 includes instruction, video analysis, trail fees and GST.
For registration information contact June Hawkins, Camp Director at 250/306-1463 or june@sovereignlake.com.
Ski for Yourself Camps, presented by Christal McDougal and Women's Sports Works are designed to encourage women to stretch themselves physically, emotionally and spiritually. McDougal's aim is to enhance the enjoyment of sports through the development of athletic confidence and competence as well as inspiring women to thrive in every facet of their lives. Ski For Yourself Camps are structured to provide more than just a standard ski lesson. In addition to offering expert ski instruction in classical and skating techniques, videotaping, lodging and meals, one of the primary camp goals is to make learning fun and challenging for all women--in a friendly, supportive environment, no matter what ability or fitness level. Women who attend camps enjoy three nights of great lodging and meals, yoga classes, massage, demo equipment and a hands-on ski care clinic, along with the warm-hearted and individualized ski instruction that has characterized the program since its inception.
2005/06 Camps include Waterville Valley, NH, Jan. 26-29, 2006 and tentatively Latigo Ranch in Kremmling, CO and Stowe, VT with dates yet to be determined. All-inclusive prices from $560.
Contact: Women's Sports Works - 303/499-0436, wsw@indra.com, www.ski4yourself.com.
This year marks the 26th season that West Yellowstone, Montana has played host to cross country skiers during the month of November. West Yellowstone's reliable early season snow means that the Yellowstone Ski Festival is the place to start your cross country ski season. Known for years as Fall Camp, the renamed Yellowstone Ski Festival takes place during Thanksgiving Week on November 22 - 26, 2005.
This year's event highlights include the Fall Camp Clinics (seven different clinics to choose from), the free Try It and Buy It Gear Demo, an Indoor Ski Show and the NorAm XC SuperTour races. New events and features this year include a kid's recreation program, morning yoga classes, a 100 M world record attempt and a Thanksgiving Day Turkey Trot. Trail passes are $8 for one day, $20 for three days and $45 for the month of November. 2004 Yellowstone Ski Festival attendees will be happy to hear that over 11 restaurants have committed to being open for business during Thanksgiving Week. For more information about registration or accommodations visit www.yellowstoneskifestival.com or call Jamie Greene at 406/646-9427.
Nathan Schultz, a member of the recently formed Team FSx (Fischer/Swix) and former Subaru Factory team member will continue to offer his expertise to Nordic enthusiasts this season. In 2005/2006 Natron Nordic Enterprises Camps & Coaching events will be held in Devil's Thumb (see the listing above for more details) and New Zealand.
Natron Nordic's camps focus on technique development in small groups (seven or fewer athletes per coach) with extensive use of video analysis. Off the snow, camps are packed with presentations covering topics all good skiers should know—waxing, equipment, training, and if you catch the coaches on a good night, Aquavit drinking.
"A trip to New Zealand is a once-in-a-lifetime opportunity" says Schultz. In 2006, there will be two trips to Snow Farm in Wanaka, New Zealand in August in conjunction with the U.S. Ski Team training camp. These camps immerse participants in the skiing life with U.S. Ski Team coaches, athletes and staff helping out with coaching duties and presentations. Session 1 will be a 10-day on-snow camp is tentatively for scheduled July 31 - August 10. Session 2, August 16 - 26, will include the Merino Muster (New Zealand's ski marathon) and the Kangaroo Hoppet in Australia.
Costs for these trips depend on accommodation options. Trip cost includes ground transport, lodging, meals and coaching. Airfare is not included. Cost for the 2005 trip was $2,499. Lodging availability is extremely limited at Snow Farm, so reserve space as soon as possible.
A schedule, event details and on-line registration are available at www.NatronNordic.com.
For additional information call 800/380-5048 or email info@natronnordic.com.