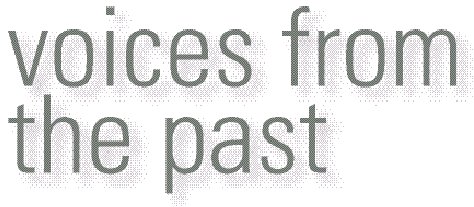 Since its launch 25 years ago, Cross Country Skier has published more than 100 issues. Creating an editorial archive of all the issues published to date, I found myself losing hour after hour reading the stories. Time set aside for other responsibilities slipped away while I followed the rise of Bill Koch, the introduction of skate skiing and the profiles of destinations Mother Nature blessed with spectacular landscapes and snow guaranteed from November to March.
From cover stories to news digests to columnistís prognostications, I followed the history of Nordic skiing in North America. The voices in the pages range from legends known worldwide to dedicated people only interested in securing short-term fame by putting time and muscle into building a local trail.
Celebrating our 25th anniversary this year, reflecting on the voices of the past gives us sense of how far the sport has come. With humble respect to the champions that came before our time, we are reprinting excerpts from 25 years of stories. Reminisce with us a little.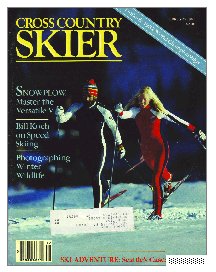 February 1982
Bill Koch on Speed Skiing and Uphills
Bill Koch: "speed skiing is a very useful technique to know, I feel. Apart from its merits as a technique to be used on appropriate parts of a course, it can pull you through a race when you miss the wax or if your wax wears off before the end of the race. I have been helped in this way many times by this technique."
October 1983
Intimate excerpts from the journal of one of this countryís top World Cup racers. - By Tim Caldwell
December 3; Ramsau, Austria
Lab city is far behind now, and the racing season is upon us. I am recovering from a cold that seems never to quit. We arrived last evening after an interminable trip from New York, 30 hours en route, and now the race organizers tell us there is no snow in town. Thus we are forced to ski the glacier. December 16; Davos, Switzerland
Discipline, not so much of the body but of the mind. That is what I need especially. Recently, I have been unhealthy, lacking the vigor of mind needed just to race, not even to do well. I am not disciplined enough to transcend my body when it is unwell. I let it drag me down, and my whole being suffers.
How does one gain satisfaction from ski racing? Is it medals? For some, perhaps. Others, like myself, who have never experienced the special thrill of an Olympic or World Championship victory, must look to the intangibles, the euphoria of an all-out effort, knowing that Iíve raced my best, exalting in a tenth or fifteenth? Itís the getting there, the highs and lows, the testing and probing, culminating is a day when everything clicks and I am able to overcome ordinarily impossible obstacles. Those are the days I live for.

October 1983
Close Encounters
Robert McNamara, President of Ford Motor Company
Secretary of Defense under Presidentís Kennedy and Johnson
By Bill Morris
Could you tell us what kind of gear you use?
Well, I use skis that require waxing. I much prefer those toówhatever you call themófish scales, or even to skins. So I wax, and in Colorado, where the temperature is both normally cold and fairly stable, it is relatively easy to wax effectively.
I try to use a relatively wide cross country ski with an edge, and a relatively stiff and warm boot because Iím poor going downhill. I donít want any bindings that hold my heel down, but I do use a little projection on my boot that slips into a V-notch mounted on the ski. Those are, from my point of view, the most magnificent things that have been invented in years.
There are an awful lot of skiers around now. Do you think that the popularity of cross country could be detrimental to our natural lands?
Oh, heavens no! The carrying capacity of the mountains is much greater than the present population using them. We just have to learn to use the mountains more efficiently. We can increase their "capacity," for example, by putting cabins in them as the Swiss have done.
November 1984
Marathon Winter
In 1984, Stuart Stevens became the first skier to complete all 10 Wordloppet ski races in a single season. Thatís over 625 international kilometers in eight weeks. Hereís his first-hand account.
Stuart Stevens: "There is something extraordinary about the motions of cross country skiing, the way one can get lost in it gliding down the track, hypnotically floating in this strange, white world. Itís a bit like dreams of flying, floating down the track blessed with a grace you donít deserve, part of a beauty youíve only observed from the outside. Itís a way to get lost, to forget oneself, to feel strangely, wonderfully, different."
At the 60-kilometer mark of the 89-kilometer Vasaloppet, I knew I was in real trouble. It was the worse I could ever remember feeling. My arms, legs and back cramping, my reserves completely shot. Somehow it didnít seem quite fair.
It took me seven hours to work through those 89 kilometers. At the end, when I collapsed into Kjell Kratzís arms, I didnít feel elation, joy, happiness or sorrow. I donít think I felt anything, just a tired deadness that I didnít know existed."
November 1985
Roller SkiingóHigh Tech Hits the Pavement - By John Tidd & Sverre Caldwell
The first roller skis were nothing more than old wooden snow skis with roller skate or caster wheels bolted to the bottoms. In the 1960s, Scandinavians produced several versions that still were relatively heavy and awkward. At about the same time in this country, Mike Gallagher, now U.S. Ski Team coach, was making roller skis in this basement.
Things have improved greatly since those days. Todayís skis are technically sophisticated, smooth riding and quite capable of duplicating snow-skiing moves.
You will have to make your own decisions about long vs. short, fast vs. slow, fun vs. technical, soft wheels vs. hard and skate vs. diagonal. Remember that although skating is the rage now, half the World Cup races currently forbid it, so you shouldnít forget how to diagonal stride.
January 1985
Survival of the Fittest - By Andrew Slough
Is there life after the U.S. Ski Team? For Idaho native Kevin Swigert the answer is yes. Three national titles were just the beginning of a career that turned survival into success.
Hollywood would love to get itís hands on Kevin Swigertís story. Cast Robert Redford in the title roleÖOn the threshold of his greatest victories, full of promise and future, tragedy strikes. Unable to compete, unable even to ski, he quits the team and returns to Idaho.
"When Americans get involved in a sport, too often it becomes a consuming passion that eventually burns them up. It did me. I entered the fall of 1979 in the best shape of my life any by mid-November Iíd trained so hard and so inefficiently that I was exhausted. I became incapable of competing at all."
If Kevinís success was limited to national Nordic titles, his story would rate only half a dozen lines in a dusty record book. Kevin, however, used his Nordic career as a foundation for success. He is a four time winner of NBCís Survival of the Fittest.
January 1986
Marathon Man: A First-Person Account from the Iditaski
By Willem Lange
Iím taking part in the Iditaski Marathon, a race of more than 200 miles, completed in six or less days. The course is the National Iditarod Trail, an historic dog-sled path from the early 1900ís thatís in danger of becoming a thing of yesteryear.
I manage only a few minutesí sleepótoo much stimulation, too much pain, too much foreboding. I lie there listening as some learned character out of the kitchen drones on about the merits of Swix green and the use of aspirin to reduce inflammation.
Then on again, hour after silent hour, following a tractor track straight as an arrow through the bush in an old seismic line. The track is icy, so itís easier to ski alongside it, about three feet higher. Falling asleep on my feet, I fall over sideways and upside down right into the track, with much cursing.
A Giant is Born - By Lyle Nelson
Politics and sports are usually as polemic as klister and dry powder snow. But at Giantís Ridge, politicking is the ingredient that makes it a success. In the words of Minnesota Governor Rudy Perpich: "The Giantís Ridge Ski Area offers outstanding facilities, state of the art trail design, fine lodging and an enthusiastic and knowledgeable staff to ensure a most successful World Cup for the United States."
The Governor backed up these enthusiastic words with something more substantial: money. Funds to the tune of $9.6 million from state tax revenues have been pumped into the Giantís Ridge development.
October 1986
The Shattered American Dream: The U.S. Ski Team Rallies against Unfulfilled Promises - By Stuart Stevens The stark reality of 1986 is that the U.S. Nordic Ski Team is in serious trouble. Despite the best efforts of a dedicated group of athletes and coaches, results have steadily eroded since that promising season a decade ago. "Weíve got the horses, make no mistake about it," notes longtime ski team associate Peter Graves. "Audun Endestad, Jim Galanes, Sue Long, Kristen Petty-these people are some of the finest athletes going. But somehow weíre just not providing the support system to get them consistently to the top."
Gone is the concept of one head coach for the menís and womenís teams. As of this season, the team will be divided into four regions, each with its own coach. That coach will work with elite and junior skiers, men and women, all together.
Marty Hall is convinced that it is impossible for elite level skiers to train adequately while attending college. "My old skiers will groan when they hear me say this because Iíve been saying it for years, but I think there are three Sís in a skierís life: studying, skiing and social life. At best, an athlete can pursue two out of three, but never all three."
December 1986
Jack Rabbit Johannsen. The Life Behind the Legend
By Sally Moore
There are many stories about how Jack Rabbit got his name, but the one with the most credence concerns the Hare and Hound bushwack ski chases he organized for the Montreal Ski Club. With his considerable skill, Johannsen was almost always the hare to be pursued. Canadians used the term "rabbit" over "hare" and "rabbit" gradually evolved into "Jack Rabbit".
Jack Rabbitís fame, once rather localized, began to spread with the advent of the ski tow and the ensuing popularity of skiing. The mechanical invention, which brought so many to the slopes, never pleased the energetic Norwegian and so, for many years, he was part of a small group of skiers determined to serve the sport of cross country skiing.
When World War II broke out, Jack Rabbit offered to train the U.S. ski troops. He was turned down because he was 65 years old, but to prove a point, he kept a log of miles he skied: During the 1940-41 season, he covered 980 miles, in 1941-42 960 miles, and in 1942-43,1,155 miles.
A summary of his lifeís philosophy, "Skiing is a means of getting health and happiness if itís used the right way.
December 1987
On the Trail of the First Irregulars - The Tenth Mountain Divisionís Training Ground Lives on as Coloradoís Premiere Backcountry Route - By Tom Wolfe
"Follow me," Elliot said with a wide grin, "all you writers are good skiers. And all writers are liars. So you will like our first day. Skiing directly into darkness and driving snow," Chalik and I hoped that Elliot had good leadership qualities. "Weíre fresh, so weíll do 20 miles today." Elliotís voice was nearly inaudible in the icy blast of the ground blizzard. "That way, you can get used to your packs, and we can meet my partners, Ted and Carol, in the hot tub tonight."
Spring 1987
Koch Quits - By Paul Robbins
Koch told reporters, "Iím a family man first and there really isnít much interest for me in international racing anymore, except for the Olympics."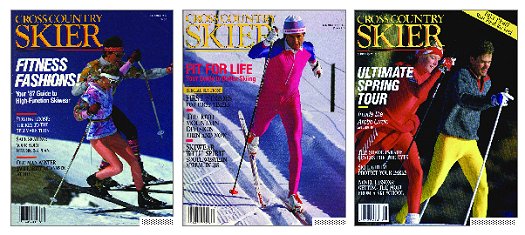 "I feel strongly that Kochie was a great athlete, years ahead of his time in many ways, says Marty Hall, Kochís coach for the 1976 Olympics. "All that he did to prepare himself, his mental toughness, all that he got out of himself, the way he overcame problems with his lungs and asthma. Itís a great story."Ö But, he also had some real flaws."
"At the end," Hall adds," he had other athletes believing his song about "You only need 400 or 450 hours of training a year,í and itís been very destructive force on the American development program."
Powers That Will Never Be - By Eric Evans
After reaching new heights in 1982 and í83, the U.S. Nordic Team has been on a painful downward spiral. As of late, the predominant view is that the key to rectifying this U.S. malaise is development: a program that will not only expand the base that eventually feeds the national team, but also better serves the individuals each step of the way.
What then, can we hope to gain from increased development programs in cross country? Slow, steady growth in the sport, just as we have seen in the past-no hula hoop binges or CB booms. In competition, North Americans can expect modest international results.
January 1988
The Sauna: The dry heat of this Scandinavian tradition adds to skiing pleasure - By Don Cuerdon No good cross country holiday experience is complete without at least one good sauna session. Even the swarthiest skiers can feel like true Scandinavians after a day of Nordic skiing that ends in the sauna. After youíve warmed up, treat yourself to one of the wildest sensory experiences you can have without breaking the lawóthe ice plunge. There are several variations-jumping into waist-deep water through a hole cut in the lake ice, rolling in a snowbank, hopping in a plunge tank or taking a cold shower. The secret is commitment. You canít hesitate once youíve left the sauna or you skin will cool slowly and youíll miss the treat. When your skin makes contact with the cold water, your pores slam shut in a hurry, creating a total body wave sensation. Trust us. Try it.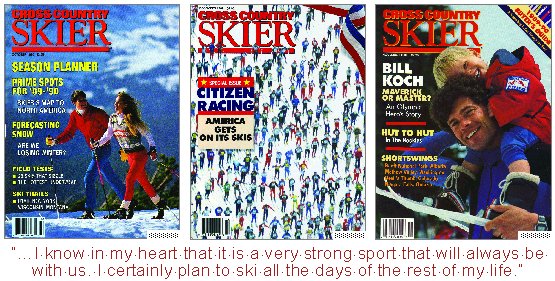 October 1988
Secrets from a Soviet Training Camp - John Caldwell
Other countries have been searching for an excuse. Soviet Nordic skiers are whipping the world because (a) they blood dope, (b) they have better facilities, (c) they have better sports medicine, (d) they have better drugs, (e) they are better financed, (f) all of the above.
Sorry. Last year my wife and I were invited by the USSR Sports Committee to visit its training center in Bakuriani. After 10 days we were left with little doubt about why the Russians are winning: They work harder. ...The pace of the workouts was about one-half a stage more intense than any I have witnessed during the past 15 to 20 years. I was astounded that they could keep this up day after day. At the time, they were training about 30 hours per week.
Spring 1989
ImagineóSixteen top skiers share their dreams - By Larry Rice
"Paul Parker was a member of the PSIA Nordic Demonstration Team for eight years. Dreams are a tough thing to think about. Even if I amplify the possibilities of an Ďultimate ski dreamí with unlimited time and money, most of the places Iíd like to go arenít prohibitively expense anyway. Besides, dreams donít stay dreams very long-after a few beers with friends around a pile of maps, dreams become plans."
"Jim Dale Vickery is a writer and seasonal National Park Service ranger who lives on the edge of northeastern Minnesotaís Boundary Waters Canoe Area which is under snow five months of the year. My fantasy trip will be in Alaska. I will fly there in a small ski plane and land in Denali, Wrangell-Saint Elias, Gates of the Arctic and Noatak National Parks.
Until this fantasy takes place, my dreams are close at hand. I believe that it is the mosaic of landscape, companionship and wildlife that strum the strings of my soul on skis. I will spend three days with a friend on springís snow crust with one inch of powder in the Quetico-Superior wilderness-my backyard. Weíll see deer, a moose and wolves, and have lunch on pine needle duff where a nearby stream glints in the sun."
October 1989
A Skier in the White House - By John Viehman
Iím not sure if President Bush is a cross country skier, but I do know heíd like to be remembered for his concern for our skiing environment. Thatís why he invited a handful of outdoor editors for a rare 45 minute meeting.
On the "big" environmental picture, President Bush gave a good indication of his environmental course when asked about last springís Alaskan oil spill. He downplayed the impact of millions of gallons of oil choking hundreds of square miles of ocean and coastline, saying," The early indications are that, well, nature is pretty powerful." Then he played up the need to drill in the Arctic National Wildlife Refuge coastal plain. "You want to get the American people upset? Just make them wait 20 minutes in line for gasoline."
November 1989
Mr. Cross Country: Bill Koch has been called everything from Babe Ruth on skis to a brat. Labels aside, heís still the best ambassador Nordic skiing has ever had. By Tim Blumenthal
Former U.S. Ski Team media director John Dakin says Koch " was, and still is to a large extent, cross country skiing in the United States," rating him tips and tales above other great Americans such as Dan Simoneau, Jim Galanes, Tim Caldwell and Adun Endestad. "No one as come close to what Kochie did." Koch: " Donít misunderstand me. I know Iím wrong about a lot of things, but Iíve been right on a few too. Five or six years ago, we never thought it was physically possible to skate uphill. Now everybody does it."
December 1989
Sven Wiik, Grand Master - He knows whatís good for the U.S. Ski Team. Just ask him. - By Gary Sprung As he closes in on 70, Wiik is the elder statesman among American Nordic skiers. He has seen it all and has a good deal to offer, but doesnít push his wisdom unless itís solicited. "Sometimes I listen to young people discussing and trying to solve the same problems we thought we had solved," he says. "I sit back and maybe answer questions, if they ask. But you donít volunteer wisdom. They wonít listen to me or the other old-timers any more than we did."
"The success of our national development program rests with all the Nordic coaches in the country," Wiik reasons. "There is no need for a national development team, which makes people feel excluded. Park City should delegate more and use the whole country as the development ground."
January 1991
An Interview with the Coach - Head U.S. Cross Country Team John Estle comments on training, skier development and the prospects for our racers in the coming decade.
Q: Cross country has suffered at the consumer level the past few years because of low snow in some areas. Does this affect the team at all?
Estle: When the ski industry is healthy, itís good for the team and vice-versa. We appreciate the companies who continue to support us through the Ski Team pool and we hope to give them much better service through promotion of their products.
Q: How long does it take for the U.S. to get into the second tier of nations?
Estle: With our current athletes, we could get into that group within a couple of years. Iím not saying we will, but the potential is there. Ö. We could be in the top group in eight to ten years.
November 1992
Equipment í93

When it comes to Adidas cross country ski boots, the last four years have been a case of "you can look but you canít buy." Since Adidas left the market in 1988, only the likes of Gunde Svan and other elite skiers on display at the World Championships and Olympics got boots. All the more frustrating for those partial to the three-stripe design and fit because in 1990 Adidas became a Salomon licensee.
This year, Adidas is back, with a compact, aggressively-priced three boot line-up aimed at performance minded skiers.
December 1992
The Secret Sierra. An Inside Look at Californiaís Bear Valley.
By Bob Woodward
Paul Peterson bears no great physical resemblance to Rodney Dangerfield, nor does he ascribe to the comedianís, "I donít get no respect" whine. However, this Bear Valley Cross Country ski area could steal Dangerfieldís line because, in spite of all its pluses, it isnít getting the recognition itís due. Itís hard to be in a hurry when the warming hut is within walking distance of any accommodation, the trails are groomed to perfection and the crowds are somewhere else battling traffic.
Spring 1993
Yellowstone. Winterís Mystical Wonderland.
By Steve Church
Itís a poorer soul who hasnít gazed upon Yellowstone National Park in winter. This setting offers the perfect restoration of body and spirit to anyone seeking heart-stopping scenes of natureís splendor without the T-shirt crowds of summer.
The winter is not only quieter; itís even more spectacular. The geysers are more explosive in the crisp mountain air; trees sparkle in the ghostly frost; and the animals, more concerned with finding food than with avoiding human intrusion, can be viewed from a ski poleís distance.
October 1994 - Kingís Journal
A rare opportunity, a competition to remember, and the thoughts of one of Americaís premier skiers, Suzanne King
January 29, Seiser Alm
Iím still adjusting to wearing a USST uniform. The letters "USA" on my back and thigh remind me that I have earned the privilege to represent my country. However, sharing these high altitude trails with national team skiers from all over Europe alerts me to the huge leap to becoming competitive in their arena.
February 24, Lillehammer
Iím so disappointed with my performance todayóthe worst Iíve had in years, and of all the places to "drop the plow." It was embarrassing to ski such a sluggish pace from the 1-km mark on, but at least I managed to finish.
December 1987 - Lillehammer Ski Club
"Lillehammer is the only town in Norway and in the world with a cross country skier in its city coat-of-arms," said Ivar Ringen, Lillehammers Ski Clubís president. Locally, the ski club solidifies the Lillehammer community by providing a variety of serious cross country training programs as well as fun social events for members and residents of all ages. Nationally, the ski club has arranged more cross country World Cups and championships than any other Norwegian ski club. Internationally, the ski club put Lillehammer on the map as the home town for two major cross country ski competitions: the Birkebeiner Race, first organized in 1932, and the Inga-Iami race, introduced in 1992.
November 1998 - Snow - By Dan Alighieri
There are many myths, however, that persist and believed by many, if not, most people. One is that no two snowflakes are alike. When you think about it, it stands to reason that with all the billions and trillions of snowflakes falling every year, itís highly unlikely that no two would ever be the same. However, it wasnít until 1988 that someone actually found and photographed two snowflakes that were, for all intents and purposes, indistinguishable from one another.
1999 Annual Ski Guide
Mental Mountains. To skate or not to skate.
That was the question. - By Jan Reynolds
ÖI knew I could skate with the best of them, but technique was changing. This was the last year of classic only. From then on, skating would be incorporated into biathlon.
I wasnít aware of just how much I was fighting learning something new, something I might not be good at in a sport where I thought I knew the ropes.
Öthere I was, with skate-length poles in my living room, planting my poles as I stepped with my right foot, and then fake-skating with my left, chanting "Step, skate, step, skate," and then switching sides and repeating the process.
I got the rhythm and viola! One day, while skating the flats, I began to pick up explosive speed. Walking through the rhythm until is was second nature really turned the tide for me, and once I got the thrill of speed, I was hooked.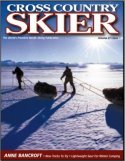 September/October 2001 - View from the Bottom
Ann Bancroft and Liv Arneson, By Ski, to the Pole.
By Lou Dzierzak
Last November, Ann Bancroft and Liv Arneson began the ultimate cross country ski adventure. Ninety-four days later, the pair became the first women to cross the Antarctic continent on foot. Arneson and Bancroft skied 1,717 miles across a landscape only a handful of people have ever visited.
ĎWe shared an ethic of enjoying what you are doing even when the days are hard and extremely discouraging. You have to have that approach when you go into a long journey like that, " Bancroft said.
"I love the rhythm of skiing, becoming one with nature," Arneson said. Recalling the journey, "There was no kick and glide there. Itís walking on skis. More like slogging. It was wonderful to get back home and run away in the tracks. I could go for hours."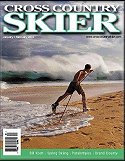 January/February 2002
Bill Koch, Americaís Cross Country Skier - By Ron Bergin
For the past two years or so, Bill Koch has been living in Hawaii and cross country skiing on the beaches of the Aloha State.
Perhaps the greatest attraction (to Hawaii) was the discovery that he could actually pursue the sport that made him famous on the beaches of his new home, where he could, in fact, practically ski out the door of his house on Molokai Island.
Equal to his Olympic medal and World Cup accomplishments is Kochís link to the advent of skating technique. And though it has been over 20 years since he first employed that radical technique, he feels it is still in its development stage, with much more evolution to come.
He is quick to emphasize that the sport of cross country skiing is such a special sportÖ. "It may have its ups and downs with regard to numbers," he says, "ÖI know in my heart that it is a very strong sport that will always be with us. I certainly plan to ski all the days of the rest of my life."