Some years there's very little earth shaking news to report when the next line up of new equipment rolls out. Perhaps a couple of cosmetic changes, a tweak here or there or maybe a new boot or ski. Not so this year, mon ami'. Almost every major manufacturer has something to crow about this year: Alpina, Rossignol, Madshus and Rottefella pioneer the new NIS binding; Atomic's new waxless racing technology, Fischer's "revolutionary" Jib Skate, Rossi's tele line-up to name but a few. So what are we waiting for? Let's take a look!
ALPINA/MADSHUS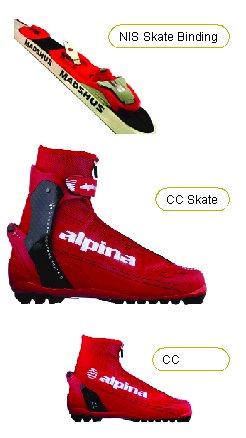 The big buzz at the SnowSports Industries Association (SIA) in January was the introduction of the Nordic Integrated System (NIS), a collaborative venture between Alpina, Rossignol, Madshus and Rottefella. As the name implies, the Rottefella NIS binding has been integrated into the ski, eliminating the need to screw the binding plate to the ski.
The flexible plate is bonded to the ski resulting in no loss of integrity to the ski while saving approximately 20 grams in weight. On the top side the NNN III boot/binding interface stays same. On the ski however, is a two-part binding plate for the toe and heel. Ridges in the binding mate to channels in the plate. The binding slides in and locks with interlocking ridges.
A special tool—a small metal lever, locks the binding into place. A flick of the lever permits a quick repositioning of the binding. The process is so quick and easy it can be done right on the trail. For example, if skating a lot in steep terrain and you want to have the binding slightly ahead of balance point so the tip will lift quicker, the binding could be released and slid up a centimeter or so. Or perhaps your wax just isn't working; you could reposition the binding over your wax pocket to get better kick. An elaborate binding mounting process will no longer be necessary. Both Madshus and Rossignol skis will continue to be available without the NIS system should you want use a different binding.
In addition to ease of installation, there is also an improvement in performance. Because it is rigidly connected there is more torque transfer and greater stability with no loss due to any looseness of the binding plate. Initially the NIS will be used for upper end race and sport skis manufactured by Madshus and Rossignol.

In other news, look for Alpina's new upper end Carbon Control (CC) boots. The CCS (skate) boot has a sole that wraps around providing a wider, more stable platform. It has a softer flexing insole but has a carbon insert midsole for more torsional rigidity while also making for a lighter boot. The CCL (classic) has a heel counter adjustment on the exterior of boot to fine tune the fit and comfort for a specific shaped foot. It also comes in two widths of last. Alpina created a database of 3,000 foot scans to determine averages. The information helped design the shape of the molds used in the design of the boot

.

In its ski lines, Madshus will no longer have Warm/Cold base designations. Instead there will just be references to flex: SC for soft conditions (new powder or granular sugar), HP for hard pack and R for regular. Madshus Hypersonic C3 class will be available in Cold, Wet and Multi-grip Vario (waxless) bases, plus a Junior version. The Hypersonic C3 Classic has a split tip and tail for increased wet snow performance due to shorter snow contact pressure points and thus less contact to the wet snow. It has a lower camber that allows longer contact with the snow during the kick, but without drag. The Hypersonic C3 Skate SC is a new skate model with less side cut and intended for soft snow conditions. Its' base (as is the C3 Classic) is comprised of a new material designed to repel dirt in the snow. The Hypersonic Skate R has a new base structure for cold snow, while the HP has a firmer tip and tail and a universal base structure for hard packed conditions. Madshus will update graphics throughout the line.

The Madshus Nordic eXercise skis utilize lightweight racing technology on a wider more stable chassis. The Nordic eXercise Z1 sports a Cera F base and the Z2 a Ptex 4000 base. Both will wear new graphics, have new side cuts and a wider more stable shape. The Z3 touring ski will be available up to 193cm and the Z4 is a wider MGV (Multi Grip Vario) waxless touring ski.

Alpina's BC skis will have a new 3D molded plastic cap, Scuff-Tuff, to help keep the skis looking good and collect less snow. A raised binding plate provides additional mounting space as well as a little more height for better edging. Look for new graphics and a new tip design throughout the BC line as well. Alpina's Control ski will also debut this year . With or without full metal edges, the Control is a lightweight wood core, cap construction ski with a non-wax posi grip base. The Cross Terrain is extra-wide and ideal for spring or backcountry touring. With a 102-64-87 sidecut and posi-grip base, the Cross Terrain has a go-anywhere attitude. Its lighter, slightly narrower cousin, the Lite Terrain also has new graphics.

ATOMIC
Atomic's top end skate racer, the RS:11 will hit the snow this winter with more camber and stability due to more material ahead and behind the binding. The RS:11 will have a wider tip and new graphics. Its classic counter part, the RC:11, will not see significant changes. However, the RC:11 Multi grip and its radical waxless kick zone comprised of a rubber, cork and petroleum base offers up a high end racing ski for those extremely difficult 0 degree C days. Atomic will also unveil a radical new transmitted Beta profile in its design that will not require an adapter to mount bindings. It has a closer to the ground stance for more stability as well as higher torsional stiffness for power transmission. In addition look for new sidecut, length and shape developed with World Cup racers as well as a new racing base, the BI 5000. On top, Atomic's skis will sport either the Speedskin for less friction and reduced suction effect or Star surface, a new look with improved durability. In between, Atomic's Nomex core is comprised of the lightest and strongest core material for racing skis, with 10% higher power transfer.

For Juniors, the RC:11Junior is available in two flexes to fit various body weights with the World Cup BI 5000 base. The Vasa Race is a new high end/second tier race ski slightly narrower than the RC:10 with features similar to RC:11. The RC:7, an entry level classic ski is another new addition,.
In Rugged Touring the Sierra and Rainier remain much the same, but there's two new entries, the Chugach and Selkirk with dynamic sidecuts, 98-69-88 and 78-60-70 respectively.

Atomic's quiver of tele skis have been entirely renamed after Himalayan peaks. Formerly Tele Daddy, TM:X, TM:22 and Femme Fatale, they are now known as Janak, Kongur, Diran and Antizana. Plus there's the all-new Tacora and a new twin-tip, Kontega. All have magnesium caps that provide better dampening and rounder flex compared to polymer caps as in previous models.
Atomic's new Fitness series skis feature semi-beta construction in the waxless FX:7 APG and FX:7 APG Junior for in and out of track and the FX:8 with a new fitness sidecut for skating. Fitness skis will include better sizing information directly on the skis including production date, serial number and lowest and highest weight recommendations. Atomic also rolls out a new BC binding and a line of new BC boots: 30-NNN BC; 40 - similar to 30 with a lace cover; and 50 - three pin with two upper buckles and a rubber sole.
Atomic Race boots continue to be tweaked by utilizing an extremely close fit and torsional rigidity to achieve a direct transmission of power. The RS:Elite skate boot features the Atomic Power Stabilizer for side support, stability and rand racing buckle. Both the RS and RC Elite also incorporate Atomic Performance Dampening (APD) Gel.
Keep an out eye for the FX50, a high performance touring boot with Atomic's Fitness last for increased ankle support and all around performance and a lace cover for snow and cold protection as well as APD Gel for comfort. It has a dual density sole that is made of two materials to better dial in the flex and more torsional rigidity.
FISCHER
See page 40 for more on terrain park skiing. A detailed profile of the Fischer Jib Skate will appear in our November issue. The biggest news from Fischer is the debut of the twin-tipped Jib Skate ski that is designed for use in the emerging niche of Nordic terrain park skiing.

All of Fischer's 2005/06 race skis will feature a new grinding technology called Diamond Tuned Grinding (DTG). This new structuring process will create a greater difference between Fischer's Plus and Cold bases. DTG uses artificial diamonds for the Cold base structure, while the Plus base will use a natural diamond grind to create a more precise and aggressive structure. All race skis will also have updated graphics for 2005/06.
New racing skis for 2005/06 include the RCS Skating Plus/Cold with the latest shape, camber and flex from the World Cup circuit featuring arrow-shaped dimensions. Also new is the RCS Classic Wet, a new classic ski for soft snow conditions, with a long open tip and tail to help the ski contour to the snow without resistance and the RCS Classic Zero—a specialized ski for around zero degrees. Its kick zone features a transparent, roughened base in the mid section. New in the second tier, is the CS Skatecut, a performance skating ski with air core construction. It has the Fischer race finish and the WC Pro base and is intended for intermediate to advanced skaters.
Look also for two new models to join the Nordic Cruising series for 2005/06, the Jupiter Control, a versatile wood core, air channel ski with wide body technology for in or out-of-track skiing; and the Comfort Cruiser, a wood core ski for recreational skiers primarily for in-track skiing at a Nordic center.
For 2005/06 the entire group of S-Bound skis boasts new graphics and adds two new skis to the popular lineup: The Snowbound offers S-Bound technology for the backcountry skier who wants to go efficiently from point to point with some turning along the way. The Xtralight is the widest S-Bound yet with a sidecut of 106-69-92 and will come in three lengths of 155, 165 and 175cm. It should be perfect for floating through deep powder and turning in tight places.
For 2005, Fischer will introduce three new telemark skis under the T-Stix name. These skis are designed for the increasing number of backcountry freeride, pipe/park, powder skiing and all mountain tele skiers.
In the sport lines, graphics are updated for 2005/06 and there will be a new entry to the line, the SuperLight Carbon in both waxable and waxless models.
The Fischer Vision—a complete package of women's gear also debuts this year. The ensemble of Nordic Cruising style skis, poles, boots and bag is completely color coordinated. Sidecut on the Vision ski is 51-44-53-44-47 and it is available in three sizes S (164), M (174) and L (184). It is a wood-core ski for the woman who skis primarily in-track at a Nordic center. Stable platform, excellent grip and durability make the Vision Cruiser a great all-around track ski. Fischer's first women-specific package also features matching Vision Cruiser boots, poles, binding and ski bag. Built on a women's specific last, the XC Vision boot is primarily for in-track use and has a center zip cover and Sport1 Sole. Its graphics perfectly match the Vision package. The package also includes the Vision SNS Automatic bindings. At 185 cm, the bag will hold up to three pairs of mid-length Nordic skis plus a few accessories. It has a full-length zipper, reinforced bottom, edge protection front and rear, neoprene handle grip and vent holes.
The 2005/06 season marks year two of Fischer's Centrix boots with cosmetic upgrades for all models to match the new race ski graphics. In addition, all 9000, 7000 and 5000 models will also feature speed lacing for improved fit and performance. Plus, Fischer will introduce the Centrix Junior 9000, which can be used for both skating and classic technique. There will be two new Centrix adult models as well, the C3000 for classic technique and the S3000 for skating.
Centrix technology can now also be found in the Nordic Cruising category with the introduction of the Centrix Cruiser. And for juniors, the new Pro Cruiser Jr. has been developed to match performance and graphics with the NC Junior Cruiser ski. For 2005/06, Centrix technology will also expand into the Sport group with the addition of the Vitalis.
KARHU
In 2005/06 Karhu brings back the XCD skis with new technology and classic names and offers a greatly expanded and improved line of XCD boots. There are three all-new women's telemark skis; new Jak, Jak Team Edition and Jak BC; and the PFD—Personal Flotation Device—a short, soft and fun ski- called a snowboard for each foot. Snowblaze offerings have also expanded with new boots and two new ski models.

The Karhu XCD line includes the Mountain, GT and Pinnacle. Notable features include air-channeled Aspen core, KV-Taper and the Omnitrak NoWax Base with a graduated grip pattern.
XCD boot offerings feature the XCD Descent designed for downhill performance with the XCD Mountain ski. The Descent features a split leather upper, thermoplastic cuff and a ratcheting buckle and strap closure with men's and women's sizes available. The XCD Traverse boot is a heftier, improved version of the Convert. It features a ballistic nylon upper and a rubber rand to protect the upper from edges and also features a thermoplastic cuff with a Velcro powerstrap closure. The lower cuff makes the XCD Traverse more touring oriented. The XCD Tour offers the same high performance upper as the XCD Traverse, but on the SNS X-Adventure sole.
The new Women's tele and AT skis—Jill, Betty and Alice—were tested by women of all abilities to determine the optimum construction. The lineup of high-performance all-mountain skis features the same Titanal PowerClaws and V-Bands as the Bear Series. For the women's lineup, swing weight as well as the overall weight have been reduced and a bit of longitudinal stiffness added by using Poplar in place of Aspen and Maple.
The all-new Jak sports the PowerClaws and V-Band technology from its all mountain Bear series. The Jak, with its 90mm waist fills out the Bear Series with a ski for all snow conditions, from powder to hard pack. Available: 165, 172, 179, and 186cm. Sidecut: 124-90-113.
The Jak "Team Edition" is a big mountain version of the new Jak with a 100mm waist. The ski features the best attributes of the rest of the Bear Series, including Titanal PowerClaws, V-Bands and a Macroblock Core. Available in 172, 179 and 186 cm. Sidecut: 134-100-125.
The Jak BC has been updated for 05/06 with a new shape and construction. It also has a 90mm waist in all lengths. Construction is a die-cut fiberglass laminate and a Carbon Powerband.
The PFD is a limited edition, Telemark Fat Ski. The ski features an extra-wide 110mm platform, symmetrical flex pattern and extra deep snowboard like side cut. The PFD features a birch and walnut top and maple sidewalls. Only a limited number will be made in one size only.
Look for more Karhu Snowblaze skis including the Aero Skate at 160, 170, 180 and 180H with 42-40-44-40-42 sidecut; the Aero at 170, 180, 190 and 200 cm with sidecut of 50-47-48; the Nova in lengths of 165, 175, 185 and 195 cm and 55-50-52 sidecut; and Aurora at 165, 175, 185 and 195 cm and 55-50-52 sidecut. The Snowblaze design features include: Isocore Cap Construction, KV-Taper, NRG Tip, Hyperbolic Camber, Omnitrak NoWax and a Sintered Base on the Aero Skate.
For boots, the new Snowblaze Combi is the highest-performance Fitness Touring boot in Karhu's collection. The boot features a thermoplastic cuff for ankle support and the SNS Profil Skate and Classic sole for lightweight performance and stiffness. It is recommended for the Aero and Aero Skate. The Snowblaze Classic offers an affordable entry-level boot with high-end features, such as a zip lace cover and plastic heel counter for support. It is recommended for the Nova and Aurora skis, and comes in men's and women's colors.
ROSSIGNOL
Rossignol has strengthened its line-up and made several innovations in skis, boots, bindings and poles for 2005-2006. New innovations for next season feature the new X-ium S1 and S2 skis and the development of a new price point racing/fitness family called ZYNEX. In the touring arena, Rossignol introduces the new EVO Glade, designed to be skied 70% out-of-track and 30% in-track. The X1 and X2 Touring boots have been updated with new designs and added features to improve fit and stability. To round out the collection, Rossignol introduces five new Telemark skis, three unisex skis and two skis designed specifically for women.

Rossignol's new X-ium skating skis have many new technical advances, including a new 3D shaped tip and tail profile. Rossignol's catapult camber has been modified to a softer camber than the current models, which improves the overall glide of the skis and widens the range of snow conditions that each model can be skied in. The X-ium skate will also have a new Racing Cobra sidecut profile at 42-45-44-44.
Rossignol rounds out its quartet of X-ium classic skis with the addition of the new X-ium classic AR, a true waxless racing ski that utilizes the same core, cap and base materials as the C1, C2 and C3.
The X-ium World Cup skate and classic boots are improved for next year with a new NNN racing sole that wraps around the heel and arch improving the overall stability and control of the boot. The sole is thinner under the ball of the foot to improve forefoot flex, which facilitates more power during push off. The Classic sole is thinner under the ball of the foot to improve forefoot flex and facilitate easier kick.

The new X-ium World Cup pursuit boot combines elements from Rossignol's X-ium skate and classic boots, utilizing the skate boot chassis with its carbon upper-cuff with the classic boot's mid-sole and outsole.
The X-ium line of junior skis is reinforced with new skating ski cosmetics to match the adult skis. The racing sole on the X-ium J skate boots has been redesigned for more reactivity.
The new ZYNEX family of racing and fitness skis is targeted to high school racers and fitness skiers. These skis come in both skating and classic models.
Rossignol has designed a new X6 skating boot that will compliment the new ZYNEX skating ski. The X6 skating boot is based on the X6 touring model but with lighter colors.
To compliment the Evo Tour and Evo Action skis, Rossignol has developed a new Evo Glade ski with a new sidecut of 65/55/60. The EVO Glade targets skiers who want a ski that performs well in-track but mostly enjoy exploring untracked trails and glades.
In the traditional ski category there's a new X-tour entry with new cosmetics, a wood core and 53mm waist to complete the Evo and X-tour family. Rossignol has also developed new X1 and X2 boots with a new cushy tongue for easy entry. Rossignol reinforces the "For women" boot line with the introduction of the Saphir 6, which has a special last (narrower and lower profile) and heel lifter for a better woman's fit. Similar to the unisex X6 boot, it features colors that should appeal to women. The introduction of the Saphir 6 brings to eight the number of models in the women's line. Rossignol's completely new line of telemark/randonnee skis is a highlight of the 05/06 Nordic lines. The line is comprised of five new models including two women's models. Inspired by Rossignol's most popular graphic from the 80's, the cosmetics will bring a refreshing look to the telemark category of skis. The five new freeheel skis include the Sickbird, Powderbird and Dirtybird, plus for women, the Ripchick and the Hipchick.
SALOMON
Last year Salomon made big news by introducing its first line of Nordic skis. The plan was to step that up to the performance level ski this year and then roll out their racing line in the following year. That time line has been accelerated and in 2005-06 Salomon's ski count will grow from five to over 20 models targeting pure racing to authentic BC X-Adventure. These new introductions are designed to integrate new and innovative skis with Salomon's industry-leading boots and bindings.
Salomon's race heritage gets a shot in the arm with the introduction of four new racing skis: Equipe 10 Skate and Classic and Equipe 9 Skate and Classic. Designed to capitalize on the success of Salomon's Carbon Pro boots and Pilot bindings, these skis feature technologies like a Carbon Power Plate and fast Zeolit Base. The Equipe 10 Skate ski has a Javelin shaped sidecut of 41/43/42/44 with an Aerolite core, Carbon Powered camber and race tuned G5 Zeolit base.
In the X-Adventure line, an all new BC collection features new-school technology and old-school fit and feel. The new X-Adventure range is led by two full metal edge skis, X-Adv 88 and X-Adv 70, featuring new BC CarveCut sidecuts and matched to two new boot options, X-Adv 7 and X-Adv 4.
The X-Adv 88 ski is a mid length with BC CarveCut of 88/60/78 with full metal edges, Air Ridge Body core, optimized camber, fine tuned G2 base and BC Contagrip wax-less base pattern. Designed to integrate with Salomon's X-Adv bindings, these new products deliver authentic backcountry performance for all levels of BC enthusiasts. Salomon's X-Adv 7 boot sports an SNS X-Adv outsole with a new BC midsole, touring fit, articulated free-flex cuff, lower leg memo strap and Sensifit with lace locking hook.

Building on the successful introduction of Snowscape last year, 2005-2006 will see a third model added, Snowscape/Vitane 8, featuring an S-Cut shape and price that will appeal to fitness enthusiasts. A new more traditional mid-length E-Lite family will be featured, also with S-Cut, and will be available in three models in both Contagrip and waxable versions. Lastly, skaters will be able to enjoy a great intermediate skate ski, the Active 7 that will fit virtually all sizes and abilities. Boots and bindings have had to keep pace with this evolution and will feature new and improved looks, technologies and packages tailored to both men's and women's functional and fashion requirements.
The Active 7 skate ski has an enlarged javelin sidecut of 42/45/43/47, with a short tail for added stability and control, 3D Air Body core and race tuned G4 base. The Elite 9 ski is a mid-length with S-Cut sidecut (48/46/43/46). It has an optimized camber, Aerolite core and a race tuned G5 Zeolit base that is available in waxable and Contagrip versions.
In the Snowscape line, the new Snowscape 8 is a short length with S-Cut sidecut (56/54/50/53) and optimized camber, Air Ridge core, fine tuned G2 base, Contagrip 2 waxless base and a tail protector. Lengths are simplified to three sizes: Medium, Large and Extra Large.
The Active 7 boot sports the new SNS Profil Active outsole with Salomon touring fit, molded heel counter, Sensifit with diagonal zipper and Thinsulate lining.
Salomon's Escape 7 Boot has similar features to the Active 7 plus an ergonomic flexible cuff and Sensifit with lace cover and Thinsulate lining.
Salomon will continue to take a leadership role in developing Nordic equipment specifically for women and has made the women's market a high priority for the 2005-2006 season. The "Women will…" program will be an inclusive campaign, including product and marketing programs that will have year round components throughout all Salomon product categories. All Salomon Women's products will have specific features, designs and naming strategies.
A new naming strategy will differentiate along fast and free attitudes - Vitane (fast) and Siam (free). In women's skis, a new Vitane 8 ski will be added and in boots the new Siam models at key price points and a new Vitane 7 classic boot will be introduced. The Vitane 8 is a short length ski with S-Cut sidecut (56/54/50/53) and women's specific design. Its optimized camber has a women's specific flex. Features include an Air Ridge core, fine tuned G2 base, Contagrip 2 waxless base and a tail protector. Sizing is simplified with lengths of Small, Medium and Large. The Siam 6 boot has an SNS Profil Mono-Grip outsole, Salomon's women's fit, a molded heel counter, an ergonomic flexible cuff and Autofit with fleece lining.
SWIX
Highlights of new Swix products for 05/06 include new stiffer poles with graphics reminiscent of its "classic" blue aluminum pole as well as a new strap with new cap lock device.
In the wax department, there's a new Liquid Cera F, FC10 for warm temps—above 32 F with BD additive and a new kicker, VR65, for temps in that tough 30 - 34F range.
Swix also adds a stainless steel brush to its arsenal of brushes and tools. Stainless steel has less memory allowing bristles with laser cut tips to return to their original position.
Swix is introducing an expanded apparel and accessory collection that now includes tech wear, bodywear and socks as well as Swix staples from the past like hats and gloves. Swix apparel is suited for a range of activity levels—from running and biking to backpacking and, of course, skiing.
Swix recently acquired the Ulvang line of wool, base layers, socks and hats. Named after legendary "Vegard 'the Viking' Ulvang" the dominant Norwegian cross country skier of the 80's and early 90's, this collection uses only the highest quality Merino wool and offers a product range with specific features and functions that will perform in all environments. A revolutionary new racing suit from Swix called the "Pro Fit" will be used this year by the Norwegian and American Nordic Combined Cross Country teams. This new "super suit" has been in the making for almost two years in close collaboration with researchers at the Norwegian University of Trondheim—renown for developing unique research expertise on how air streams flow across an athlete's body when in motion. The results from tests made in the university's wind tunnel indicate that wearing a Pro Fit, a skier can can shave up to 28 seconds off on a 30-kilometer race.
The Swix Pro Fit suit is made of a unique fabric structure specifically designed for different parts of the body. The most wind-exposed parts of the body are the legs and arm. To address this, Swix uses a porous structure on the sleeves and legs and a smooth surface is used on the back resulting in a combination that creates less turbulence, reduces air resistance and results in faster times.
In addition the new surface structure technology, the Pro Fit includes Power Lycra that reduces the vibration in muscles, stimulating blood circulation allowing skiers to perform better for longer periods of time.
TOKO
Toko's JetStream waxes have been reformulated and renamed for 2005/06: JetStream High Speed (formerly New Snow) and JetStream High Speed Moly (formerly Old Snow). Both are available in block and powder. Base Prep, Grey in a 60g block is a new wax for travel waxing and working on skis. Express wax now comes in single application envelopes. In addition to the previous 200ml size, Grip & Glide wax will now be available in a 100ml package, making it more convenient to bring it along while skiing. It also includes a polishing pad on the bottom.
Toko Vises—Ski Vise World Cup, Repair Fix, Compact Vise, Board Grip and Repair Fix Jump all have new graphics. Ski Vise Nordic is a new very small three-part vise for easy travel. Its tip and tail supports are longer than other similar systems.
For base cleaning, GelClean is now available in a spray dispenser making it even easier to apply and use: spray it on, let it sit for a minute and wipe off.
The new Women's Thermo, a new glove for women, is a Gore soft shell glove with a narrower women's specific cut. The popular Classic glove has also been revamped. The Classic Mesh offers an improved fit and feel and is available in Black/Smoke and Lava/Smoke. Toko's Trend glove is back for 05/06 with upgraded Black/Smoke graphics. In addition to the Thermo+ for Kids model, the Basic glove now comes in a Youth Small size. The Rollerski glove, a popular warm weather skiing glove, has been revamped and renamed the Three Season Glove. It is available in Black/Smoke. The new Thermo Plus is a Gore soft shell. The successful Toko Mitten has also been beefed up and improved.
As previously announced, the Toko brand will no longer include ski poles. Toko's poles had been well received by skiers of all levels with quality poles at attractive price points and high-end product utilized by national and factory teams.
WHITEWOODS
After its auspicious debut last year, Whitewoods is back in 2005/06 with a few new models that are functional and simple yet stylish and affordable.
Borrowing the "duck boot" look, the Whitewoods 309 NNN has a rubber and leather upper married to an NNN touring system sole. The soft, higher ankle provides a snow guard and lateral stability. A waterproof bottom, reinforced heel counter and Thinsulate and cambrelle lining provide comfort and warmth with the convenience of metal speed lace eyelets for easier lacing. This 309 BC (BC touring) sports similar features with a versatile BC sole. The new 309-75mm also has a soft lining, leather and rubber upper, metal eyelets, bellows tongue, Thinsulate and 12 mm sole with a beefy 75mm binding interface.
A new boot intended for rental fleets, the 404R-NNN, has technical features of the 401-NNN (lycra lace cover, center zipper, Velcro ankle strap, Thinsulate lining, weatherproof and breathable panels, quick dry lining and gaitor D ring) with a steel shank and wider heel pull with the Euro size embroidered on the pull.
The Whitewoods 307 NNN BC is a comfortable mid-height backcountry application. It has the look of a low cut hiking boot with waterproof and breathable membrane and leather upper. It is Thinsulate lined and has a softer flex. The 308-NNN BC has an ankle strap, but otherwise is similar to the 307. The Whitewoods BC touring boots have been created to offer a bridge between traditional touring and light backcountry in hopes of appealing to the touring crowd without the intensity of the more extreme style of backcountry experience.
Whitewoods is also venturing into snowshoes this year. Called Long Trails, the shoes come in three sizes: 22, 28 and 30 inch. The frames are high quality aluminum with oversize rivets. Decking is durable polyethylene with a simple lace-up binding. The snowshoes are packaged with a three-piece telescoping cork grip pole in a convenient backpack style package.