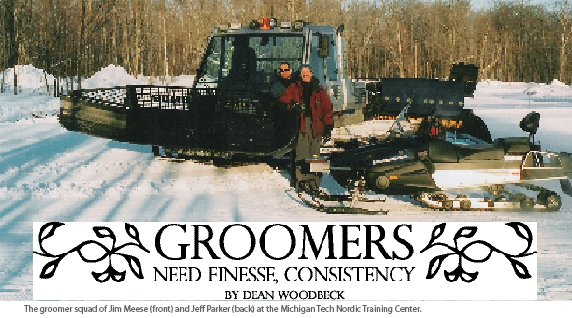 GROOMERS NEED FINESSE, CONSISTENCY
By Dean Woodbeck
As skiers, we come to our favorite trails with certain expectations: great glide, bomber kick and an unblemished track stretching into the woods and beyond. The glide and kick? We take care of that with off-season training and wax know-how. For the track—unblemished or not—we rely on our friendly grooming professional to provide a nice hard surface for our skiing pleasure.
"People expect a consistent product," said Jeff Parker, who grooms the renovated trail system at Michigan Technological University in Houghton, where 250 inches of snow falls annually. "If you are brilliant one day and rotten the next, people won't come out because they won't know what to expect. It is best to be brilliant every day, of course, but even if you are pretty good every day, that's better than being inconsistent."
Consistency has become easier to achieve, thanks to more and more sophisticated grooming machines and techniques. From snowmobiles pulling bedsprings to huge machines setting tracks and smoothing a skate lane all in one pass, grooming has come a long way in the last 40 years.
Actually, trail grooming machines trace their lineage back to the early last century. Starting in the 1920s, Emmitt Tucker experimented with snow machine designs for 50 years, leading to the Tucker Sno-Cat. About the same time, J.A. Bombardier opened his first garage in Montreal, building tracked vehicles to take passengers over snow and unplowed roads. Bombardier introduced its first trail groomer, the SnowPacker, in 1961. Today, the Bombardier line of groomers is manufactured by Camoplast, Inc., located about 50 miles east of Montreal in Granby, Quebec.
But a German company has come to dominate the field. Kässbohrer Geländefahrzeug AG makes the Pisten Bulley line of snow groomers, which now includes seven models boasting a 50 percent market share worldwide. Pisten Bulley makes machines designed specifically for grooming alpine slopes, Nordic trails, beaches and indoor ski domes. The company even sponsors an annual Pisten Bulley camp in the holiday resort of Saas Fee, Switzerland, to train grooming professionals and show off its new equipment.
To get a feel for grooming technology, and the view of a ski trail from a groomer's perspective, I rode along with Parker as he prepared his trails for the 2006 Junior Olympics, the national championships for skiers ages 19 and under. Parker pilots a reconditioned 17-foot-wide Bombardier Plus MP that started its life as a downhill groomer in Colorado. With two comfortable seats, heat and music, the cab sports more controls than you can shake a stick at.
Climbing in, I thought about the first trail I saw being groomed about 15 years ago—a snowmobile pulling cobbled-together drags. Many trails—particularly smaller community venues—continue to use snowmobiles with different drags for different purposes and conditions. Even the large trails systems prefer snowmobiles for certain snows. "We can't use the Bombardier until we have at least four inches of hard base," Parker explained, "because the track cleats are four inches tall." Early-season and late-season grooming still rely on the snowmobile.
Even with plenty of base, the snowmobile can still be the machine of choice. "The snowmobile is cheaper to run and about as fast if you are just doing the skate lanes," Parker said. "It uses only about one-quarter of the fuel as the big groomer, and you end up with as-good or better skate lanes."
Grooming professionals have a number of implements available to pull behind a snowmobile. They fall into three broad categories: rollers to compact the snow (Parker uses one that is eight feet wide), compaction drags to level the trail and track-setters, like the Ginzu groomer made by Yellowstone Track Systems.
On many trails—those without the width or the resources for a Pisten Bully or Bombardier—a snowmobile must make multiple passes to get the grooming right. If the drags aren't wide enough, you have to go around twice. If the snowmobile is underpowered, you can't pull the roller and the track setter at the same time. If the trail has drifted, there is no blade on the front to make short work of the piled-up snow.
Parker's rule of thumb is this: The Bombardier goes out whenever there is an inch or more of new snow on the trail or if the tracks need to be reset. The machine will groom the skate lane and can track both sides of a 17-foot wide trail—all in one pass.
If I were a groomer, I'd be praying for snow so I could leave the snowmobile inside and take out the big machine. It looks like a blast to drive, with the operator using two levers, located side by side, to steer. "They are like joy sticks," Parker explained. "Each one controls one track—forward and backward. This machine can spin on its axis and stay in one place. It has a hydrostatic drive, so there are no gears," just a dial that sets maximum speed and a foot pedal to add some instant energy to climb a hill.
The experienced driver moves both levers with one hand, leaving the other hand free to use another joystick—this one controlling the huge blade on the front of the machine. The control moves the blade side-to-side, up and down and rolls the top forward and backward. "The blade has two wings, too," Parker said, "so we can pull snow onto the trail if we need to."
The driver can also use the dual track-setters on the machine to provide visual cues to the skier. "You set double tracks on two-way trails," Parker said. "This also allows people to ski side-by-side. On the narrower one-way loops, we set a single track and go from one side of the trail to the other to approximate best-line. That way, skiers don't have to make sharp corners."
From a groomer's perspective, an excellent trail and consistent grooming actually begins with summer trail preparation. The ideal trail is slightly crowned in the center with drainage on the side. Any vegetation on the trail itself will be short, and overhanging limbs droop a minimum of 13 or 14 feet above the trail's surface. "When you have two feet of base and an 11-foot-tall machine, you need a lot of vertical clearance," Parker said.
With the trail smoothed and branches trimmed, all that's needed is snow. Just take out the groomer, and ski away. But Parker notes that a newly groomed trail isn't the best for skiing: "Once a tiller goes over a trail, the snow is very soft. It can take 15 minutes to an hour for the trail to set up—kind of like concrete. We try to encourage skiers to stay off the trails until they set up."
But some antsy skiers just can't wait, following behind the groomer out onto the trail—actually a dangerous maneuver. In fact, Parker says, "One of my pet peeves is a skier coming up from behind and trying to pass the machine. It scares the bejesus out of you when people come with poles and skis flying so close to the tiller. If they caught the tip of a pole in that track . . ."
To understand Parker's concern, you have to know that a tiller is a series of rotating teeth used to quickly break up ice and hard-packed snow. The teeth help turn the snow into the corduroy that skiers love. And the tracks on the groomer measure five-and-a-half feet across. If a pole tip happened to get caught in a track … suffice it to say, the score would be Track 1—Skier 0.
Don't get the wrong impression. Groomers like skiers, because they usually are skiers themselves. "You know you are putting down the trail for the skiers," Parker said. But when a skier makes that first groove in the corduroy, Parker admitted, it always hurts a little bit. "When you are finished, it looks so perfect. In the early morning, it looks like a carpet. The tracks are straight. It is just perfect," Parker confessed. But at the same time, he gets a lot of reward out of seeing the skiers enjoy the grooming. "I love to watch the teams practicing and families out with their kids."
If you see the grooming professional grimace a little bit as you make the first mark on that corduroy, don't think poorly of him. He is either admiring his perfect trail or wishing you were 15 minutes later so HE could have had the chance to make that first mark and quietly glide through the woods.