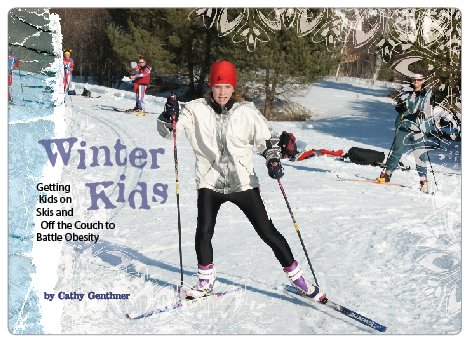 WINTER KIDS GETTING KIDS ON SKIS AND OFF THE COUCH TO BATTLE OBESITY
By Cathy Genthner
Eleven-year old Forrest Plaisted of Gorham, an avid cross country skier, gets his skiing for free. As a participant in Maine's WinterKids Passport Program, he joins other fifth through seventh graders in winter recreational activities at no cost, as long as there is a paying adult. Often included are free lessons and rental equipment. Forrest's father, Michael Plaisted likes the idea of keeping kids active. "It encourages kids to get outside in the winter and get some exercise instead of sitting in front of the television."
WinterKids
WinterKids is a nonprofit organization committed to helping children develop lifelong habits of health, education and physical fitness through outdoor, winter activity. Founded ten years ago by Carla Marcus, a previous ski patroller at Sugarloaf USA and a volunteer for the Ski Maine Association, the program is modeled after a popular "Fifth Grade Passport" program in other states, offering free alpine skiing for school children. Funding everything herself including salary, printing, distribution, marketing and mailings, she launched a Maine counterpart with positive feedback. "I started receiving calls from families, teachers and the medical community saying they loved the passport program," said Marcus. "The teachers told me they wanted to do things in their schools, and doctors were interested because it got the kids exercising. It became obvious that what was needed was a program for children and their families to develop a physically healthy lifestyle. Ten years ago, we realized there was a serious problem with obesity across the country. In Maine, children tend to play on computers and watch television in the winter. We can't sit on the couch in our longest season of the year and expect our kids to be healthy. The mission of the program is to get kids to develop a healthy lifestyle."
The next year, the program included cross country skiing, as well as educational programs in the schools and communities. Today, WinterKids offers seven unique programs, all aimed at introducing kids to winter outdoors. One targets schools and communities to welcome newcomers to winter, another takes the classroom to the mountain, and a third inspires kids through interactive original songs and games. Others engage students with active interdisciplinary outdoor winter lessons, introduce academically stimulating classes and brings winter sports champions to schools. And the passport program grants all Maine fifth, sixth and seventh graders and their families an entire season of free or discounted cross country and downhill skiing, snowshoeing, snowboarding, tubing and ice skating, along with free or discounted lessons and rentals.
Obesity Among Children
Obesity in kids is now epidemic in the United States—and that certainly includes Maine where long winters tend to keep many children inside and inactive. Our society's love of technology and fast food has many kids sitting in front of the television or computer rather than going outside for some fresh air and exercise. In just two decades, the prevalence of overweight children ages 6 to 11 doubled in the U.S.—and tripled for American teenagers. The annual National Health and Nutrition Examination Survey by the Centers for Disease Control and Prevention found that about one-third—about 25 million—are overweight or at risk of becoming overweight. Most pediatricians recommend that children receive a combination of a good diet and regular exercise as a way to combat obesity and maintain a healthy life.
"Obesity among children is a problem here in Maine because the winter is the longest season; it is a time when people tend to hibernate," said Marion Doyle, project director for WinterKids. We want children to know that winter is fun, and there are lots of opportunities to get outside and be active. Technology has provided some really great things, but it isn't helping our children all the way around. Schools are recognizing this."
Getting Off the Couch
As a result, schools have embraced the WinterKids programs as a way to integrate physical activity with learning. The Active Academic workshops, Outdoor Learning Curriculum and SnowSchool programs incorporate lessons on science, math, health, English or other subjects with outside experiential learning. "All studies show that kids learn better through experiential learning. We do all kinds of in-service programs with teachers and training," said Marcus. The learning takes place at schools or recreational areas, depending on the program. It may start with a lesson inside on cardio-vascular health or nutrition and then is reinforced with an outdoor activity, such as taking one's pulse before and after a workout on snowshoes.
This season, the SnowSchool will be offered at Nordic centers. WinterKids provides the program that adheres to educational standards with Nordic centers supplying instructors to teach the courses. "We provide this program to the ski areas. It is nuts to bolts starting with an introduction on how the ski centers can talk to the schools," said Doyle. "The school takes place at cross country ski centers, and it is designed to bring kids to cross country ski centers who normally wouldn't be there. We want every kid to try cross country skiing, and we want Nordic centers to have an educational program that is a field trip opportunity. This is one more tool to attract another group of kids. It is a way for Nordic centers to show that they are good neighbors and that they care about kids' health."
Doyle says an example of a lesson may be evaluating the difference in the speed of skis, depending on the type of wax used, or if they were waxed at all. Children would be learning about friction and velocity—basic science in a hands-on learning environment.
All for Kids
Today, WinterKids has a staff of four and last year reached 27,000 Maine children and their families, with a curriculum aimed at kindergarten through 12th graders. Over 50 ski and winter recreation areas across the state participate in WinterKids. Five corporate sponsors—Hannaford Supermarkets, L.L. Bean, T.D BankNorth, Weightwatchers of Maine and Healthy Maine Partnerships—as well as numerous private donors back the program. The free ski passes and equipment rentals for children, along with discounted tickets for family members are all donated by the participating ski areas. "We will do anything to get these kids outdoors. The obesity rates are recognition that we have bred a generation of overweight inactive youngsters," said Tom Gyger, owner of Five Fields Farm Cross Country Ski area in South Bridgton, a nine-year participant in the passport program. "Cross country skiing is hard work—every foot you go down, you have to go up. With 600 vertical feet here, people come for a vascular workout."
It takes courage, willpower and determination to get kids off the couch and onto skis. But WinterKids is making it easier to take that first step. "The kids are the ones who really get excited about skiing," said Gyger. "They are taking greater advantage of the changes in the equipment—such as skate skiing and aggressively skiing. I'll see tracks from kids and don't know how they got the courage to go where they do go!"
For more skinny…
WinterKids 207/871-5700, www.winterkids.org
Five Fields Farm www.fivefieldsfarmx-cski.com
Cathy Genthner is a freelance writer and registered Maine Guide who lives in Gorham, Maine.