Sixteen parking lots, nine warming shelters, six bird feeders, six overnight cabins, two covered bridges and a cave. Parkways with wide skating lanes, double-tracked on each side. Narrow trails leading skaters and striders into more intimate woods. Striding-only, back country, snowshoeing trails and even a walking trail.
All told, skiers find 200 kilometers of trails, most of it groomed from December through April. While I call it Skinny Ski Heaven, the Canadian government calls it Gatineau Park.
Located in Quebec, just across the river from Ontario and the Canadian capital of Ottawa, the huge preserve includes 140 square miles (or 363 square kilometers) of public land. Gatineau Park sits at the junction of the Canadian Shield—a huge geological formation of exposed bedrock—and the St. Lawrence River lowlands, which stretch for hundreds of kilometers on either side of their namesake river. As with much of the geography and geology in northern North America, we have the glaciers to thank for this bounty. About 10,000 years ago, they left behind the Gatineau Hills, a long, thin escarpment rising above Ottawa. The elevation is just enough to ensure a ski season that can begin in late November and last into April.
To create a wilderness park, the Canadian government began purchasing this land in 1937. The National Capital Commission operates the park, maintaining a balance between recreation and natural resource protection. Winter recreation is a top priority. Wide parkways provide auto access to campsites as well as hiking and mountain biking trails in the summer, but become thoroughfares for skiers all winter.
The first challenge, and it is daunting, is figuring out where to start. My choice—a good one—was to head for the Gatineau Park Visitor Centre, located just off Route 5 in Chelsea, Quebec. The centre sells day passes and trail maps. With so many trails--heck, with so many parking lots--a map is a necessity. You won't find many maps on the trails, but you will find signposts with directions that correlate to your map. The visitor centre area has a winter walking trail and a snowshoe trail. A gathering point for parents trailing sleds and kids learning to ski, a short ski trail leads to one of Gatineau's wide and flat parkways.
The next step is to figure out what type of skiing you would like to do that day.
For a long aerobic workout or recreational ski, the parkways are an excellent option. These paved roads carry almost 1.5 million summer visitors to mountain bike trailheads, campgrounds and hiking trails. In the winter, they form long ski loops, passing by most of the parking lots and providing some outstanding panoramic views of the Ottawa River Valley and downtown Ottawa in the distance.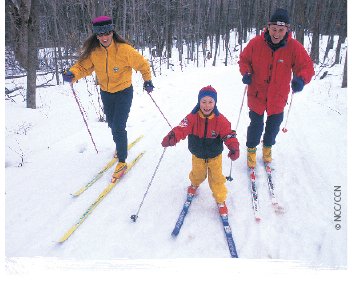 You can fashion a workout of a half-hour or three hours without ever backtracking or skiing the same loop twice. These sweeping trails provide plenty of elevation change, but the hills are gradual, so there is no need to herringbone. If you are a strider and like to ski beside your friend or spouse, the parkways have two sets of tracks on each side of the trail, with a wide skating lane in the middle.
The narrower trails provide more variety in scenery and a more intimate experience. They generally have one set of tracks on each side of the trail with a skating lane. There are more ups and downs and winding turns. When I told the visitor centre staff member that I am a very good recreational skier, he responded, "We'll get you away from the crowds, then." He suggested a parking area that would provide access to trail #1, leading to a fire tower and passing through some of the highest points in the park. I brought a lunch and figured the 26-kilometer round-trip would be a nice mid-day outing.
As directed, I drove several miles on a twisting road past vacation cabins to reach the P12 parking lot (also called Meech). Later, as I talked with other skiers, I found the common icebreaker question repeated, "Where did you park?" Among other things, it tells the natives the distance you have skied. All the parking lots, designated with a "P" and a number, have nicknames like Meech, Blanche, Fortune and Penguin.
At P12, I grabbed my classic skis, which already had the right wax for the zero F (-18 C) conditions. The first two kilometers, it turns out, went straight uphill, followed by a little dip, then uphill some more. And more. And more. I didn't realize I would cover most of the elevation change in the first 15 minutes.
The rest of my trek to the fire tower covered a trail more typical of what I have skied in the Midwest and northeastern New York--enough room for a skating lane and single track. While most ups and downs were gradual, a couple of steeper hills cropped up now and then.
About two kilometers from the fire tower, I was enticed by another of Gatineau's features--the warming hut. With several picnic tables inside and a wood stove right in the middle, these log buildings are a favorite of the backpack set, who bring their lunch and make a day of it. On sunny, warmer days, many skiers use the picnic tables outside of the huts.
With the temperature still around zero degrees (F), a stop was tempting. But I skied on, knowing that if I succumbed to the siren call of the wood stove, I would struggle for the rest of the day. While you can't climb the tower, if you ski off-trail just a few meters, you are treated to a sweeping view of the park and the Ottawa River in the distance.
On another visit, I parked at Penguin (P5), which is smack in the middle of the ski trail system. I skied for more than an hour on one of the parkways and discovered that the park has a social life centered on these thoroughfares. Recreational striders ski side-by-side and chat. With a little choreography, skaters can also manage two abreast. One prominent intersection, called "gossip corner," includes a couple of benches and is a natural stopping point to consider your next destination.
Over its 130-day season in 2005-06, which started on November 25, Gatineau logged more than 210,000 visits. That's an average of more than 1,600 per day. Many weekends easily top 2,500 per day. The park also boasts a large number of season pass holders—more than 5,000 last year. Although I skied the parkways on weekends—with I'm sure hundreds of people on the trails—it never seemed crowded, a benefit of spreading skiers over 200 kilometers of trails.
The park maintains a sophisticated grooming plan through its contracted grooming company, Lafleur de la Capital. Main trails—about half of the park's kilometers—are groomed four times over seven days. Secondary trails are groomed once or twice a week. The order of priority for grooming also takes into account access points and destinations like warming shelters and lookouts.
Trails in the park's far northeastern portion offer much more of a wilderness backcountry experience. Ski-in overnight cabins are available (reservations encouraged) and winter campers will find campgrounds on Lac Phillipe (reservations required). The park also caters to snowshoers and hikers with 25 kilometers of snowshoe trails and 10 kilometers of hiking trails.
Each time I visited Gatineau, I ended up skiing far longer than originally planned. I wanted to see just one more intersection, to try one more trail. I encountered bilingual ski patrols, members of a high school ski team and one set of local skiers who set me straight when I got lost. After we parted ways, one man came racing back to find me because he had made a mistake on the directions.
After several hours, and dozens of kilometers on my legs, the two-hour drive back to the U.S. required a stop for something warm to drink. I found my respite at Tim Horton's, Canada's famous chain of doughnut shops, known for crullers and good coffee. Somehow, I always returned to my car with a 10-pack of Timbits; munching on doughnut holes is a fitting follow-up a good Gatineau ski.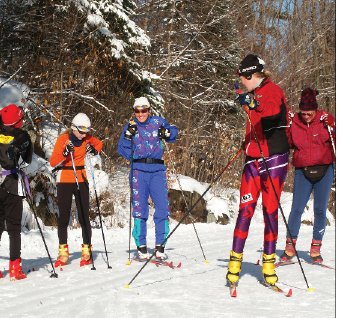 For More Skinny…
Gatineau Visitor Center
(open daily 9 a.m. – 5 p.m. except Christmas Day):
800-465-1867, www.canadascapital.gc.ca/gatineau
24-hour trail reports: 819-827-2020
Cabin and campsite reservations: 613-239-5353
XC Ottawa (skier reports and links to grooming reports): www.xcottawa.ca
Daily-Pass Rates (2005-06) (all prices Canadian dollars)
Adults (18 years and up): $10
Youths (13 – 17), students (18 – 25) and seniors
(60 and up): $6
Children (12 and under): free
Family (2 adults, 3 youths): $20
Want to race? Gatineau hosts the Keskinada Loppet in
mid-February, including freestyle races at 53 km, 29 km
and 10 km; and classic races a 51 km, 25.5 km and 16 km
(www.keskinada.com)