On April 1, 2006 Central Cross Country Skiing (CXC) launched the "CXC Ski Team", an Olympic development program intended to close the gap between junior and senior athlete development by providing professional world class training and coaching. The organization created the team to improve the United States cross country ski team's chances of reaching the Olympic podiums by 2010 and winning a gold medal four years later.
The initial CXC Team included five men, three women, two coaches and a wax technician. Eventually the team will grow to 12 members with an equal number of male and female athletes. Athletes will be selected based primarily on the applicant's USSA national ranking. Selected athletes will establish residence in the Central Region for their contract period.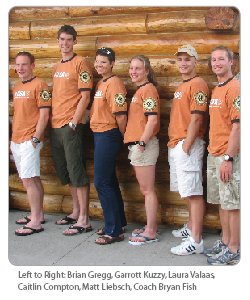 CXC Team athletes will act as ambassadors of cross country skiing and at least once a week, the athletes will be involved in the local ski communities by assisting local junior and adult programs. Coaches were selected following an international search.

The CXC Team's vision permits athletes to compete while they continue their professional career advancement goals. The five men and three women named to the CXC Ski Team for 2006/07 season include:

Bryan Cook, 22, Rhinelander, Wis.
2006 U23 World Championships Team, NMU

Brian Gregg, 21, Anchorage, Alaska
2006 U23 World Championships Team, UAA

Garrott Kuzzy, 23, Minneapolis, Minn.
2005/2006 Middlebury College

Matt Liebsch, 22, Minneapolis, Minn.
2005/2006 Pioneer Midwest Team, GO! Training

Andre Watt, 24, Duluth, Minn.
2005/06 Salomon Team

Caitlin Compton, 25, Minneapolis, Minn.
2005/2006 Subaru Factory Team, GO! Training

Tami Kochen, 23, Marquette, Mich.
2005/06 NMU

Laura Valaas, 22, Wenatchee, Wash.
2006 U23 World Championships Team, Whitman College

Bryan Fish was named the CXC Team Head Coach. Most recently, Fish has been the Women's and Men's Head Nordic Ski Coach at the University of Wisconsin—Green Bay. He has supported CXC in the past by coaching at CXC Birkie Summer Camps, Regional Development Camps and Coach's Symposiums. A native of Rhinelander, Wisconsin, Bryan competed on the UWGB Ski Team from 1993 to 1998.

"It's difficult leaving UWGB, but I am excited to support CXC's vision to create a regional development program for post collegiate athletes. There has been a void in support for such athletes looking to pursue skiing after college. I hope to utilize my past experience as a collegiate coach to positively impact this exciting new program."

Luke Bodensteiner, USSA Nordic Director noted, "The CXC Team is an exciting new development in our sport system. Recently USSA has focused a larger number of resources on our top competitors at the national team level. This means that development teams managed by the regions are imperative in getting more athletes to train and compete at higher levels. The CXC team will undoubtedly help a lot of talented athletes find their way through an otherwise challenging period of their athletic development. Our hats are off to CXC for developing this program."

Upon hearing of Fish's appointment to the CXC Team Head Coaching position, Pete Vordenberg, U.S. Ski Team Head Coach commented, "The U.S. Ski Team is backing a system of development that aims to integrate and utilize all of our country cross country resources. This includes clubs, schools, coaches, colleges, parents, industry, supporters and development teams such as the CXC Team. I have worked with CXC executive director Yuriy Gusev and Bryan Fish at camps for the past several years and have known Bryan since I was an athlete at NMU. I am excited by the work that has been put into CXC and I am eager to work with the CXC Team. This will be a great place for athletes to develop their talent and harness their hard work."