---
Ski Legend Nikolai Anikin Remembered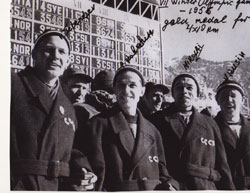 Nikolai Anikin (second from right) with the relay gold medal team (click on the image for a larger version).
Nikolai Anikin, a three-time Olympic medalist for the Soviet Union and then a coach in the U.S. for 20 years, died of cancer November 14, 2009, in Duluth, Minnesota. One of his prize pupils was John Bauer, who won all four races at the U.S. Nationals in 1996 and skied in the 2002 Olympics. Bauer wrote this article for Cross Country Skier two years ago.
Another informative and interesting tribute was penned by another Anikin pupil, Christa Case Bryant, in the Duluth News Tribune on December 6, 2009.
Nikolai Anikin: A Great Coach
By John Bauer
STRONG PUSH! STRONG PUSH!
I cannot say exactly when I met Nikolai Anikin, but I think it coincided with one of my first U.S. Ski Team training camps. His first words of encouragement (?) pricked me with curiosity. I thought: "What does he mean by push? And, more importantly, who is this person saying strong push?" He seemed to come out of nowhere to appear at this training camp. But it came to be that Nikolai—a man of few words—became known in the American cross country skiing community as an esteemed coach who raised the level of Nordic skiing in this country.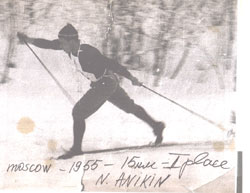 Nikolai Anikin with the Soviet Olympic team (click on the image for a larger version).
Born in Ishim, Russia, in Siberia, Nikolai Anikin was a three-time Olympic medalist for the Soviet Union, winning a gold medal in 1956 in Cortina d'Ampezzo, Italy and two bronze medals at the 1960 games in Squaw Valley, one in the 40 km relay and one in the individual 30 km race.
Nikolai and his wife, Antonina, and two of their three children, Nikolai Jr. and Augustina, came to the U.S. in 1989 as part of a coaching exchange, during the period of glasnost. Nikolai was to act as consultant to the U.S. Ski Team and the Soviet Union, in turn, received a freestyle skiing counterpart.
Nikolai traveled to numerous national ski team training camps for one year, including one summer dry-land camp, two on-snow training camps (Hatcher Pass near Fairbanks, Alaska, and West Yellowstone, Mont.) and the U.S. National Championships.
Nikolai soon knew the U.S. skiers and training system well. He rather quickly and freely expressed his dissatisfaction with the level of technique of the U.S. skiers and the approach the U.S. team took in planning training camps.
"Too much travel for too little training," he often said, which meant the camps were too short in duration to achieve effective training. This compared to the Soviet approach of camps lasting three weeks with a week off.
"Too little practice" was another overheard quote meaning that, in general, the U.S. skiers didn't train enough. "Poor technique for experienced skiers," was another view given.
As you might imagine this curt commentary was not taken easily by the esteemed members of the U.S. national team, as I can personally testify. Yet this approach, though rather simplistic, was really what the U.S. team needed: more training and more technique work.
You might mistake Nikolai's longer than comfortable gaze for a lack of interest or his verbal expressions for a bit of language difficulty. But Nikolai was very thoughtful, expressive and intent on helping. He was simply promoting the basics of a simple progression of technique; that you had to master part A before B. There were no shortcuts. His long hard stare wasn't a gaze of indifference, but rather one of thoughtful consideration. This quality, plus his experience working with the highest caliber of skiers such as Nikolai Zimjatov or Elena Vjalbe or Vladimir Smirnov, raised the level of skiing in the U.S.
From consultations with the U.S. Ski Team to regional technique clinics held from 1991 to 1999, Nikolai promoted the core idea of solid technique being the most important factor to skiing speed, efficiency and enjoyment.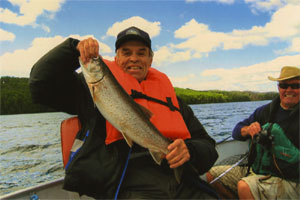 Nikolai Anikin In his American life -- gone fishin' (click on the image for a larger version)).
Nikolai and his family relocated from Park City, Utah to Marquette, Mich. in 1990 to work at the Olympic Training Center. Three OTC residents -- Brad Nelson, Tim Nelson and Bruce Bauer -- formed the Gitchi Gummi Ski Club, modeled after Team Birkie, with Nikolai as the head coach and tuition being paid to fund the program. In 1994 the Gitchi Gummi Club relocated to Duluth, Minn., where both Nikolai and Antonia would be coaches.
The Gitchi Gummi team was founded to raise the level of cross country skiing from youth to master level, and included an elite team of eight to 10 members. While Nikolai may have been used to coaching elite skiers, he also demonstrated his coaching skills during training sessions held at Duluth's Chester Bowl Park, where he worked with skiers of all levels, focusing on the basics of body position and skiing mechanics.
One truly had to relearn technique as it was broken down into its constituent elements and then reassembled. For instance, a large part of the training with the Gitchi Gummi team was skiing without poles -- whether on roller skis, skate skis or classic skis -- well before this technique and strength training tool became popular in the U.S.
I remember fondly numerous Gitchi Gummi training sessions on Jean Duluth Road and the Munger Trail where we mastered the double pole while performing hill repeats, with each skier poling a section that was a specific length and toughness according to ability. We commonly repeated small loops so that Nikolai could frequently observe us.
Nikolai also paid strict attention to the nuances of ski bounding, such as the amount of arm flexion in poling, degree of arm extension, height and length of the jump, foot relaxation in the air, forward bend of the back, and so on. Never before had I worked so much on hill bounding. It was inspiring!
It was critical that the coach have very close "control" over the skiers' technique and recovery from training to gauge progress and provide feedback. The Anikins were very good in the daily assessment of their skiers' stamina and fatigue.
One test, actually developed by Antonina, was done as soon as the athletes awoke. The athlete took a resting pulse, performed 30 deep-knee bends, recorded the maximum heart rate after the exercise, and then measured the recovery pulse every 10 seconds for one minute. We'd meet Nikolai before breakfast to present the heart rate results and he would use this information to chart an individual workout.
A second test was the morning warm-up workout. Consisting of walking, running, sprinting and jumping, the morning workout was the time when Nikolai did an objective evaluation. Nikolai was very cautious not to burn out his athletes. There was substantially more training volume compared to high intensity workout training, which was a more conservative approach than I had previously experienced. In essence, Nikolai preached that patience was as necessary as working hard to achieve success.
Technique was so important, and so much the focus of every single workout, that we skiers grew tired of the video camera. But we learned through repetition and we became skilled in teaching others the fluent, but powerful, ski motion.
Nikolai's mantra, "strong push" came to mean the development of technique that applied power in a given motion, from a double pole push to a classic ski kick to a skate leg push, in as short of an amount of time as possible to maximize glide. (Skating was different in that the power application was smoother and not really a "kick.")
Other fundamental skills practiced were uphill and flat technique skills; specifically, the requisite revamped body positions in the torso, the varying applications of power, and the different knee and ankle angles required to ski efficiently from the different dictates of terrain. I have to underscore that there were few 'easy' ski sessions put into the training log. No matter the workout type, we were constantly vigilant with technique and were never mindlessly skiing along.
Nikolai and Antonina jumped at the opportunity to live in the U.S. In time their coaching jobs gave them newfound freedom. Electronic equipment such as video cameras, VCRs and computers for analyzing skier technique were very affordable here and made their coaching work professional.
Nikolai relished having the video camera not just for recording skier technique, but also for capturing the images of nature he loved. Indeed, Nikolai would always have a great backdrop within a technique session -- some flowers, wildlife, trees or hills -- and he really appeared to enjoy this expressive freedom. Whether he would be picking mushrooms or berries during his athletes' four-hour runs, Nikolai loved being in nature.
Nikolai had peculiar ways of doing things, and as a result he was frequently teased. Sten Fjeldheim, Northern Michigan University head ski coach, had a funny story about Nikolai's time in Marquette. Nikolai had one of those fancy U.S. Ski Team Subaru cars. Apparently he wanted to get the car really clean because when Sten paid Nikolai a visit one afternoon, Nikolai had every seat from the Subaru spilled out on the lawn and Nikolai was on the INSIDE with a garden hose busily washing out the car.
While everyone teased Nikolai relentlessly for his mannerisms, he took our jokes in stride. Nikolai might surprise you with a clever reply because he, too, liked to tease. For instance, he'd let you know you hadn't done your homework by saying such phrases as "maybe will be perfect after a thousand times" or "you need to run four hours for relaxation instead of goof off."
It was always fun and funny to be with Nikolai. Yet his most remarkable imprint on the U.S. coaching scene remains on technique. In fact, Nikolai's coaching influence is so profound that his teaching methods to develop a strong push and maintain proper body position are still used by other coaches today.
I can provide testimony to the value of Nikolai's coaching as I reflect upon the training I did before my most successful racing season in 2002. Although I trained autonomously the year leading up to the 2002 Olympics, I applied Nikolai's expertise in literally every workout. I recalled his commands to be careful with the high-intensity training and to practice a lot on the steep pitches at Spirit Mountain (in Duluth).
His conviction that the combination of strong pushes on steep terrain would give the best results was certainly true for me. I remember the toughest grinding hills during the Olympic Games in Salt Lake, where I was able to ski the hills confidently with a strong push and relaxed glide, all thanks to the special expertise of Nikolai Anikin.