---
Montana Development
Aims at Sustainability
A new development near Red Lodge, in south-central Montana, will include a limited number of widely spaced homes, access to ski trails and will showcase sustainable living.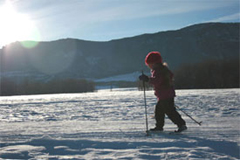 Click on the photo for a larger version.
Aspen Ridge Ranch offers just 10 lots on 250 acres, with common ownership of the rest of the property, including trails, hay fields, streams, open land and the highlight of the ranch – the equine center. Developers call it ranch living without the ongoing responsibility for the horses, land, trails and roads.
The ranch is near the town of Red Lodge, Montana, near the northeast entrance to Yellowstone National Park. The Beartooth Recreational Trails Association maintains the Red Lodge Nordic Center on property owned by Aspen Ridge and grooms 15 kilometers of ski trails that are open to the public.
"We want this small development to be a showcase to demonstrate that beautiful land very close to a small Montana town can keep its rural and agricultural character while allowing people to live, ride, hike and ski among the aspen meadows, hay fields and beautiful riparian areas." says Katherine Loo, CEO of Haughey-Loo, Inc., the owner and developer of Aspen Ridge Ranch.
Loo said owners will comply with reasonable limitations on building to assure the land remains the dominant feature. The homes will include such green features as solar systems, wind generation, radiant heat and natural cooling techniques. Existing waters are dedicated to agricultural uses and maintaining the wetlands, ponds and streams. The ranch also has a conservation easement with the Montana Land Reliance to protect nearly 200 acres of agricultural and natural land.
The state-of-the-art equine center gives owners the opportunity to own and ride horses without having to bear the full responsibility for their care. The center also a 150-foot by 300-foot riding arena, a 60-foot round pen, an automatic walker and horse showers.
Aspen Ridge Ranch includes miles of trails for hikers and riders, along with the groomed Nordic center trails in the winter.
More information is available at www.aspenridgemontana.com.