Nordic Walking: Total-Body and Ski-Specific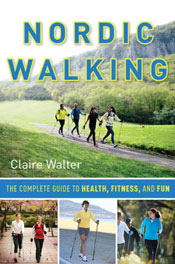 Fitness author Claire Walter 's new book, Nordic Walking, will help beginners learn the basics of this quickly growing sport, from proper technique, to the right equipment, to methods for optimizing your workout.
The book (and more info) is available from the Hather Leigh Press.
As with so many things cross country, we have the Finns to thank for an off-season, low-impact, ski-specific workout.
In the days before roller skis, Nordic walking appeared in Finland as a summer training session for cross country skiers. Since the 1930s, Finns have strapped poles to their wrists and used a technique much like classic skiing to achieve a full-body, ski-specific workout.
Fast forward to the 1990s, and walking-specific poles began to appear, complete with their own wrist strap system similar to those used in skiing – the pole becomes an extension of the arm. Now, from Texas to Maine, people who have never cross country skied have taken up Nordic walking as a way to improve their fitness.
In 2002, researchers at a non-profit health and fitness research agency in Texas – the Cooper Institute – conducted a study demonstrating that Nordic walking results in a 20 percent increase in oxygen consumption and energy expenditure, compared to regular walking at the same speed.
The poles add an upper body workout to walking, increasing the calories burned by 20 percent. And that's an average. Some study participants, including the study's director Dr. Tim Church, showed 40 percent increases in calories burned.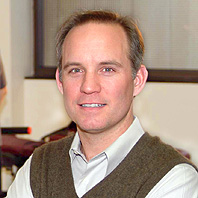 Dr. Tim Church
"It's really pretty simple," says Church, now director of preventive medicine research at the Pennington Biomedical Research Center at Louisiana State University. "The more muscle mass you use (in any exercise), the more oxygen you consume and calories you expend. When you use sticks, you get your arms and shoulders and neck into your walking. The more vigorously you pole, the more calories you burn."
There are now walking-specific poles and Nordic walking instructors. The poles range from a telescoping variety, available from many retail and online stores; to fixed-length, lightweight poles from familiar manufacturers like Swix and Exel.
Pete Edwards, who has coached runners and skiers for more than 25 years, founded the American Nordic Walking System and promotes and sells poles at skiwalking.com. He advocates the calorie-burning aspect of Nordic walking, as well as other health benefits.
"[Nordic walking] automatically improves walking posture and helps to reduce the stress to the shins, knees, hips and back," Edwards says. He cites customers who have reported improvements with knee, hip and back problems, as well as balance improvements in those with MS and Parkinson's disease.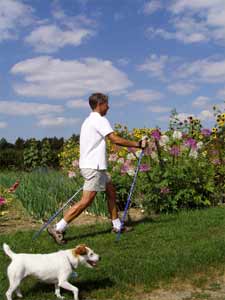 Edwards points to Michelle Honer, who participated in one of his ski walking classes in Traverse City, Michigan. "When she walked up the handicap ramp prior to the class with her cane, it was apparent that she had some balance issues," Edwards says. Honer told him she has MS, but was able to ski walk a few blocks that first session.
"For seven prior years, Michelle had ridden an electric scooter in the Traverse City MS Walk," Edwards says. "The last couple of years, Michelle has ski walked the 5K."
Edwards advocates what he calls "perfect length" poles, just like right-sized ski poles, for better walking posture. The strap system allows for proper technique, as well.
In Nordic walking, the pole tips -- which can be outfitted with rubber paws for traction on hard surfaces – never come forward of the feet. The poles remain at a slight angle and, just as with skiing, the feet and hands work opposite – the right foot and left pole plant at the same time. The pole plant is made even with the heel of the opposite foot.
Poles for Nordic walking will be shorter than your classic ski poles. My classic poles, for example are 145 cm, but the recommended Nordic walking pole for someone my height is 125 cm.
If your summertime fitness regimen includes walking, consider adding a pair of poles to the mix, and head up the street – or out to the trails – for a total-body workout.