---
Snowshoe Update
Improved bindings and models for backcountry and kids mark 2009-2010 season
By Lou Dzierzak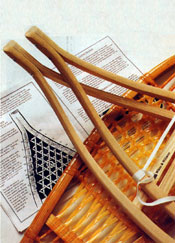 Modern technology certainly offers benefits. But some folks still think of snowshoes in a more nostalgic way. Country Ways offers ready-to-build snowshoe kits in several models and sizes. There's something honorable about building your own equipment. SPR from $139 www.snowshoe.com
Once thought of as quaint decorations hanging crisscrossed over a winter cabin's stone fireplace, today's snowshoes reflect state-of-the-art designs, construction methods and materials.
According to the Outdoor Foundation's "Outdoor Recreation Participation 2009 Topline Report," 2.9 million people went snowshoeing in 2008. That represents a 21.8 percent increase from 2007.
Reese Brown, Snowsports Industries Association Winter Trails program director, says snowshoeing was reinvented 15 years ago with the introduction of aluminum frames. "That was the catalyst that put snowshoeing on a growth curve," Brown said.
Graham Gephart, global brand manager at K2 Winter Outdoor, says, "Looking back, there was an enormous burst of publicity about snowshoeing combined with a lot of new equipment that revolutionized it."
Managing K2's Tubbs and Atlas snowshoe brands, Gephart reports the size of the snowshoe market is always driven by new consumers. He says," There's a pretty constant flow of people coming into it."
Events like the Winter Trails promotion invite new people to try snowshoeing for the first time. Brown explains, "Our goal is to attract new people. In the last five years, participation has grown in terms of the number of people registering for Winter Trails events. We hope people like it and become a lifelong participant in snowshoeing and other winter sports."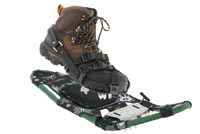 All Kahtoola Flightdeck TS models come equipped with the Two Step (TS) traction system, a universal snowshoe binding that doubles as a traction device when not clicked into the deck. SRP from $269. www.kahtoola.com
Chris Parkhurst, brand manager for MSR, reports the majority of the participants snowshoe three times to six times a year. "A lot of them might start on hard-packed trails but more and more are venturing off-trail as well."
Snowshoeing in the backcountry is definitely attracting more enthusiasts. Jake Thamm, founder of Crescent Moon, has seen significant increases in sales of the company's larger backcountry-oriented models.
"People who snowshoe are doing it to get out and away from the roads and parks," Thamm says. "Snowshoeing has its own credibility as an outdoor activity now; it's not necessarily to replace something else. It's establishing its own core of enthusiasts that speaks well for the overall growth and maturity of the sport. That's reflected in the purchase of higher end, better quality large shoes."
Crescent Moon's SPL (single pull loop) binding is a molded polyurethane harness system anatomically shaped to capture the foot in all directions. SRP $269. www.crescentmoonsnowshoes.com

Thamm points out that today's consumers are more discerning about snowshoe features. Offering the lowest price isn't the best way to entice a consumer to select your brand.
"Now that snowshoeing is established," he says, "first timers are coming into the market looking for a product that is reliable, sophisticated and more along the lines of what an experienced outdoor person would look for, as opposed to using price as the purchase criteria."
Typically, snowshoe models differ in three areas: bindings, platform and traction. While the platforms are the most visually distinct, Thamm notes that bindings are the critical element. He says, "The bindings are far and away the most important part of a snowshoe. That's what translates the motion and energy of your foot to the platform. If it's inefficient it's like having a transmission that doesn't connect the engine to the wheels."
As more people enjoy the sport, manufacturers continue to expand and improve all three elements in their product lines.
Hilary Edgar, spokesperson for Kahtoola, Inc., says, "When a product has been on the market for hundreds of years, it seems you stop having places where you can change and make a big difference. Innovations are still coming."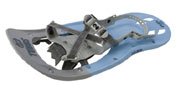 Tubbs has introduced the Flex Series, the first ergonomic snowshoes designed for walking on packed and variable snow. SRP from $149.95. www.tubbssnowshoes.com
Tubbs will launch the Flex series in 2009-2010, a line of snowshoes made with molded plastic and designed to optimize comfort, maneuverability and efficiency. The tail design allows the snowshoes to better absorb energy from the heel strike, which effectively reduces the amount of stress on the user's joints. Tubbs will launch three models of the Flex series, each featuring designs tailored to gender.
"The Flex offers much more ergonomic feel on side hills or uneven terrain," Gephart says. "The deck can conform to the terrain rather than feeling like a rigid plank underfoot."
The Flex series also features curved traction rails to improve traction on icy, hardpacked snow. Gephart says, "The curved traction rails match the curve of the deck. People use these snowshoes in trail centers with packed snow and where deep snow isn't the concern but traction is."
Snowshoe manufacturers are also paying more attention youth sizes. Brown says, "Parents want to do something in the winter with their school-aged kids."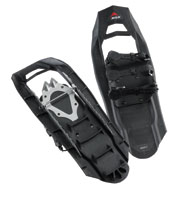 The MSR Shift is engineered for fast-growing snowshoers ages 7 to12 and feature a rugged, injection-molded flight deck with a tapered tip and tail for natural walking. The Shift accommodates changing shoe sizes (children's U.S. size six through men's U.S. size eight). SRP $89.95. www.cascadedesigns.com/MSR
For the 2009-10 season, MSR will introduce a youth snowshoe designed for pre-teens who want to hike in the backcountry but have graduated from their kiddie- sized snowshoes.
Modeled after the popular MSR Denali Evo adult snowshoes, the new Shift snowshoes deliver the same traction, durability and performance of MSR adult snowshoes, but in a youth-sized package. Three-strap FlexLite bindings are easily adjustable with gloved hands, completely freeze-proof and accommodate rapidly changing shoe sizes (children's U.S. size six through men's U.S. size eight).
"You have parents who are very active and they are trying to get their kids more involved," Parkhurst says. "We see more demand for performance gear for their kids."
Atlas Snowshoes, under the K2 brand umbrella, is also promoting youth-specific snowshoes. Designed for young enthusiasts, ages 8 to 12, the Youth 20 snowshoes were designed with an easy-to-adjust binding, sizing to fit fast-growing users, and durable materials that stand up to a kid's abuse.

The new 10 Series and Elektra 10 Series snowshoes feature men's and women's Wrapp Comfort bindings for comfort and ease of use. A single pull on the binding handle snugs the Uniloop strap around the instep, toe and heel. Suggested retail price from $199. www.atlassnowshoe.com

"We wanted to create a new line of kid shoes that mirrored a lot of the adult technology in design but in a package for kids," according to Gephart. "We're now providing better product for kids than we did previously."
Snowshoeing is just another way for winter enthusiasts to enjoy getting outside. New models make tailoring your interests and applications to the specific models even easier.
Thamm says, "The best [snowshoeing] experience is one that is hassle-free, natural and comfortable with what the user wants to do whether they are highly athletic and performance-oriented or someone who wants to go out for a nice walk in the winter."