---
Tamarack Lodge:
Where History and Nature Collide
(click on any photo for a larger version)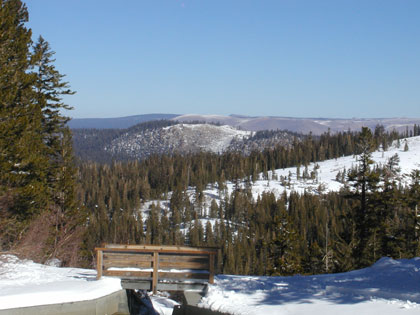 By Ron Bergin - Tamarack Lodge, nestled in the Inyo National Forest of the Mammoth Lakes area of California's Eastern Sierras, offers up a charming combination of history and natural beauty resulting in a delightful setting for cross country skiing.
The lodge was originally built in 1924 by the Foy family of vaudeville fame as an exclusive retreat. Its remoteness and striking beauty made for a perfect setting for an idyllic mountain hideaway. An assortment of cabins was added over time to complement the Lodge.
Since 1998 the Lodge has been owned and operated by Mammoth Mountain, the renowned downhill ski area. Today, Tamarack boasts 31 cabins, from one to three bedrooms. Some are smaller, older classic tourist cabins; some have been thoroughly renovated and updated; and some are entirely new with stylish contemporary design and LEED-certified construction.
The diminutive Lakeview Restaurant overlooks the scenic Twin Lakes with a backdrop of Mammoth Mountain. With only 10 tables serving inventive American-French cuisine, the Lakeview has, over the years, attracted numerous beautiful people and Hollywood stars. Photos of the likes of Julie Andrews and others of similar celebrity decorate the restaurant walls.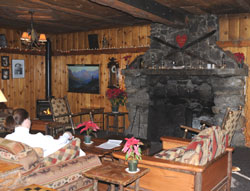 The lodge has a rustic but comfortable lounge with a large fireplace, couches and a snack bar. It provides the perfect place to take a break from the trails, warm up and grab a burger or bowl of hot soup.
Tucked up against national forest lands where Tamarack operates under a special use permit, roads to several campgrounds spur from the main access road. These roads double as ski trails in the winter and provide the major arteries into Lake Mary, Horseshoe Lake, Lake George and Lake Mamie and the several campgrounds, picnic areas and other rest areas and historic sites.
There are private in-holdings and special uses allowed in the forest, so you will see additional houses and cabins along the roads. There's even the remains of an old gold mine that you can ski to, though you will need to go off trail to access some of the buildings.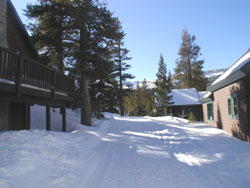 The entire Tamarack Lodge complex is a compact development with cabins tightly clustered among the towering conifers. One thoroughly charming aspect, however, is the interconnection among the cabins by groomed trails – just step out of your cabin and a few steps will bring you to the trail. If you're looking for an escape, consider that there are no televisions or radios in the rooms (phones and WiFi are available, however).
The Tamarack Lodge Nordic Center operates out of a small, unassuming construction trailer – quite a contrast to some of the opulent newer structures on the property. Under the direction of Uele Luthi, the center offers Rossignol rentals and instruction by former U.S. Ski Team member and Olympian, Nancy Fiddler. Nordic center staff offer nature tours by snowshoes and skis on weekends at noon.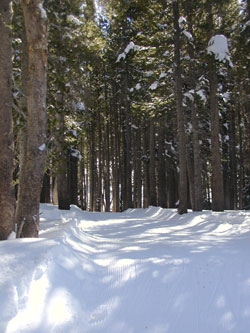 Though not expansive, at just under 30 km of trails the Tamarack system has a good amount of variety and offers a solid balance of easy to more-challenging trails. Directly from the lodge, easy trails circumnavigate the Twin Lakes loop through a campground, passing over a channel between the two lakes. As you look high above, you don't initially realize that the small waterfall emanating from the ridge is where you will eventually be skiing.

The elevation at the lodge is around 8,500 feet and the main trails climb to access the central core of the trail system, gaining close to 400 feet. The highest part of the system on the Lake George Loop extends up to 9,000 feet. Not for the faint of heart, for sure, but judging from the many smiling faces, the high altitude didn't seem to phase many. But it's easy to understand why there are so many happy skiers, as the area typically sees on the average of 300 days of sunshine annually. What's not to like?
It is a long climb up the wide, groomed road to access the upper trails and narrower side trails. This road-based trail is multi-use, and groomed for skiing on the uphill right with walking, snowshoeing and dogs permitted on the left. This seems to be a pretty good system judging from the heavy traffic of all types on the trail.
These corridors also facilitate a significant amount of off-trail use. Tracks of snowshoers and backcountry skiers regularly depart the groomed trail system for more adventuresome activities.
Telemark skiing is popular here too, as freeheelers can ski off the back side of Mammoth Mountain and drop down to Tamarack via an assortment of off-piste runs. One novel route is the Hole in the Wall, a narrow keyhole through what is essentially a small cave, open at both ends. You can watch skiers descending this route from the lodge.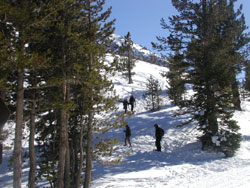 For a relatively small system, the diversity of trail offerings is surprising. The mix of wide and open trails with narrower 14-foot to 16-foot wooded and shady runs also attracts a wide diversity of people, from those who can barely stand on skis to shufflers to seasoned veterans to Far West Nordic juniors spiritedly training on the Tamarack trails.
The Tamarack system also plays host to perhaps the greatest ethnic diversity I've ever seen on cross country ski trails - Asian, Latino, African-American skiers in much higher proportions than typically seen around the country. This is, of course, due in no small part to the proximity to Los Angeles which, aside from the local population, is the area's greatest market draw.
I ran into a group of 30-something women stopped at a picnic table near Lake Mary, who were having entirely too much fun. Wine bottles had been uncorked and a festive lunch was underway. This group of Los Angelinos was enjoying a Superbowl weekend girls' getaway at Tamarack.
Blue-jacketed hosts regularly patrol the trails; many are retirees or seniors, checking trail passes and helping skiers.
Looping the various trails at Tamarack, a must-do is a stop is the outflow of Lake Mamie. It's quite a different perspective when you realize that this is what you were looking up at from the valley below. You can fully appreciate the amount of climbing it took to get there. My personal preferences were the wooded, narrower trails that twist and turn. Favorites included Sidewinder and the Mineshaft/Pine City/Lucky Strike/Bobby's Blast combo that brought you back to the lodge in a series of rolling, swift descents.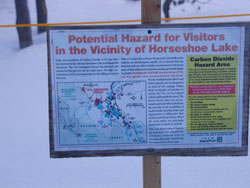 The trails do have perhaps the most unusual feature that I've ever seen. It is identified on the Tamarack Trail map as "CO2 Hazard Area." The area is similarly posted as you ski up to it.
You immediately notice something is not quite right as you approach: almost all of the trees in the area are dead. This area has a great deal of geo-thermal activity and has experienced "degassing," a significant release of carbon dioxide. While this is not a problem during the summer because carbon dioxide and other gases simply dissipate into the air, in the winter these gases are trapped by the snowcover and can accumulate in dangerous densities.
Tragically, related to this same phenomenon, a group of ski patrollers was killed on Mammoth Mountain while working to fence in a volcanic fumarole in 2006. Two fell into a large cavity in the snow created by steam and other gasses and were overcome. Another jumped in to help and was similarly affected. Skiing the groomed trails is not an issue, however, as the trails skirt the CO2 area. Those traveling off trail are advised to avoid this area or at least move through it quickly.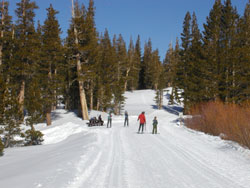 The Mammoth Lakes area is a hotbed of tourism opportunities. In addition to downhill skiing at Mammoth Mountain, backcountry skiing abounds. During the summer, hiking, mountain biking, fishing and climbing are favorite attractions for outdoor enthusiasts. Numerous restaurants of all flavors and descriptions dot the local landscape.

If you're looking for an experience a bit more on the wild side, then Rock Creek Lodge (www.rockcreeklodge.com) may be the place for you. Only a short ski (or snowmobile shuttle) up a groomed forest road, Rock Creek is a complex of cabins, trails and backcountry touring opportunities. Jan Huffstatler, Rock Creek's host, offers up great meals in the "dining room in the woods."
Tamarack Lodge also hosts a couple of annual Nordic ski events: the Allan Bard Memorial, a race in memory of backcountry guru Allan Bard who was the backcountry columnist for Cross Country Skier in the early '90s; and the Mammoth Marathon, the first week of April.
You may have also heard of Tamarack Resort in Idaho. Tamarack Lodge and Resort in Mammoth Lakes, California, couldn't be more different. If you enjoy the mountains, appreciate history, and are looking for fun cross country skiing, Tamarack Lodge should be added to your "to do" list.