Andy Gerlach: Factory Team Director
by Lou Dzierzak
Editor, Cross Country Skier
Andy Gerlach has a clear mission in life. As the director of one of North America's premiere factory teams, Gerlach is a tireless ambassador for cross country skiing. The 14-year-old Factory Team, known as the Subaru Factory Team until this fall, supports elite post-collegiate athletes in their quest for World Cup and Olympic recognition.
Gerlach was seven years old when he started cross country skiing on farm fields near his childhood home in Blaine, Minnesota. An accomplished high school racer, Gerlach was later a member of the University of Minnesota's national championship cross country racing ski team.
After college, Gerlach continued skiing competitively with sponsorship support from Fischer and Adidas. That experience led to a one-year job managing what was known as the Fischer Marathon team.
After earning a bachelor's degree in engineering and a master's in economics, Gerlach decided to pursue a "real" job and spent two years as an investment banker. "I was making money but it wasn't any fun," he recalls.
Reconnecting with Peter Ashley, now VP of the Nordic division for Fischer Skis U.S, Gerlach worked to create the Fischer factory team. One year later, Gerlach formed his own private company Endurance Enterprises to manage the team.
Fourteen years later, the factory team is preparing for its 2007-08 competition schedule that includes 40 events, from Anchorage, Alaska, to Jackson, New Hampshire.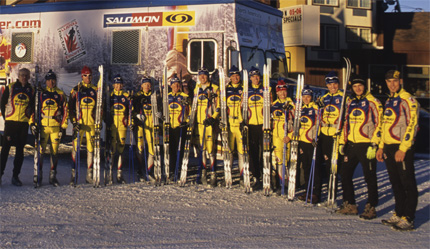 The Factory Team in West Yellowstone.
Gerlach reflects, "The first year I ran the factory team, I was on the road 220 days and traveled 35,000 miles in a Ford Aerostar minivan. Today, I have techs that handle the athletes' equipment needs and a bus that serves as a mobile wax room. Now my job is to figure how to spread the message of cross country skiing to new consumers. I'm more marketing focused."
The team's primary objective is to provide elite level post-collegiate skiers with resources to keep them involved with the sport. Looking back, Gerlach notes, "When we started this with Ben Husaby, Trond Nystad, Erich Wilbrect, Laura McCabe and Susan Dibiase, the athletes were just so thankful to have a team to ski on. They received a small amount of financial support, gear and equipment, a wax tech and logistical support. The trade concept was in its infancy and there weren't a lot of options out there."
Gerlach's original factory team raced under the slogan, "Dream of It." The appeal reached beyond the competitive level to inspire beginning and intermediate skiers. "The factory team is living out their dreams and we wanted to help you with yours."
Recently, the slogan changed to "Enjoy Winter' with a tagline, "Without skis, snow is something you shovel. With skis, snow is something you glide on. Wouldn't you rather glide than shovel?"
"That's the essence [of the sport] that cross-country skiers realize," Gerlach said. "As soon as you get outside and take advantage of that ability to glide on the snow, suddenly winter is great and you don't mind shoveling because it allows you to get to the trails quicker."
Today, partially due to Gerlach's efforts, post-collegiate skiers have more options to support longer competitive racing careers. Gerlach explains, "Today, there is Team Rossignol and the Fischer Team. Along with the manufacturers are clubs, like CXC in the Midwest. Now post-collegiate skiers have many more options not only for financial support and equipment backing but for coaching and a pipeline up to World Cup European skiing."
The ultimate objective of the factory team is to keep top athletes dedicated to the sport as long as possible and win that elusive next Olympic medal. Gerlach reflects, "People often ask me why we haven't created more Olympic medalists. My answer is our best hopes have more reasons to quit than they have to continue. Through the factory team, we've allowed people stay in the sport a little bit longer and reach one more step higher on the ladder. It takes a long time to get the right athlete in the right position at the right time to get the first success and build more under it. Hopefully I've been a part of allowing athletes to see that it is possible to chase their dreams and keep them in the sport at a higher level."
A secondary, but equally important, mission of the factory team is educating and inspiring winter enthusiasts to enjoy cross country skiing. Over the past decade, Gerlach has seen advancements in equipment that are often overlooked by consumers.
"Every year the equipment gets more user friendly, more versatile, faster, lighter and not much more expensive," he said. "If you would strap on a pair of skis from today and a pair of skis, boots and bindings from five or ten years ago in a blind test, you could determine the chronological age of the skis by the ease of use.
"For recreational skiers, the mid-length Salomon Snowscape ski [team sponsor] is so easy to use, so maneuverable and controllable, people can take them anywhere. The boots and bindings we have now allow so much more control, it's taken away any excuse for being outside and skiing."
If there is a downside to spending winter months as an ambassador for cross country skiing, Gerlach admits that his own skiing suffered. "I haven't skied nearly as much as I should or nearly as much as I preached about. I've spent a lot of time on snow but I'm generally enabling other people to ski by standing at a tent handing out gear or at the side of a course handing out water bottles to my team." At the insistent urging of his children, Gerlach has once again moved from standing next to the trail to skiing on it.
In late 2007, Subaru informed Gerlach that the automaker would not renew the factory team's title sponsorship. Undaunted, Gerlach has created a brand that can stand on its own. "I work with our sponsors -- Salomon, Swix, Craft, Rudy Project and others -- to decide how to support the program. We will have a program with 12 of the greatest athletes in North America promoting the factory team brand this winter."
For more information about the team, competition schedule and sponsors visit www.endurance-enterprises.com.
2007/08 Factory Team
Lars Flora
Kristina Strandberg
Tav Streit
Abigail Larson
Carl Swenson
Jana Rehemaa
Chad Giese
Justin Easter
Kate Underwood
Patrick Weaver
Justin Freeman