Yellowstone Country Sampler


"Movin' to Montana soon,
Gonna be a dental floss tycoon…"
Not that the lyrics of Frank Zappa's 1973 whimsical ditty had anything to do with my visit to Yellowstone Country, but I couldn't get them out of my head as I anticipated seeing some of the little-known and a few better-known cross country ski spots and attractions in this part of Montana.
Yellowstone Country is the geographic region of south central Montana including all of Yellowstone National Park (which actually extends into Wyoming). The region is bounded by Three Forks, Big Sky and West Yellowstone on the west, the southern border of Yellowstone National Park on the south, approximately Park City and Bridger on the east and extends about 100 miles or so north of Bozeman.
This is a region wealthy with natural attractions, and outdoor activities sufficient to suit the most divergent of tastes. So vast are its natural offerings that our sampler only scratches the surface of this gem of a region. Extended exploration and additional "research" will undoubtedly be required to do it full justice.
Yellowstone National Park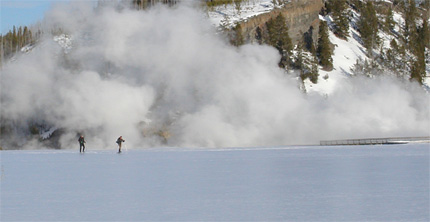 Only at Yellowstone -- Skiers with geyser action in the background.
(See a larger version of this photo.)
Yellowstone National Park is obviously the anchor attraction of the region. There is, of course, much more to do and see in the area, and volumes could be written about the winter recreational opportunities in Yellowstone National Park alone. Cross Country Skier has been there before, and we expect we'll be back to continue to explore the depths of the park and the many nuances of its exquisite wilderness.
There are only a few groomed trails in the park, but that is beginning to change. The National Park Service has begun setting track along the road from West Yellowstone into the park. Because of snowmobile traffic the tracks don't always survive, but at times it is possible to connect with the Riverside Trail, which starts near West Yellowstone and make a loop back.
As more skiers rediscover the park – the result of the diminished impact of snowmobiles on the quiet experience -- it is expected that more trails will be groomed over time. And since most of the snowmobile trails are groomed at night, an early riser can get out and skate the snowmobile trails before the 'bilers begin to appear in the morning.
The Old Faithful Snow Lodge is one of the few park accommodations to remain open in the winter. Built in 1997, this facility is definitely positioned for a higher end experience. It is a classy place – a Shangri-la in the wilderness.
There are in the neighborhood of 70 miles of cross country ski trails in the Old Faithful area. Several trails emanate from the lodge, providing access to the numerous thermal features that dot the area, where bison, elk and deer congregate to take advantage of the warm ground. Trails in the immediate area include Biscuit Basin Trail, Fern Cascades Loop and the Lone Star Geyser Trail. You can also take a snowcoach to other more distant trails and to ski back to the lodge. Yellowstone Ski Tours offers ski and snowshoe tours from Old Faithful Snow Lodge with expert and knowledgeable guides.
The majority of trails in the area are skier tracked, but with the usually abundant deep snow, they're almost as good as groomed trail. I had the opportunity to sample a few of the trails in the immediate Old Faithful area.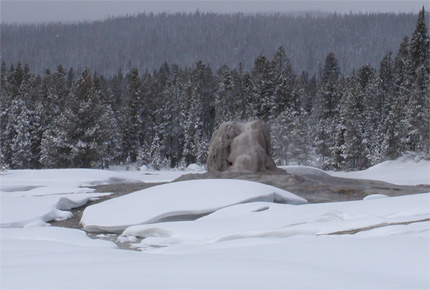 Makin' some mud. Yellowstone has sites skiier won't see anywhere else.
(See a larger version of this photo.)
I must admit, skiing these trails was the highlight of my trip to Yellowstone Country. Most of the Yellowstone trails are suited to the advanced beginner to intermediate skier. That does not mean they are without challenge. For those unaccustomed to skiing anything but a groomed trail, there may be some adjustment. A solid intermediate skier should adjust quite readily and an accomplished skier will delight in the difference in skiing experience that these trails bring. Of course there are truly expert challenges too, in longer backcountry tours requiring telemarking abilities and a comfort level with steeper terrain.
My Yellowstone sampler started with a quick tour to Fairy Falls. Only a couple of K's from the road, this was a mostly flat, mellow tour through the young lodgepole pines that have begun to grow back since the fires of 1988. A few bumpy sections, a couple of quick steps and you're at the base of the falls. It was a great introduction to this part of the park. From the falls we could see steam rising from not too distant thermals which, had time allowed, we could have ventured on to explore.
A fresh three-inch coating of snow greeted us the morning of our next tour. After an uncharacteristically extended dry period, it was a welcome refresher to the tired snow cover. A snowcoach dropped us about seven miles down the road where we picked up the Divide Trail that treated us to a winter wonderland tour along Spring Creek.
Rated more difficult, the Divide Trail was not a tough ski; just a little different. Some rolly bumps, a side-hill descent, a narrow bridge and a mellow cruise down the creek valley added up to a thoroughly delightful tour. We diverted to the Lone Star Geyer in hopes of catching it spouting off, but with no luck. The Lone Star Geyser Trail provided an easy return to the Snow Lodge as huge flakes of snow began to fall. It couldn't have been better.
As the recreational composition of the park has begun to change, more cross country skiers are discovering the hidden gems of the off the beaten track experience that is Yellowstone. "We're seeing more ski boots in the Snow Lodge," says Rick Hoeninghausen, director of marketing for Xanterra Parks and Resorts, the concessionaire management company that operates most of the park's facilities. He cites other positive impacts including fewer snowmobiles sitting idling at all hours or coming and going at early hours disturbing guests.
Xanterra has been very proactive in developing and offering environmentally based education programs in conjunction with the Yellowstone Association -- everything from ski and snowshoe packages to winter wolf discovery.
Xanterra has also gone to great lengths to keep Yellowstone green with numerous environmental initiatives, including recycling programs, use of fuel efficient vehicles, use of bio-diesel, fluorescent light bulbs and much, much more. Xanterra was also the first national park hospitality company to publish a sustainability report and the only tourism company to have such a report third-party certified. More information about Xanterra's environmental initiatives and its sustainability report can be found on its website, www.travelyellowstone.com. It is Xanterra's mission to help keep Yellowstone a v ery "green" place.
Away from Old Faithful, several other trail systems can be found in the Mammoth, Tower and other areas throughout the park. Skiers can visit www.travelyellowstone.com for trail conditions and grooming reports, as well as trail lengths, altitudes, degrees of difficulty and sights to see. The ski report covers 34 trails in six regions of the park and is updated several times per week.
One of Yellowstone's greatest natural assets, its many thermal features, can present a challenge for sustained skiing, as snow and thermals have a tenuous relationship. As such, the park's lodges close in early March as the season comes to an end.
Numerous ski touring and other non-skiing diversions surround the park, complementing Yellowstone's unique experience. Here's a sampling of just a few. Additional adventures can be found by checking in with the U.S. Forest Service and tourism agencies in the area.
Yellowstone National Park
National Park Service
P.O. Box 168
West Yellowstone, MT 82190
Yellowstone National Park Lodges
Xanterra Parks & Recreation
P.O. Box 165
Yellowstone National Park, WY 89190-0165
307/344-7311
866/439-7375
www.travelyellowstone.com
Chico Hot Springs
If you're looking for an unusual diversion and cushy place to stay while visiting Yellowstone Country, check out the Chico Springs Resort & Day Spa. While there is no skiing on the property, it is close enough to provide a very comfortable base to access Yellowstone and other area skiing. This classic lodge also has several very well appointed cabins, a saloon and excellent dining with top-notch service. It even has a garden where they grow their own herbs.
The real hook, though, is the full-sized outdoor hot spring pool. Not for swimming, mind you, but soaking, and an idyllic way to relax and unwind following an active day.
Chico Hot Springs Resort & Day Spa
1 Old Chico Rd./P.O. Box 29
Pray, MT 59065
406/333-4933
chico@chicohotsprings.com
www.chicohotsprings.com
Bear Canyon/Goose Creek Tour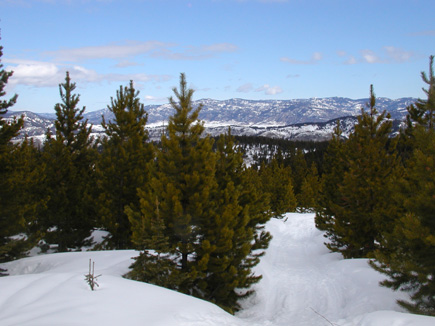 There's a wealth of light touring and backcountry skiing just out the door; most within the grasp of the average skier. The Bear Canyon Cabin, about eight miles outside of Bozeman, offers one such opportunity. From this jumping-off point one could eventually go into Yellowstone National Park without crossing a road, or even into the Wind River Mountains with only one road crossing.
This quiet idyllic setting provides access to the trails just up the road. But the best plan of attack is to arrange a shuttle to the start of the route and ski back to the cabin. After shuttling to Goose Creek, we began skiing up a road that is open to snowmobiles, though we didn't see any on our mid-week tour. The snowmachines did provide a solid base on which to ski. This route is best with a fresh snowfall over the packed base.
Steady climbing through open country with a distant view brings you to near the height of land. A spur diverts onto a less traveled trail that traverses giant Douglas Firs before opening into a series of meadows and finishing at the site of an ancient homestead complete with the remnants of an old cabin, shed and barn.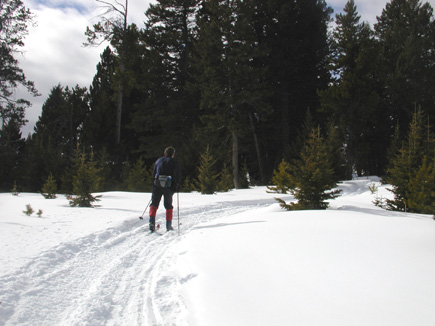 From here the trail narrows and drops, descending as it twists, rolls and meanders along a creek. Near the end you pass a large bank that slumped downhill during a rain storm, requiring a slight rerouting of the trail. Finally, the trail dumps out near an old ski hill where, depending on snow conditions, it's time to dismount and hoof it back down the road to Bear Canyon Cabin.
See many more photos of Bear Canyon in our photo gallery.
Bear Canyon Cabin
3462 Bear Canyon Rd.
Bozeman, MT 59715
866/252-7706
www.bearcanyoncabin.com
West Yellowstone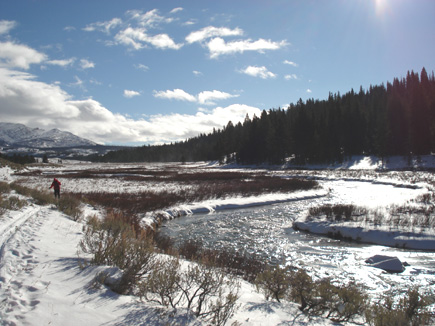 Backcountry skiing on the Bighorn Trail in West Yellowstone.
(See a larger version of this photo.)
West Yellowstone is the gateway to the western side of Yellowstone National Park. Cross Country Skier magazine has chronicled the Nordic skiing offerings of West Yellowstone on several occasions, including the Rendezvous Ski Trails, backcountry touring into the park and the Yellowstone Ski Festival. While cross country skiing is the big game in town in November, as West Yellowstone is a perennial early season snow destination, once the big snows come, so do snowmobiles and that dynamic changes considerably.
However, it is important to note that things are changing in West Yellowstone. The impact of strict restrictions on the number and type of snowmobiles allowed in Yellowstone National Park has been felt by the local community. Last year the total number of snowmobiles allowed into the park per day was 720. Despite conservationist hopes that this number would be significantly reduced, a recent National Park Service decision will allow 540 beginning in 2008-09.
The fact remains, however, that even with the 720 maximum, it is reported that only about 250 per day were going into the park. The new rules require all snowmobiles to use four cycle technology and all groups must be accompanied by a guide. This, it appears, has been a self-limiting condition, as many people don't want to go with a guide and don't want to only ride at 35 miles per hour.
It is widely accepted that the reduced numbers of snowmobiles have been for the better. Noise and air quality are improving and there is less off-trail travel and harassment of animals. Still, many would like to see Yellowstone return to a completely quiet winter sanctuary.
There have also been political changes within the West Yellowstone city government with several local Nordic ski enthusiasts stepping into the political arena. These include Drew Barney, race director for the Yellowstone Rendezvous, who was elected mayor, and Jamie Greene, director of the Yellowstone Ski Festival, who is operations manager for the city.
The town is realizing the positive impact of skiing and doing more to capitalize on it to make up for economic losses from reduced snowmobile traffic.
See more information on the recent NPS decision.
West Yellowstone Chamber of Commerce
P.O. Box 458
West Yellowstone, MT 59758
406/646-7701
www.westyellowstonechamber.com
Yellowstone Association
307/344-2294
www.YellowstoneAssociation.org
Snowbank Trail
If you don't mind climbing, another good touring option is the Snowbank Trail in the Mill Creek area. The Mill Creek drainage is one of the largest watersheds in the Upper Yellowstone River valley. It offers some of the best off-trail cross country skiing in the area.
The Snowbank Trail is just one of many tours in the drainage. This is an up-and-down route, with little flat on what is essentially an old roadbed. The long climb up includes numerous switchbacks over roads of about a six percent grade (six feet elevation gain per 100 feet lateral distance). As you climb you enjoy increasing views of the valley below as well as views of Chico Peak, Arrow Peak, Crow Mountain and The Pyramid.
Gradually you reach a level where evidence of earlier fires in the area still define the landscape. The trail continues up, but our tour concluded and we began the return. After a 45- to 60-minute climb, it took only 12 minutes to return to the trail head. It is a relatively mellow route, however, as the turns are not tight and the grade is gentle.
To reach the trail head, follow Mill Creek Rd. off U.S. Hwy 89 to the gated road closure at Snowbank Campground. It is about 28 miles from Livingston to the trail head. For further information about this and other local tours, contact:
Timber Trails
309 West Park St.
Livingston, Mont.
(406) 222-9550
Bohart Ranch Cross Country Ski Center
In the Bozeman area, Bohart Ranch Cross Country Ski Center is the hub of groomed trail cross country skiing. It is a day-use center about 16 miles northeast of Bozeman. The 27 km network of groomed and tracked trails is packaged into five distinct areas: Bohart Loops (South and North) nearest to the Base Lodge, Arena and entry to the center; Meadow Loops, Ridge Loops, Bracket Creek Loops and Logger's Loops. Trails get progressively more difficult and longer as you venture away from the Base Lodge.
Despite its mountain setting (base elevation is 6,050 feet), there is still plenty of easy terrain in the Bohart and Meadow Loops and a good balance of more difficult and most difficult trails distributed between the Ridge, Loggers and Bracket Creek Loops. For a thorough tour of the system, be sure to checkout Logger's Loops which, as the name implies, was created from a series of old logging roads. All of the trails are on Bohart Ranch property except Logger's, which is on land leased from the U.S. Forest Service.
The trails all have a great flow and, in many cases, follow the natural contours of the terrain to achieve the necessary climbing. Great views are abundant and a ski up to the Lookout Trail will offer views of the Gallatin and Abrasoka mountains with a backdrop of several dramatic peaks, including the high, pointy Sacajawea; and Ross Peak, one of the most beautiful. In addition to the stunning scenery, the area is well populated by an assortment of wildlife including elk, moose, grouse, bear and wolf.
The trails are very well mapped and easy to navigate with numbered intersections as references. Bohart also has an excellent reputation as an exceptionally well groomed trail system. That reputation, along with the trails themselves have attracted many major events including the U.S. Nationals, Junior Olympic Qualifiers and NCAA championships, which make a return visit in 2008. Prior to the 2002 Olympics, many international athletes came to Bohart to ski and take advantage of an elevation similar to what they would encounter at Soldier Hollow.
More info about Yellowstone Country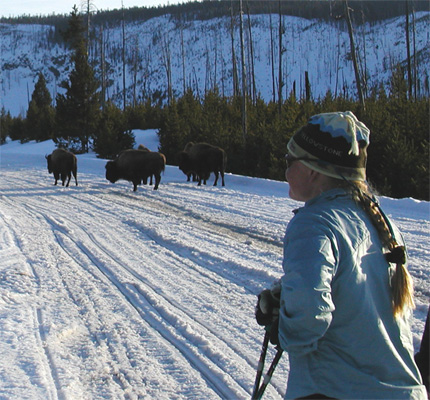 Sharing the trail.
(See a larger version of this photo.)
Yellowstone Country Montana
Box 3048
Bozeman, MT 59772-3048
406/556-8680
Bozeman Chamber of Commerce
2000 Commerce Way
Bozeman, MT
406/586-5421
Gallatin National Forest
Bozeman Ranger District
3710 Fallon St., Suite C
Bozeman, MT 59718
406/522-2520
Yellowstone National Park
National Park Service
P.O. Box 168
West Yellowstone, MT 82190
Yellowstone National Park Lodges
Xanterra Parks & Recreation
P.O. Box 165
Yellowstone National Park, WY 89190-0165
307/344-7311.866/439-7375
www.travelyellowstone.com
West Yellowstone Chamber of Commerce
P.O. Box 458
West Yellowstone, MT 59758
406/646-7701
www.westyellowstonechamber.com
Yellowstone Association
307/344-2294
www.YellowstoneAssociation.org
Bohart Ranch Cross Country Ski Center
16621 Bridger Canyon Rd.
Bozeman, MT 59715
406/586-9070
www.bohartranchxcski.com
Bear Canyon Cabin
3462 Bear Canyon Rd.
Bozeman, MT 59715
866/252-7706
www.bearcanyoncabin.com
Chico Hot Springs Resort & Day Spa
1 Old Chico Rd./P.O. Box 29
Pray, MT 59065
406/333-4933
chico@chicohotsprings.com
www.chicohotsprings.com