Touring Anchorage
By Ron Bergin

Though the city of Anchorage sits at sea level, enveloped on almost three sides by the ocean that can have a moderating effect on temperatures, it sees regular and consistent snowfall, much to the delight of the area's large and enthusiastic Nordic skiing community. A city of 277,638 people, Anchorage is the population center of the state. Easy to navigate urban sprawl links the downtown with access to numerous community ski trails on the periphery of the city.
A skiing holiday to Anchorage, in addition to a bounty of trails, offers a plethora of non-skiing diversions to fill out even the most inquisitive traveler's itinerary. From the downtown Anchorage ceremonial start of the Iditarod Sled Dog Race to the omnipresent influence of Native Alaskan, Russian Orthodox and historic exploration and extraction endeavors, a full immersion experience of Anchorage and its environs should not be limited to the ski trails.
But the skiing opportunities are so plentiful that one could easily devote a week or more to exploring the 130-plus kilometers of trails just in the immediate Anchorage area. With more time, one could venture to numerous other trails just a short distance away for even more cross country adventure.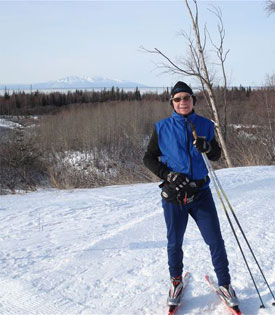 Click on the photo for a larger version.
The Nordic skiing culture of Anchorage is impressive, too, with the Nordic Skiing Association of Anchorage (NSAA) anchoring the regional cross country skiing scene. And the area has quickly become an epicenter of skier development, from youth programs such as the Alaska Winter Stars to a flock of Olympic caliber skiers based at Alaska Pacific University.
The NSAA (profiled in the December 2005 issue of Cross Country Skier) is a sizeable organization with an equally sizeable agenda of initiatives, trail maintenance and events. The Nordic Skiing Association of Anchorage is, in fact, responsible for all of the major cross country ski trails in the greater Anchorage area, which includes seven or more distinct trail systems and interconnecting links.
Through its stewardship, the NSAA makes these trails available to the public free of charge. Grooming and other maintenance are paid for primarily through voluntary donations and the purchase of a Trail Pin, which serves as a trail pass indicating that you have paid your share of the freight to help maintain the trails.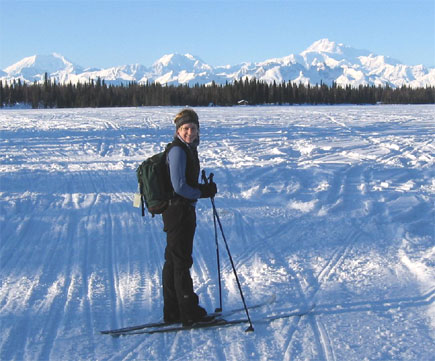 Click on the photo for a larger version.
It would appear that Anchorage Nordic skiers are more than willing to help support the trails, judging from more than 700 names of trail pin purchasers' names that appeared in the February 2007 issue of the Alaska Nordic Skier newsletter – and that was as of mid-January. Trail pin collections totaled in the range of $200,000 last year, which not only helped cover grooming costs, but also some general operating costs and summer maintenance.
The Nordic Ski Association of Anchorage isn't only about trails, for it also offers numerous events and activities and publishes a very comprehensive regional newsletter. Highlights of the club's activities include the annual Tour of Anchorage ski marathon, the Ski 4 Kids Day – a day of events, activities and just plain fun for kids and adults -- and the annual Ski For Women, probably the largest women-only ski event in the country, where outrageous costumes are the norm. The much-anticipated NSAA Ski Train takes fun-loving skiers out into the wilds for a day of backcountry thrashing and a return trip that is more of a rolling party, complete with a polka band!
Many western U.S. Nordic trails are based at altitude, so acclimation is one of the biggest challenges for those accustomed to traveling to find idyllic cross country skiing experiences, especially those hailing from the East or Midwest. Not a problem in Anchorage, since it's pretty much at sea-level. So it's off the plane and right onto the trails and, except for perhaps a touch of jet-lag, you're ready to ski.
Nordic skiers of Anchorage are in the enviable position of not simply just deciding whether to ski or not, but where to ski. Here's a quick overview of the many trails from which they have to choose.
Hillside Trails
Located adjacent to Service High School, the Hillside Trails are heavily used by high school and APU skiers as well as the after-work crowd. These trails reminded me of many Midwest Nordic trail systems.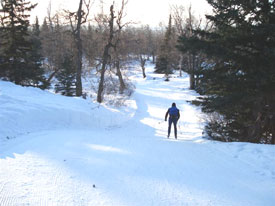 The 18-plus kilometers wind through hilly, wooded areas with fun descents and very manageable terrain. Topping out on ridgelines, the skiing frequently affords distant views of downtown Anchorage and the city skyline. Typically Pisten Bully groomed on a daily basis, Hillside includes eight km of lighted trails enabling skiing until 11 p. m. or so. The most challenging segment of trails, the Spencer Loop (7.5 km) was originally built to FIS racing specifications.
And challenging it is. After dropping down to a creek and the lowest point in the system, the trail hooks hard right and begins a long sidehill traverse. The views increase as you gradually begin to see your starting point below. Once attaining the first high point, you get a break with a quick drop, sharp right turn and whip around before climbing again. This trail is a good test, for even a strong skier. Numerous sharp turns and swift descents keep the adrenaline flowing. The trail skirts the edge of Hilltop Ski Area before shooting back down to the core Hillside trails.
Recent improvements at Hillside include the widening of the classic-only Richter Loop so that larger grooming machines can access it. Skiing at Hillside is thoroughly enjoyable experience and should be one of your first stops on a cross country ski tour of Anchorage.
Bartlett High School
Like many of Anchorage's trails, the Bartlett trails were developed by a dedicated group of coaches, students, parents and volunteers who supported competitive cross country skiing. The first trails at Bartlett were completed when the school opened in 1974. Located adjacent to the Alaska Native Heritage Center, an expansion was completed in 1997 resulting in approximately five kilometers of trails.
Russian Jack
Russian Jack Springs is the site of another school-connected system -- a series of trails that start at East High School. The system includes a 2.5 km intermediate loop and a five km loop accessed via an underpass. A portion runs along a golf course and is lighted for night skiing. A chalet built by the city is the central focal point of the trail system. The park is also the site of the start of the 25 km classic and skate races of the Tour of Anchorage.
Alaska Pacific University
The members of the university ski team and their coach, Jim Mahaffey, constructed trails at Alaska Pacific University, formerly known as Alaska Methodist University, in 1967. The system has been expanded over the years and now totals 10 kilometers. The trails, entirely on APU property, are part of the area-wide trail system that connects to Chugach State Park on the east side of Anchorage and Kincaid Park on the west. It is also connected by a highway overpass to the trails in Far North Bicentennial Park and the Hillside Trails.
The Tony Knowles Coastal Trail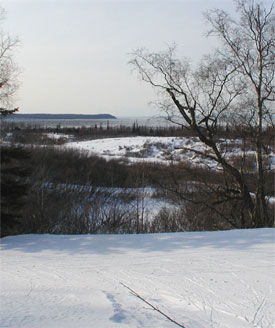 Click on the photo for a larger version.
A multi-use trail, the Tony Knowles Coastal Trail runs 11 miles from near downtown Anchorage to Kincaid Park. It skirts the fault line of the 1964 earthquake as it wraps along Knik Arm passing Woronznof Point to Campbell Point, entirely along the ocean. This is one of Anchorage's most popular all-season trails.
At 61 degrees north latitude, darkness comes early during the Anchorage winter. To allow local Nordic ski enthusiasts to keep on skiing, several area trail systems have installed lights for night skiing. Lighted Anchorage area trails include: Kincaid Park - 15 km, Hillside - 8 km, Russian Jack - 3 km and Bartlett High School - 3 km.
It's easy to allow yourself to be captured by the wild ambiance of Alaska, even in its largest city. Couple that with immense cultural variety and the most colorful of histories for a resulting destination of huge potential. Layer on the tremendous Nordic skiing options in and around Anchorage and you've got a cross country ski hotspot that pretty much has it all.
Off-Trail Anchorage
While cross country skiing might easily be the entire focus of a trip to the Anchorage, an area this historically and culturally diverse offers diversions aplenty to occupy your off-trail time. Here's a sampling of just a few things you might consider, if you can tear yourself away from the trails.
Iditarod Trail Sled Dog Race
Arguably the most famous sled dog race in the world, the Iditarod takes place every March at the same time as the Tour of Anchorage ski race. A ceremonial start is held in downtown Anchorage on 4th Street, the staging point for mushers, handlers and teams. While it only lasts a few blocks, this exhibition is packed with energy and excitement. It is a spectator-friendly event, allowing up-close and personal viewing of the teams as they are announced and paraded down the street.
Billed as the "Last Great Race on Earth," the Iditarod starts for real the following day in the town of Willow, about 20 miles outside of Anchorage, beginning its arduous trek to Nome, 1,122 miles down the trail.
Anchorage Museum
Located in the heart of downtown Anchorage, the Anchorage Museum is a unique cultural experience for residents and visitors alike. Its mission is to preserve, exhibit and interpret the art and history of Alaska and the circumpolar North. This it accomplishes in spades. With more than 90,000 square feet of space, the museum is the most extensive in the state.
First opened in 1968 with 60 borrowed Alaska paintings and a collection of 2,500 historic and ethnographic objects owned by the local historical society, the Anchorage Museum today holds more than 19,000 objects and 350,000 historical photographs and hosts more than 20 traveling exhibits from around the globe each year. Be sure to block out a good chunk of time, as there is obviously a lot to see and an ideal way to immerse one's self in the history and culture of Alaska.
Alaska Native Heritage Center
Responding to a need for a community gathering place, the Alaska Federation of Natives, the state's largest Native organization, created the Alaska Native Heritage Center in 1987. It first opened its doors to the public in 1999.
Sited on 26 wooded acres, the 26,000 square-foot Welcome House holds collections, exhibits, a theater and gathering place. A traditional village on a scenic lake rounds out the Center's offerings, complete with an on-site cultural host relating interesting cultural and historical facts. Historical and modern objects, artifacts and images depict the traditional ways of life of the five indigenous Alaska Native Groups with over 2,000 objects and artifacts on display. Live performances and demonstrations, as well as a variety of movies to educate and entertain, are also offered.
Russian Orthodox Museum
Orthodox missionaries arrived in Alaska in 1794, baptizing the Native people throughout the territory. Alaska became known as the "Cradle of Orthodoxy in North America" and the Russian Orthodox Church remains as the longest surviving institution in Alaska's history.
The Russian Orthodox Museum, located in downtown Anchorage on A Street, not far from the Anchorage Museum, features artifacts dating from 18th century Russian America, as Alaska was once known. Among the objects on display are recently restored processional banners -- some possibly dating to 1794 -- rare icons, personal objects of St. Innocent, a kayak frame used by missionaries and beaded priests' vestments. A large number of the artifacts in the museum's collection were retrieved from old churches, which have been restored or rebuilt.
Alyeska Resort
If your snow-sliding repertoire includes gravity-assisted skiing, a trip to Alyeska Resort in Girdwood, just 40 miles south of Anchorage, may be just the ticket. The world class, 304-room Hotel Alyeska anchors Alaska's only year-round resort.
With 1,400 acres and over 630 inches of annual snowfall, Alyeska is Alaska's largest and most developed ski and snowboard area with ski-in/ski-out accessibility. The nine state-of-the-art lifts include the Alyeska Tramway. The resort is also home to several fine-dining restaurants, including the award-winning Seven Glaciers. Other amenities include the luxurious Spa at Alyeska, the Anchorage Golf Course, a small network of cross country ski and snowshoe trails, glacier and wildlife cruises, flightseeing and dogsledding.
Dog Sledding
Travel by dog sled is synonymous with Alaskan lifestyle and heritage. For the average Joe, numerous opportunities to try your hand are available. Alyeska Resort offers tours through the Chugach Express Dog Sled Tours at the Girdwood Activity Center. For an up-close and personal experience, hook up with Iditarod veteran Vern Halter and his Dream a Dream kennel and B&B.
Air Tours
Flightseeing is a popular activity affording sky-high views of the Alaskan countryside. Alpine Air, Inc., operating from the Girdwood Airport, takes visitors on glacier-viewing flights and even facilitates summer dogsledding trips on the glaciers. Rust's Flying Service will take you on tours along the Iditarod trail to view the race in progress.
For more info:
Anchorage Convention & Visitors Bureau
524 W. Fourth Ave.
Anchorage, AK 99501
(800) 478-1255, (907) 276-4118
info@anchorage.net
www.Anchorage.net
Alaska Native Arts Foundation
500 W. 6 th Ave.
Anchorage, AK 99501
(907) 258-2623
info@alaskanativearts.org
www.alakanativearts.org
Anchorage Museum
121 W. Fourth Ave.
Anchorage, AK 99501
(907) 343-4326
info@anchoragemuseum.org
www.anchoragemuseum.org
Russian Orthodox Museum, Inc.
605 A Street
Anchorage, AK 99501
(907) 276-7257
www.dioceseofalaska.org
Alyeska Resort
1000 Arlberg Ave.
P.O. Box 249
Girdwood, AK 99587
(800) 775-6656, (907) 754-1111
www.alyeskaresort.com
Iditarod Trail Sled Dog Race
P.O. Box 870800
Wasilla, AK 99687-0800
(907) 376-5155
Iditarod@iditarod.com
www.iditarod.com
Vern Halter's Dream A Dream
Mile 64.5 Parks Highway
Willow, AK
(866) 425-6874, (907) 495-1197
vhalter@pobox.mtaoline.net
www.vernhalter.com
Chugach Express Dog Sled Tours
P.O. Box 1396
Girdwood, AK 99587-1396
(907) 783-2266
chugachexpress@ak.net
www.home.gci.net/~alaskasnowdogs
Rust's Flying Service, Inc.
P.O. Box 190867
Lake Hood
Anchorage, AK 99519-0867
(907) 243-1595
info@flyrusts.com
www.flyrusts.com
Fine Dining
Hotel Captain Cook
939 W. Fifth Ave.
Anchorage, AK 99501-2032
(907) 276-6000
info@captaincook.com
www.captaincook.com
Kincaid Grill
6700 Jewel Lake Rd.
Anchorage, AK 99502-2071
(907) 243-0507
kincaidgrill@gci.net
www.kincaidgrill.com
Orso
737 W. Fifth Ave. Suite 110
Anchorage, AK 99501-2117
(907) 222-3232
www.orsoalaska.com
Simon & Seafort's Saloon Grill
420 L St., Suite 202
Anchorage, AK 99501-1937
(907) 274-3502
The Bridge Salmon Bake & Grill at Ship Creek
840 C St.
Anchorage, AK 99501-3547
(907) 677-6771
www.thebridgealaska.com
Fun/Funky Dining
Moose's Tooth Pub & Pizzeria
3300 Old Seward Highway
Anchorage, AK 99503
(907) 258-ALES
hancock@moosestooth.net
www.moosestooth.net
Sack's Café
328 G St.
Anchorage, AK 99501-2125
(907) 276-3546
Sacks1@alaska.com
www.sackscafe.com
Snow City Café
1034 W. Fourth Ave.
Anchorage, AK 99501-1919
(907) 272-2489
snowcitycafe@juno.com
www.snowcitycafe.com
SIDEBAR
Eagle River Trails
By Benji Uffenbeck
About 24 miles north of Anchorage, the community of Eagle River hosts several additional Nordic ski options. The Nordic Skiing Association of Anchorage grooms many of these trails, but a separate ski club, Eagle River Nordic Ski Club, oversees cross country skiing activities and events in the area.

Beach Lake Trails
Some of the best groomed skiing in Eagle River can be had at the Beach Lake Ski Trails near Chugiak High School. There are approximately 20 km of trails, all groomed for skating and classic. Approximately 13 km are lit for night skiing. The lights are on every night all winter until about 11pm. Aside from Kincaid Park in Anchorage, the Beach Lake Trails offer the most kilometers of lit trails in a single location, so for the after-work crowd it's the best option in Eagle River.
The trail system itself is fairly compact -- probably less than four square kilometers -- so there are lots of turns and twisty corners. The terrain is glacially carved with mostly medium sized hills. This venue hosts several races each winter including Alaska Besh Cup, high school and Anchorage Cup races. Recent improvements include a new chalet that is staffed and open each night until 9:00 p.m. and a new sprint loop. Grooming is contracted to the Nordic Ski Association of Anchorage. Typically the NSAA brings a Pisten Bully to the trails on a flatbed truck a couple of times per week to groom. Most winters you can ski at these trails into mid-April.

Mirror Lake Coyote Trails
This is a newer ski trail constructed adjacent to Mirror Lake Middle School, about five miles north of the Beach Lake Trails on the Glen Highway. There are about six km of trails, with a main five km loop that offers several cut-offs to make shorter loops. The trails are quite challenging with a mix of steep climbs and rolling terrain. The biggest hills on this trail system are actually bigger than the Beach Lake Trails, but overall difficulty is probably less. These trails are not lit, but they are groomed for classic and skating and usually offer some of the best conditions in the area. Grooming is handled by contract by the NSAA. Mirror Lake and Beach Lake trails are usually groomed the same day.

Edmunds Lake Trails
On the other side of the Glen Highway from the Mirror Lake trail system are the Edmunds Lake Trails. There are approximately six to seven of trails here. Skijoring is allowed on these trails although there are some very steep hills that make it difficult to avoid skiing into your dogs. The trails are "old school" -- only about four feet wide and groomed for skating. Because that's pretty narrow for skating, it's best to skijor or classic ski without tracks. Some local skiers even use the shorty Fischer Revolutions so they have room to skate. Grooming is done on a volunteer basis with snowmobiles and there are no lights.

Eagle River Nature Center
About 12 miles east of Eagle River in Chugiak State Park are the Eagle River Nature Center trails. These trails include the Crow Pass Trail that traverses through the mountains for about 23 miles to Girdwood. About 10 km are groomed for skiing in the winter, including the Crow Pass Trail to a point about three km east of the Nature Center itself. After that the trail narrows and is backcountry skiing only.
Other groomed loops include the Albert Loop Trail, Rodak Trail and parts of the Dew Mound Trail. All grooming is done by Nature Center volunteers with a snowmobile and Tidd-Tech. Skating is possible on about five km, but some sections are too narrow. Tracks are not set, and winter walkers usually compact the trail within a day or two of grooming. Skijoring is allowed and the terrain makes for a good loop with the dogs.

Eagle River
Though not a groomed trail, the Eagle River itself can offer some great skate skiing during the winter. When the ice is deemed safe, snowmobiles are allowed on the river from an access point near the town of Eagle River. From there, they head upriver (east) nearly 20 miles before the snowmobile boundary just inside Chugiak State Park. Snowmobile traffic on the river is generally sparse and, when conditions are good, a three-plus hour point-to-point skate ski is possible.
With 7,000-foot peaks rising above the river (which sits at about 500 ft. elevation) it is quite a scenic area to ski. Some rare February crust skiing was possible this past winter after a rainstorm and skiing was possible all the way to Eagle Glacier. Then again, the year before was a warm winter and skiing was only possible on the river for about a week all year.

Overall, I don't think there's another large city in the U.S. that can match Anchorage in terms of climate, snow conditions, available trails or night skiing. It's a unique place to live.
As much as I like skiing on groomed trails and racing, spring skiing is my favorite activity. The crust season runs from early April to mid-June and allows you to escape the confines of the trails that you've been skiing all winter. For some pictures, see www.crust.outlookalaska.com/Skiing2007.
For more information on cross country skiing in Eagle River and the Eagle River Nordic Ski Club, visit www.ernsc.org.