Hidden Gem: Crystal Lake Ski Center
Pennsylvania's Snow Pocket
By Mike Buckley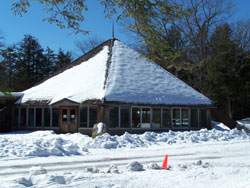 "Let's go again," Lee said, as we exited Super Loop trail at Crystal Lake Ski Center. Again? The loop's start is tough, a long and steep uphill climb, but it soon mellows into a few downhills that cut across the slope of the ridge and a fast flat with lots of glide. All of this is just the prelude, however, to the section that puts the "super" into Super Loop: a downhill plunge around a blind right corner into a compression at the bottom, back over another hill and into a sweeping left. With all that speed, it can be a challenge. But given all the smiles on all our faces, it was clear we agreed. Together, we turned our skis around and headed back to the trail's entrance.
Crystal Lake Ski Center is a let's-go-again kind of place. I first skied there during one of those snow-scarce winters that have become too common recently in central Pennsylvania. It was mid-winter, my yard was bare and I was desperate to go skiing. Surfing the Web, I followed a link to Crystal Lake's site. They claimed to have snow. "How," I thought, "we haven't had any storms." I had my doubts, but the news was like one of those high school rumors you just can't ignore. I tossed my skis in the car and started driving.
As I got closer to Crystal Lake, my concerns continued. There were signs of snow — an inch-thick patch here and there — but nothing looked promising. I turned off the highway, followed a country road up a ridge and the landscape changed like someone flipped a switch. Snow! I pulled into the parking lot, saw skiers zipping around the lake and off into the woods and my worry turned into elation. I was back in ski country.
About Crystal Lake
Crystal Lake Ski Center is located northeast of Williamsport, Pennsylvania. Follow U.S. 220 to Tivoli, turn onto Highland Lake Road and follow Highland Lake Road to Crystal Lake Camps.
Crystal Lake is mostly a day area, but cabins, which sleep from four to 20 people, are available for rental.
For more information on hours, rates, ski rentals and accommodations, visit www.crystallakeskicenter.com or call (570) 584-4209.
Information about the Crystal Lake Skiers Association can be found at www.clsa.typepad.com.
The surprise that I experienced is a common reaction of those on their first visit. Crystal Lake's relatively high elevation of more than 1,800 feet helps it capture and hold snow. But I personally think that's only part of the story. When I inquire, no one seems to be able to tell me exactly why there is more snow here. The regulars mostly just shake their heads and grin. The mystery, I suspect, is just part of the fun.
Most of the fun, though, is found on the trails. Skiing officially began at Crystal Lake when the Alford family established a small downhill area as a winter supplement to their children's camp. Cross country was added during the 1970s. The network of Nordic trails was designed by John Manifold based on how he liked to ski and aerial photos of the terrain and snow coverage. Today, approximately 35 kilometers of snowmobile-groomed trails offer something for every type of skier, from novices to experts.
Beginners can rent an assortment of traditional and wide skis and take PSIA-certified lessons (call for an appointment on weekdays). Outside the rental shop and ticket office, the Lake Trail loops around the center's namesake and offers nice views back towards the lodge. That tour can be extended via Catfish Trail and a return on hemlock-shaded Backway.
If you have more energy, you might want to head up Boardpile, a long climb that leads to the top of the ridge and the best snow. Little Fern, Big Fern, South Ridge and Northstar can be combined into enjoyable loops with some easy downhills.
Intermediates also have a number of options. Wild Rice trail swings by another lake on its way to Boardpile. From there, you can stay closer to the lodge and explore the rolling hills of Blueberry, Kettle and Hidden Pond trails. Or, you can head up Boardpile to enjoy the long Blue Moon loop. If you want more, climb up the hill on Oak Loop to Pitch Pine and Laurel. Looking for a thrill? Take the long, straight, speedy downhill on Bear Creek Trail. Save some energy, though. You'll have to regain some of that elevation on the return to the base area via the Whipple Mill Trail.
Crystal Lake has a number of gems that will delight advanced and expert skiers who seek aerobic and technical challenges. My friends have two favorites, Super Loop and Hungry Bear. Super Loop starts at "Grand Central Station," a hub of several of the difficult trails. Once we are done "looping," we usually ski down Zinger and Lower Zinger, both of which offer some short, adrenaline-raising, steep downhills. Wazoo, a momentum-building blast that shoots you out onto Blueberry, offers another excellent route back to the base. Hungry Bear, which is at the other end of the ridge, is a tighter, technical descent with switchbacks that will test your snowplowing and turning skills.
Skiers who are looking for a more backcountry feel will want to head up the ridge to Sunset, Z Trail, Red Faced Bear and the Yo Yos. These are old-fashioned, narrow trails that rise, fall and twist their way through Penn's woods. If you want to practice your telemark turns, you can access the old downhill area from a spur off of Mountain Trail.
Crystal Lake's yurt-shaped lodge, colorfully decorated with flags of the world, is a warm and comfortable spot for a break between runs or relaxation at the end of the day. The lodge is open, airy and furnished with numerous cafeteria-style tables and chairs. A few sofas by the fire provide cozier seating. The kitchen sells a variety of drinks, homemade soups and sandwiches.
Walking into the lodge on a busy weekend day, I often sense a buzz that I don't expect from a bunch of tired cross country skiers. Where that energy comes from is open to interpretation, but for me it represents the sense of community that has developed around this place. The local ski club, the Crystal Lake Skiers Association, exemplifies this. By chance one weekday afternoon, I bumped into one member out on the snowmobile, doing a voluntary impromptu touch-up of the trails. That says a lot about how strongly people value skiing at Crystal Lake.
Crystal Lake Ski Center? Let's go again!