Lapham Peak State Park
The Place to Ski in Southern Wisconsin
By Lou Dzierzak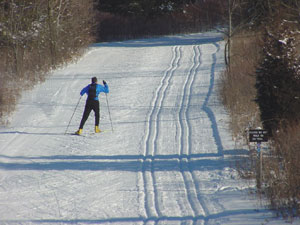 When the first snow falls in early November, Wisconsin's Lapham Peak State Park is one of the busiest cross country ski venues in the Midwest. Lapham Peak is located 50 miles east of Madison, 25 miles west of Milwaukee and 100 miles north of Chicago. The park's 17.2 miles of ski trails are popular with novices, high school ski teams and master skiers training for the American Birkebeiner.
Ed Muzik, the park's property manager says, "When the snow flies, some weekends have been called novice weekends because a lot of older equipment gets pulled out of the garage and people come to ski."
Lapham Peak, at 1,233 feet above sea level, is the highest point in Waukesha County. A 45-foot tall wooden observation tower at the peak offers visitors an expansive view of the surrounding park and farmland.
Cross country skiers would approve of the park's namesake. In 1870, the United States Army Signal Corp built a signal station at the park's site to pass on weather information from Pikes Peak in Colorado to ports on the Great Lakes. Increase Lapham, a scientist, naturalist and early meteorologist, used the peak for weather observations. Lapham is credited with founding the National Weather Service.
A Wisconsin State Marker at Lapham Peak reads:
"In 1870, on top of Lapham Peak, then known as Government Hill, the United States Army Signal Corps established one of its original National Weather Service signal stations. Read more . . .
Today, as part of Wisconsin's Kettle Moraine State Forest system and Ice Age Trail, Lapham Peak offers cross country skiers open meadows and forest-lined double-wide trails groomed for striders and skaters. The park staff uses four snowmobiles with Ginzu and Yellowstone Track grooming equipment to keep the trails ready.
The trail system is organized in intersecting loops called Black, Blue, Green and Purple. At two miles, the Green and Purple loops are the easiest. The 5.8-mile Blue trail is better suited for intermediate skiers. With demanding terrain and steep hills, the seven-mile Black loop will challenge experienced skiers. A lighted 2.5-mile loop covers most of the green trail but has one difficult section. Two warming huts provide respite when needed. Wheel & Sprocket, a bike and ski shop in Delafield, Wisconsin, manages the park's ski rental concession. Ski packages available for rent on Tuesday evenings and weekends. Waxing clinics are also offered.
Lapham Peak's trails serve as home for three southeast Wisconsin high school Nordic ski teams.
"Waukesha West, Kettle Moraine and Oconomowoc teams train here," reports Muzik. "The Waukesha West girls cross country team captured the state championship last winter. We had more snow than anyone else."
At the height of the ski season, the Friends of Lapham Peak operates a six week long Wednesday night ski league series. Competitors are a mix of middle school, high school and adult skiers.
The 11 km Lapham Loppet, held on the third Saturday in January, is used by many local skiers as a warm-up for the Birkebeiner. A shorter 6 km race is offered for middle and high school competitors. The shorter race bypasses two steep hills on the 11 km course. "There are some pretty advanced skiers in the mix," says Muzik.
In 2006, with the support of the Friends of Lapham Peak nonprofit organization, Lapham Peak installed snowmaking equipment on part of the trail. Muzik says, "We opened a 0.7 km loop last winter with the infrastructure to make a 1.2 km loop this year. The Friends were prime movers for installing ski trail lighting and now supporting snowmaking."
Muzik and the Friends of Lapham Peak have raised $120,000 of the $500,000 initial fundraising goal to date. In the second phase of the snowmaking project, the group plans to install a million gallon reservoir pump house and 18 electrical pedestals for five snowmaking guns.
"We're still searching for funds to install a piping system. Right now we're using fire hoses as a work-around solution," reports Muzik.