Take a Stand, Skiers
By Bill McKibben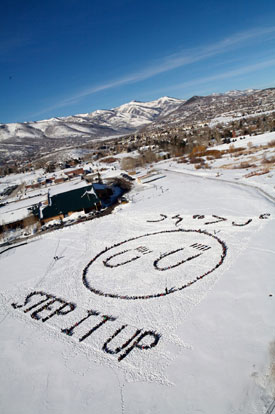 Global warming has many 'canaries in the coalmine.' Among insects, the spread of mosquitoes may be the most obvious sign, for nothing loves more a warmer, wetter world. Undersea, we can track the rise in ocean temperature by the steady bleaching of coral reefs the world around. But in the kingdom of sports, the most sensitive species is almost certainly cross country skiing. Its dependence on natural snow means that it may not have a future at all—unless, of course, we're able to do something about the carbon dioxide pouring into the atmosphere.
I've been trying to 'do something' for two decades, mostly as a writer. My book The End of Nature, which was also the first book for a general audience on climate change, came out in 1989 and is now available in two dozen languages; I've spent much of the last 20 years lecturing and writing on the subject. But last winter, working with six student colleagues at Middlebury College in Vermont, I decided to go beyond words to action—we organized Step It Up, a series of nationwide demonstrations that became one of the largest days of grassroots environmental protest since the first Earth Day in 1970.
When we started out, our goals were less grand: we began in mid-January without money or organization, just a website: stepitup07.org. We started sending emails asking people if they would organize rallies in their communities on April 14, asking their Congressional representatives to pledge to cut U.S. carbon emissions 80 percent by 2050. We had no idea what to expect—our secret hope was that we might organize 100 rallies.
Instead, the idea just took off, turning into a kind of benign but fast-spreading virus. By the time April 14 rolled around, we had 1,400 demonstrations taking place, in all 50 states and almost every Congressional district in the country. Some were organized by big environmental groups—the Sierra Club, the National Wildlife Federation, the Natural Resources Defense Council and many more jumped in to help. Many more were put together by local church congregations or by the quickly growing network of campus activists.
The best thing about them? Their insane creativity. We'd decided not to do a march on Washington because it seemed wrong to make people travel across the country spewing carbon behind them, but it proved to be the perfect decision for other reasons, too.
In their own home communities, folks knew just how to make the case against global warming in ways that their neighbors would understand. Off Key West, for instance, dozens of scuba divers held an underwater demonstration near the endangered coral reefs as fish swam in and out of the video. A little further north, in Jacksonville, folks took a crane and hoisted a yacht 20 feet into the air to show where the new sea level would be if Greenland slid into the ocean. In lower Manhattan, thousands of people dressed in blue to form a "Sea of People" and demonstrate where the new tide line would be.
And skiers played a big role too. The New England Nordic Skiing Association sent out a special bulletin to its members, some of whom found snow to rally on that weekend—they reminded folks that the latest forecast from the University of New Hampshire study of global warming in the Northeast shows that both Nordic skiing and snowmobiling may be "extinct" by mid-century. Out west, several teams of skiers ascended glacial peaks (one climb took four days) and then telemarked down in formation, webcasting all the way. It's something that won't be possible in a few decades if those glaciers continue their steady melt.
The demonstrations had their effect. Our goal—80 percent cuts by 2050— sounded radical when we started in January. Three months later, John Edwards, Hillary Clinton, Barack Obama and most of the rest of the Democratic presidential field had endorsed the goal. Forty senators and representatives spoke at the rallies, and the Senate and House were by mid-summer both seriously considering legislation that came near that goal. And far more people than before were involved.
We hope that number keeps growing. We published a book in October—Fight Global Warming Now—that gives the recipe for organizing local rallies like the ones on April 14. We'll need more such opportunities in the future because the problem is getting steadily worse—just weeks after our protests, for instance, new data showed that the Arctic might be ice-free in summer by 2020. And since Arctic ice is the mother of winter cold, that's bad news for those of us who spend nine months of the year dreaming about blue wax days.
But at least there's a movement underway. Go to the website, check out the pictures, and then figure out what you can do close to home. Winter depends on it!