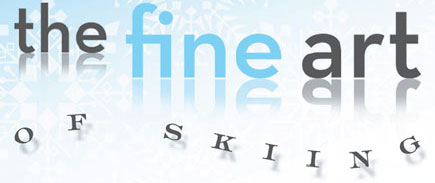 | Sean McCabe | Betsy Bowen | Sarah Carpenter | Barbara Sullivan | Jim Meyer |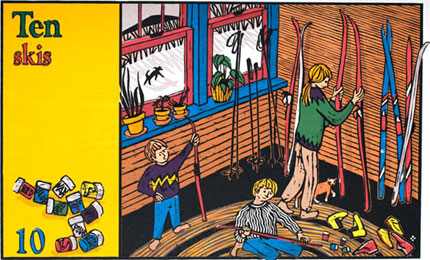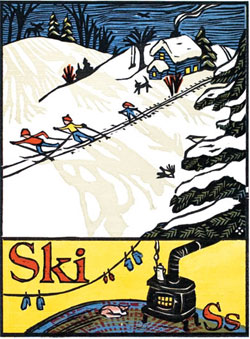 Betsy Bowen is a woodcut artist who has lived and skied in northern Minnesota since the '60s. Much of her work celebrates the wilderness world as she sees it from the family homestead.
She runs a small family-based printmaking operation in the scenic little coastal town of Grand Marais. The print shop is housed in a great old church, along with a gallery showing the varied work of local and regional artists. She makes woodblock prints by hand, rendering images of recognizable scenes mostly from the northwoods. Many of these were originally illustrations from books.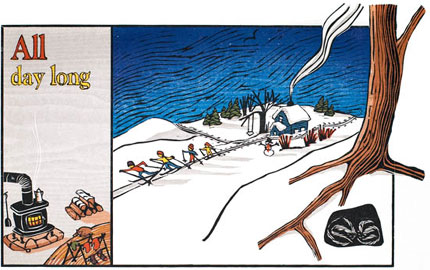 Bowen learned to make a woodcut in the back-alley garage workshop of her painting teacher, Herb Stoddard, in 1970, in Sarasota, Florida. In the mid 1980s, after some time as a back-to-the-lander near Grand Marais, Minn., she got back to woodcuts, inspired by working as a clerk and picture-framer in Sivertson Gallery. A fortunate meeting there with children's book editor Ann Rider led to the first woodcut book project, Antler, Bear, Canoe: A Northwoods Alphabet Year, first published in 1991. At that time, Betsy's small studio was in her home on the old homestead bought by her parents in 1963.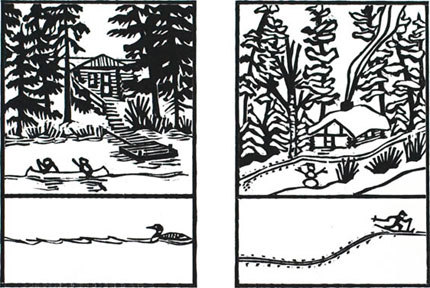 Betsy Bowen Studio
P.O. Box 68
301 First Avenue West
Grand Marais, MN 55604
218/387-1992
info@woodcut.com
www.woodcut.com