The Fine Art of Skiing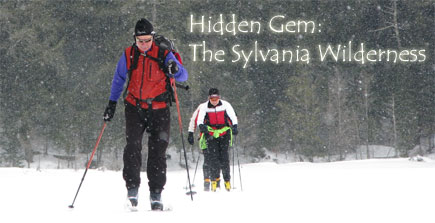 By Ron Bergin
Sylvania Wilderness in Michigan's western Upper Peninsula is one of those places that keeps calling me back. Just about every year, I say to my wife and skiing buddies that, this winter, "we have to get back to Sylvania." Fortunately, last March we were able to answer that call.
Sylvania is not a high-profile destination area, nor is it even a sophisticated, well-appointed Nordic center. In its 18,000 acres there aren't even any groomed trails. And for me, that holds considerable appeal.
Like many "wilderness" areas in the Midwest, Sylvania is miniscule by comparison to the vast "true" wilderness areas of the western U.S. and Alaska. Perhaps wilderness preserve would be a better designation, but I am appreciative, nonetheless, of the protection and preservation afforded this wild gem.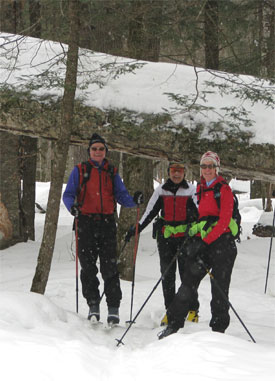 With regard to Sylvania, preservation is indeed the operative word. The Sylvania Wilderness exists today, in part, thanks to the foresight of Wisconsin lumberman A.D. Johnston. Instead of cutting the 80 acres of virgin timber near the south end of Clark Lake that he purchased in 1895, he found the property too beautiful and invited some friends to visit and fish the lakes. The friends ended up purchasing the adjacent lands and thus was formed the Sylvania Club. Fishing and hunting became the primary focus rather than logging. Lodges, cabins and boathouses were built on the largest lakes and connected by a road system that today functions as Sylvania's hiking trails and ski routes.
Over the years, ownership of the Sylvania Club changed hands until the U.S. Forest Service purchased the land in 1967, under the Land and Water Conservation Fund Act, and it was opened to the public. All buildings were removed from the property and it was managed as a special recreation area for 20 years. In 1987 it was designated a federal wilderness area.
Located on the Michigan-Wisconsin border, Sylvania Wilderness is a part of the Ottawa National Forest. It has long been a popular summer destination thanks to its 34 lakes and interconnected system of portage and hiking trails, and outstanding canoeing and kayaking. A healthy and cooperative population of smallmouth bass is an added attraction.
But in the winter, these same portage and hiking trails become easily-followed overland ski and snowshoe routes, providing access to the interior of the wilderness and easy backcountry touring for skiers from advanced beginner on up. As in any backcountry situation, trail conditions do not resemble those found at a groomed Nordic center. My Sylvania skiing experiences have included everything from a train of people breaking trail in a foot of fresh snow, to clumped klister travails, to spring corn and crust. So a modicum of preparation and skill is required. But heavy-duty gear is not; light touring or anything wider than racing skis will suffice.
One of the more frequent jumping-off points is the Entrance Station on the north side of the wilderness, about three miles off Highway 535. From here, you can ski out and back to any number of destination lakes, including Clark Lake, Crooked Lake, Loon Lake or Whitefish Lake.
For the more adventuresome, a point-to-point traverse of the wildness would require spotting a car at the adjacent Sylvania Outfitters trail system in Watersmeet. This is a very popular route and allows you to not only experience the Sylvania Wilderness to its fullest, but you also get to sample the trails at Sylvania Outfitters. This route is a good three- to four-hour trek, so plan your time and energy expenditure accordingly. I've done this route several times and just love the deep woods meanderings between the lakes amid the towering, old growth hemlocks and ancient white pines. Many of these trees are more than 200 years old with some dating back to the 1500s, providing a glimpse of what the northern forests were like prior to European settlement. Finishing at Sylvania Outfitters, with its intimate, white birch lined trails, is icing on the cake. For the truly adventuresome, numerous primitive campsites are available along the shores of the interior lakes should you want to overnight along the trails.
A north-south traverse of the wilderness is a route I have yet to tackle, and remains high on my cross country "to-do" list. This past March, however, my intrepid band of cross country misadventurers, friends Marv and Lorrie Franson and wife Kathy, got to explore Sylvania from the south. We were joined by Pete Moline, of nearby Afterglow Lake Resort (see Cross Country Skier October 2006), who took us on a loop originating at a somewhat obscure trailhead off County Hwy B, just north of the border town of Land O'Lakes. This loop allowed us to cover most of the southeast corner of the wilderness area. We played "connect the dots," skiing from Deer Island Lake to Cub Lake to Big Bateau Lake to Florence Lake to Loon Lake and back to Deer Island Lake. Portage trails between the lakes ranged from as short as 125 feet to a quarter mile.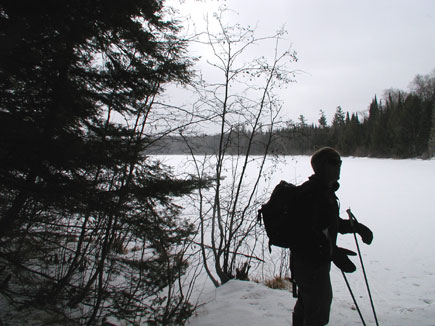 Our journey was not arduous. It started fairly flat, actually, before rolling into a few lesser hills. There were a couple of quick descents, but nothing a competent intermediate skier couldn't handle. The several lake crossings were a bit blustery, but over quick enough. The entire trek was about 10 miles.
Because the Sylvania Wilderness is a mature forest, there is often a wide-open understory, allowing relatively easy route finding and cross-country travel. If you are competent with map and compass, your touring options are almost unlimited.
Skiing the Sylvania Wilderness is one of those experiences that just takes you back in time. The remote tranquility of the area, the rolling glacial topography and the big woods give it a feeling unto itself. It's the kind of place that makes you glad you're a cross country skier.
For more information:
Ottawa National Forest
Sylvania Wilderness
Sylvania Recreation Area
906/356-4551
www.fs.fed.us/r9/ottawa/recreation/wilderness/index.html
Afterglow Lake Resort
715/545-2560,
www.afterglowresort.com