The pay to play business models works

The pay to play business models works
By Lou Dzierzak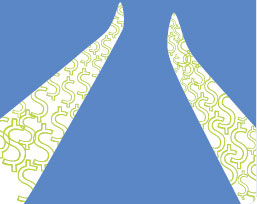 When the winter months arrive, cross country skiers look to the heavens for signs of snow. A few hours of the proper mix of temperature, water vapor and wind can release months of pent-up anticipation.
Six inches of fresh fallen snow will send a buzz through the ski community. Well-marked and groomed trails stand ready to take on the parade of skiers pulling their cars into the parking lots of their favorite trail systems.
In order to provide a few hours of enjoyable skiing, trail managers toil for months maintaining and improving trails, expanding routes, building warming huts and updating trail signage. Thousands of volunteer hours make a significant contribution, but in the end the bills have to get paid with dollars.
From non-profit organizations like the Jackson Ski Touring Foundation in the village of Jackson, New Hampshire, to the Methow Valley Sport Trail Association in Washington and a business relationship between resort owners in northern Minnesota's Gunflint Trail Nordic ski trail systems have honed financial business models to create stable long-term revenue streams that fund trail development, maintenance and skier amenities like chalets, warming huts and lessons.
The business model
Creation of the Methow Valley trail system in Washington began in the late 70s, when Don Portman, a cross country ski enthusiast convinced the owner of a dude ranch to stay open in winter months. Through Portman's efforts, REI brought in groups of people from Seattle to ski in the area. Today the Methow Valley is home to the second largest Nordic trail system in the country, operating over 200 kilometers of interconnected trails.
The trail system in Jackson, New Hampshire, is an outgrowth of a very long history of cross country skiing in the village. Thom Perkins, executive director of Jackson XC notes they have photos of women skiing on the trail system in 1888. The 154 km trail system surrounds the village, three river valleys and 60 square miles of highlands in the White Mountains. Perkins describes the trail system's operating structure. "The Jackson Ski Touring Foundation was started in 1972 to maintain the trails in Jackson and take over for a lot of smaller trail system operations of various inns, alpine ski areas and ski rental shops and put it under one roof as a nonprofit organization."
Located in Calumet, Michigan, the Swedetown cross country ski trails offer more than 30 km of groomed ski and snowshoe trails. Dave Mayo-Kiely, board member of Copper Island Ski Club that manages the trail, explains how a partnership with the Calumet Township was instrumental in creating a formal Swedetown trail system. "The township came on board and became a key partner. Ninety-five percent of the land the ski trails are on is actually owned by Calumet Township. Our ski trails are protected for the long-term thanks in large part to the township and Paul Lehto, township supervisor. They also helped writing a grant to get the Swedetown chalet built and partnered with us to purchase a Pisten Bully."
Serving skiers
Jackson XC, the Methow Valley Sport Trail Association and Swedetown Trails collect user fees through annual membership and day passes. Rates for full season passes range from $80 at Swedetown to $275 for the MVSTA. Fee structures are determined through a combination of historical precedent, the competitive environment and tempered against ever-rising costs of basic needs like fuel and grooming equipment.
Perkins explains, "We don't want to compete unfairly with profit making businesses in our local market area so we tend to be consistent with their pricing for the day memberships. We think we offer high value for the cost. We are not anywhere near as costly as trail passes for other areas but at the same time we have to price it so we can afford to operate."
Noting that cross country skiers have a multitude of demands on their free time Perkins adds, "We are in a leisure, recreation and entertainment business. We have to make sure the offering that we are providing is as good a value for the consumers time as any other option they have. If someone says I have a day to invest in leisure time. What am I going to do with it? If we are not fulfilling their maximum value for the time they have, they will find something else to do."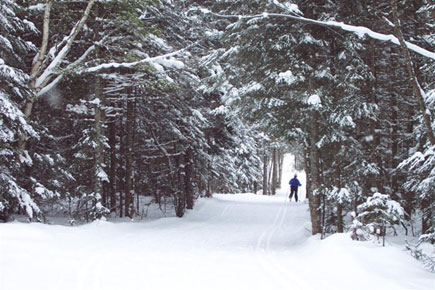 A skier at the Swedetown Trails in Calumet, Michigan.
Mayo-Kiely describes the Copper Island Ski Club's reluctance to boost Swedetown trail fees on an annual basis. "Fuel costs are on the rise, we haven't raised rates in a few year and thought this was the year to do it. Many people in the area buy a combined pass. What we don't want to see is that fee go up on an annual basis. We try to get all the clubs on board to say 'this year we will be raise our rates $5,' but then hold off for the next couple of years. As fuel prices continue go up it's something we struggle with. When you run a Pisten Bully every day for four months that adds up. It's a struggle. But we want to keep skiing in the Keweenaw affordable."
Grooming of the Swedetown trail is funded by trail pass purchases. An area wide trail pass combines Swedetown with Michigan Tech and Chassell trail systems. Day passes of $8 are collected at the chalet and trail pipes that people put donations. That funds the day-to-day grooming costs that can reach in excess of $20,000 each year.
At the end of the year an accounting process allocates funds to the three cooperating trail systems. Mayo-Kiely says, "All the clubs work well together. A CPA may come in and say that's not the best way to do it but it's worked well for all of us."
All three ski areas provide members with laminated passes to carry anytime they are on the trail. Day passes resemble downhill ski ticket stickers. With people streaming in and out at all hours, policing can be a challenge. Jackson XC has a full time ski patrol staff and volunteers to ski the trail system to make sure people are having a good time, offer advice and check to make sure people have properly compensated the trail system for the cost of the trails.
Although relatively rare, people do try to ski without paying. "People who ski here sometimes get confused about what their obligations are. Our patrols inform them and straighten that confusion out. We do that in a very specific and careful way. We obviously have people who ski the trail system without compensating us but through a long history and a lot of education that's a fairly minor problem," offers Perkins.
Mayo-Kiely says, " We don't have people actively checking to see if people have a trail pass. Most of the visitors to the area expect to pay and look for a way to do that. They come into the chalet or put money into the trail pipe. It's not something we're overly concerned about. We get a lot of good support in the community. Our numbers have gone up every year since the passes have been introduced. Of the people locally using the trails, probably 90-95 percent have purchased a pass."
Public private partnerships
In 1983 the Minnesota state legislature established the Minnesota Ski Pass that required skiers to purchase a pass in order to use any state-operated ski trails. Funds raised were used to support grant-in-aid programs across 1,800 miles of ski trails across Minnesota. Currently the cost of the Minnesota Ski Pass is $5 daily, $15 annually and $40 for a three-year option.
Dave Tuttle, former owner of the Bearskin Lodge and a longtime advocate of cross country skiing on the Gunflint Trail recalls, "The early 70s was a period of time when a lot of people were buying cross country ski equipment and were looking for places to ski. The resorts on the Gunflint Trails started building trails. It was new to everyone at first. It was a struggle to determine what cross country skiers would want and how would the Forest Service work with us to allow trails to be built primarily on Forest Service lands."
The pay to play business models works
Page 3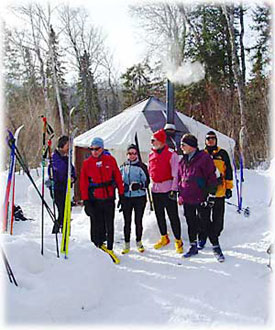 Skiers in front of a yurt on Minnesota's Banadad Trail, part of the Gunflint Trail network.
After years of hard work and financial investment, two major trail systems were creating that linked lodges and resorts together. The Central Gunflint Trail consists of Golden Eagle Lodge, Bearskin Lodge and Boundary Country Trekking. The Gunflint Lake area links Gunflint Lodge, Gunflint Pines Resort, Heston's Lodge and Moosehorn Bed & Breakfast.
Tuttle points out the difference between a Nordic centers near an urban area vs. the Gunflint Trail's wilderness location. Compared to ski areas that make their money through day passes the Gunflint Trail is a destination resort area. Resorts primarily make their money selling beds. The ski program is just part of the package."
Although the Minnesota Ski Pass continues to raise significant funds and contribute to grant-in-aid programs, Tuttle suggests pay for play fees are needed to cover costs. He says, "The Minnesota Trail Pass was introduced to try to help pay for maintenance and development of cross country ski trails. It was evident early on to us that proceeds of the Ski Pass just weren't going to fund a trail system up to the level of quality that was expected by cross country skiers who expected a lot more. We worked with the Forest Service to create a trail fee. We need a more secure way to be assured the people who used them would fund our trails. I think that's the fairest way. It took people a while to adapt from the Minnesota Ski Pass system to the user fee system. But now that's what people expect. If you want a good trail system that is groomed regularly, designed and signed, people are more than willing to pay for that."
Tuttle explains the administration of the user fees, "The resorts that manage the ski areas collect the fees - half day, day or season pass - and distribute funds to the group that pays for the maintenance and grooming of those trails. The resort keeps a certain portion for administration and fees are distributed proportionately to the amount of grooming done by each resort. Trail passes don't come close to paying the amount of money it takes to maintain and groom a trail system. It does help."
Ski trails couldn't exist without cooperation between private landowners, municipalities, government officials and ski clubs. Jay Lucas, executive director of the Methow Valley Sport Trails Association works with officials from local towns, Okanogan County, U.S. Forest Service, Washington Department of Fish and Wildlife and Department of Transportation. According to an economic impact survey, in 2005 Methow Valley trail users spent approximately $4.5 million to the Methow Valley economy. Lucas says, "The trail has become a huge component of the local economy. The model is working very well when you are considering how many people are making a living off the trail system."
Mayo-Kiely reinforces the benefit of public private partnerships. " Swedetown would not be there without Calumet township. Without them we wouldn't have a trail, chalet or Pisten Bully. We're fortunate to have a great relationship. It's hard to do what we do without key partners. We've been able to apply for grants that a municipality can apply for but a ski club can't. If we can get a good relationship with your municipality it's a great way to do it because you get their buy-in."
While relationships with governmental agencies and municipalities are important, the contributions of private landowners are the foundation of every successful trail system. Perkins is adamant about their role. "Everybody considers that snow is the most important ingredient for skiing. It's not. Land is the most important ingredient. You can have all the snow in the world but if you don't have permission to go across the land, it's no good to you," he says.
Skiing at Sun Valley Lodge in the Methow Valley.
In the Methow Valley landowners were reluctant to become involved at first. Lucas recalls, "That was a leading factor in why we chose to set-up as a non-profit. We reassured the landowner we weren't making any money on this. Anything we make is going right back into the business for the benefit for the community." Over time landowners became aware of the ways the trail created income streams for lodges and rentals and added land value for landowners. A 2005 economic analysis conducted by MVSTA and the Methow Conservancy found that "People buying homes and real estate in the Methow Valley are on average willing to pay 11.5% more per acre for properties near trails."
The Methow Valley trail runs through 160 pieces of private land. Lucas comments, "We can't keep up with the number of people who want the trails. As far as ownership changing, by far the people who have purchased land with existing trails on it are doing so because they want the trails."
Since the majority of the Swedetown trail is in township land, private ownership poses few challenges. Mayo-Kiely reports one situation that needs to be resolved; " We are looking to reroute the trails off of private land. The landowner is accommodating but has some liability and general use questions. A ski trail has to be pretty wide for the Pisten Bully to get through. As ATV use is on the rise there are fears that ATVs will go on these trails and start to muck them up. They don't want to have that happen to their land. Our goal is to make sure all our trails are not on private land so that we don't have any of those issues. We've never had a landowner saying if you are charging money where's my five dollars? They have been pretty accommodating.
Original handshake agreements between landowners and trail managers are increasingly being replaced by formal legal arrangements. Perkins explains,
"We have evolved the permissions we gained for use of the trails from an annual permission to multi-year agreements. We have a campaign going on to get deeded easements on the trail system. Some people don't want to do the easements. It's their land they can do what they wish with it. We have to operate the trail system in such a manner that they feel very comfortable with what we are doing. We have to treat their land with respect and make sure the public is educated about the limitations of what they can and cannot do on someone else's private land. We've evolved over many years to make sure we pay attention to that . Obviously land ownership patterns change, but anyone who is buying land in Jackson these days is aware of the social obligation of making sure the trail system remains one of the major economic engines of the village. The trail system is fairly stable. Landowner relationships are a big part of my job.
Tuttle notes that agreements once worked out between resort owners have evolved to become more professional and legally binding. Agreement and special use permits with the Minnesota DNR and Forest Service now require that approach.
Managing the budget
The funds to operate the Methow trail system come from grants (15%), trail pass revenue (60%) and events, advertising and donations (25%). Winter day passes generate $375,000-$425,000, depending on the year, but cover the cost of maintaining trails year round. The annual cost of maintaining the winter trails is about $170,000 (fuel and groomers' wages) but that does not include year round salaries of four office staff people and capital improvements. Lucas comments, "It's a crapshoot. On paper some years we lose many, some years we make money. Bottom line we always have money in our bank account. We've carried debt for years. Private individuals who believe in us hold half of our long-term debt. Fuel is killing us right now. Our annual fuel bill used to be $12,000, now I'm spending $2,000 every two weeks."
Perkins reports, "Our annual operating cost for the trail system is a third of a million dollars. Some years we make that, others we don't. When we do we put the money in the bank for the years we don't." Jackson XC doesn't count on grants to address the operating budget. "We try to fund the trail system based on the memberships and the capital investments we try to do through revenue overages at the end of the year. We invest in the trail system and machinery. We also use donations toward capital improvements," he says.
When the snow falls, trails will be open and ready. Considering the enjoyment received from a day on a well-groomed trail, paying daily or annual fees seems to be an investment with incredible long-term returns.