The Crown of Maine
Aroostook County
By Ron Bergin
I first learned of skiing in the Aroostook County area of northern Maine while watching the World Cup biathlon events held at Fort Kent in 2004 on the Outdoor Life Network. I reasoned that any place that had the wherewithal to pull off a World Cup biathlon event had to have its act together and was worth visiting someday. Someday came last year.
Aroostook County is the northernmost county in Maine. It's big – the size of the state of Rhode Island – and just about as northwoods as you're going to get. Occupying almost 20 percent of the surface area of the state, its size and northerly presence have earned it the nickname "The Crown of Maine." But more commonly it's just known as "the County." Like a one-named rock star, mention the County, and people will know you mean Aroostook.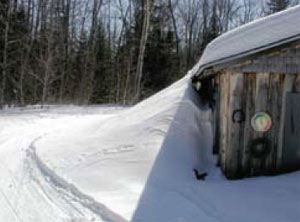 Isolated and heavily wooded, Aroostook County butts up against New Brunswick, Canada, with the St. John River forming the international boundary. From the trails at the 10th Mountain Ski Center in Fort Kent, you look over the rolling and hilly terrain across the Canadian border. I began my visit to the County here, where I started to learn about the Maine Winter Sports Center and its lofty mission to re-establish cross country skiing as a way of life in the state
of Maine.
An area with significant annual snowfall would naturally have a heritage of winter sports. In fact, the genesis of Maine's skiing history dates back to 1870 in Aroostook County. Twenty-one families from Stockholm, Sweden, were recruited to help settle northern Maine, where they found the landscape and climate comparable to their original home.
In addition to building roads, villages and new lives, these Swedish transplants also imported skiing, an integral part of their lifestyle. Skiing was not only important for transportation, hunting and work, but also recreation. Winter carnivals sprung up across the region that included everything from sprint races to jumping events to ultra-marathon races covering 180 miles over four days.
But, like much of rural America, northern Maine suffered from shifting economies and foreign competition. The local economy depended heavily on forest products, the paper industry, agriculture (primarily potato farming) and the U.S. government, in the form of Loring Air Force Base. The base closed in 1994, leading to a dramatic increase in unemployment and poverty – both among the highest in the state. Dwindling employment opportunities created a "brain drain," with a significant number of 18-35 year-olds leaving the County for greener pastures elsewhere.
Nordic skiing also went into decline and, with little money available, numerous ski areas closed. At the same time – across Maine and the U.S. – people were becoming more sedentary and less interested in the outdoors. Snowmobiling overtook skiing as the dominant winter activity in Maine.
Something needed to be done to turn things around, both economically and culturally, in northern Maine. It was reasoned that enhanced tourism could boost the area's faltering economy and cross country skiing was tapped to be a means to this end.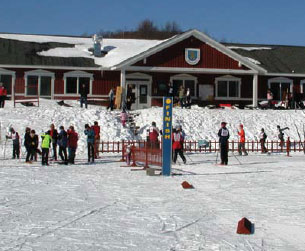 The Nordic Heritage Center in Presque Isle.
Enter the Libra Foundation, based in Portland, Maine, and the creation of the Maine Winter Sports Center. The Maine Winter Sports Center is far more than a single center, location or program. It is more of a foundation, created to oversee the rebirth of cross country skiing in Aroostook County and other parts of Maine. Its mission included the creation and support of venues, events and educational programs as a new economic model to improve life in northern Maine.
The Libra Foundation is a private philanthropic foundation created by Elizabeth Noyce in 1989 to support worthy causes in the state of Maine. The foundation tries to maintain a balance and diversity of giving throughout Maine and across all populations. According to foundation president and CEO, Owen Wells, the foundation emphasizes "giving in a way that encourages long-term economic benefits for the citizens of Maine."
The Libra Foundation's support in 1999 helped launch the Maine Winter Sports Center. Since its inception, the MWSC has received annual support from the Libra Foundation ranging from $465,000 to over $5 million and totaling more than $20 million since 1999.
The Maine Winter Sports Center has a multi-tier structure
intended to support community programs, competitive programs, venues, events and alpine community ski areas. The original model included working with local clubs and volunteers to build cross country ski trails at all schools in Aroostook County. This has, to a degree, been accomplished.
In addition, MWSC provides the schools with a skiing curriculum, a coaches education program and skis for anyone who needs them. The center has two trailers with 70 of sets of skis, boots and poles that are transported to area schools, as well as a total of 2,000 pairs of skis in southern and western Maine. The MWSC has provided trail grooming equipment (a snowmobile and grooming attachment) to several area schools and ski centers.
All told, MWSC has put over 5,000 kids on skis in 34 communities around the state. As these youth moved on to high school, some schools reintroduced skiing into their athletic programs and for those interested students, MWSC began offering top-level coaching and developed training facilities for both cross country and biathlon.
Working with local ski clubs, community groups, businesses and volunteers, the MWSC helped facilitate the construction of two state-of-the-art facilities in Aroostook County: the 10th Mountain Center in Fort Kent and the Nordic Heritage Center in Presque Isle. Both are designed and equipped for cross country and biathlon, and licensed for international competition by the International Ski Federation (FIS) and the International Biathlon Union (IBU). Other facilities in southern Maine – Pineland Farms in New Gloucester and Black Mountain in Rumford on Maine's western edge – round out a statewide network of top Nordic competition and recreational skiing venues.
Nordic skiing is not the only focus of the Maine Winter Sports Center. The organization also owns two community-based alpine ski areas: Big Rock in Mars Hill and Black Mountain in Rumford, and helps support Quoggy Jo in Presque Isle.
But events were to be the pivotal ingredient to Aroostook County's new economic model. Planners hoped that staging major events and leveraging these world-class facilities would attract media coverage from around the world and bring hard cash spending resulting from the influx of competitors, spectators and recreational skiers. They would capitalize on the support of an enthusiastic corps of community volunteers and early, dependable and long-lasting snow.
And the proof, as they say is in the pudding. MWSC venues have staged numerous high-level regional, national and international competitions over the past 10 years, including two world championships – the 2005 IPU World Paralympic Nordic Championships and the 2006 Biathlon Junior World Championships. The venues have also hosted the IBU Biathlon World Cup, three Biathlon North American Championships, Biathlon Olympic Trials, five U.S. Biathlon Championships and two cross country SuperTour finals and U.S. Distance National Championships.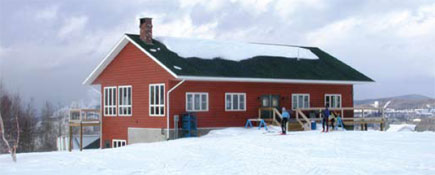 The Four Seasons Lodge in northern Maine.
In addition to these national and international events, the venues have been constantly busy with state and regional events, such as the Aroostook Youth Ski Festival and Women's Ski Day, which bring out hundreds of skiers and many newcomers to the trails.
When planners looked to the Maine Winter Sports Center for the economic revival of Aroostook County in northern Maine, they turned to an unusual launching pad – biathlon.
Pretty much an "under-the-radar" sport in this country, biathlon is hugely popular in Europe and is, in fact, the most popular winter sport on television, with as many as 20 million viewers and upwards of 100,000 spectators at the venues. The bottom line was that World Cup biathlon came with a guaranteed television audience in Europe and would spread the word about Aroostook County to the world. In a bonus development, the Outdoor Life Network (now Versus) picked up the 2004 World Cup event for U.S. broadcast. This four-day event was estimated to have generated $5.2 million in economic impact.
Officials at the 10th Mountain Center had developments well underway to host a 2009 biathlon World Cup, then the IBU announced that this event would not be on its 2009-2010 calendar. The venue will, however, host a Biathlon festival in 2009, to include the U.S. Biathlon Championships and the North
American Cup. According to event organizers, the International Biathlon Union executive committee will propose a calendar for 2010-2011 that includes Fort Kent.
"This news was expected, but it is still disappointing," said Nancy Thibodeau, chair of the Fort Kent World Cup Organizing Committee. "We are all very happy to hear that the IBU is planning to include Fort Kent in the future."
"The athletes and European TV are both very supportive of Fort Kent events, so I think everyone was excited to see that Fort Kent was being proposed for the very next cycle," said Andy Shepard, president of the Maine Winter Sports Center.
MWSC also created Healthy Hometowns, an award-winning initiative to help communities across Maine address the growing obesity crisis. The program uses skiing, as well as other year-round activities, to get thousands of kids involved with healthy, outdoor active lifestyles. Cross Country Skier featured Healthy Hometowns in its November 2005 issue.
The MWSC is headed up by President and CEO Andy Shephard, a former executive at L.L. Bean who was instrumental in helping craft the economic model on which MWSC is based. Eileen Carey is program director, overseeing the many MWSC events and developmental programs. Carey succeeded John Farra, who recently became the Nordic director of the U.S. Ski Team. Program directors Will Sweetser, Gary Colliander and Mark Shea oversee cross country, biathlon and community development, respectively, with the support of development coaches Melissa York, Austin Ross and Mike Yeo.
The notion of trying to revitalize an area through the use of cross country skiing is a unique approach to economic development. Of course, no one method of investment can bring an area back from the economic brink. But the capital infusion to the area, the creation of a large and diverse Nordic skiing infrastructure, and the coalescence of a large and passionate Nordic skiing community working in tandem with non-skiing volunteers and business people will have a lasting impact.
The Maine Winter Sports Center and the visionaries who conceived and helped execute this plan and, especially, the Libra Foundation are to be commended for first having the vision and then having the guts to try to bring it off. It has been almost 10 years since the MWSC and Libra Foundation first partnered to help re-establish skiing as a way of life in northern Maine and, from my observations, it seems to be working.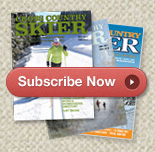 Don't miss a single issue of Cross Country Skier this season. Subscribe here>