---
Page 2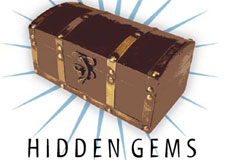 A mix of fairly open hardwood forest, short stretches of open field and conifer-lined tunnels provide a varied landscape that is, in a word, as pleasant as you could ask. Between the enjoyable scenery, delightful terrain and, very importantly, the grooming, it's a trail you could ski just about every day without growing tired of it.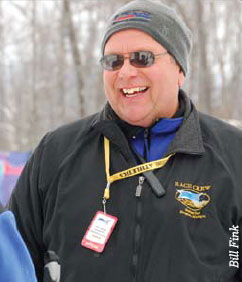 Tervo owns about 60 acres of the land on which the trail is sited. He started working on the Chassell Trail over 25 years ago by asking people who had already given permission for a nearby snowmobile trail if he could put in a ski trail on their land. He went on to pretty much single handedly build the trail himself. Of the remaining 80 to 90 acres on which the trail is situated, Chassell Township owns part and the rest is privately owned. It's been a very positive, working relationship, Tervo relates, "The land owners are great. We really have had great cooperation."
Over the years the trail surface has been improved to such a point that it is skiable with as little as two or three inches of snow. Part of the trail, originally in an open field, was relocated to the woods. Tervo, beginning 18 years ago, strategically planted 17,000 red pine, white pine and spruce trees, some of which today are 30-40 feet tall and provide shade, windbreak and protection for the trail.
The Chassell Trail started as a very basic single track that Tervo groomed by pulling a pallet behind a snowmobile to level the bumps and a small tracksetter. Without a lot of previous grooming or trail-building experience, he learned as he went, but made sure the trail was designed and groomed so people were comfortable with all of the hills and turns. While much of the trail is as narrow as six feet, it varies up to 10 feet to 12 feet, depending on the need to snowplow or herringbone.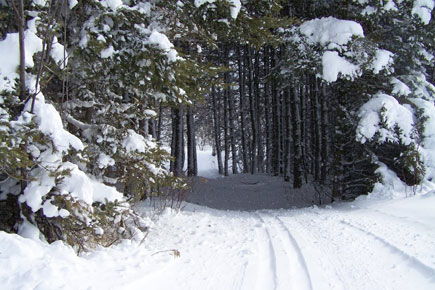 But grooming is clearly his passion. It doesn't hurt that his home is right on the trail. In fact, if you weren't paying attention you might end up skiing right into his backyard where he parks a snowmobile among a half-dozen rollers, drags and other grooming implements. As a volunteer, Tervo rises at 4:30 a.m. to groom the trail. The trail is groomed at least five days a week, something unheard of except at the largest, most well-equipped and well-funded Nordic centers. And all of that attention definitely pays off, with impeccably set tracks that just scream, "Ski me!"
While Tervo does about 90 percent of the grooming, he does get a lot of help from his family, including his wife, sons and two brothers-in-law. He is careful, however, to not over-groom, going out only when the trail really needs it, either after fresh snow or freezing conditions. This part of the Keweenaw has greater elevation than the surroundings, plus, due to the proximity to Lake Superior, the snow has a lot of moisture and the trail can get crusty and very fast. Tervo is usually done grooming by 6:30 a.m. and files a daily grooming report at the Keweenaw Trails website (www.keweenawtrails.com). He is adamant that it accurately reflects the conditions.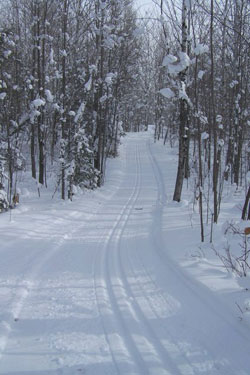 While it is a narrow trail, it takes three passes to groom: first wide to the left and then wide to the right, with custom-built drags to firm up the edges so pole plants are good, and finally a best-line track. Tervo is conscientious about the full width of the trail, not just the track itself. "You can never find out what your potential is when you don't know if when you plant your pole, it is going to be solid. Your rhythm gets all goofed up when it just sinks in." He feels that you need a foot-and-a-half to two feet to allow for good pole plants.
The Keweenaw Peninsula extends out into Lake Superior and, as a result, can receive large amounts of lake-effect snow. When it snows a foot or more, it takes four passes to groom the trail: left, right, down the center to get rid of windrow overlap of the drag, and then again to set track.
While he averages five days a week, the most he ever groomed was 27 days in a row. Tervo will average about 900 grooming miles a year, which for a 10 km trail, means 150 times around the course. And while that may seem like a lot, Tervo notes, "If we are inviting people to come up here to ski, they don't want to ski just in the afternoon. If someone wants to ski at 9:00 they want to have a trail ready. It's always got to be ready, that's part of my deal." Some days there may only be a few people skiing, but on busy days as many as 50-60 skiers will be on the trail throughout the day.
Tervo's passion extends beyond just the Chassell Trail, as he also plays a major role in the larger, very active local Nordic skiing scene. He was the assistant chief of competition for the U.S. Nationals held at nearby Michigan Tech in 2007 and 2008 as well as the Junior Olympics in 2006. And since the chief of competition lived a couple of hundred miles away, Jim was the local go-to guy for the competition. He's a USSA-certified technical delegate (TD) and has worked in that role for several Noquemanon Ski Marathons in Marquette, Mich., and has also served as Assistant TD at the American Birkebeiner.
The Chassell Trail has never received funding from the township or other public sources. Most comes from donations, which raise about $1,000 a year, and the area-wide Keweenaw trail pass program, which generates upwards of 300 season pass sales annually.
The Swedetown Trails in Calumet and the Michigan Tech Trails in Houghton may be the big-dog cross country ski trails in the Keweenaw, but the Chassell Trail has all the ingredients of a special skiing experience - one that should not be missed - thanks to the dedication and devotion of Jim Tervo. "My dad was a farmer," he says, "and he used to say that nothing looked nicer than a field after it had been freshly plowed. That's what I think of when I look back at the tracks I set."
Directions:
The Chassell Trail is located seven miles south of Houghton on U.S. Highway 41. Turn right onto 2nd Street and go a half block and turn right into the Heritage Center parking lot. From the south and the Marquette area follow U.S. 41 to Chassell, turn left onto 2nd Street and go a half block and turn right into the Heritage Center parking lot. From the west, take Highway 26 toward Houghton. In Painesdale, turn right on Chassell-Painesdale Road. Drive about 7 miles to U.S. Highway 41, turn left and drive about a block. Turn left onto 2nd Street and go a half block and turn right into the Heritage Center parking lot.
For more info visit www.keweenawtrails.com.