Catamount Trail
By JoAnn Hanowski
It is a bluebird sky day and the temperature on the outside thermometer reads 15 degrees (F). The fire is warm and crackling and the coffee is hot and rich. No need to rush your breakfast of blueberry pancakes, served with warm Vermont maple syrup, at your cozy inn. The three feet of snow that blankets the outside landscape is obviously not going anywhere on this bright winter morning, leaving you plenty of time to fuel your tank and warm up your muscles before heading out for your ski on the Catamount Trail. Destination – the next cozy inn along the trail, all within a day's ski.
The Catamount Trail, in the heart of New England's snowy landscape, is the longest backcountry ski trail in North America. The trail offers over 300 miles of mostly ungroomed wilderness skiing stretching the length of Vermont, from Massachusetts to the Canadian border.
The trail was originally laid out to link the major ski areas in Vermont and to pass by a large number of quaint inns that dot the countryside. Jim Fredericks, executive director of the Catamount Trail Association, describes it as the thread that passes through the eyes of needles. The needles, in this case, are the inns and ski touring centers of Vermont.
Unlike many other hut-to-hut ski trails, where skiers spend their nights in a small number of designated lodges along the way, the Catamount Trail offers more flexible skiing and lodging options. The trail is divided into 31 sections and has more than 100 access points. Choosing a route for an extended weekend or week-long adventure is akin to visiting a chocolate store and trying to decide which kind of chocolate to buy. You quickly get the feeling that there are too many choices and not enough time to savor all of the options. This article will give you a flavor of both trail and lodging characteristics, helping you pare down your options when planning your inn-to-inn adventure.
Chocolate covered cherries. It is hard to imagine that there is anyone that has not had a chocolate covered cherry. Glossy dark or milk chocolate with sweet white syrup and a nice plump and gooey red maraschino cherry. If you like chocolate covered cherries, or like the thought that you know what you will be getting if you choose this type of chocolate, you might want to consider a pre-planned tour on the Catamount Trail.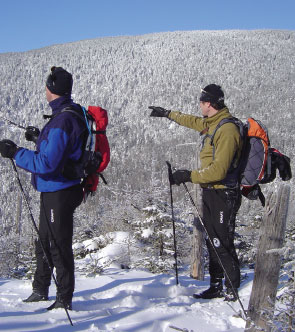 With a quick Internet search, I found a few outfitters that offer all-inclusive, supported three- or four-day trips on the Catamount Trail. For $600-$800, you get lodging, meals, daily transport and logistical support. A few trips are centered in the Moosalmoo portion of the Green Mountain Forest, a remote area that will provide a mostly wilderness adventure. The trail here passes well below the high peaks of the Green Mountains and the skiing is primarily beginner to intermediate in both distance and terrain. A pre-planned, all-inclusive trip in this area is a great introduction to the Catamount Trail and should inspire participants to try another type of chocolate for their next adventure.
Dark chocolate, greater than 70 percent cocoa. Dark, rich and decadent chocolate seems to be the rage these days and perhaps is to the liking of folks at the extreme edges of Nordic skiing. If you like dark chocolate, black coffee and red wine, the Catamount Trail sections in the central portion of Vermont will provide opportunities to explore more mountainous terrain and to sample inns that have plenty of après-ski amenities.
If you are looking for a trip that includes a significant amount of terrain, plan your three- or four-day tour to include Honey Hollow in Huntington and the most popular section of the Catamount Trail, Bolton to Trapp Family Lodge. These trail sections include long, steady climbs that are rewarded with breath-taking vistas, followed by exhilarating downhills where you can fine tune your telemarking skills. Overnight accommodations vary from quaint inns (like the Windekind in Huntington) to high-end lodges (like the Trapp Family Lodge in Stowe).
Turtles with dark chocolate. A problem that I have with pure chocolate is that it is just, well, chocolate. If you prefer some variety in your chocolate -- like a combination of dark chocolate, cashews and caramel (a turtle) -- plan your trip to include the most northern sections of the Catamount Trail. These sections provide a nice mix of skiing terrain -- from flat to undulating -- and enough ups and downs to add some excitement to every ski day. Hand-in-hand with the mix of terrain is an opportunity to view the varied landscape of northern Vermont, and to sample a number of different inns or lodges that contribute to the unique ambience of this region of the state.
This trip will take you four days. On the first day you will ski 13.3 miles, starting at the Craftsbury Outdoor Center and ending in Lowell village. This intermediate-level ski crosses the Lowell Mountains and travels through numerous open farm fields. There are many wonderful views of the rolling northern Vermont landscape along the way and the ski ends with a two-mile steep, narrow and twisting descent into Lowell village. If you arrive the night before your tour begins, lodging and meals are available at the Craftsbury Outdoor Center. Lowell is a small, quaint village but does have an inn, the Rendezvous B&B.
The second day's ski covers the nine miles from Lowell village to the west side of Hazen's Notch. The trail traverses a mix of hardwood stands and open fields and ascends gradually to the top of the Notch. Then you will enjoy the long and fun descent to the trailhead near Montgomery Center. This small village is the most logical place for lodging and food for the evening and there are a few inns to choose from. One to check out is the Inn on Trout River.
On day three you will ski 6.5 miles from the west side of Hazen's Notch to Jay Pass. This section offers a variety of trail conditions and terrain, from nearly level to a steep, narrow, twisting trail to Jay Pass. Snow along this section is usually reliably deep due to a northwest exposure and offers fine views of Jay Peak to the north. Because you will be starting at the top of Jay Pass on day four, you can choose to stay in either Jay or Montgomery Center for the evening.
On the final day of the trip you will ski the 12.3 miles from Jay Pass to the Canadian border. You will be rewarded by your previous day's climb to the top of Jay Pass. The first half of this section is a wonderful 1,000-foot descent through the woods between Jay Pass and Jay village. This section of the trail is north-facing and gets massive snow accumulation, retains nice powder conditions and provides a great opportunity to hone your telemark turns. The second half of the trip from Jay village to the Canadian border is less eventful, being primarily flat with open terrain.
Now that you have skied to Canada, you should cross the border to check out some local culture. In particular, there are a few wineries located within 20 miles of the border that offer free tastings. If you want to truly embrace winter, check out the many varieties of ice apple wine at the Domaine Pinnacle Winery. Ice wine and turtles will be a memorable treat, a perfect way to end this skiing adventure, and some good fuel to start planning your next adventure on Vermont's Catamount Trail.
If You are Going
Getting to Vermont. If you are flying to Vermont, the Burlington airport is served by several major carriers. All of the trips described here are within an hour-and-a-half drive of the airport.
Getting Around Vermont. You will need a rental car to get to and between the trail heads. Arrangements for daily car and personal belonging shuttles should be coordinated with the inns and lodges at the time you make your reservations
Ski Equipment. If you do not own ski equipment, rentals are available at local ski shops (call ahead for reservations). You will also need climbing skins (kicker skins are sufficient), a backpack, first aid kit and basic overnight survival kit. The type of ski equipment appropriate for the trail depends on your preference and snow conditions. I have light backcountry skis and boots and have skied the Bolton to Trapps and down Jay Pass on this equipment with no problem. However, there was over two feet of new powder snow on both of these days. If the snow were packed or icy, some metal edge skis may have been preferred.
Trail Conditions. Go to the Catamount Trail website forum to either inquire about, or to check postings for snow conditions for sections of the trail that you plan to ski. www.catamounttrail.org.
Cost to Ski. The Catamount Trail does not charge a trail fee, but a small, non-profit organization maintains the trail and is in the process of purchasing land easements. Annual membership is $35. If you plan to ski through any groomed ski areas, a daily pass runs between $10 and $20.
JoAnn Hanowski, a native Minnesotan, started skiing by just touring around with friends on wooden skis in the late '70s. She entered her first local race in the early '80s and has gone on to ski in 24 consecutive American Birkebeiners (with two podium finishes). She has been crowned champion of many North American ski marathons, including the Noquemanon, Pepsi Challenge, Mora Vasaloppet, Great Glen to Bretton Woods, Rangely Loppet and the Great Bear Chase. She has won several Masters World and National medals and has competed in the Norwegian Birkebeiner and Swedish Vasaloppet, and skied across Finland. When not skiing, Hanowski, an avian ecologist, spends her time coaching, environmental consulting and writing for local and national sports journals.