A Balanced Life
Hard Breathing Investigating Exercise-Induced Asthma
By DIANE RICHARD
Olympic cross-country skiers, although visions of health and fitness and stamina, are dogged by a frustrating though thankfully nonfatal condition: exercise-induced asthma (EIA).
Experts estimate that an astonishing -- and increasing -- number of cross country skiers are stricken with bouts of EIA. And elite skiers lead the pack; recent studies show that some 50 percent to 70 percent have experienced EIA.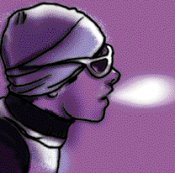 That is at least double the occurrence of EIA among all Olympic winter sports athletes as a group and, starker still, between four to six times the rate in athletes who play, say, indoor basketball.
Yet sports physiologists emphasize that those afflicted with EIA, once treated, still can train effectively. They can compete or simply enjoy the sport.
Cold weather is the main source of trouble, experts believe.
"Cold, dry air is the very worst," says Dr. William O. Roberts, a family practice and sports medicine specialist who works in White Bear Lake, Minn. "That's true in Minnesota and nearly everywhere else the snow is fluffy and white and apparently heaven-sent for skiers", he adds.
EIA is characterized by a temporary narrowing of the airway that produces temporary bronchial asthma. EIA's symptoms include wheezing, coughing, prolonged expiration, rapid heart rate and tightness of the chest. Attacks tend to occur within three to eight minutes of pushing off or immediately following physical activity.
There are two schools of thought about the cause of EIA. One is the water loss theory, which holds that cold air, usually warmed and saturated with vapor by the nose and bronchi, is channeled instead through the mouth, where most vigorous breathing occurs during sports, thereby bypassing upper-airway conditioning. Thus, the upper airways of the lungs are forced to contribute water vapor, resulting in a loss of surface fluid and a change in pH that together create bronchial constriction.
Another theory may explain why EIA frequently occurs after exercise has ended. Adherents of the heat exchange theory believe that increased ventilation during vigorous exercise cools the airways, forcing the bronchial vessels to dilate to rewarm the airway once exercise is over. That activity gives rise to a bronchospasm, so it is said.
"It's either a loss of water or a cooling of the respiratory tree that makes a spasm and makes almost anyone wheeze," Roberts says.
Either way, EIA differs from chronic asthma because it occurs in otherwise healthy people who are active in cold weather.
"EIA is a reversible airway obstruction that occurs during or after exertion," writes Dr. Vincent J. Lacroix in the Nov. 1999 issue of The Physician and Sportsmedicine. "Exercise is the only stimulus for [sufferers'] asthma symptoms." (Lacroix's comprehensive article on EIA found at www.physsportsmed.com/issues/1999/11_99/lacroix.htm)
Though wheezing and chest tightness are classic symptoms of EIA, more subtle ones exist too. According to Lacroix, they include: chest discomfort, stomach ache, fatigue, feeling out of shape, inability to keep up with ski buddies and, simply, uninspired performance on the trail.
Sound like you? The best advice is to talk to a sports physician. A peak flow test and spirometry are just two of the ways doctors check an athlete's baseline pulmonary function to determine whether you suffer from EIA or something similar in appearance but requiring different treatment. For example, paradoxical vocal cord dysfunction may be confused with EIA.
One thing is clear: Our air is dirtier than ever and that's having an impact on the nation's respiratory health. Air quality is closely linked with EIA and chronic asthma, experts say. Smog, smoke, molds, pollen and other particulate matter in air have been scientifically connected with the skyrocketing rates of asthma among children and young adults, creating a country filled with kids for whom inhalers are regular accessories.
"Irritations in the air are probably part of increased incidence," Roberts says. "The air quality is bad. People are training in tough stuff." Indoor skaters encounter a special offender every time they practice: nitrous oxide emitted by the machines that smooth the ice rink's surface. (Roberts tells skaters to find rinks that employ electric ice cleaners.)
Roberts isn't sure whether diminishing air quality accounts for the startling rates of EIA, or if, at least in part, higher rates of the condition show up because today's diagnostic tools are better than before. Perhaps it's both.
Nevertheless, he offers the following suggestions to keep EIA at bay or to handle an existing condition:
First, avoid exercising unprotected in cold, dry air. Tie a scarf over your mouth to warm the air before it enters your lungs. The drawbacks? Comfort, primarily. "It obstructs the breathing and the face gets wet," Roberts says.
Another idea is a good warmup. Fifteen minutes of moderate to intense activity has been shown to induce an EIA episode, then produce a refractory period that's largely symptom-free. "You have a refractory period of two to six hours," Roberts says, "so you're less likely to have [EIA] when you compete" or complete the trail ahead of you.

A third approach is use of medication to stop the bronchial spasm. Experts recommend two pharmaceuticals: Albuterol, a muscle relaxant; and Leukotriene, which inhibits the spasm. Some athletes use both, especially during competitive seasons, to improve their air exchange.

"But if you're a competitive athlete and may get tested, you would need to have documentation that you have true asthma," Roberts says. A patient of Roberts', an Olympic skier, had to establish that she has had EIA since childhood before she could compete.

Finally, a slow cool-down period, instead of an abrupt stopping of activity, is advised. That slows your airway rewarming, minimizing the effects of an EIA attack.
But if you should find yourself wheezing and you're a long way from the lodge, Roberts offers these simple words of advice: "Stop. See if you have the medications with you and take them. Let it pass and get help."