Destinations: Skiing in Austria
Gemütlichkeit und Langlauf
Good times and cross country skiing in Austria
By WILL GODDARD/h3>
I awoke, startled, from a slumber in the warm mid-day sun on the sonnenstrasse of the Gasthof zum Schwarzsee to see Markus standing next to my table extending his hand in greeting. The crisp alpine air, sun, and scenery had lulled me into a relaxed mood high in the Nockberge Mountains of southern Austria.
Markus had agreed to meet me at this guesthouse by a small lake, the Schwarzsee, on the cross country ski trails at Turracher Hohe. Located on the boundary of the Austrian provinces of Carinthia and Styria, Turracher Hohe is a resort area famed for mountains, alpine lakes, mountain air, hiking, and skiing. Our plan was for Markus to guide me on a tour of the 3-Seen-Loipe (3 Lakes Cross Country Ski Trail) in Nockberge National Park.
But first we fortified ourselves with steaming bowls of gulasch suppe mit nudeln, and a couple of Stiegl beers as Markus described the nordic ski scene in Turracher Hohe. It had been a unusually mild winter in Austria. Plenty of snow had fallen earlier, but unseasonably warm temperatures in mid-winter had melted most of it and left all but the highest Austrian Alps dry and snowless. By mid-March, many ski resorts were open only with artificial snow covering a few slopes. Normally there are a plethora of cross country trails to ski in the Nockberge region but now most were closed, especially in the valleys.
Fortunately, Turracher Hohe is located above 5,000 feet and the snow cover lasted longer than elsewhere in southern Austria. The 3-Seen-Loipe was the highest trail in the area, and most of it open and groomed.
We paid our bill and reluctantly left the comfort of our chairs in the sun at the Gasthof zum Schwarzsee. I say "reluctantly" because relaxing, eating, and drinking are an essential part of the Austrian ski experience - as important as skiing, if not more so. Gemütlichkeit (loosely translated as fun, having a great time, enjoying the day to the max), is a key word in the Austrian ski vocabulary. Numerous alms (inns), hütte (huts), and gasthof (guesthouses) along the pistes and loipe (ski trails) make it easy to enjoy gemütlichkeit, food and drink. It's infectious.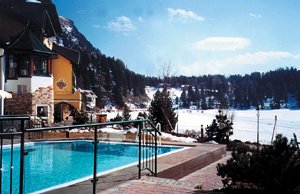 We skated over to the base of the Weitentallift, a T-bar lift which took us quickly to the top of an alpine ski trail, or piste, from where we glided down to the start of the Weitental Loipe ski trail. Markus and I skated up the steep trail which meandered through larch forests and crossed narrow wood bridges over several creeks flowing with snowmelt of an unseasonably early spring.
Traversing higher, we eventually reached a broad alpine meadow beneath the summits of Bretthohe and Schoberriegel, a couple of 7000 foot mountains. The Nock mountains have gentle, rounded peaks in contrast to the more jagged peaks typically associated with the Alps of the Arlberg and Tyrol regions. As we skated past several friendly groups of kicking and gliding skiers, they gave us the traditional Austrian greetings of "Grüss Gott!" (Hello there), or "Servus!" (welcome).
When we reached the high point of the tour, Markus broke out Gasteiner mineral water and Mozart Kugeln, fine Austrian chocolate with hazelnuts. As we savored the exquisite chocolate and enjoyed a panoramic view of the Nockberge mountains and Turracher Hohe in the valley below, I reflected on the past week skiing in Austria. It had been an incredible week of skiing and gemütlichkeit.
It had been a long haul from the U.S. to this alpine meadow in southern Austrian. An overnight flight from the East coast to Vienna was followed by a short hop to Salzburg, where our group of intrepid skiers from the U.S. and Europe gathered. Settling in at a hotel in Flachau for a couple days, I telemarked on the nearby alpine slopes of Flachau, Flachauwinkel, and Wagrain. The three areas have over two dozen ski lifts, mostly chairlifts and gondolas, serving a multitude of trails and runs from the valley floor to open slopes above treeline. The lower areas were covered with a solid base of artificial snow from snow-guns alongside the runs, while natural snow covered the higher areas. And of course, the alms and hüttes alongside the trails provide refuge and sustenance from the hard work of skiing in the spring sun - Austrians like their gemütlichkeit.
More than 160 kilometers of connected cross country trails are usually open all winter long in Flachau and nearby areas, but the trails in the valley were closed due to lack of snow, so I arranged for a guide to take me to higher altitude trails nearby for some serious langlaufing. We loaded waxless touring skis, poles, and boots into his van and took a short ride up a mountain road above the town of Radstadt to the Hohenloipe Rossbrand cross country trail. Radstadt is the home of Manfred Nagl, a policeman and former Austrian nordic ski team member and winner of several American Birkebeiners.
"Ja, Villy, ve're going to Alaska!," boomed Wolfgang, in heavily accented English. A mountain guide and ski intructor who takes European clients on climbs and ski tours all over the world, Wolfgang had scaled Alaska's Mt. Mckinley many times. We left the snowless valley behind and came to a mile-high oasis of snow at Hohenloipe Rossbrand with groomed and tracked trails through trees and meadows that vaguely resembled Alaska.
While conditions on the 14 kilometer trail were wet and slow, I could hardly complain - it was another sunny, warm alpine day. The trail had a nice flow spiced with healthy climbs, a few hairpin turns, and excellent long glides. The views of the Dachstein Glacier were superb from the sonnenstrasse of the Radstadter Hütte, where we lunched on Kaiser Schmarrn, delicious waffles with powdered sugar, jam, and cream.
Sauna. That's all I could think of at the end of each day - relaxing, and soothing my sore muscles. I especially liked the various sauna options at the Hotel Schrempfhof in Flachau: two saunas in the hotel - one clothing optional, another for families - and a third, very hot and nude only sauna separate from the hotel. Take your pick of sauna style depending on your personal comfort level. After sauna, enjoy dinner at one of Flachau's excellent restaurants.
Der Dorfkrug is a venerable old Austrian inn with an inviting, warm ambience of wood, candles, comfortable seats, and contemporary and traditional Austrian food. Most dinners start with an hors d'ouevre of Smoked Salmon and Swiss Chard with Walnut Balsamic Sauce followed by soup, or consomme, such as Consomme of Styria Beef with Gooseliver Roulade. A typical main course might be Roasted Duckbreast with Savoyard Potatoes and Braised Fig, or Rib Chop of Lamb with Tomato Ravioli, or Bass with Saffron Fennel. All washed down with good Austrian wines, and finished off with Apfelstrudeln mit Schlag (thick Austrian cream).
After a few days in Flachau, our group traveled toward Italy to the Nockberge region of southern Austria. Our destination was the resort of St. Oswald located near the spa town of Bad Kleinkircheim.
The main attractions at Bad Kleinkircheim are thermal baths from warm mineral water springs. The surrounding Nockberge mountains offer hiking, skiing and other recreation. The springs have been well-known since Roman times and provide therapeutic benefits with a balanced composition of minerals. Spa proponents claim the waters at Bad Kleinkircheim strengthens the immune system, improves circulation, and alleviates rheumatic problems and high blood pressure.
You have choices when it comes to spas at Bad Kleinkircheim. You can soak at either of two public baths, the Roman Baths or St. Kathrein Spa. The Roman Baths are more family-oriented, a water-park with slides, while St. Kathrein Spa features therapeutic pools. Or, you can go to one of the private hotels which feature their own thermal bathing facilities. I prefer the private hotels - they're less crowded, and provide more options such as massage, aromatherapy, and saunas.
Like the rest of Austria, snow was a scarce commodity in Bad Kleinkircheim and St. Oswald. The cross-country trails in the valleys were snowless, but several alpine areas were open with artificial snow. I pulled the telemarking boards out of my quiver and check visited a couple of the local mountains, Kaiserburg near Bad Kleinkircheim and Brunnachhohe at St. Oswald. One of the largest ski areas in the Nockberge region, Kaiserburg is the home mountain of Franz Klammer, another Austrian Olympic alpine ski hero. It has enough variety to please any telemarker with more than 3000 feet of vertical drop and a dozen lifts.
I free-heeled on both mountains and enjoyed more gemütlichkeit at Rosalmhutte on Kaiserburg and Sportalm at St. Oswald - both friendly, inviting, traditional huts with fireplaces and warm vibes. Hearty fare rules - schnitzel, dumplings, red cabbage, strudel, bier. We left the slopes in good spirits ready for a long soak in the thermal baths to recover, rejuvenate and renew ourselves.
I inquired around Bad Kleinkircheim and learned there was skiable snow for cross country farther up the valley at the resort town of Turracher Hohe, about 30 minutes away by car. That's when I met Markus and arranged a rendezvous at Gasthof zum Schwarzsee.
"Achtung! Let's go!" Markus beckoned. The last chocolate melted in my mouth and I took a final swig of mineral water before clicking into my bindings and pushing off for the rest of the tour. We moved out, but I just wanted to stay here in this bucolic meadow high in the Carinthian Alps thinking about how much fun I was having skiing in Austria.
The next morning I was due to return to Vienna to catch a flight home. But first, I would ski down the valley for a final session at the spa - and then another evening with friends, good food and drink, and of course gemütlichkeit.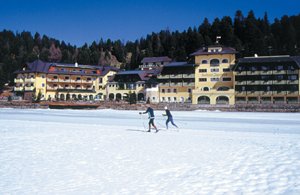 If You Go:
Austrian Airlines has non-stop flights to Vienna from New York and Washington DC, with convenient connections to Austrian cities and ski regions. 800-843-0002, www.austrianair.com
Ski Europe arranges individual and group tours to European ski resorts. 800-333-5533, www.ski-europe.com
Austrian tourism information can be found at www.austria-tourism.at
For information on Flachau - www.flachau.org
For information on Bad Kleinkircheim - www.BKK.org