Destinations: Silver star Nordic Star
By Ron Bergin/h3>
There are only a few Nordic destinations in North America that can boast legendary reputations for plentiful early season snow, and Silver Star Mountain Resort in Vernon, British Columbia is one of them. Even during the most volatile of seasons elsewhere in the U.S. and Canada, dependable early snow is almost a certainty in this winter oasis tucked into the Okanagan mountains region of British Columbia. Last year Silver Star received over a foot of snow in early October. Subsequent October snowfall allowed not only the Nordic trails to open, but practically the entire Alpine operation as well. Fueled by moisture rich Pacific Northwest weather patterns and a region that creates its own microclimate, the Okanagan is blessed with regular and abundant snowfall, up to 23 feet annually. Favorable conditions yield oodles of dry, fluffy powder and what locals refer to as two wax conditions: blue kick and blue glide.
The Silver Star Nordic trail system is one of the most thoroughly integrated cross country ski trail systems in an Alpine ski and snowboard resort setting. It is really two systems, three, if you count the adjacent and interconnected Sovereign Lake Nordic Trails. The entire Victorian style village and hotel complex is a ski-in, ski-out environment, including the Nordic trails. In fact, once you leave the parking lot, there isn't a square inch of ground in the village and resort area that isn't snow covered. You can step off the elevated Main Street boardwalks, hop into your skis and go.
The Village Trails include at least eighteen concentric or interconnected loops, most rated Easier or More Difficult. Silver Star has a well-deserved reputation for its grooming and skiers can expect nothing less than perfection, weather conditions permitting.
Another attraction is the Biathlon Range nestled in the heart of the Village Trail system. The United States and Canadian biathlon teams come to Silver Star for early season training and competition. The Village Trails are situated at 5,280 feet, which as mountain region Nordic trail systems go, isn't extremely high. Acclimatization is relatively quick, and even flatlanders from the Midwest can go out and ski without any ill effects.
The Putnam Creek Trails start on top of Silver Star Mountain and present considerably more of an elevation challenge. Once acclimatized, however, it's not that big a deal.
The obvious plus to having a second system of trails on top of the mountain is the benefit of very early season snow, even when conditions might be marginal in the village. The Putnam Creeks Trails are accessed via the Summit Chairlift that drops you off at 6,517 feet. All of the Putnam Creek trails are worth exploring. For a great circumnavigation of the mountain, start out with the Summit Trail connect to Comin' Round the Mountain via Lars Taylor Way and tie into the Paradise Trail for a return route to the village. Powder coated fir trees line the loops conjuring images of snow monsters and giant gnomes. A must-ski along the way is an out and back trip to Alder Point via Eldorado trail for a breathtaking vista of the Putnam Creek drainage and the backside of the mountain. If you prefer to get to the top of the mountain under you own power; you can simply ski up from the village on a long traverse up the Paradise Trail.
The Sovereign Lake Trails are an adjunct to the Silver Star Mountain trails and are operated and maintained by the Sovereign Lake Nordic Ski Club. Sovereign Lake is an extremely well organized club operation with a day lodge, coaching staff, and over 40 kilometers of tiller groomed trails. There is a higher percentage of Most Difficult trails on the Sovereign Lake system and, snow conditions permitting, it is possible to connect to Sovereign Lake from Silver Star via the Gold Mountain trail (Most Difficult) or from the top of the mountain via Lars Taylor Way and Silver Queen (Most Difficult). Watch for a more detailed profile the Sovereign Lake Trails in a future issue of Cross Country Skier. In total, the Silver Star Mountain Nordic network equals 105 kilometers of trail, 70 to 80 kilometers of which are groomed daily including a four kilometer lighted trail for night skiing.
The ambiance in the village is a breath of fresh air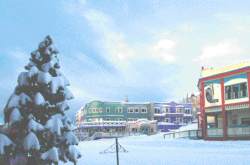 compared to many nouveau contemporary ski resort communities. The almost gaudy array of colors and 1880's gaslight era architecture set Silver Star apart from the rest. The village is a pedestrian-only environment and once you park your car, everything you need is within a short walk, or ski, including shops, restaurants, movie theater, climbing wall, fitness center and massage therapy.
Like many ski areas and resorts in the west, Silver Star Mountain got its start as a mining region. In 1896 a five-foot wide quartz vein was discovered near the summit of the mountain containing silver, lead and gold. Despite a rush for land claims, it was a short-lived boom. Mining enthusiasm quickly faded when the ores were determined to be too low a grade to be worked at a profit.
Originally named Aberdeen Mountain, Silver Star Mountain is believed to have acquired its name from its sparkling appearance. Left barren by fires, the mountaintop reflected winter moonlight. Locals thought the shape resembled a star. This appearance, coupled with the fact that silver was mined on the summit, lead to its current name.
While Silver Star would make an ideal destination at anytime during the season, early season, the month of November is the preferred time for cross country skiers to visit. The Alpine season doesn't get underway quite as early, so the majority of the action in November and early December is Nordic related. In fact, Silver Start calls the period from mid-November to mid-December the "Month of Nordic" and wraps it up with a week long Nordic Festival. During this time skiers from across the continent flock to Silver Star to jump-start their season, including the United States and Canadian Nordic and Biathlon teams as well as other elite athletes who come to train. Equipment manufacturers are on hand to display their wares and tout the latest product developments and encourage demonstrations. One of the first races of the season, the Turkey Trot Loppet is held the Saturday following Thanksgiving. It starts at the summit and winds its way through the upper trails as it descends to the village over a 15-km course. At least three other major competitions take place during the Continental Cup (Nor-Am), including fast action night sprint under the lights. While many of these activities take place during the Festival week which coincides with the U.S. Thanksgiving holiday, this time frame is also when many skiers trek to Silver Star to participate in its renowned series of Nordic Ski Camps (see Going the Distance in this issue).
In addition, Silver Star offers CANSI certified ski instruction and if your expertise also includes Telemark or Alpine skiing or snowboarding, there is ample opportunity to take to the slopes and carve a few turns. The 2,725 acre Alpine area has108 marked downhill trails and 2,500 feet of vertical drop and is all served by 10 lifts. For the boarders, there are two half-pipes, one of which is lit for night riding, and one permanent boarder cross track. If you prefer something a little more laid back, Outdoor Discoveries Nature Tours offers a series of snowshoe tours and experiences including two-hour tours, a backcountry trek, and sunset snowshoe hikes.
There are dozens of fantastic destination Nordic centers in the U.S. and Canada. With its early season snow and unique ambiance, Silver Star is a true North American Nordic Nirvana.
If you go:
Silver Star Mountain Resort, Box 3002, Silver Star Mountain, and BC CANADA V1B 3M1. (800) 663-4431, star@junction.net, www.skisilverstar.com. Silver Star Mountain is located 12 miles northeast of Vernon, BC. Air travel logistics would include a primary flight to Vancouver, BC, a connecting flight to Kelowna, and ground transportation to the resort.