Fresh Snow
Cross Country Skiing, Snowmobiling and Alco-Tourism
By Ron Bergin
On the surface, recreational cross country skiing is not a sport prone to conflict or controversy. Yet, the skier versus snowmobiler conflict is one topic that often surfaces and is something we address in this issue. I can understand the smell-sound-pollution arguments that skiers make, but we as skiers seem to be a pretty inoffensive lot. While there are the ideological differences of non-motorized versus motorized choice of recreation, why, I wonder, would snowmobilers dislike or even care about us?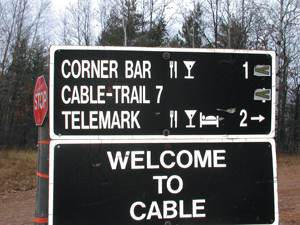 It would seem to be pretty simple - in most places we have our trails and they have their trails, and the opportunities for interaction are relatively limited. Maybe they resent the "superior" attitude that some skiers take. Although I admit, itís hard not to feel just a little "superior" when you think of your ability to propel yourself down the trail or visit the remote backcountry totally under your own power with little or no impact to the environment and those around you.
In the early days there were not a lot of developed and groomed trails for either sport and itís easy to understand the rivalry and competition for trails. But thatís not the case today, so why would a snowmobiler deliberately drive on a ski trail trashing the tracks and carving up the skating lane? Yet it happens. While skiing a narrow intimate classically groomed trail last winter my wife and I encountered two snowmobiles coming our way on the same trail. They couldnít understand why we were upset and offered some excuse about not knowing they were on a ski trail and were just trying to get back to some remote lakes. We asked how they could mistake this trail for a snowmobile trail and pointed that it was far narrower than any snowmobile trail and it had groomed tracks down the middle. Iím sure the percentage of individuals who do these things is small, but it happens. Is it ignorance? Arrogance? Indifference? Or perhaps there is just a segment that is genuinely vindictive and ill-intentioned. Iím even aware of some who actually encourage this type of behavior, such as the bar near Hayward, Wisconsin not far from the American Birkebeiner Trail that gives out a pin that says "I snowmobiled on the Birkie Trail". Obviously this doesnít do much to improve the image of the snowmobiler.
Snowmobiling is big business where I live.
It has helped transform an otherwise dormant winter economy into arguably the strongest tourist season of the year. The one aspect of the sport that is particularly disturbing, however, is the blatant tie to alcohol consumption. I enjoy a cold malt beverage or two as much as anyone, but I cannot understand how chambers of commerce and tourism agencies can in good conscience support and tacitly endorse what I call "alco-tourism." Trail systems are set up to run bar to bar; trail signage and maps include symbols indicating where you can get your next drink; and the entire culture appears to be based on the premise of drinking and driving. It seems insane, but anyone who dares to criticize this practice is branded a heretic. Tavern and restaurant trade organizations are quick to refute any such criticism, yet every winter there are dozens of snowmobile accidents and deaths in this state alone, many in which alcohol played a role. When was the last time you heard about a drunken cross country skier running off the trail at 80 miles per hour and crashing into a tree?
It's a big country and there is room for everyone to enjoy the great outdoors. Iím just glad the sport of cross country skiing is tied to a culture of health, fitness, and the quiet enjoyment of the outdoors and encourage those on the motorized side of the equation to recognize the absurdity of the alco-tourism culture and do something about it. Then, I for one would begin to have greater respect for the sport and its proponents regardless of its other perceived negatives.