November 2002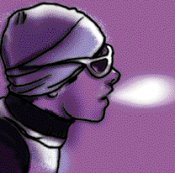 Olympic cross-country skiers, although visions of health and fitness and stamina, are dogged by a frustrating though thankfully nonfatal condition: exercise-induced asthma (EIA).
Experts estimate that an astonishing -- and increasing -- number of cross country skiers are stricken with bouts of EIA. And elite skiers lead the pack; recent studies show that some 50 percent to 70 percent have ... Read more >

Common wisdom has it that there is no free lunch, but that's not entirely true for the skier, at least in a metaphorical sense. Out on the ski trails, the freebie is called glide.
To glide without a hill to slide down, you need the ability to balance on one ski at a time while continuously moving forward from ski to ski. Allowing your momentum to carry you forward from ... Read more >