December 2003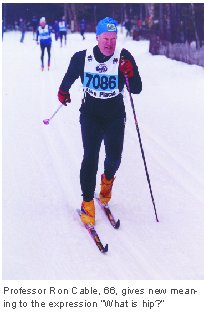 Ron Caple was feeling, if not triumphant, then certainly proud when he crossed the finish line at the National Masters in Anchorage last February. Sure, he came in last of eleven in his age group of 65 and up. But with an artificial hip joint, Caple was simply glad to be doing what he loved, gliding through the snow. That three of the skiers who beat him also had spare parts only added to the Six Million Dollar Man moment.
It's been five years since Caple, an organic chemistry professor at the University of Minnesota in Duluth, joined the growing league of Americans whose joints pivot on artificial parts. In 1999, replacement operations were performed on ... Read more >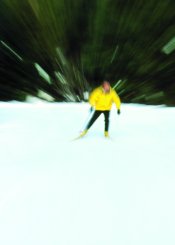 You've seen them on the trails-skiers skimming over the snow, passing you with no apparent effort. Perhaps her rhythmic pole plants first caught your eye, but what left a lasting impression was how she used a V-2 on a hill you always climbed in a V-1. Another day, you heard "on the inside" before he stepped around you on the rutted trail, leaving you to struggle with your snowplow. Then a skier floated up the rise, silently gripping and gliding as he passed while you cursed and slipped with each stride.
How do they do it? Good technique is important, but with skiing, the whole is definitely greater than the ... Read more >