BECKIE SCOTT RETIRES FROM CROSS COUNTRY SKI RACING
Beckie Scott announced her retirement on April 12, 2006 at Canada Olympic Park in Calgary. Skiing into retirement as Canada's most decorated and successful cross country ski athlete, Scott captured the hearts of all Canadians over the last decade with her infectious smile, compassion selflessness, willingness to challenge obstacles, passion for sport and commitment to excellence.
"Today marks the end of an incredible journey and amazing chapter in my life. I feel I have accomplished a tremendous amount in my skiing career, both on and off the snow, but it has been so enjoyable and I can hardly believe the time has come to say good-bye," the Vermilion, Alta. native said in front of her family and long-time World Cup and Olympic comrades, Sara Renner and Milaine Theriault, during a media conference. "I am leaving the sport with great memories, friendships and experiences that I will hold close forever, but it is now time to move on to new challenges and opportunities."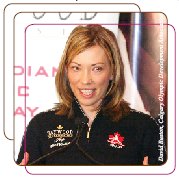 Since joining the national program in 1994, Scott has been a trailblazer for Nordic sport in Canada. During her 11 year career Scott has re-written the Canadian record books, and firmly established herself as one of the world's best all-round cross country ski racers.
Her remarkable trail includes two Olympic medals, including a gold in the five-kilometer pursuit race at the 2002 Games, and a silver medal that she claimed with teammate, Sara Renner, in the team sprint event in Torino, Italy in February.
Scott's performances were relied more on force of than natural talent to find her way onto the international podium. Scott capped off her career with a magical 2005-06 season. During her final campaign, Scott racked up 10 World Cup medals in nearly every discipline on her last journey down the world's Nordic highways, which made stops in Canada, Europe, Scandinavia and Asia. At season's end, captured her the first four World Cup titles but fell just short of the overall title. Her second place finish added a final line to an impressive racing resume. With 15 World Cup medals on her mantle, Scott ends her competitive career with superstar status.
"Beckie is leaving our sport after having played a significant role in putting us on the international radar screen, and ensuring its credibility within the Canadian sport system," said Al Maddox, executive director, Cross Country Canada. "Competitive cross country ski racing in Canada has ridden Beckie's coattails to respectability. In doing this heavy lifting for her sport, while at the same time fulfilling her own dreams of excellence, Beckie has been a class act and her page in the history books may never be challenged."
"Beckie is leaving our sport after having played a significant role in putting us on the international radar screen, and ensuring its credibility within the Canadian sport system,"
In recognition of her significant achievements CODA's past-chair Peggy Valentine announced during the retirement ceremony that the national sport organization is renaming a summer high-performance training camp on Haig Glacier in her honor. Valentine presented Scott with a sign that will be put up on the glacier with the camp's new name-Beckie Scott High-Performance Training Centre on Haig Glacier. The Haig Glacier is a seasonal training camp that has been operated by CODA since 1989 for Canada's elite cross country ski athletes in Peter Lougheed Provincial Park near Canmore, Alta.
"Having spent so many summers training at the Haig, it is an exceptional honor to have this facility named after me," said Scott. "I would like to express my deepest appreciation to my long-time supporters and partners in sport, Cross Country Canada and CODA. It is their long-term investment in sport, that has enabled myself, my teammates and the next generation of elite racers to achieve greatness."
© Cross Country Skier: October 2006, Vol. 26 Issue 1