A Balanced Life
By DIANE RICHARD
Head in the Clouds
High Altitude Skiing Requires Time, Attention
Aged to Perfection
Exercise is the Answer to a Healthy Later Life
Researchers have found the fountain of youth.

It's true. It's exercise.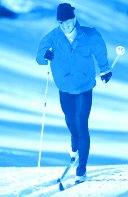 Recent studies have shown that exercise throughout the lifespan:
Boosts your brainpower.
Sharpens memory.
Counters depression.
Improves mood.
Reverses cardiac decline.
Slows the shift from muscle mass to fat mass.
May stave off Alzheimer's disease.
And that's just the start. In a January 2002 article in the Tufts University Health & Nutrition Letter, doctors at the University of Texas Southwestern Medical Center at Dallas demonstrated that a 50-year-old could return to the level of cardiac fitness he had at 20 in just six months of exercise training.
Subjects of an exercise study 30 years earlier, were revisited to ascertain how age had affected their cardiovascular fitness levels.
The Texas docs weren't particularly surprised at their initial findings: the now middle-aged men had slowed down physically, their cardiovascular performance lagged, and their body fat mass had doubled over time. C'est la vie. But after six months of supervised training, which included regular routines of walking, jogging or cycling at increasing rates of intensity and frequency, the men were as fit, aerobically speaking, as they had been in their youth.
The message is a good argument for the benefits of lifelong activity. "People in their 70s and 80s might not be able to regain quite the same level of fitness they had years before, but they can get back a great deal of it through exercise," said Miriam Nelson, an exercise physiologist at Tufts.
The study also yielded a compelling argument against inactivity. The men, at 20, had been subjected to three weeks of bed rest. Comparing their cardiovascular data at 20 and 50, researchers found that the sedentary behavior proved to be worse for their hearts than the toll of 30 additional years on earth.
As goes the body, so goes the brain. The Journal of Aging and Physical Activity reported that four months of regular aerobic exercise sharpened memory and reduced depression in a group of men and women aged 50-77. And a study at Case Western Reserve University suggested that lifelong exercise may lower the risk of getting Alzheimer's Disease.
Here's yet another tidbit in favor of the get-up-and-go: Researchers at the Salk Institute in La Jolla, Calif., recently found that exercise stimulates the formation of new brain cells in mice. (Remember, only a couple years ago it was established medical "fact" that humans never generate new neurons. There's more to come.)
Indeed, our behavior may help shape our brains, or so suggests a 1999 study at the Beckman Institute at the University of Illinois. A group of 124 older, healthy adults were given memory tests. They then were split into two groups, one engaged in aerobic activity (three 45-minute walks a week), the other in stretching and toning exercises.
After six months, the subjects were given the same cognitive tests. Only the walkers improved, having increased their scores by 15 to 20 percent. The stretchers, although physically limber, were no more mentally nimble than before.
It is well established that exercise improves mood, thanks to the powerful effect of chemical endorphins on the brain. But researchers at Duke University Medical Center found that, for some people with clinical depression, age 50 and up, physical exercise gives an even better lift than Zoloft, a widely-used antidepressant. The hypothesis was that exercise would help relieve depression by improving blood flow to the brain.
"At ten months, the chance that a patient
would be depressed was reduced by 50 percent for
every 50 minutes of current weekly exercise,"
said a report on the study in the March 2001 issue of The Harvard Mental Health Letter. Meanwhile, relapse rates fell among those who continued to exercise, compared with subjects who had only taken anti-depression drugs or a combined regimen of drugs and exercise.
In a 1997 article called "Aging With Speed" in New England Nordic News, Steven Gaskill described data he collected from three international cross country races -- the American Birkebeiner, the Norwegian Birkebeiner and the Swedish Vasalopet -- while seeking to compare speeds by age group.
Here is how he described his results: "Wow!! Those older skiers go really fast!" That skiers' swiftness ebbed at around 50 to 55 years was less than pleasant, Gaskill admitted. Still, the established skier/racer/writer was determined to see the bright side of things.
"For a racer looking at the next several years, it is great to believe that we can maintain such high speed well into our 50s and not really see a steeper decline until our 60s," he wrote. "Just the simple fact that 80- and 90-year-old skiers are racing and doing quite well, thank you, is very encouraging."