IPC Nordic Skiing World Cup Concludes
The clank of a spectator's cowbell. The voice of a hyper-excited announcer calling a race blares from a stand of speakers at the finish line. The instantly recognizable musical notes of the Olympic theme song plays between heats. These familiar elements to Nordic racing came together at the International Paralympic Committee Nordic Skiing World Cup races in held in Cable, Wis. and Minneapolis, Minn. on Jan. 26-Feb. 2. The IPC Nordic Skiing World Cup attracted more than 100 athletes from 13 different countries including Russia, Norway, Sweden, Japan, Canada and the United States.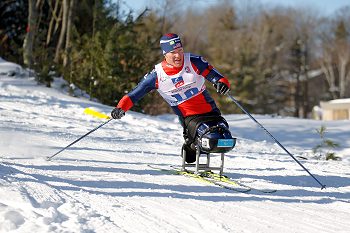 The disabled athletes competed in three types of events: visually impaired, standing (defined as competitors with some form of physical disability, but who are able to stand on skis) and sitting (defined as amputees or athletes with paraplegia).


The IPC Nordic World Cup competition, which began on Thursday, January 29 at Telemark Resort in Cable, Wis., included cross country and biathlon competition, with many athletes participating in both disciplines. Four days of competition came off flawlessly, with many kudos to the local race organizing committee. The competition was presented locally by Central Cross Country Skiing (CXC) with the guidance and assistance of the U.S. Olympic Committee. The Cable Area Chamber of Commerce championed the IPC event and was integral to its success.
During their stay in the Cable area, several IPC athletes visited the local schools and met with elementary students who attended the first day of competition to cheer on their new friends.
Competition shifted to Minneapolis for two additional days of competition. Michael Bono, Theodore Wirth Park's event director, lead a team of more than 100 race day volunteers. Snowmaking facilities at Theodore Wirth Park allowed the competition to proceed despite poor snow conditions in other parts of the Midwest. Course managers and groomers meticulously created a course that featured banked corners and artificial hills to slow the sit-skiers down on descents.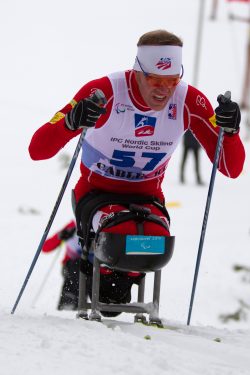 The 17-member U.S. Paralympic Nordic Team arrived with realistic expectations against the experienced international field. "We prepared for this event as if it was a world championship," reports John Farra, High Performance Director for U.S. Paralympic Nordic Team. "This event was the big focus for everyone. The coaches and athletes all prepared as if this was the equivalent of a world championship. Our top guys finished in very tight group in the 6-12 place range. We're pleased. Every time they race they learn more."
Lt. Dan Cnossen, Jamestown, MI, captured five top-10 performances in six races. Cnossen, a Navy Seal, lost his legs due to a improvised explosive device in September 2009 when he was serving in Kandahar, Afghanistan.
After his injury Cnossen attended a US Olympic Committee Paralympic Military Sports Camp in San Diego, California and got hooked on Nordic racing. He now competes in biathlon and cross country events. At the IPC Nordic Skiing World Cup race in Cable, Wis. he finished seventh in the cross country 10k event.
At Theodore Wirth on February 2, Cnossen managed the icy conditions on a tight course to finish ninth in the 10-kilometer sit-ski race in 37 minutes, 8 seconds. "There were a lot of hairpin technical turns on the course," says Cnossen. "With better ski handling I think I can shave off some time. A second here, a second there, it adds up. I had one hiccup but I'm getting better at it."
Cnossen's sit-ski teammate Sean Halsted fell out of the top ten and finished thirteenth after breaking a ski in a five-person crash during the same race. Another teammate, Andy Soule was also hampered by crashes on the course.
Soule, 31, Pearland, TX, is in his sixth season of competitive Nordic ski racing. An U.S. Army veteran, Soule lost his legs when an improvised explosive device detonated in May 2005 when he was on patrol in Afghanistan.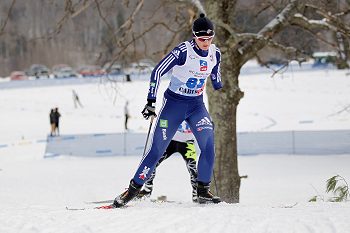 Before his injury, Soule had no experience with Nordic skiing. Exploring adaptive sports opportunities, skiing attracted him. "Skiing was something that I tried that felt pretty natural and I was pretty good at right from the get-go. I love to be outdoors and it's a wonderful sport to be involved in," says Soule.
Soule's competitive resume includes a World Cup gold medal in December 2009 and a bronze medal in biathlon at the Vancouver 2010 Paralympic Games. Future goals include competing at the 2014 Paralympic Games in Sochi, Russia. Soule wants to relive the thrill of winning a medal. "You can't describe what it feels like to receive a Paralympic medal," notes Soule. "Coming around the last turn of the course I knew I was going to be third as long as I held it together. It's an incredible feeling."
At the other end of the spectrum, Mikayla Briere, 20, Lincoln, New Hampshire, competed for the first time. After almost a year of dryland training, she was anxious to experience racing on the snow. "It's nice to get out on the snow and the course. It's slightly terrifying to be able to handle the downhills and multiple people on the course at the same time. It's a constant learning experience. I fell quite a few times but then someone enlightened me about techniques."
Briere finished twelfth in her first sprint event. "I have a lot of work ahead," says Briere. "It was fun to watch the other skiers who have been doing this for so much longer and watch how they handle the curves. I can gain technical knowledge about how to approach it all."
Thrilled by the experience and support of her teammates, Briere is looking forward to competing again next season. " Right now I'm competing against myself to improve my times and strength," notes Briere. "It's nice to be in the middle of the pack where you can see the results and when you push yourself a little to keep up and watching the other competitors to see how they do things. It's been a fantastic experience. Competing at this level is something you always dream of doing as a little kid. I'll be back next year."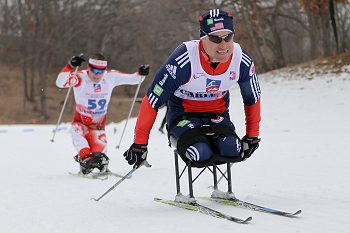 Kelly Underkofler, who was born without one of her forearms, began skiing at age 3 and grew up training and racing on the trails at Theodore Wirth Park. Skiing before her home crowd the three-time Paralympian and St. Paul, Minn., native had the crowd on its feet as she came up on the shoulder of Japan's Momoko Dekijima as they headed down the home straight-away as the duo vied for the last qualifying spot into the women's standing division sprint finals. Underkofler pulled even with Dekijima, as the two lunged at the finish line. Judges would later determine Dekijima edged out Underkofler for the final spot into the four-skier final.

"Kelly has great classical technique and skis with a lot of power," U.S. Paralympics Nordic head coach James Upham said. "It was an incredible race. She has a lot of potential in the sprints."

Farrar was pleased with the results at both American stops on the IPC Nordic Skiing World Cup. "As a team we talked about being prepared and professional and using this opportunity as an excellent learning tool," explains Farrar. "I've heard the coach tell members of the team when the top Russians passes you on the course get in behind them and try to match their stroke. Try to learn what they've learned to do to go faster than you. Even if you end up putting yourself under, that 30 seconds may be a really important piece down the road. This is about learning and getting the best performance out of each event regardless of the finishing place."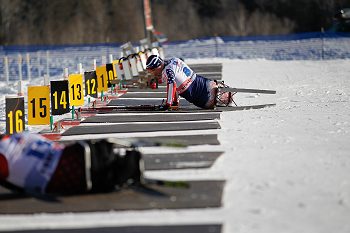 The IPC Nordic World Cup racing season concludes March 20-April 1 in Vuokatti, Finland. The American World Cup Jan. 26-Feb. 2 was the first time the United States has hosted a major Paralympic Nordic ski event in seven years.
The athletes at the IPC Nordic World Cup events are competing for opportunities to participate in the 2012 World Cup Finals in Finland in March 2012. Looking ahead, the 2013 World Championships will be held in Sweden and the 2014 Paralympic Games are set for Sochi, Russia in March 2014.
U.S. Paralympics, a division of the U.S. Olympic Committee, hosted this year's IPC Nordic Skiing World Cup in partnership with Central Cross Country Ski Association (Madison, Wis.) and the City of Lakes Nordic Ski Foundation (Minneapolis, Minn.). For more information on these organizations, visit www.cxcskiing.org and www.loppet.org.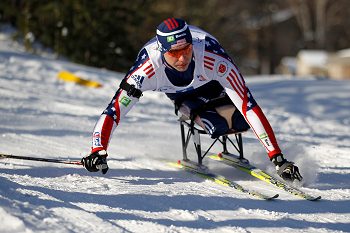 Official results can be found at www.ipc-nordicskiing.org/Calendar.
See more photos in out media gallery here
Cross Country Skier will present a more in-depth feature on the IPC Nordic World Cup and take an additional look at the profiles of U.S. para-athletes in our November 2012 issue.