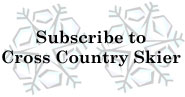 10/24/2007
REGIONAL NEWS: MIDWEST

Midwest Junior Olympic Team Seeks Assistant Coaches

Organizers of the Midwest Junior Olympic team have five coaching positions open for the 2008 Junior Olympics, taking place in Anchorage March 9-16, 2008.

Interested coaches will apply to the Midwest Junior Executive Committee. Applications are available at cxcskiing.org under the Midwest Juniors tab.

Coaches will provide support for the team at the Junior Olympics in Anchorage. The team will depart on Friday, March 7, 2008, and return March 16, 2008. Applications must be submitted to Head Coach, Karen Cook (kcook777@yahoo.com) by November 15, 2007. The coaching positions will be filled by December 1, 2007.


10/24/2007
REGIONAL NEWS: MIDWEST
10/24/2007
REGIONAL NEWS: NEW YORK

Lapland Lake Open House November 23-24

Lapland Lake Nordic Vacation Center will host its annual two-day open house and equipment sale, Friday and Saturday, November 23-24 from 9:00am-4:30pm. Visitors are invited to tour the Finnish-style four-season vacation center which is celebrating its 30th winter season.

The open house is free of charge to visitors and facility use passes to cross country ski, snowshoe, tube and ice-skate will be free both. If there is no snow, attendees can enjoy complimentary hiking on the resorts 50 km private trail system.

Door prizes will include facility use passes, lessons, rentals and learn-to-ski packages (trail pass, rentals and group ski lesson). The grand prize is a two-night stay in one of the resorts tupas (cozy housekeeping cottages) during the upcoming winter season. The lodging package, which is valid non-holiday midweeks, includes use of ski and snowshoe trails, ice-skating pond, tubing hills, 50 percent off a group lesson (per person), daily discounts on ski and snowshoe rentals and use of the Finnish wood-burning sauna. The grand prize drawing will be held at 4:30 p.m. Saturday.

Select ski equipment and clothing will be offered at discounts of up to 40 percent; complete ski packages will be discounted 20percent. Lapland Lakes owner-operator, former U.S. Olympian, Olavi Hirvonen, and his trained staff will provide assistance in proper equipment selection and sizing. All regularly priced and sale-priced merchandise will be discounted an additional 10 percent during the two-day open house.
Free beverages will be available; fresh baked goods will be for sale at the resorts Tuulen Tupa Grill.

Season passes will be available at reduced early-season rates; full season pass rates go into effect Saturday, December 1.
The resorts two domesticated reindeer, Viima and Talvi, will be welcoming visitors at their lakeside home.

A complete cross country ski and snowshoe facility, Lapland Lake offers fully equipped rental and retail shops, a comfortable warming lodge with snack bar, a trailside restaurant and overnight accommodations in private housekeeping cottages. The trail system has 50 km of trails, including 38 km marked, mapped and snowcat groomed with trackset and skating lanes; 12 km are ungroomed, marked, mapped snowshoe trails. Other activities include ice-skating, tubing, sledding, kicksledding and wilderness ski touring.

Located in the south-central Adirondacks, Lapland Lake is just over an hours drive from Schenectady, 60 miles from Albany and Utica and four hours from New York City and Boston. Visit online at www.laplandlake.com, call the resorts 24-hour taped snow condition report at 800-453-SNOW, or contact Lapland Lakes main office for further information at (518) 863-4974.


10/10/2007
REGIONAL NEWS: NEW YORK

New York Center Schedules Reindeer Roundup
Lapland Lake Nordic Vacation Center has scheduled the 30th annual Reindeer Roundup Festival for Sunday, December 23. The day-long event features a pursuit-style ski race, ski orienteering meet and youth cross country ski race.

The pursuit race format requires racers to use classic technique for the first 5 kilometers and to complete the final 5km using freestyle technique. There is no break between the two 5km laps; racers may change equipment between laps, at their discretion. This race, which begins at 10 a.m., is an Empire State Games Qualifier.

The Lapland Lake Reindeer Roundup is a citizens race open to all skiers. The race entry fee covers both portions of the race. NYSSRA (New York State Ski Racing Association) members are charged $20.00 for participants who preregister by Wednesday, December 19; $25.00 thereafter. The entry fee for non-NYSSRA members pre-registering by December 19 is $25.00; $30.00 thereafter. Pre-registration may be completed online at www.nyssranordic.com . Day-of-race registration will take place from 8:00 - 9:30 a.m.
Awards will be presented to the first three male and female finishers in each of seven age divisions and to the overall male and female event winners.


A fun Bill Koch Junior Cookie Race for skiers ages 13 and under will take place after the conclusion of the Reindeer Roundup (at approximately 1 p.m.). Each participant will take home a ribbon and a large fresh-baked cookie from the resorts Tuulen Tupa Grill.

The day also includes a ski orienteering race, also an Empire State Games qualifier. Entry fee of $10.00 includes a detailed color course map. In a ski orienteering event, participants navigate through a series of points on a prearranged cross country ski course and are timed as individuals or as group members. The course length will be determined by snow conditions.

Members of various age group divisions will experience different race course lengths and numbers of controls. For example, scholastic females will ski a 4-5 km course with 8-10 controls. At the other end of the spectrum, the open male division will ski 6-10 km with 12-16 controls. There are several divisions in between.

An abbreviated 2 to 3 km course will be available and appropriate for juniors and adult first-timers.
Interested individuals may contact Eric Hamilton, Empire Orienteering Club, at ejh.bkh@juno.com or at 518-383-8565. Event, snow condition and general resort information may be obtained online at www.laplandlake.com.


10/10/2007
REGIONAL NEWS: COLORADO

Colorado Backcountry Bash, Slide Shows Announced

The Backcountry Snowsports Alliance has announced a fundraiser and educational program planned for later this season.

The Backcountry Bash fundraiser will take place Friday, November 20, at the Denver REI flagship store. The event includes gourmet finger food and free Colorado beer. Attendees can participate in silent and live auctions for outdoor gear and services, as well as see an adventure slide show by photographer Dan Bailey.

A second event, to be held at the Boulder REI store, features a slide show on Colorados backcountry hut system. The program covers itinerary planning, developing packing lists, and planning family activities for your stay at a hut.

The Backcountry Snowsports Alliance advocates for the creation and protection of quiet areas on public lands for skiers, snowshoers and snowboarders.

For details, including costs and times, go to www.backcountryalliance.org.
10/10/2007
Telemark SuperTour to Include Sprint Competition in Duluth


The sprint competition for the Telemark SuperTour event will be held January 23, 2008, in Duluth, Minnesota, according to CXC Skiing. The other SuperTour races will be held at Telemark Resort in Cable, Wisconsin.

According to Scott Wilson, race director, teams will take charter buses to Duluth on the morning of the competition. This will be provided at no charge to the competitors.

The Duluth facility includes indoor waxing facilities, athlete lounge areas and locker rooms adjacent to the stadium. Competitors will cover a 1.4 km course. A high school 100 meter race will be held at halftime.

Qualification rounds are planned for mid-afternoon, with the finals taking place at night on the lighted course. An awards ceremony and athlete party will take place after the event, and the coach bus will return the entire field back to Telemark Resort by approximately 10:30 p.m.

Details will be provided, as they are available, at www.cxcskiing.org .
10/5/2007
REGIONAL NEWS: COLORADO

Top Coaching at Crested Butte Thanksgiving Camp

Former Olympic skiers, an NCAA coach and other experts will lead this years Thanksgiving Training Camp at Crested Butte Nordic Center in Colorado. The camp will take place November 23-25, 2007. All of the clinics will be at elevations of at least 8,800 feet.

Former Olympians Rebecca Dussault, Kendall Butts and Ingrid Butts will be on hand, along with NCAA coach Jessie Crandall and PSIA Nordic Demo Team member Ross Matlock. Clinics are designed to enhance and improve skills and are limited to approximately 12 people in each.

Friday and Saturday, Nov. 23-24, both begin with pre-clinic waxing assistance, followed by two hours of lessons. After lunch, skiers will receive another two hours of instructions. Video analysis is included and skiers can take advantage of a gourmet dinner on Saturday.

The highlights on Sunday, Nov. 25, are a 5 km classic and a 5 km skating race. Members of the Western State College and Crested Butte Junior teams will participate.

The Crested Butte Nordic Center is a full-service cross-country ski center providing lessons and complete rental packages for skate and classical skiing, as well as ice skating, snowshoeing and sledding. The Nordic Center maintains more than 45 kilometers of groomed trails.

For information or to register, go to www.cbnordic.org or call (970) 349-1707.


10/4/2007
REGIONAL NEWS: MONTANA/WYOMING


Winter Wolf Discovery Coming to Yellowstone

The Yellowstone Association Institute, Yellowstone National Parks official educational partner, is offering a four-night "Winter Wolf Discovery" throughout the winter at the Mammoth Hotel. The package includes accommodations, some meals, in-park transportation and wildlife viewing excursions.

"Everything comes together in winter to make Yellowstone the best place in the world to see wolves in the wild," said Jeff Brown, director of education for the Yellowstone Association. "Wolves are spotted every day in the Lamar Valley. They follow the elk and other prey to the lower elevations near the park road, and they are relatively easy to see against the backdrop of white snow."

The first program will be offered December 26, 2007, and will be available through the end of February. The four-night stays begin on Wednesdays and Sundays.

Instructors will provide expertise on the reintroduction of wolves to the park and lead wildlife viewing excursions through the Lamar Valley. This package includes accommodations at the Mammoth Hotel, breakfasts and lunches each day, in-park transportation, snowshoe rental, one-hour hot tub rental, unlimited ice skating and optional evening programs. Rates start at $545 per person, plus tax, based on double occupancy and $695 for single occupancy. Yellowstone Association members receive a $10 discount.

The parks winter season begins Dec. 19, 2007 with the opening of the Old Faithful Snow Lodge. The Mammoth Hot Springs Hotel opens Dec. 21, 2007. The lodges provide the only wintertime accommodations within the park. Mammoth Hot Springs Hotel will close for the season on March 2, 2008, and Old Faithful Snow Lodge will close March 9, 2008.

Other winter packages allow participants to explore the park by cross country skiing, snowshoeing and over-snow vehicles. For details, go to www.YellowstoneAssociation.org. To make a reservation, call Xanterra, operator of the hotels, at 307-344-5566.

9/21/2007
CAT Ski Developer Offers Ski Clinics


The maker of the CAT ski, an all-terrain dryland training ski that
mimics cross country skiing, will hold a series of clinics and races in Wisconsin, Minnesota and Washington. The Classical All Terrain (CAT) ski emulates classic skiing and allows the skier to go on any terrain, including grass, trails and sand.

The clinics will provide training workouts and demonstrations in the morning and races of varying distances in the afternoon. Organizer and CAT ski developer Dale Niggeman will provide participants with CAT skis, if needed, but attendees must reserve a pair ahead of time. Those who pre-register by October 1 will be entered in a drawing for a pair of CAT skis.

The clinic schedule and registration form is online at
www.catskier.com/catskievents.php. Wisconsin clinics will take place in Madison, Eau Claire, Minocqua and Stevens Point. There will also be clinics in Minneapolis; Rockford, Illinois; and Winthrop, Washington. The clinics kick off on September 30 in Madison.

9/21/2007
New Hampshire Rail Trail Expands


New Hampshires Northern Rail Trail was extended this month to reach East Andover. A partnership has also provided a welcome center for the new section of the trail.

The Highland Lake Inn in East Andover, New Hampshire, will serve as a welcome center for the new trail segment, providing parking and restroom facilities (www.highlandlakeinn.com).

The Northern Rail Trail will eventually cover 59 miles. When combined with two other trails, it could eventually be part of a trail across New Hampshire, following former railroad beds.

The new trail provides a variety of scenery: views of Mt. Kearsarge, a series of cornfields and multiple stream crossings and wetlands. There is also an old wooden covered bridge next to the rail trail in Andover.

The trail is open year round for walking, jogging, hiking, bicycling, horseback riding and bird watching. During the winter, the trail is used for snowmobiling, snowshoeing, cross country skiing and dog sled training.

For more information about the Northern Rail Trail, see
www.northernrailtrail.org.

9/21/2007
Dexter Trails Announce Improvements


Dexter's Inn Trails by Norsk Cross Country has announced several improvements for the 2007-08 season. The trail system, located in Sunapee, New Hampshire, re-opened last year after a complete renovation. The original trails were built in 1948.

This years improvements include expanded parking, a new YTS Ginzu groomer, youth rental skis and a rental pulk. The area includes 20 kilometers of groomed trails, a loop for leashed dogs, and backcountry, ungroomed and showshoe trails.

The inn and annex include 17 guest rooms; a cottage and condo are also available. Detailed information on accommodations and the daily breakfast buffet are available at www.dextersnh.com or by calling 800-232-5571.
9/19/2007
Brikie Seeks Two Skiers for Warrior Reenactment


The American Birkebeiner Ski Foundation (ABSF) is searching for two tough cross country skiers to dress as Birkebeiner warriors and trek 51 kilometers from Cable to Hayward on Saturday, Feb. 23, 2008.

The two skiers will dress in authentic gear, ski on wooden skis, and depict the 800-year-old rescue of Prince Haakon, the baby who became one of the most popular kings in Norwegian history.

The Birkebeiner warriors became a Norwegian symbol of courage, perseverance and character in the face of adversity, and the historic rescue inspired the creation of three ski marathons - the Birkebeinerrennet in Lillehammer, Norway, launched in 1932; the American Birkebeiner, launched in 1973; and the Canadian Birkebeiner, launched in 1985 in Alberta.

In addition to searching for two Birkie warriors, the ABSF is also
looking for a skier to depict Inga, the mother of the baby Prince.
"Inga" will wear traditional clothing and ski either the 51-kilometer Birkie or 23-kilometer Kortelopet before meeting up with the Birkie warriors and baby Prince Haakon at the finish line on Main Street in Hayward.

Inga and the Birkie 2008 warriors will serve as "ambassadors on the trail" encouraging both skiers and volunteers. The warriors will carry a baby doll along the course until Main Street where theyll pick up a real infant "prince" before skiing the last two blocks to Inga at the finish line.

"Since this is the 35th anniversary of the American Birkebeiner, we felt it important to highlight the historic roots of the race with Inga, Baby Prince Haakon and the two Birkebeiner warriors," said Ned Zuelsdorff, executive director of the ABSF. "We are challenging skiers to find a friend, and tell us in 300 words or less why they would be the best Birkie 2008 warriors, Torstein and Skervald."

Entries must show ability, passion and tradition and demonstrate that the pair is capable of skiing the 51-kilometer trek on wooden skis while wearing the warrior costumes, carrying weapons of the era, and transporting baby Prince Haakon.

"The Inga entries can be part of or separate from the warrior
entries," Zuelsdorff said. "Again, we are looking for a 300-word essay that shows passion, ability and tradition and demonstrates why the entrant should be selected as the cherished mother of the baby prince."

The American Birkebeiner Ski Foundation will supply the Birkebeiner and Inga outfits and Birkebeiner weapons. Selected skiers must supply their own wooden skis.

To enter the competition, email a 300-word essay to birkie@birkie.com (one essay per warrior pair and one for each Inga). The deadline is November 1, and men and women are encouraged to apply.

"Be concise and persuasive," Zuelsdorff said. "The four most recent warriors will review the essays and select the best pair to ski as the 2008 Birkebeiner warriors as well as the winning Inga. All three winners will be announced on December 1, 2007."


9/19/2007
New Hampshire Resort Announces Ski Packages


The Balsams Grand Resort Hotel has announced a "ski free package" for alpine and Nordic skiers, from January through March 2008. The resort is located in New Hampshires White Mountains with 77 kilometers of
groomed trails.

The hotels $89 per night (per person) rate includes lodging,
breakfast in the dining room, lift tickets to the alpine ski area and trail passes for cross country skiing. The Balsams property includes 15,000 acres.

The package is subject to availability and is based on double
occupancy. The resort also offers specials on two-bedroom family suites and has other packages. For details, call (866) 380-6798 or visit www.TheBalsams.com using the promo code SKIFREE).

The Balsams Grand Resort Hotel includes 202 guestrooms and suites, four dining areas and 10,000 sq. ft. of meeting and banquet space. Recreational opportunities include cross country skiing, ice skating, snowshoeing and alpine skiing.

7/16/2007
CXC Regional Development Group Soaks Up Training


The Central Cross Country Ski Association (CXC) regional development camp had the usual education and testing for junior skiers and for Team CXC, the Olympic development program. But for many skiers, the best part of the camp may have been the water polo tournament.

According to Bill Pierce, CXC Junior Development Program coach, the camp-ending tourney brought out competitive spirits, while serving as a good workout.

"It is a great activity," Pierce said. "The risk of injury is almost zero and it is a hard work to play even for 10 minutes in water over your head."

CXCs annual camp for top junior skiers, along with Team CXC, drew more than 40 athletes this summer, led by top regional coaches and U.S. Ski Team head coach Pete Vordenberg. The camp includes testing, education and training, including VO2 max testing and endurance and strength assessments.

"This is very important information not only for the athletes at the camp but for their coaches back home, said Team CXC exercise physiologist Sarah Willis. " All athletes received very comprehensive test printouts and explanations. Our goal is that coaches will take advantage of that information to enhance the performance of their athletes."

"CXC has completed running and strength tests at the RDG camp for the last several years," said Bryan Fish, CXC head coach. "We can see with returning athletes where they have improved and areas they still need to do some work. This assessment is an important element of the endurance and strength evaluation for the CXC Ski Team athletes and usually done 3-4 times a year."

The camp culminates with a 50-meter rollerski double-pole sprint race and a six-kilometer skate time trial near Seeley, Wisconsin. The annual camp is supported by the U.S. Ski Team and CXC Skiing.

7/10/2007
ROCKY MOUNTAIN NORDIC OFFSETS RIDE THE ROCKIES CARBON EMISSIONS


In pursuit of efforts to curb global warming, Rocky Mountain Nordic (RMN), took an active role in the 2007 Ride the Rockies Tour by making the event more environmentally friendly than ever before. RMN bought carbon offsets from the City of Aspen's Canary Initiative program in order to make the tour entirely carbon neutral. RMN purchased the carbon offsets for each participant's travel to and from the start of the event and for the support vehicles used during the event to help bring awareness to global warming.
Ride the Rockies generated about 383 tons of CO2 that will be offset. The offsets purchased for this event were unlike any other in the U.S. offset market and were the first in a pilot run of the City of Aspen's new local offset program. Purchasers of the offsets will help fund a number of local renewable energy and energy efficiency projects as well as other carbon offsets initiatives including coal mine methane.

RMN, the umbrella organization overseeing all junior and masters Nordic skiing in Colorado, is building on its commitment to bring awareness to climate change and showing leadership in the ski industry by expanding to a summer event. RMN's Keep Winter White Nordic Ski and Snowshoe Series also uses offsets to become carbon neutral. The idea behind all the events going carbon neutral is to encourage participants to become involved in the solutions that slow down global warming and to express the importance of climate change and how it will affect skiers.
RMN is committed to helping winters stay white and supporting carbon offsets contributes to this goal. "RMN is excited to become involved in the solution to climate change. Our commitment is focused on getting kids out on skis and engage in a healthy lifestyle. Our climate is moving toward a tipping point that threatens our winters and affects all of us. RMN is leading the way in being responsible and taking action to be part of the solution," said RMN President Ruth Brown. "We are extremely pleased that through the efforts of Rocky Mountain Nordic, the 2007 Ride The Rockies was able to be carbon neutral," said Ride The Rockies Tour Director Paul Balaguer. "We are grateful for RMN's generosity and commend their environmental responsibility."

For more information on the Keep Winter White Nordic Tour series and the work of Rocky Mountain Nordic, visit www.rmnordic.org.

7/9/2007
2007 CXC/Birkie Big Summer Camp at Telemark Resort


The Central Cross Country Ski Association will host the CXC/Birkie Big Summer Camp July 30-August 2 at Telemark Resort in Cable, Wisconsin. The camp is open to all levels of cross county skiers, from middle school through masters. Skiers ages 9-12 can choose a two-day introductory camp, as well. The camps will focus on technique development in small groups and individual video analysis for instant feedback.

"We have gained a lot of new knowledge in the field of cross country ski technique in the last two years with our CXC Ski Team and by working closely with the US Ski Team coaches," said Yuriy Gusev, CXC Skiing chief executive officer. "We also understand that personal attention and feedback are critical components in technique development. This camp is the best opportunity for athletes at every level to improve their technique."

Camp prices include coaching, lodging at Telemark and meals. Coaches will include Gusev and CXC Ski Team coaches Bryan Fish, Scott Wilson and Bill Pierce. Coaches also include Abby Larson, member of the 2006 Olympic team, and two members of the CXC Ski Team, Kristina Owen and Garrott Kuzzy.

The entry deadline is Thursday, July 26. For details, see www.cxcskiing.org . The camp is supported by the American Birkebeiner.

6/29/2007
CXC ANNOUNCES 2007-2008 DEVELOPMENT TEAM


Four men and two women will comprise the Central Cross Country Ski Associations regional development team for the 2007-2008 season. The skiers will represent the CXC Team at the SuperTour, U.S. National Championships, Canadian Nationals and other domestic competitions.

Joining the CXC Team are Kristina Owen and Johanna Winters. Owen skied for Michigan Tech University, earned a spot on the U-23 World Championship team and was an All-American and top-ten NCAA finisher. Winters skied at the University of Wisconsin Green Bay and was an NCAA participant.

Returning to the team are Garrott Kuzzy, Andre Watt, Brian Gregg and Matt Liebsch. Bryan Cook, a member of last years mens team, will take the year off from CXC Team to complete his degree studies. He is currently participating in a summer internship program and living in Vienna, Austria.

Laura Valaas and Caitlin Compton graduated from the CXC Team after winning SuperTour sprint and overall titles, the team spring event at the U.S. National Championships, and qualifying to the 2007 Nordic World Championships in Japan. Valaas has joined the US Ski Team after a second place finish at the U-23 World Championships in Italy. Compton moves to the US Biathlon Team after the best season in her athletic career.

In May, CXC won three national awards presented by the US Ski and Snowboard Association (USSA): the USSA Development Coach of the Year, USSA Cross Country Club of the Year and USSA Cross Country Domestic Coach of the Year.

"We worked hard to achieve these results," said Yuriy Gusev, chief executive office of the Central Cross Country Ski Association. "We accomplished everything we planned at the beginning of the year and established a good base for the future of this program. We have very ambitious goals for the upcoming race season and the 2010 Olympics in Vancouver."

6/18/2007
Great Glen Trails Announces Ski to the Clouds - North America's Toughest 10K


Great Glen Trails has announced the reincarnation of an historic event: Ski to the Clouds. Billed as "North America's Toughest 10K," Ski to the Clouds will be held on March 9, 2008 and includes a climb of more than 2,200 vertical feet over the final six kilometers.

Even though it was first held in 1996 and is part of a history of racing up Mt. Washington, Ski to the Clouds has an entirely new twist for this version of the Nordic ski race. Last held in 2002, the new race will utilize the Great Glen Trails Nordic system for four kilometers before beginning the steep ascent up the Mt. Washington Auto Road. In the past, the race used only terrain on the Auto Road, limiting the distance. The race will finish just past the halfway point of the Mt. Washington Auto Road at just below 4,000 feet above sea level. Ski to the Clouds will certainly be a challenge for any skier, especially those that have enjoyed the Great Glen to Bretton Woods Nordic Adventure, which saw its finale in March of this year.

Ski to the Clouds is a true freestyle event - skiers can use either skating or classic technique. There will not be separate categories for each discipline. Also, competitors may only use one pair of skis in this mass start race. Even though skating is faster than classic technique, the steep climb up the Auto Road may be an equalizer and race organizers envision classic technique may be an advantage as it is great for climbing. Either way, strategy will play an important role.

Ski to the Clouds will offer prize money for the fastest male and female competitors and for the fastest male and female over the age of 40. All competitors will receive a medal to mark their accomplishment.

More information about Ski to the Clouds and online registration will be available later in the summer at (603)466-2333 or at www.greatglentrails.com.


6/18/2007
CXC LAUNCHES REGIONAL COACHES AND INSTRUCTORS CERTIFICATION PROGRAM


Over 20 Nordic coaches and instructors participated in the annual CXC Coach's Symposium and the inaugural regional Coach's Certification Program held at Hyland Park, Minn. High school coaches, youth league and master program instructors came to Bloomington, Minn. for the all day symposium and the half day Certification program.

"It is a first step for our organization to begin certifying coaches. This is a work in progress. We already have received great amount of comments and suggestions from coaches who participated in the program," commented Yuriy Gusev, CXC Skiing Chief Executive Officer.

"Very good nutrition session. The drill progression was great and very helpful in clarifying technique. I'm leaving with a lot more knowledge than I arrived with and am very satisfied," commented one coach participant.

The next certification program will take place at the fall Wisconsin and Minnesota coaches meetings in Mora, Minn. and Wausau, Wis. All coaches at any level are welcome to attend.

6/18/2007
CENTRAL CROSS COUNTRY SKIING ANNUAL AWARDS


Central Cross Country Skiing proudly announces these prestigious annual awards based on performances from the past ski season:

CXC Athlete of the Year: Kyle Fredrickson - Hayward, Wis.
CXC Coach of the Year: Bryan Fish - CXC Team
CXC Volunteer of the Year: Ken Schoville - Hazelhurst, Wis.
CXC Regional Elite Athletes: Athlete performances from the past season based on criteria published in the CXC Competition Guide are posted on www.cxcskiing.org.

J2
Jessie Diggins-Stillwater, Minn.
J1
Doug DeBold-Wayzata, Minn.
Joe Dubay-Coon Rapids, Minn.
OJ
Christina Gillis-Marquette, Mich. Northern Michigan University
Ingrid Fjeldheim-Marquette, Mich. Northern Michigan University
Ben Fick-Marine on St Croix, Mich. University of Utah
Kyle Fredrickson-Hayward, Wis.
Karl Nygren-Prior Lake, Minn. Colorado University
Seniors
Lindsey Weier-Mahtomedi, Minn. Northern Michigan University
Lindsay Williams-Hastings, Minn. Northern Michigan University
Laura Valaas-Hayward, Wis. CXC Team
Caitlin Compton-Minneapolis, Minn. CXC Team
Julia Coulter-Traverse City, Minn. University of Alaska-Fairbanks
Morgan Smyth-Marquette, Minn. Northern Michigan University
Kristina Owen-Hayward, Wis. CXC Team/Michigan Tech
Garrott Kuzzy-Hayward, Wis. CXC Team
Bryan Cook-Rhinelander, Wis. CXC Team
Chris Cook-Rhinelander, Wis. USST


6/18/2007
2007 CENTRAL REGIONAL TRAINING AND TESTING CAMP


Central Cross Country Ski Association is pleased to announce the 2007 Regional Training and Testing Camp for CXC Ski Team, CXC Junior Development Program, Central Regional Development Group, State Development Groups and petitioned athletes.

"This is the most comprehensive camp we have in the region. Over 40 top athletes and coaches in the region attended this camp last year. Evidence of the quality of the camp and the hard work of coaches is obvious in the outstanding results of the athletes during this past winter. Kyle Fredrickson won Junior National Titles. Laura Valaas joined the USST at the World Ski Championships and skied on to the podium at the U23 World Championships last March. Laura has been named to the U.S. Continental Cup Ski Team (USST B squad) for this year.

"This year we already have top athletes and coaches in the region and in the country committed to the camp, including CXC Ski Team members, CXC Junior Development Program members, U-23 World Championships Team members, Junior Olympics medalists, US Ski Team head coach Pete Vordenberg, U.S. Ski Team development coach Matt Whitcomb, CXC Ski Team head coach Bryan Fish and CXC Junior Development Program coach Bill Pierce," commented Yuriy Gusev, CXC Skiing Chief Executive Officer.

The Camp will take place July 1-7 at Cresthill Resort, Hayward, Wis. www.cresthillresort.com. During the camp athletes will perform following activities: Strength Assessment, Endurance Assessment, VO2/CO2 Testing and analysis (aerobic and anaerobic thresholds, intensity zones, etc.) and Ski training activities (technique, distance, strength training, etc.).

The cost is $100 for the Regional Development Group, $250 for State Development Group & Midwest/Great Lakes Junior Olympic Teams members and $400 for Petitioned Athletes.

Athletes can petition in to the camp by sending an e-mail to yuriy.gusev@cxcskiing.org with their best three results from the last two years and a paragraph explaining how they will benefit from attending this camp.

Visit www.cxcskiing.org to find registration info.

3/27/2007
Great Glen to Bretton Woods Nordic Adventure Reaches its Finish Line


Because of the uncertainty of the racecourse and other factors beyond the control of race organizers, Great Glen Trails Outdoor Center and the Bretton Woods Nordic Center have announced they will no longer hold the Great Glen to Bretton Woods Nordic Adventure.

"We love this event," said Howie Wemyss, General Manager of Great Glen Trails Outdoor Center." But a significant portion of the course was always such a question mark, and it always will be. When we conceived of the event, we realized there would be challenges to pulling it off each year, but we didn't foresee some of the ongoing issues that we've had to face in the six years of holding or trying to hold this great event."

The course for the Nordic Adventure utilizes a number of trails not normally maintained for cross country skiing. While the course begins on the trail system at Great Glen Trails and finishes 50 kilometers later at the Bretton Woods Nordic Center, the route from one touring center to the other includes Forest Service roads, hiking trails, a power line right of way and a rail trail. Those other trails are subject to multiple uses that are not conducive to cross country skiing, including logging and snowmobiling.

"The Forest Service, the Department of Transportation and the snowmobile clubs that maintain the trails have been very cooperative," said Wemyss. "But the snow quality on those trails was always well below what cross country skiers need and desire. And because of the multiple use aspect of those trails we couldn't prepare and groom the surface until the day before the event."

Additionally, the wind along the power line and rail trail sections of the course, which parallels Route 2 in Randolph, perennially causes damage to the snow pack. The lean snows of 2006 and wind in this section led to the cancellation of the race that year, and without some timely snowfall in the days leading into the event this year, the point-to-point course could not have been used.

Sue Wemyss, Event Director for the last six years adds, "We very specifically named this event the 'Nordic Adventure' knowing that this was going to be an unusual course with unusual ski and snow conditions, but when we work all year long only to have the very real possibility of a last minute cancellation or a change to a loop course at one of the touring centers, it just doesn't make sense to continue."

"One of the biggest draws of the event was its point-to-point nature, people just loved the feeling of actually going somewhere when they took part in this event. From the Forest Service trails to the long climb up Jefferson Notch Road, there was no other event like it," said Wemyss. "But the course was also the biggest liability. It's sad to see it come to an end."

The Great Glen to Bretton Woods Nordic Adventure was part of New England Nordic Ski Association's (NENSA) New England Marathon Series and the American Marathon Series, which includes the famous American Birkebeiner.

Both Great Glen Trails and Bretton Woods Nordic look forward to putting the time and energy spent on the Nordic Adventure into new events in the future.

For more information about the Great Glen to Bretton Woods Nordic Adventure, go to www.greatglentobrettonwoods.com .

3/27/2007
New England Ski Museum Awards Grassroots Grants

The New England Ski Museum recently awarded a total of $2,500 to three organizations under its 2007 Cal Conniff Grant Program. The recipients of the awards were recognized at the Hannes Schneider Meister Cup Race at Cranmore Mountain Resort in North Conway, NH on March 10.

Now in its seventh year, the Cal Conniff Grant Program makes monetary awards to individuals and organizations for projects relating to alpine and Nordic skiing, snowshoeing and snowboarding. In past years applicants have included public and private school programs, ski history researchers, municipal ski areas, ski clubs and snowboard programs. Projects intended to increase awareness of the history of winter sports or encourage participation in these activities are eligible.

The grant program is named for Cal Conniff, a former president of the Ski Museum and a long-time ski industry figure. He began his career as a cook at the Appalachian Mountain Clubs Pinkham Notch Camp so he could ski in nearby Tuckerman Ravine in his time off. After a stretch as general manager of Mt. Tom, Mass. he spent 17 years as chief executive of the National Ski Areas Association. Conniff is the founder of the Hannes Schneider Meister Cup Race and recently published his first book, Skiing in Massachusetts, with co-author E. John B. Allen.

The Nansen Ski Club of Berlin (New Hampshire), recognized as the oldest existing ski club in the country, will receive $500 in grant money to develop a website to draw skiers to its recently relocated touring center. The club, in a partnership with New Hampshire Division of Parks, developed a ski touring trail network in Milan Hill State Park after its former location was earmarked as a site for a new federal prison.

A second grant was also directed to the Berlin area. The Berlin High School physical education program is the recipient of $1,500 to purchase snowshoes to begin a winter sports outdoor program. The snowshoes will also be available to the high school Outing Club on weekends.

The Ware (Mass.) High School Ski and Snowboard Club will utilize a $500 grant that, combined with other fund-raising sources, will allow club members to participate in trips to Wachusett and Sunday River. Students will be asked to contribute an essay on a ski history topic.

3/26/2007
CXC Junior Development Team Created/Head Coach Opening


Central Cross Country Ski Association is pleased to announce the formation of a new CXC Junior Development Team and the opening of a position for the CXC Junior Development Team Head Coach.
Program goals are to identify junior cross country racers of the highest caliber with the strongest commitments on a continuing and consistent basis. Year round training will lead to increased success for the athletes involved, for the Midwest and Great Lakes Junior Olympic Teams, and for the U.S. National Junior Teams in the international arena.
"Development for youth and juniors has always been a weak spot in this country and I believe the CXC Junior Development Team will take the sport to the next level in the Midwest. I will be looking for more and more skiers in the future from this program." Chad Salmela, Head Coach, College of St. Scholastica.
In 2006, CXC Skiing programs expanded, the organization became more efficient, and multi-year athlete development plans were implemented. In 2007, the inclusion of the CXC Junior Development Team will be an essential link in the CXC athlete development pipeline. The CXC Junior Development program will support and work in tandem with the CXC Olympic Development Team Head Coach Bryan Fish, Athletic Advisor Yuriy Gusev, High Performance Advisor Igor Badamshin and CXC's sports science support group of nutrition scientist, physical therapist and exercise physiologist.
"CXC Junior Development Team will be an essential tool for developing talented young athletes who may not have direct access to the club programs or full time coaching and for those who want to make an increased commitment to be great cross country ski racers. Given the combination of the CXC Regional Development Group Camp and the new year round CXC Junior Development Team, CXC Skiing will assure delivery of the latest info on training and technique to the best juniors in the Central Region and their coaches," commented Yuriy Gusev, CXC Chief Executive Officer.
The CXC Junior Development Team will model the successful CXC Olympic Development Team training program. Full time year round professional coaching, monthly training camp structure and direct individual attention will be the main components of the program. These principles led the CXC Olympic Development Team to 30 out of 108 SuperTour podiums. Caitlin Compton and Laura Valaas finished first and second overall on the SuperTour. Collectively, their greatest performance was winning the team sprint at U.S. Senior Nationals. Both women were named to the U.S. Team at World Championships in Sapporo Japan. They were the only non-Olympians named to the World Championship Team. Laura recently collected an unprecedented 2nd place finish at the U23 World Championships in Tarvisio, Italy, setting a new mark of success for U.S. women. Bryan Cook, Brian Gregg, Matt Liebsch, Garrott Kuzzy and Andre Watt comprise the men's team. Garrott Kuzzy finished third overall on the SuperTour. The five CXC Team men frequently finished in the top ten at all of the SuperTour events.
"CXC is developing a history of success at all levels of regional XC skiing. Whether it be coaches and officials education, event management, athlete recruitment, membership support, or athlete education and training. The CXC Junior Development Team is a natural extension of our current successes. We fully expect the CXC Junior Development Team to hit the ground running with excellent support in all areas of athlete education. We also believe that the CXC Junior Development Team will be a valued link in the support of all of our junior skiers at the local level." Scott Wilson, CXC Chief Operating Officer and Training Camp Manager.
Any pre-college J1 and OJ CXC member who resides in the Central Region can apply for this program. The CXC Junior Development Team will be selected based on the following criteria:
- consistent progression of results and CXC/USSA Ranking;
- demonstrated physiological performance;
- commitment to the CXC Skiing program;
- ability to work within the Team structure.
Applications will be accepted from March 20 to April 20. The CXC Junior Development Team will be named on May 1. For more info about the program and to download the Program Brochure, please visit www.cxcskiing.org

•••CXC Junior Development Team Head Coach Position Opening•••

Central Cross Country Skiing is pleased to announce a job opening for the newly created position of "CXC Junior Development Team Head Coach."

CXC Skiing is looking for a head coach to work with primarily pre-collegiate athletes towards the team's vision. The approximately 10 athlete CXC Junior Development Team will be selected among the applicants based on selection criteria. Further details on CXC Junior Development Team can be found at www.cxcskiing.org

All CXC staff must reside in the Midwest for the length of their contract.

CXC Junior Development Team Head Coach

Head Coach Qualifications
- Energetic and highly self motivated
- Preferably international racing experience
- Preferably international coaching experience
- Preferably college degree in exercise science or other related fields
- Excellent organizational skills
- Excellent communication skills

Head Coach Duties
- Athlete recruitment
- Athlete education and coaching
- Identify strengths and weaknesses of athletes
- Plan, develop and implement training and practice sessions and selected racing schedule
- Nurture and develop athletes potential skills and abilities
- Analyze and evaluate athlete's performances and modify training programs
- Coordinate program with CXC Team Head Coach and CXC Athletic Staff
- Recognize the needs and opportunities of community outreach

This is a year round part time position. Pay will be $20,000 or more depending on qualifications and time commitments. Contract period of two years with options for a two year renewal. Application deadline April 15.

Interested coaches should contact Yuriy Gusev, CXC CEO, at yuriy.gusev@cxcskiing.org


3/26/2007
11th ANNIVERSARY U.S. EXTREME FREESKIING TELEMARK CHAMPIONSHIPS - FINALS

by Molly Murfee

Back in the home of the re-birth of the telemark turn, the 51competitors that were allowed to continue ramped up the action in the 11th Annual U.S. Extreme Freeskiing Telemark Championships finals and superfinals. Leaving sparks flying out on the snow in the off-camber, double fall line rock fest called Angle Gully, Dylan Crossman of Randolph, Vermont and Martha Burley of Fernie, British Columbia knee-bent themselves into first place finishes.

Taking the Headwall for the second time in this competition forced athletes creativity to make then stand out for the judges and the crowd. Spring conditions sharply separated skill levels as freeheelers had to combat changing visibility and snowpack. With 26 skiers eliminated from Fridays field, it was the best of the best. Numbers were again cut in half and 26 of the burliest bent it out for the exciting superfinals.

But times have changed since the re-birth in the 70s, and todays winners showed prowess in air time and flair, marrying the tricks of the park to the floppy heeled Extremes. Dylan Crossman left no doubt as to who was the most skilled in the pack and will ski away with his fifth consecutive championship title. Since he has entered the competition, no one has been able to touch him. His launch of Pocket Air showcased impeccable form, as well as good training in the conditions of Vermont, but he didnt stop there. The 360° he pulled at the bottom of Keyhole is the first of any Extreme competition in the history of Crested Butte Mountain Resort.

"It felt good," he admits, "I spin a lot but that one felt like it should - slow and floating."

While head judge Ross Matlock explains that he has "good core management," it is judge Angie Hornbrook who seems to have the most apropos explanation. "Only kryptonite can bring him down," she said.

Second and third place for the men had their share of hard knocks as J.T. Robinson was vaulted out of second place in a fall. Even his subsequent front flip couldnt save him from the fast charging Colin MacMillan who took second. Mark Welgos held on with good airs and aggressive skiing to take over third.

Martha Burley demonstrated the most extremely unique line choices for the women, and the effort won her a first place finish. But Sarah Light of Whitefish, Montana, who finished in second, came in hot on her tails with good bunny hopping through Rabbit Ears and milking every feature for what it was worth. Kate Cardamone of Aspen, Colorado proved her solid technique by maintaining, her third place finish throughout the competition.

For all the tricks, however, it was the Juniors who really showed that park style is fast approaching even telemark skiing. With performances that would have put them in the running with top adults, these young athletes seem to be the best with merging old school skiing with new school style. Jake Sakson of Carbondale, Colorado, who truly stomped an excellent pillow drop line, landed in first for the Junior Men with a significant point lead. Rob Wear of Edwards, Colorado finished in second and Jack Burger of Evergreen, Colorado was third.

Mackenzie Mailly of Crested Butte, Colorado did a repeat performance of her stellar skiing ability and won the Junior Womens title for the second year in a row. Francesca Pavillard-Cain of Steamboat Springs, Colorado and Molly Etters of Vail, Colorado came in second and third respectively.

Launce Gouw of Salt Lake City, Utah demonstrated an incredible talent to fire out of upper angle gully to arc beautifully into a tele turn. His graceful production earned him first place for the Masters. Ranson Leeds of Littleton, Colorado knee-dipped his way into second while Richard Pratt of Denver, Colorado finished in third.

While competition is tight at the Extremes, the camaraderie of tele skiers shines just as bright as their prowess. From the highly technical and fiery Angle Gully, to the piston pumping lower bowl, the Headwall called those forward who had the creativity, skill, power and grace to place in the 11th Annual U.S. Extreme Freeskiing Telemark Championships.

JUNIOR WOMEN
1. Mackenzie Mailly Crested Butte, CO
2. Francesca Pavillard-Cain Steamboat Springs, CO
3. Molly Etters Vail, CO
4. Lucy Sackbauer Vail, CO
JUNIOR MEN
1. Jake Sakson Carbondale, CO
2. Rob Wear Edwards, CO
3. Jack Burger Evergreen, CO
4. Brian Burger Evergreen, CO
5. Kjell Ellefson Vail, CO
MASTERS WOMEN
1. Di Bridges Crested Butte, CO
MASTERS MEN
1. Launce Gouw Salt Lake City, UT
2. Ranson Leeds Littleton, CO
3. Richard Pratt Denver, CO
4. Richard Grimes Norwood, CO
5. J.P. Pougiales Steamboat Springs, CO

WOMEN
1. Martha Burley Fernie, BC
2. Sarah Light Whitefish, MT
3. Kate Cardamone Aspen, CO
4. Amy Dolan Missoula, MT
5. Marcia Ready Taos, NM
MEN
1. Dylan Crossman Randolph, VT
2. Colin MacMillan Crested Butte, CO
3. Mark Welgos Durango, CO
4. Ben Morello Crested Butte, CO
5. J.T. Robinson Fruit Heights, UT

3/26/2007
U.S. EXTREME FREESKIING TELEMARK CHAMPIONSHIPS - DAY ONE

11TH U.S. EXTREME FREESKIING TELEMARK CHAMPIONSHIPS - DAY ONE
by Molly Murfree

Athletes bore down hard on the difficult conditions of the 55-degree Headwall Saturday, March 23 in the 11th Annual Extreme Freeskiing Telemark Championships. Day one of the competition proved to be cutting as the most accomplished freeheelers stood head and shoulders above the rest. Dylan Crossman of Randolph, Vermont and Martha Burley of Fernie, British Columbia will be lead the men and the women respectively into Sunday's finals.

"Dylans 38 second run in difficult conditions was the most impressive thing I saw," pronounces Judge John Clatworthy.

The top junior men and women scored as high as the adults leaving no doubt that they could compete with the older generation of telemark skiers. Mackenzie Mailly of Crested Butte, Colorado and Francesca Pavillard-Cain of Steamboat Springs, Colorado performed their typical battle for first with Mailly succeeding in the end, scoring higher even than the top Junior man. Jack Burger of Evergreen, Colorado stomped the crooked and rocky Angle Gully with the speed and precision of a more mature skier.

For the Masters category, Launce Gouw of Salt Lake City, Utah came out with a bold statement for his youth in negotiating Angle Gully while Di Bridges of Crested Butte, Colorado carried the torch for the Masters women.

Martha Burley of Fernie, British Columbia cut a creative line of rock hopping though the boulders of Rabbit Ears and Angle Gully that earned her the first place spot for tomorrow. Sarah Light of Whitefish, Montana and Kate Cardamone of Aspen, Colorado sliced their scores by mere tenths of points for second and third.

Dylan Crossman continued his dynasty of effortless yet potent skiing putting him in the number one spot for the men. His casual launching off of Pocket Air without a bobble and easing his landing into a perfect arc of tele turns proved, once again, why he is the multiple defending champion. But it was apparent that both J.T. Robinson of Fruit Heights, Utah and Colin MacMillan of Crested Butte, Colorado would give him a run for his money. While Dylan stands firmly on top, Robinson and MacMillan proved their worthiness of second and third place with confident and skilled executions that showcased their dynamics.

With spring conditions heating things up, the Headwall will once again provide the venue for extreme skiers that do it with only half a binding. With the field cut in half for the men and the women, only those who could stand up to the challenge of an ever-changing venue will be allowed to continue.


JUNIOR WOMEN
1. Mackenzie Mailly Crested Butte, CO
2. Fracesca Pavillard-Cain Steamboat Springs, CO
3. Lucy Sackbauer Vail, CO
4. Molly Ettters Vail, CO
JUNIOR MEN
1. Jack Burger Evergreen, CO
2. Jake Sakson Carbondale, CO
3. Rob Wear Edwards, CO
4. Brian Burger Evergreen, CO
5. Kjell Ellefson Vail, CO
MASTERS WOMEN
1. Di Bridges
MASTERS MEN
1. Launce Gouw Salt Lake City, UT
2. Richard Pratt Denver, CO
3. Ranson Leeds Littleton, CO
4. Richard Grimes Norwood, CO
5. J.P. Pougiales Steamboat Springs, CO
WOMEN
1. Martha Burley Fernie, BC
2. Sarah Light Whitefish, MT
3. Kate Cardamone Aspen, CO
4. Amy Dolan Missoula, MT
5. Angie Mauldin Crested Butte, CO
MEN
1. Dylan Crossman Randolph, VT
2. J.T. Robinson Fruit Heights, UT
3. Colin MacMillan Crested Butte, CO
4. Ben Morello Crested Butte, CO
5. Mark Robbins Crested Butte, CO

3/15/2007
•••Bretton Woods 50K Nordic Adventure•••

Enman of Huntington, Vermont skied to victory at the sixth annual TD Banknorth Great Glen to Bretton Woods Nordic Adventure on Sunday, March 4. A 50 km and 25 km classical ski event, the course rounds the northern half of 6, 288 ft. Mt. Washington, the highest peak in the Northeast. His winning time was 3 hours, 12 minutes and 5.43 seconds. Enman, who skis for Rossignol, also placed first in the 2005 event. This year's field had 262 skiers participating. "We realized we had to break trail early, so no one was going to break away early. The battle really heated up on Jefferson Notch," Enman said. Rounding out the top spots were second place finisher Justin Freeman, 2006 Olympic team member, of New Hampton, NH with a time of 3 hours, 13 minute 18.6 seconds, and placing third was David Herr, of Canaan, VT, with a time of 3 hours, 14 minutes, 17.21 seconds.

In the women's division, Kathy Maddock, of Wilton, NH, finished first with a time of 3 hours, 25 minutes, 33.11 seconds. She placed second in the 2005 event. Finishing second was Martina Stursova, of Albuquerque, NM in 3 hours, 27 minutes, 34.88 seconds, and Lindley Van Der Linde, of Plymouth, NH took third place in 3 hours 31 minutes 35.05 seconds. Lindley won the 2007 White Mountain 30K and the 2007 Craftsbury Marathon.

In the 25 km option, Will Anderson of Norwich, VT took top honors with a time of 1 hour 35 minutes, 52 seconds. Finishing second in the men's division was Tristan Baldwin with a time of 1 hour 35 minutes, 55 seconds. Tristan took second place in the 25K in 2005 as well. Chris City, of Belmont, MA took third in 1 hour 37 minutes, 23 seconds. First place in the women's division went to Hanna Lucy of Intervale NH, finishing in 1 hour 55 minutes and 54 seconds. Krietta Phillips, of Waitsfield, VT finished second in 1 hour 59 minutes and 35 seconds and Tiffany Teaford of Holderness, NH placed third with a time of 2 hours 2 minutes and 29 seconds.

A point-to-point event similar in format to the Canadian Ski Marathon or Birkebeiner of Wisconsin, the TD Banknorth Great Glen to Bretton Woods Nordic Adventure began with a mass start at Great Glen Trails Outdoor Center in Pinkham Notch, NH. The course utilized the trails of the Great Glen and Bretton Woods Nordic Centers, a narrow connector trail into the White Mountain National Forest, trails of the U.S. Forest Service Dolly Copp system, forest roads not plowed during winter, and part of the Presidential Range Rail Trail. The use of the trails was made possible by working in coordination with the U.S. Forest Service, the NH Department of Transportation, the NH Bureau of Trails, NH Fish & Game and the local snowmobile clubs.

The greatest climb of the event took skiers to the top of Jefferson Notch, a 1,600 foot climb to an elevation of 3,000 feet. A long descent took the participants to the final kilometers on the Bretton Woods Nordic system, at the western base of Mt. Washington.
From the panoramic views of the Northern Presidential Mountain Range on the Great Glen side to the grand Mount Washington Hotel coming into view as adventurers skied out of the wooded trails and crossed finish line adjacent to Bretton Woods' Nordic Center, the course traveled through some of New Hampshire's most scenic terrain.
As with every year of the Nordic Adventure, conditions were in question right up to the last minute of the race. Thanks so abundant new snow, conditions proved to be favorable with intermittent snow showers and relatively warm temperatures in the high 20s.

•••Alberta Cup Dominated by Banff Ski Runners•••
With top Banff Ski Runners athlete, Haakon Lenes, already departed for World Junior Championships in Italy, and Michaela Howie, Graeme Killick and Evan Bruce at Canada Winter Games in the Yukon, the strong finishes of Banff Ski Runners athletes at the Alberta Cup in Hinton, AB on March 3 and 4, 2007 truly illustrate the depth of the club.

Athletes in Atom and Master 5-6 stood atop the podium in Hinton over the two-day event. Saturday's classic sprint featured wins by Eric Groeneveld, Hillary Schrama, Zack Holland, and two Master athletes, John Groeneveld and Doug Gudwer. Eric Groeneveld said it was truly special to win a gold medal in the same event as his father. Alastair Duncan, a Scot training with Banff Ski Runners, also had a season-best result of 3rd.

Sunday's skate distance events highlighted the skills of Banff Ski Runners athletes. With seven gold medals and a total of nine medals, including a sweep of the podium in the Junior Boy category, Banff Ski Runners put a stamp of ownership on the event. Across the weekend events, Banff Ski Runners won 12 gold medals, three silver and three bronze, with only 19 athletes racing.

Banff Ski Runners are a Bow Valley cross country ski club with a focused racing program. The club will be skiing at Mont-Sainte-Anne, Quebec on March 15 to represent the Bow Valley at the Canadian National Cross Country Ski Championships.


•••Craftsbury Spring Fling Cross Country Ski Race•••

Over 135 skiers participated in the annual Craftsbury Spring Fling ski race under typical mid-winter skiing conditions. With cold temperatures in the morning, Spring did arrive later in the afternoon with a few rain drops and temperatures near 40 F. In the 30 km men's race, Eli Enman from Huntington, VT won in a time of 1:27:03 followed by Ryan Kerrigan (Moretown, VT ) and Tim Donahue (New York, NY). Six skiers battled it out for the 2nd and 3rd positions. Dorcas Wonsavage (Hanover, NH) won the women's 30 km in 1:39:37 followed by Kelsan Allan (Williston, VT) and Abbie Harris (Derby Line, VT). In the 15 km race, Paul Allison (North Creek, NY) won the men's event in 43:30 and Mary Stewart (Ripton, VT) took the women's race in 51:37. 30 kids took part in the lollipop, 2 and 4 km races with Forrest Hamilton (10:05) and Moriah Lafotz (8:43) winning the 2 km boys and girls race, respectively. Ethan Evans (15:14) and Christina Dege (20:09) won the 4 km race.


3/1/2007
Regional News

Dexters Inn Trails by Norsk Outdoors Open

Dexters Inn Trails by Norsk opened its doors in late February after 20 inches of snow. It brought out many more people than we expected to ski on seven groomed kilometers and eight kilometers of ungroomed offerings. From all indications, everything at the new venue worked very well, including the parking, and the indoor operations and the trails were warmly received as was lunch, brunc and the Inn itself. Norsk managers are optimistic that they have the start of something very special at Dexter's Inn.

Dexters Inn Trails are groomed for classical skiing only and are located on Stagecoach Road in Sunapee, N.H.

For more details, pricing, and a link to the Inn log on to www.norskoutdoors.com, or call 603/763-5571 or 800/232-5571.

Great Glen to Bretton Woods Nordic Adventure Set for March 4

Thanks to the recent snowfall, the race organizers of the TD Banknorth Great Glen to Bretton Woods Nordic Adventure, scheduled for March 4, 2007, are planning to hold the race as scheduled.

"I measured the snow depth at various spots along the course and the coverage is good," said Sue Wemyss of Great Glen Trails and Event Director for the TD Banknorth Great Glen to Bretton Woods Nordic Adventure.

The TD Banknorth Great Glen to Bretton Woods Nordic Adventure is a classic technique cross country ski race. Skiers may choose the 25 kilometer or 50 kilometer option and participate in timed or non-timed categories. The race begins at the Great Glen Trails Outdoor Center and follows that trail system to trails and multi-use forest roads in the White Mountain National Forest. After paralleling Route 2, the 25 km event finishes in Randolph, but the 50 km skiers continue with a climb up Jefferson Notch Road, then a long descent to the final kilometers on the Bretton Woods Nordic system.

"The vast majority of the course is not on traditional cross country ski trails," said Wemyss. "So we will be grooming the course and working with the local snowmobile clubs that help make this event possible to get the course ready for race day."

2007 will mark the sixth year of the Nordic Adventure. Since its inaugural running in 2002, the TD Banknorth Great Glen to Bretton Woods Nordic Adventure has been a part of the New England Nordic Ski Association's (NENSA) Marathon Series. For the second year, the event is part of the prestigious American Ski Marathon Series, the premier long distance ski event series in the United States.

Registration for the TD Banknorth Great Glen to Bretton Woods Nordic Adventure visit www.GreatGlenTrails.com, or call 603-466-2333.


NORTHEAST PASSAGE ESTABLISHES PARALYMPIC ATHLETE DEVELOPMENT CENTER FOR NORDIC SKIING
Northeast Passage has recently secured a contract with U.S. Paralympics, a division of the U.S. Olympic Committee, to develop Nordic skiers with physical disabilities and/or visual impairments for elite level competition.

The Paralympic Games is an international competition among each nation's elite athletes with physical disabilities and is second in size only to the Olympic Games. The Paralympic Games follow the Olympic Games at the same venues and facilities. The next Winter Paralympic Games will be held in 2010 in Vancouver, British Colombia.

As part of the U.S. Paralympics' new strategy, Northeast Passage is currently one of two sites in the country for grassroots Nordic development. The other is Park City, Utah.

The Jackson Ski Touring Foundation in Jackson will be the main training site for this program. Jackson has a long history of hosting and developing adaptive cross country skiing and held the World Championships for Disabled Nordic Skiing in 1990.

"This is a superb opportunity to partner with Northeast Passage," said Thom Perkins, Executive Director of Jackson Ski Touring. "This program offers folks with mobility impairments an introduction to the wonderful winter sport of cross country skiing."

The Weston Ski Track in Weston, Mass., will also serve as a training site.

Former Paralympian Craig Gray of Scarborough, Maine, competed in Nagano in 1998. He says he is excited about the prospect of new, young athletes joining the sport.

"The United States will see better results in Nordic skiing when we match young athletes up with coaches who can teach them the discipline and techniques it will take to win at the world class level, while their endurance capacity is still increasing," said Gray. "This program has the potential to drastically change the sport of disabled Nordic skiing."

Northeast Passage is a program of the University of New Hampshire's School of Health and Human Services, and is an affiliate of Disabled Sports USA. Northeast Passage develops and delivers innovative, barrier-free recreation and health promotion programs. Northeast Passage is also a Paralympic Athlete Development Center and offers student-athletes the opportunity to train and attend the University of New Hampshire.

Northeast Passage is looking for interested athletes to participate in this new program. This opportunity is open to people with physical disabilities and individuals with visual impairments, ages 8-35. No previous skiing experience necessary. For more information, visit the Northeast Passage web site at www.nepassage.org for "Learn to Ski" group dates, or call 603/862-0070 to schedule a private lesson to try the sport or develop skills.


12th Annual Winter Trails Day At Estes Park Showcases President's Challenge Clinic for Children and Adults
Geared towards children, families, newcomers, and outdoor enthusiasts, the Winter Trails annual on-snow event offers free snowshoe demos and the health message that snow sports are good for your mind, body and soul. New this year at Estes Park is the chance for children and adults to participate in the President's Challenge Clinic, a national program of the President's Council on Physical Fitness and Sports. Participants can earn a "Certificate of Achievement" by taking part in five learning stations - Snowshoe Basics, How to Dress for Winter Outdoor Activity, Nutrition and Hydration Tips, Basic Conditioning Exercises and Essentials for Winter Hiking and Camping.

"Outdoor activity in winter often is overlooked in the U.S.", said Mary Jo Tarallo, director of Education for SnowSports Industries America (a national trade association for snow sports suppliers). "Snowshoeing is so easy to do and you can get a great workout. Snowshoeing uses every major muscle group, which burns lots of calories and conditions the cardiovascular system, each step of the way. If you can walk, you can snowshoe."

The Winter Trails event provides an opportunity for participants to learn the sport of snowshoeing in a fun, friendly and education-oriented way. The goal is for people to establish an exercise habit that they can carry with them from winter to winter.

Estes Park Winter Trails Program:
• Guided snowshoe hikes, winter safety presentations, and expert advice on fitting and selection of snowshoes.
• Ongoing demonstrations and free use of snowshoes
• Outdoor gear product demonstrations
• Igloo Construction. Igloo Craftsman will be demonstrating the art of constructing an Igloo throughout the day.
• Presidents Challenge Clinic
Estes Park Winter Trails organizer Ken Arnold notes, "Estes Park is fantastic in the winter. The climate is agreeable, there is lots of snow, gorgeous views, fantastic wildlife viewing, and no crowds. The Winter Trails program fits well into our outdoors lifestyle here in Estes. The event is well worth any drive!"

Winter Trails is part of a larger program called Winter Feels Good, a public awareness program that promotes the health, fitness and social benefits of snow sports.

Winter Trails is presented through a partnership between SnowSports Industries America, the not-for-profit member-opened trade association representing snow and winter sports companies, American Hiking Society, a recreation based conservation organization that promotes and protects foot trails and hiking experience, and Cross Country Ski Areas Association.
Go to www.wintertrails.org for updates on locations and event details.


YELLOWSTONE CONCESSIONAIRE XANTERRA PARKS & RESORTS PROVIDING SKI TRAIL REPORTS ON WEB SITE

Now that lodge operator Xanterra Parks & Resorts is grooming cross country ski trails in Yellowstone National Park, the company is posting trail conditions and descriptions on its Web site.

The postings include the trails conditions and dates they were last
groomed as well as their lengths, altitudes, degrees of difficulty and
what skiers should expect to see. The ski report covers 34 trails in six
regions of the park and is available through a direct link from the home
page www.travelyellowstone.com. The report is updated several times per
week.

The parks winter season began Dec. 20, 2006 with the opening of the Old
Faithful Snow Lodge while the Mammoth Hot Springs Hotel opened Dec. 22, 2006. The lodges provide the only wintertime accommodations within the park. Mammoth Hot Springs Hotel will close for the season on March 4, 2007, and Old Faithful Snow Lodge will close March 11, 2007.

Except for the road from Gardiner, Mont. to Cooke City, Mont. via
Mammoth Hot Springs, transportation within the park is limited to
snowmobiles and enclosed heated snowcoaches during the winter. Snowcoach transportation is available daily to a variety of park locations.
Xanterra also offers a variety of half- and full-day snowcoach, ski and
snowshoe tours and ski and snowshoe rentals as well as expert
instruction and other services.

Reservations at Yellowstone can be made by calling 307/344-7311, or call 866/GEYSERLAND (866-439-7375), or visit the web site
www.TravelYellowstone.com.

Progressive Bonfire Dinner Offers Taste of Crested Butte, Colorado

The Crested Butte Nordic Council's Progressive Bonfire Dinner is a truly distinctive dining experience with visitors and locals traveling on skis or snowshoes to enjoy a four-star, four-course, four-fire meal. Enjoy the warmth of camaraderie, the cozy atmosphere around crackling fires, and the satisfaction of good food to eat and warm drinks to indulge in along the way.

Beginning at 5 p.m. on March 17, diners will be greeted at the first fire at the Town Ranch trailhead with a cup of hot wine or cocoa to sip while sitting on straw bales. Skiers can leisurely follow a path of luminaries along 4 kilometers of local Nordic trails within the historic mining town of Crested Butte and enjoy appetizer, soup, entrée and dessert courses of fabulous Italian fare at the bonfires along the way.

Progressive Bonfire Dinner participants not only will feel warm in spirit and full in the belly, they will be supporting the Gunnison/Crested Butte Junior Nordic Ski Team.

Reservations are required, with seatings beginning at 5 p.m. and concluding at 7 p.m. Tickets cost $30 for adults and $15 for children under age 12. For reservations, call the Crested Butte Nordic Center at 970/349-1707.

Crested Butte Nordic Center Facts
The Crested Butte Nordic Center is a full service cross country center providing lessons and complete rental packages for skate and classical skiing, as well as ice skating, snowshoeing, and sledding. The Nordic Center maintains more than 45 kilometers of groomed trails that meander through and around Crested Butte. For the second season, a Bombardier 180 snowcat with tiller and dual-track setting capabilities will be used for trail grooming.

Located in the heart of town at Second Street and Whiterock, the Nordic Center opened for the season on Nov. 18 and is connected to Crested Butte Mountain Resort and various stops in Crested Butte by a free shuttle bus. For more information about the Crested Butte Nordic Center and its winter 2007 calendar of events, visit www.cbnordic.org.

To find out more about Gunnison-Crested Butte's calendar of events or to book personalized vacation packages, call the Gunnison-Crested Butte Tourism Association's reservations center at 800/814-8893 or visit www.GunnisonCrestedButte.com. The Gunnison-Crested Butte Regional Airport is served year-round by United Airlines and during the winter season by American Airlines.


ASPEN'S OWL CREEK CHASE BECOMES "SUPER EVENT"

Unprecedented. Landmark. Historic. On February 10th the famed Owl Creek Chase was transformed into a signature event, an extravaganza of Nordic races unparalleled in the United States. Rocky Mountain Nordic, presenters of the Owl Creek Chase, is sponsoring this "Super Event", where national level elite racers will tackle the same course as citizen racers, top juniors and recreational skiers gliding and skating in a non-competitive tour. For perhaps the first time in U.S. cross country skiing history, all levels of the sport met on the same day and at the same time and pass their skis over the same track.

Since last spring, the City of Aspen, the Ute Mountaineer and the Aspen/Snowmass Nordic Council have been working diligently to prepare for what could be one of the finest cross country events the Roaring Fork Valley has ever seen.

For decades, citizen racers, elite racers, juniors looking to qualify for the Junior Olympics, and recreational tourists have never been able to ski together due to the different agendas of each group. However, on February 10, 2007, history will be made. The USSA SuperTour, FIS Marathon Cup, RMN Junior Olympic Qualifier, Colorado Cup citizen's series and the newly formed Bappa's Tour will combine under one purpose, the Owl Creek Chase. "We really tried to use our imagination this year and expand the Owl Creek Chase to include juniors, families and recreational skiers as well as the top level elite racers. Our goal with this event is to bring junior racers and citizens together with their skiing heroes, the aspiring Olympians that come to town for the SuperTour," said Race Director Bob Wade. "We have picked up a new title sponsor in Rocky Mountain Nordic, and they have worked hard to bring the new Bappa's Tour in line with Owl Creek. This will be our biggest cross country event yet and we should really turn some heads this year. We're extremely excited." Wade added.

And if that is not enough, the entire event was touted as an environmental statement. Under the slogan Keep Winter White, Rocky Mountain Nordic in cooperation with the City of Aspen's Canary Initiative, will be purchasing wind and solar power to offset all the emissions from the event. One hundred percent of the Owl Creek Chase's CO2 emissions from energy consumption including participant travel, course preparation, shuttle transport and Nordic center operations will be offset. In addition, the after-party for all participants in zero-waste, meaning all food scraps, plates and forks can be composted and are biodegradable. For more information go to: www.canaryinitiative.com.

Whether you're an elite racer, junior Olympian, citizen racer or recreational tourist, make plans to be in Aspen February 10-11 2007 for the Owl Creek Chase presented by Rocky Mountain Nordic; there's something for everyone!

The Backcountry Snowsports Alliance Appeals the Approval of A-Basins Expansion into Montezuma Bowl
Some of Summit Countys best lift-accessed backcountry is off the backside of A-Basin Ski Resort. Montezuma Bowl offers up plenty of moderate to extreme backcountry riding in a dramatic setting. The Forest Service recently approved the expansion of A-Basin into this popular backcountry area. Plans call for a new lift and facilities, which would of course, greatly impact the backcountry experience. The BSA has joined forces with several non-profits, including Colorado Wild, to appeal the decision. We are currently waiting for a response from the Forest Service and will keep you informed.

While the BSA doesnt see all ski resort expansion as bad, we are alarmed by the rate of expansions around the state and in particular Summit County. We continue to monitor the situation and will continue speak up for people like you who want to see quality backcountry areas preserved.


TD Banknorth Eastern Cup Series Makes Surprise Visit to Southern Maine

The TD Banknorth Eastern Cup Series ended up at Pineland Farms when the original host site in Massachusetts cancelled because of lack of snow. It was a perfect day for skiing with a fresh four inches of snow falling on the Friday night before the race with cool temperatures and bright sun greeting the competitors, coaches, and spectators when they arrived. Competitors enjoyed the well-designed rolling terrain on the Oak Hill, the meticulously groomed snow, the hospitality of the Coastal Nordic Ski Club volunteers, and a wonderful array of prizes including chocolate, baked goods, and cheese produced at Pineland Farms.

The day began with the men's 7.5 kilometer classic. This distance is shorter than usual ten or fifteen kilometer Eastern Cups for the J1 and older classes – those over age fifteen – but longer than the usual five kilometer distance for the younger skiers. Gunstock's Alex Howe (Gilford, N.H.) had expected to be in Italy this week for the World Junior Championships. Because of the postponement of that event he competed in the region's most competitive race circuit and earned a narrow victory over U23 Sam Naney (Bozeman, Mont.). Sam Marshall (Etna, N.H./Gunstock), Matt Briggs (Concord, Mass./Colby) and GMVS coach Jon Arne Enevoldsen (Waitsfield, Vt.) rounded out the top five.

Even though they raced together with together with the older skiers, the J2 athletes were recognized at the awards ceremony and should be recognized for their strong performances. Preston Butler (Marion, Mass./GMVS) took the victory for his second straight J2 Eastern Cup classic victory. The Craftsbury Nordic Club and Morrisville, Vt. pair of Jake Barton and Ethan Dreissigacker took the next two spots on the podium. Barton finished just three seconds behind Butler, with Dreissigacker another ten seconds back.

Burke Mountain Academy's Ida Sargent (Orleans, Vt.) grabbed a large victory in the women's race. She finished thirty-nine seconds ahead of second place Tyler Parker (Londonderry, Vt./Stratton.) Tyler too managed a large gap on the rest of the field, earning a time forty-seven seconds faster than local start and Burke Mountain Academy skier Lucy Garrec. J2 skiers Megan Killgrew (Peru,Vt./Stratton) and Hilary Rich (Andover, Mass./CSU) dueled for fourth and fifth and were separated by a mere 2.5 seconds. Crossing the line tenth overall and third for the J2 girls was Stephanie Crocker (Poughkeepsie, N.Y.)


WHAT'S NEW AT 26th ANNUAL NORTH LAKE TAHOE SNOW FESTIVAL

More than a dozen new events have been added to the 26th Annual North Lake Tahoe Snow Festival, a 10-day winter carnival celebration, scheduled for Friday, March 2 through Sunday, March 11.

A long-standing tradition throughout the North Lake Tahoe community, Snow Festival provides winter fun, on and off the slopes, for local residents and travelers to the area, especially families. It is produced by sponsorships
from local businesses and the support of the North Lake Tahoe Marketing
Cooperative. This year's event, themed Celebrate Tahoe, is expected to draw
thousands of attendees.

New this year is the Tails by the Lake Dog Ability Course March 2 at Tails
by the Lake in the Village at Squaw Valley; Paint the Bear March 3 at the
Tahoe Arts Center in Tahoe City, where children paint a flat, wooden bear
with acrylic paints; Last Tracks at Diamond Peak Ski Area March 3 and 10 in Incline Village, where participants enjoy wine tasting and appetizers with a panoramic view of Lake Tahoe before skiing down a freshly groomed run at sunset; Cal Neva Resort's Battle of the Bands March 5-7, and 10 in Crystal Bay; Brooms, Boards and Boots March 8, a triathlon consisting of
broomball, snowshoeing and cross country skiing, at the Resort at Squaw
Creek; Mamasake Sushi and Wasabi Eating Contest March 8 at Mamasake in the Village at Squaw Valley; Sol y Lago Mountain Asada Fiesta March 9 in Tahoe City; and the Snow Festival Concert with "Tainted Love," March 10 known for their 80's dance covers at the Crystal Bay Club in Crystal Bay.

Well-known event favorites are still part of the festival, including Opening
Ceremonies and Fireworks at Squaw Valley USA March 2, Tahoe City Snow Festival Parade March 3, Gar Woods Polar Bear Swim March 3 in Carnelian Bay, Cobblestone Dog Pull March 4 in Tahoe City, Sunnyside Luau March 4 and Homewood Mountain Resort's Groomers Race March 7 both on the West Shore, North Tahoe Business Association's Kiddie Kapers Parade March 10 in King Beach, and River Ranch Snow Sculpture Contest March 11 off Alpine Meadows Road. For more information about Snow Festival and a complete list of events, visit the organization's updated website at www.tahoesnowfestival.com.

BOARD MEMBERS REPRESENT FOR BANFF SKI RUNNERS
Banff Ski Runners athletes divided and conquered on the weekend of January 20 and 21, 2007. A little more than half of the club headed off to Nipika Mountain Resort for the Nipika Loppet, while the rest remained in Canmore to compete in the World Ski Championships sprint qualification races.

At Nipika, Banff Ski Runners dominated all categories in all of the events. The first place finishes from Lance Holland (1 km), Nico Bohning-Hunter (5 km), Graeme Killick (10 km) and Sheila Lenes (18 km) only scratch the surface of club successes. In the 5 km event, Banff Ski Runners slotted seven athletes into the top-10, capturing all of the podium spots. A similar performance was evidence in the 10 km event, with Banff Ski Runners again filling the podium and eight of the top-11 spots. Banff Ski Runners Board member, Sheila Lenes captured 1st place – women in the 18 km event, while both Magi Scallion and Doug Gudwer captured 2nd place overall in the 36 km event. As usual the Nipika loppet seemed endlessly long and these endurance racers will be spending weeks recovering at their workplaces!

Back in Canmore, Banff Ski Runners sprinter, Jess Cockney, finished an impressive 10th and 11th in the back-to-back sprint days at Canmore Nordic Centre. Jess was racing against the top senior sprinters in Canada who were vying for spots on the World Senior Championships Team. Evan Bruce, also performed at a high level with a 15th place finish on Saturday and, despite a broken pole, 20th place on Sunday.

Banff Ski Runners are a Bow Valley cross country ski club with a focused racing program. The club will be racing next at the Canmore Nordic Centre on January 27 and 28 in the distance selection events for World Senior Cross Country Ski Championships.

Alsobrook to Head CVA Nordic Program
Carrabassett Valley Academy (CVA) has announced that Nathan Alsobrook has been selected to spear head the Academy's Nordic Ski Program. Alsobrook, currently the Head Nordic Ski Coach at Whitman College in Walla Walla, Wash., previously served as assistant Nordic coach at Montana State University, head Nordic coach at Pocatello Cross Country Ski Foundation, assistant Nordic ski coach at Colby College and assistant Nordic coach at his alma mater, Bowdoin College. Last year at Whitman College one of Alsobrook's skiers, Laura Valaas, earned NCAA Division I All-American honors and also qualified for the U-23 World Championships. Also, three Whitman skiers earned Academic All-American status.

According to Alsobrook, "I am extremely excited to join CVA. Long recognized as a leader in winter sports, CVA's rigorous college preparatory academics and competitive athletic philosophy combined with access to Sugarloaf Outdoor Center's 100km trail system and the areas abundant annual snowfall are the ingredients for a highly successful program. We'll be skiing earlier and more consistently than almost anyone in New England. Nine training sessions a week in the fall and hours of on-snow training during the winter will allow CVA skiers excellent preparation for Eastern and North American races."

Andy Shepard, President and Chief Executive Officer, of the Maine Winter Sports Center said, "CVA has a long tradition of developing some of the top alpine skiers and snowboarders in the world; adding a Nordic program is a natural evolution. Given the world-class resources that Carrabassett Valley has to offer, as well as those throughout the rest of Maine, there is no reason to believe that CVA won't soon be adding to their long tradition of Olympic success."

CVA Trustee, and long time Nordic enthusiast, Kevin Burns, of Yarmouth, Maine said, "Given the Academy's history and knowledge in winter sports, CVA is poised to burst off the starting line with an incredible program. With CVA's proven ability to train the athlete's mind and body matched with Nathan's coaching experience and philosophy, skiers will leave CVA with a very strong knowledge of the fundamentals of skiing, training, equipment preparation, nutrition, and an ownership of his or her own training needs and self awareness – attributes that college coaches will see as a major advantage over other applicants."

In addition to CVA's general scholarship fund there is a designated Nordic scholarship fund available. For more information contact Dawn Smith, Director of Admissions at 207/237-2250 or by email at dsmith@gocva.com.

TD Banknorth White Mountain Classic 30K Provides Welcome Taste of Winter

GMVS coach and winner of the Tour de Rumford continued his winning ways and dominating the TD Banknorth White Mountain Classic. Another coach and strong finisher in last years NENSA Marathon Series won the womens event. Lindley Van Der Linde from Holderness School earned a 7:38 victory over Trina Hosmer (Putney SC/Stowe, Vt.) and Alex Jospe (CSU/Newton, Mass.).

In the mens event it was two Dartmouth Outing Club skiers, Ben Koons (DOC/Sidney, Maine) and Linden Mallory (DOC/Hanover, N.H.) rounding out the podium.

The 30 kilometer course started behind the Jackson Ski Touring Foundation lodge in Jackson Village, crossed the Covered Bridge, passed under Route 16, and followed the Ellis River. Skiers completed two loops before crossing Route 16 to ski the final three kilometers to the finish.


NORTHSTAR-AT-TAHOE™ RESORT OPENS NEW CROSS COUNTRY CENTER, HOSTS MYRIAD EVENTS TRUCKEE,
Northstar-at-Tahoe Resort's new Cross country Ski Snowshoe Center is now open, offering guests convenient, direct access to the resort's more than 30km of scenic trails for snowshoeing, Cross Country and telemark skiing. Relocated to make room for the new Ritz-Carlton Highlands Resort being built at mid-mountain, the newly expanded 1,400 square foot Cross Country Center is now conveniently located near the top of the Big Springs Express Gondola. In addition to offering cross country and telemark lessons, Northstar™ Resort's Cross Country Center will host a myriad of events this season that include guided snowshoe tours by moonlight, a 15km cross country race, Tahoe City to Northstar Resort cross country tours, geocaching activities and a Cross Country wine tasting tour. Full Moon Guided Snowshoe Tours will be offered at the beginning of each month during the winter season (Feb. 2, March 3 and April 1) for only $25. Snowshoe rentals are available for an additional $5. Tours will depart from The North Face store in the Village at Northstar™ at 6 p.m., and will cover approximately 5km of terrain. Guests will enjoy hot chocolate and s'mores along the way, and a bonfire in the meadows. Northstar Resort's annual Sawmill 15km cross country race is scheduled to take place on Jan. 21. Racers can test their endurance as they race through 15km of Northstar Resort cross country trails. The event sponsors the Far West Nordic Ski Education Foundation and is open to all ages and ability levels (junior competitors race 5km). The Northstar Resort Cross Country Center and the Tahoe City Nordic Center will host two "Tahoe City to Northstar Resort Tours," taking place Feb. 15 and March 15 (conditions permitting). Events will start at the Tahoe City Nordic Center, and skiers will make their way to Northstar Resort's Cross Country Center for a prepared lunch of chili and corn bread before heading back to Tahoe City. The tour fee is $30 and includes the Tahoe City trail pass, Northstar Resort trail pass, one-time lift access to the top of Mt. Pluto, and lunch at the Northstar Resort Cross Country Center. Tickets can be purchased at the Tahoe City Nordic Center the morning of the event. For more information, call the Northstar Resort Cross Country Center or the Tahoe City Nordic Center. On March 25, Northstar Resort will host a Cross Country Wine Tour. This scenic outing includes light fare and sampling of California's finest wines while overlooking the Martis Valley. Northstar Resort is now hosting geocaching activities for guests coming to the resort to cross country ski and snowshoe. Geocaching maps are available at The North Face in the Village at Northstar™, and guests are invited to partake in a fun treasure hunt activity with their Global Positioning System (GPS) devices within the more than 30km of Northstar Resort's cross country trail system. In addition to the new Cross Country Ski Snowshoe Center and all of the activities scheduled to take place this season, Northstar Resort recently hired decorated athlete, Julie Young, to manage the Cross Country Center for the resort. Bringing more than 16 years of professional athletic competition experience to Northstar Resort, Young most recently served as a team member and media relations representative for Rossignol's Nordic Ski Team, as well as editor and photographer for Sierra Heritage Magazine. She was also part of the U.S. National Cycling Team from 1990-2002, serving as the AutoTrader.com Cycling Team Captain in 2000 and 2001. For more information about Northstar Resort's Cross Country Ski Snowshoe Center or upcoming cross country ski and snowshoe events, visit NorthstarAtTahoe.com

Teammates Mike Sinnott and Hannah Dreissigacker Dominate TD Banknorth Eastern Cup Tour de Rumford's Final Day

Over 400 cross country skiers from across New England arrived in Rumford excited to take advantage of the "only show in town;" they ended up getting the best show in the history of the TD Banknorth Eastern Cup. The 1.7 km loop that coaches and competitors thought would be a limiting factor ended up setting the stage for action-packed racing and great spectating.

The early races again featured another win by Stratton Mountain School's Megan Killigrew (Peru, Vt.) but she was joined by two new faces on the podium: Tara Geraghty-Moats (West Fairlee, Vt./Craftsbury) and Isabel Caldwell (Peru, Vt./Stratton). Youth was the theme as Geraghy-Moats is still in the J3 age-group and Caldwell is in her first year as a J2. Yesterday's second-place finisher Ethan Dreissigacker (Craftsbury) moved up to take a 16-second victory over teammate and fellow Morrisville, Vt. resident Jake Barton. GMVS claimed the final spot on the podium with first-year J2 David Sinclair (Waitsfield, Vt.).

After junior skiers swept the top four spots in the first day of women's competition, Hannah Dreissigacker (Morrisville, Vt./Dartmouth) and Cassidy Edwards (Glen Arbor, Mich./Middlebury) today salvaged the pride of New England's collegiate skiers by claiming the top two spots. Junior Ida Sargent (Orleans, Vt./Burke Mtn.) grabbed third and was followed by UVM's Carina Hamel (Southampton, Mass.) and Middlebury's Jenny Hamilton (Aspen, Colo.). Collegiate dominance was again the theme in the men's competition where only World Junior Team member Alex Howe (Gilford, N.H./Gunstock) could manage a spot in the top five. Michael Sinnott (Sun Valley, Idaho/Dartmouth) ran away with the victory while local Andover, Maine native and former Chisholm Ski Club member Fred Bailey (Colby) skied into second. Sylvan Ellefson (Vail, Colo./Bates) and Simi Hamilton (Aspen, Colo.) rounded out the top five.

The event was the conclusion of the 3-day Tour de Rumford competition. GMVS coach Justin Beckwith easily captured the men's title when his closest competition (and boss) Jon Arne Enevoldsen bowed out of today's competition. Sophie Caldwell's consistent performance throughout the weekend allowed her to overtake her day one teammate Parker Tyler for the women's title.

The Chummy Broomhall Cup is the first annual Maine Collegiate Nordic Ski Championships Broomhall Cup and is named in honor of Rumford native, 10th Mountain Division veteran, two-time Olympian and the head of the Chisholm Ski Club, Wendall "Chummy" Broomhall. The prize is an overall team award combining the score of both the men's and women's teams from Maine's colleges. Bates College claimed the cup by building a huge lead on the first day of competition and skiing well enough to hold off a fast charging Colby team on the second day. Bates College coaches Becky Woods, Bob Flynn, and Jordi St. John accepted the award from Maine Governor John Baldacci at the conclusion of today's event.


Parker Tyler and Mike Sinnott Top Record TD Banknorth Eastern Cup Field

The two kilometers of snowmaking held up to 435 competitors in Day 2 of the TD Banknorth Tour de Rumford / Chummy Broomhall Cup Weekend. Not only did the event set records for the number of participants, but it also provided arguably the most competitive field ever assembled for an Eastern Cup.

The early racers featured J2 skiers covering three laps of the Black Mountain course. Megan Killigrew (Peru, Vt./Stratton Mtn. School), a member of last year's New England Junior Olympic Team started fast and held her pace to earn a 16-second victory over Hilary Rich (Andover, Mass./CSU). Killigrew's Junior Olympic teammate Kaitlynn Miller (Morrisville, Vt./Crafsbury) held on for third. The J2 Boys featured Green Mountain School's Preston Butler (Marion, Mass.) leading from start to finish to earn the victory. Craftsbury teammates Ethan Dreissigacker (Morrisville, Vt.) and Jake Barton (Morrisville, Vt.) were 2nd and 3rd.

The perennially strong Stratton Mountain School team put on a good show in the women's event. Parker Tyler (Londonderry, Vt.) took solo control of the Tour de Rumford overall standings with the victory. Her co-leader going into the day, teammate Sophie Caldwell (Peru, Vt.) kept the overall title within 15 seconds and took the third spot. Sabra Davison (Jericho, Vt./Middlebury) grabbed 2nd, showing huge improvement over previous years. Dartmouth College teammates Ben True (Cumberland, Maine) and Mike Sinnott (Sun Valley, Idaho) skied together for the almost the entire race to earn first and second place in the men's race. Sylvan Ellefson (Vail, Colo./Bates College) took the final podium spot. One had to look a bit further down the men's result to find the battle between the two coaches from Green Mountain Valley School for the Tour de Rumford overall. Head coach Jon Arne Enevoldsen put on a classic technique clinic for the spectators and posted a 45-second lead over assistant coach Justin Beckwith. Enevoldsen is known for strong classic technique, so things could still get interesting in tomorrow's skate technique event.

On November 3, Maine Governor John Baldacci announced the first annual Maine Collegiate Nordic Ski Championships to be held at Black Mountain of Maine in Rumford. The event, hosted as part of the TD Banknorth Tour de Rumford weekend is called the Chummy Broomhall Cup, is named in honor of Rumford native, 10th Mountain Division veteran, two-time Olympian and the head of the Chisholm Ski Club, Wendall "Chummy" Broomhall. Governor Baldacci will be present at the awards ceremony on Sunday to award the Cup to the winning team. After one day of the Chummy Broomhall Cup competition Bates College holds the lead, with Colby and Bowdoin standing in 2nd and 3rd.


Catamount Trail Association Hires New Executive Director

The Catamount Trail Association (CTA) has announced the hiring of Jim Fredericks as its new Executive Director. A native Vermonter, graduate of Johnson State College, and current resident of Underhill Center, Vt., Fredericks has worked in the ski industry for the past 35 years and brings a lifetime of experience both as a businessman and a skier to the organization.

Fredericks, who recently left his 20-year position as Director of Nordic Racing for Rossignol Ski Company, was instrumental in initiating the first cross country ski program at the Craftsbury Outdoor Center in Craftsbury Common, Vt., where he coached elite skiers and hosted national and regional Nordic events. He was responsible for producing some of the country's top junior athletes while establishing the first cross country ski team for the Green Mountain Valley School in Waitsfield, Vt. Most recently, Fredericks developed one of the strongest Nordic programs in the U.S., working with over 60 Olympians and conducting hundreds of Nordic ski related clinics nationwide. Fredericks has competed nationally in Nordic skiing, cycling, and kayaking.

"Jim Fredericks brings a passion for all aspects of Nordic skiing to the Catamount Trail Association," said Arnold Ziegel, Vice Chair of the CTA. "We're confident that he'll increase the visibility and recognition of the Catamount Trail through co-marketing, building CTA membership, and through his love of winter sports. Jim understands that the Catamount Trail can play a major role in Vermont in conservation as well as in the promotion and encouragement of winter sports both for the health of Vermonters and for the economic health of our state."

"Sometimes you have to create a vision to entice people to take advantage of a unique opportunity," said Fredericks. "I'm going to do that by bringing the Catamount Trail to Vermonters, Northeasterners, and skiers across the U.S."

The Catamount Trail is a 300+ mile conserved public-access ski trail that spans the length of Vermont from Massachusetts to Canada. The Catamount Trail and related trail networks are an economic asset for and a partner in conservation with the people and state of Vermont, as well as a unique resource for non-motorized winter recreation.

Gunflint Trail Presents the Third Annual Winter Tracks Festival, March 1 to 4, 2007
The Gunflint Trail Association is pleased to announce the dates for the Third Annual Winter Tracks Festival. Planning is underway and the 2007 Winter Tracks Festival is scheduled for March 1 to 4, 2007. This festival continues to celebrate the best that Minnesota winter has to offer in classic Gunflint Trail tradition.

Activities throughout the festival include cross country skiing, snowshoeing, snowmobiling, dog sled rides, races and contests, seminars, guided hikes and tours, a variety of unique dining options and shopping. Events are for the entire family. New activities in 2007 will include skijoring, geo-caching, curling and quin-zhee building.

Grand Marais, the gateway to the Gunflint Trail, this year is offering additional activities during the Winter Tracks Festival. The Sivertson Gallery will feature artwork of Canadian Inuit, Siberian Yupik, Alaskan Inupiaq and Yupik artists. The North House Folk School will offer a 2-day workshop weaving birch into baskets, shoes and hats.

"This is classic winter fun at its finest," says John Bottger, Winter Tracks coordinator. "There is something here for everyone. We realize that lots of folks need some how-to when it comes to the winter arts, so this year we are offering a variety of "intro to" events to get them started. All of us who live here love winter, and we want to share some of the fun and excitement with the rest of the world." The festival is open to the public and guests of Gunflint Trail and Grand Marais resorts, and most of the activities are offered free of charge to registered Winter Tracks participants.

The Gunflint Trail, originally a footpath for Native Americans to get to Grand Marais, is a 60 mile paved road that runs from Grand Marais to Saganaga Lake through the Superior National Forest and adjacent to the Boundary Waters Canoe Area (BWCA). The Gunflints 200 kilometer Gunflint Nordic Ski Trail System is recognized as one of North Americas finest ski trail systems. Snowmobilers can travel up to festival events along the Gunflint Snowmobile Trail from Grand Marais.

The resorts and outfitters of the Gunflint Trail offer a variety of lodging options, plus dining, shopping and plenty of friendly hospitality. Visit www.wintertracks.com for more information on Winter Tracks and a calendar for the 2007 events. .
Glacier Outdoor Center Announces New Nordic Trails
Glacier Raft Company and Outdoor Center has announced the opening of 10 kilometers of new groomed Nordic ski trails just outside the entrance to Glacier National Park. The Outdoor Center will held an open house for the general public with a bonfire, free skiing, food, and drinks on Jan. 13, with half-price ski and snowshoe rentals for the day.

"Were thrilled to be expanding our winter operations and offer this new service to our winter guests," said Sally Thompson, co-owner of the raft and outdoor company. "Weve been working hard at attracting more visitors in the quiet beauty of the winter months and this is part of that initiative. Theres no doubt that were more than just a raft company."

In 1976, the company started with two rafts, a van, and a desire to share the beauty of Glacier National Park and the Flathead River system with others. Since their inception, they have expanded their operations gradually, first with the addition of cabins from 1996-1999, and next the 3600-square foot Outdoor Center in 2000, which houses the Glacier Anglers Fly Shop and other outdoor retail space. The company enters its 32nd season of operation this year and is Montanas oldest rafting company.

After a busy summer guiding clients on fishing and whitewater adventures, the company laid out the new Nordic trail network and purchased a new grooming machine from West Yellowstone. The groomed trails offer set track for classic kick and glide skiing, as well as 12-foot wide track for skate skiing. Ski trails and routes provide a range of scenery, terrain, and difficulty from beginner to intermediate abilities.

At the end of the day, a variety of fully furnished cabin rentals are available to spend the evening. The spacious log cabins are located behind the Outdoor Center and are adjacent to the Nordic Center, just one-half mile from Glacier National Parks west entrance. The cabins are fully furnished with views of the jagged peaks of Glacier Park. One and two-bedroom cabins can sleep from 6 to 14 guests.

Beyond the 10 kilometers of new groomed Nordic trails, guests can easily link up with a network of ungroomed trails in Glacier National Park. In addition, a guide service is available for guests who would like to explore more of Glaciers lesser-known backcountry.

"There are endless opportunities for expansion," said Darwon Stoneman, co-owner of the company. "The future holds the possibility of additional linking opportunities through both public and private lands." Trail fees for the new Nordic trails are $5 per day, $20 per week, or $115 for the season. A special promotional season pass will be offered for $60 that is available for purchase during the open house. Dogs are allowed on the trails after 12 noon each day.

Information and reservations for cabin rentals, and ski equipment can be made by calling Glacier Raft & Outdoor Center at 800/235-6781 or 406/888-5454. More information is also available by visiting www.glacierraftco.com.


1/4/2007
Marshall Holiday Ski Camp Rescheduled

"The 4th annual Marshall Holiday Ski Camp has been rescheduled due to lack of snow!!! The camp will now be held at Snowflake on Saturday and Sunday, February 17 and 18 from 12-4:30 pm each day!!"

The Marshall Holiday Ski Camp is for children ages 5-12 at Snowflake Nordic Ski Center. The camp is supervised by the Marshall Nordic Coaching Staff. Instruction is provided by the members of Marshall Nordic ski team. If you have any questions please email Dene Halverson at DeneSallyMarty@aol.com the Marshall Holiday Ski Camp Coordinator or call at 218-729-0008 home or 218-590-5013 cell.

Here is a link to the ski camp's home page:http://www.marshallschool.org/school/johnson/marshallholidayskicamp.htm

All campers currently registered are automatically registered for the camp in February.
1/3/2007
Great Glen Trails Outdoor Center to Host Ski for Light

"Great Glen Trails Outdoor Center will host Ski for Light International Week from January 21 through January 28, 2007. Ski for Light, an all-volunteer nonprofit organization, conducts this weeklong program to teach blind and mobility impaired adults the sport of cross country skiing. Participants in this event will come from the United States, Canada Norway, Great Britain, Australia and other countries."

"For 31 years, Ski for Light has been giving visually-and mobility-impaired adults the chance to experience the sport of classic cross-country skiing by joining disabled and able-bodied people together in a one-on-one partnership to learn from each other through physically demanding activities."

"ôWe're thrilled to support a great organization like Ski for Light,ö said Howie Wemyss, General Manager of Great Glen Trails Outdoor Center. ôSkiing for these folks allows them to achieve more than perhaps they thought they could. We enjoy helping facilitate that.ö"

"Each year, Ski for Light seeks to invite at least 100 visually-impaired participants, 10-15 mobility-impaired participants and 115 sighted Instructor/Guides. They come from all over the country and all walks of life."

"During Ski for Light International Week a blind/visually-impaired or mobility-impaired skier is matched with an experienced sighted cross country skier. They ski together both mornings and afternoons from Monday through Saturday. Beginning skiers are taught the basics of the sport; those who have skied before work on improving their skills and endurance, or just enjoy themselves on the snow. On Saturday, a race is conducted. This eventùcomplete with an Olympic-type start and finish line and national anthemsùis the highlight of the week for most participants."

For information on Ski for Light or how to volunteer for this event visit www.greatglentrails.com or www.sfl.org.
1/3/2007
"CXC Youth Festival Relocates to Capitol Square Sprints in Madison, WI"

"Central Cross Country Ski Association has rescheduled the CXC Youth Festival for Saturday December 30th due to poor snow conditions and warm temperatures in Hayward. The festival will join the Capitol Square Sprints, Madison on Saturday, January 13, 1:00pm - 6:00pm."

"Children will be able to enjoy a most unique ski course in the heart of downtown Madison and cross country ski around breathtaking State Capitol Building. There will be free hot chocolate to keep you warm, snowshoeing, and much more after skiing! In one corner of the Capitol Square there will be outdoor ice sculptures and three outstanding museums tours. Dream, learn, and become inspired - there is so much to see and experience. Connect your children with the past in the Veterans Museum and explore history in the Historical Museum. Museums will be open till 4.30 PM."

Take a break and come back outside to Martin Luther King Jr. Boulevard to watch a magnificent fireworks display at 6:00pm.

"Registration and BIB pick-up will be held from 11:00am to 1:00pm Saturday, January 13, 2007 at the Concourse Hotel - Capitol Square Sprints Headquarters."

Event Schedule
11:00AM - 1:00PM - Registration and BIB pick-up
1:00PM - 2:30PM - Skiing and Play Stations
2:30PM - Break (A bell will ring signaling everyone to gather at the start area
12/20/2006
National Ski Championships Heading for Houghton

"The nation's top cross country skiers will travel to Houghton, Michigan, in early January for the 2007 U.S. Cross Country Championship. The Michigan Tech Nordic Training Center will host the national championship for cross country skiing January 1-7, 2007."

"The event features four days of racing, including distance races on January 3 and 4 and sprint races on January 6 and 7. More than 400 skiers will participate, including many members of the U.S. Ski Team, regional development teams and top collegiate teams."

Spectators will walk on groomed trails leading to virtually any part of the race course. Three web cams will allow distant visitors to log into www.seniornationals.org and track starts and finishes. A huge stadium scoreboard will display results throughout the race day.

Both the 2007 and 2008 championships will be held in Houghton. The races are the United States Ski and Snowboard Association (USSA) national Nordic skiing championships. USSA is the national governing body for skiing (both Nordic and alpine) and snowboarding.

"The Houghton organizers earned the bid based on the success of the 2006 Junior Olympics (JOs), which were held at Michigan Tech University last March. The JOs serve as the national championship for skiers ages 14-19. More than 350 skiers from around the country attended the week-long series of races."

"""The upcoming event is the national championship for cross country skiing in the U.S.,"" said Mike Abbott, chair of the organizing committee. ""With the experience our volunteers and organizers gained at the JOs, I'm confident we will be just as successful with this event."""

"The cross country championship week begins with two training days, January 1 and 2, before the first races commence on Wednesday, January 3. Skiers will participate in the distance classic races, with men covering a 10km course, while the women will ski 5km."

"January 4 features the freestyle races: 10km for women and 15km for men. After a training day on January 5, skiers will race a classic sprint on Saturday, January 6 and participate in a team freestyle spring on January 7. This will be the first time the USSA has held a team sprint at a national championship."

"The Michigan Tech Nordic Training Center was designed to be spectator friendly. Many viewing locations are an easy walk, on a groomed trail, from the stadium. Most of the sprint course can be seen from the stadium. The large stadium, including bleachers, allows easy viewing of the start and finish areas."

"The newest improvement to the trail system is the Boss Snowplow Nordic Wax Center, added for the Junior Olympics with a generous donation from Boss Snowplow, based in Iron Mountain, Michigan. The center includes ten separate team wax rooms and a community wax room and changing area."

"Complete information on the event, and a peek at the webcams, is available at www.seniornationals.org"
12/20/2006
BRINGING THE MAGIC OF SNOW TO DOUBLE H KIDS WITH LIFE-THREATENING ILLNESSES

"The Double H Ranch, A Hole in the Wall Camp, in Lake Luzerne, New York is kicking off the 10th year of its Adaptive Winter Sports Program. The Adaptive Winter Sports Program is available to Double H kids and their families, free of charge, starting the first weekend in January through the first weekend in April and includes five family sleepover weekends. The slopes and trails are theirs alone to ski, (Alpine and cross country), snowboard, snowshoe, sled and simply enjoy outdoor sports in a safe environment utilizing volunteer ski instructors and ski patrollers. The private mountain setting offers two trails, a double chair lift, snowmaking and a wide array of adaptive ski equipment."

"In its 14th year of operation the Double H Ranch, A Hole in the Wall Camp founded by Charles R. Wood and Paul Newman, provides summer and winter outdoor Adirondack adventures for children between the ages of 6 - 16 (summer) and 6 - 18 (winter) living with cancer, blood disorders, and neuromuscular impairment. These children are precluded from attending other camps due to their medical condition. The Double H also offers family-based support weekends in the spring and fall for families facing critical illnesses and the loss of loved ones. All programs are completely free of charge."

"Gore Mountain has partnered with the Double H for the winter program since its inception, providing training for the instructors and 'Gore Days' for the kids free-of-charge. ""We look forward to continuing to provide training for the Double H instructors as well an opportunity for the Double H kids to further challenge themselves on our trails,"" remarks Dave Bulmer, Mountain Services Manager at Gore Mountain."

"For more information about supporting the 2007 Adaptive Winter Sports Program at the Double H Ranch contact Linda T. Smith, 518-696-5921, ext. 238, lsmith@doublehranch.org or visit www.doublehranch.org."
12/20/2006
Tom Stark and Alice Nelson Win Great Glen Trails Nordic Sprint Race

"Tom Stark of Fitzwilliam,N.H and Alice Nelson of Hanover, N.H, were the men's and women's winners of first place at the Great Glen Trails Sprint Race at Pinkham Notch, N.H."

"Great Glen Trails Outdoor Center hosted the race following the cancellation of other races originally scheduled in Vermont. The race was held on a .5 km loop made up of entirely machine made snow. More than 50 skiers from nearly 30 cities and towns from across New England participated, including college racers from the University of New Hampshire, Bates College, Middlebury College, Bowdoin College, Colby College and high school racers from Gould Academy, Vermont Academy, Putney Ski Club, Gunstock Nordic Association, Kennett High School and Gorham High School."
12/14/2006
"Lapland Lake Ladies Day - February 3, 2007"

"A women's-only cross country ski day will be offered at Lapland Lake Cross Country Ski Center on Saturday, February 3 from 10:30am - 3:30pm. Lapland Ladies Love to Ski is offered to beginner and intermediate level skiers who will be grouped by ability. The focus this day is on classic technique."

"Led by Lapland Lake's PSIA-certified instructors Sherry Dixon and Susan Henriksson, the program includes morning instruction, lunch with fashion and equipment discussion, afternoon fun ski with instructors, group wrap-up and hot beverage. Cost for the five-hour program is $30.00. Facility use pass and rental equipment, if needed, is additional. Advance reservations are recommended for this popular program."

Interested individuals may visit www.laplandlake.com or call(518) 863-4974 for further information.
12/13/2006
Christmas on Snow at Great Glen Trails Outdoor Center

"Great Glen Trails Outdoor Center and the Androscoggin Valley Bill Koch Youth Ski League will host Christmas on Snow on Saturday, December 16 from 10:00 a.m. to 3:00 p.m. Christmas on Snow is a daylong celebration for kids filled with fun holiday activities on snow at Great Glen Trails Outdoor Center."

"""Christmas on Snow is a great event for families, and we hope to see lots of kids enjoying the snow this weekend,"" said Mary Power, Events Director at Great Glen Trails Outdoor Center."

Christmas on Snow includes: Trim the Tree - create an ornament and ski it out to the Great Glen Trail Christmas Tree; Snowman Building Contest - prizes awarded for the best snowman; Reindeer Relay - cross country ski race with teams of two at 1:00 p.m.; Scavenger Hunt - ski from clue to clue. and collect tokens to be redeemed for prizes. The fee for Christmas on Snow is $2.00 for kids and adults with trail pass.

For more information about Christmas on Snow go to www.greatglentrails.com or call (603)466-2333.
12/13/2006
THE NORTH AMERICAN VASA: A 'FESTIVAL OF RACES' FOR SKIERS OF ALL AGES AND ABILITIES

"Bryce Dreeszen has skied in some of the top cross-country races in the U.S. and Europe, but he considers himself an ""everyman"" skier rather than an elite competitor."

"And as the new race director of the North American Vasa Festival of Races in Traverse City, he insists that every skier deserves to have a ""world class skiing experience"" at the Vasa - whether that skier is a potential Olympic contender, an eager novice or just someone who wants to enjoy some magnificent woodland scenery and a little race-day excitement on one of the best groomed trails in the Midwest."

"""We've been working to correct the impression that the Vasa is only for the hard-core competitive skier,"" he said. ""The truth is, we have something for everyone. We expect to have 800 skiers this year, and probably 10 percent or less of them will be elite skiers. The bulk of the people out there will be competing against the clock, against their buddies or against themselves - and some won't be competing at all."""

"Now in its 31st year, the Vasa is held each February in the pinewoods of Traverse City, Mich. (This year's event is scheduled for Feb. 9-11.) The main Saturday race, which features 12K, 27K and 50K loops, in either freestyle or classic styles, is one of 14 U.S. events listed in the prestigious American Ski Marathon Series, where most of the nation's elite and professional ski racers compete. Sunday's 16K traditional-style race, the Gran Travers Classic, is an equally prestigious event for old-school Nordic skiers, and one of the events in the Michigan Cup classic race series."

"Over the past decade, race organizers have added a wide range of other events for skiers of all shapes, ages and skill levels: 1K sprints for preschoolers, 3K freestyle and classic events for older youths, and even noncompetitive 3K and 10K tours for those who prefer to enjoy winter's natural beauty at a more leisurely pace."

"And there's a lot of beauty to appreciate. The Vasa is held on a beautifully crafted trail that winds through the dense pines and hardwoods of Michigan's Pere Marquette State Forest, just east of Traverse City. Since 2005, the start and finish lines for the various events have been at the Timber Ridge RV and Recreation Resort, whose trails connect to the main Vasa system."

"In addition to the hundreds of skiers who actually head out on the trails, hundreds of spectators come to watch the race and enjoy the festivities that surround it. Over the past three decades, the Vasa has become a treasured part of winter life in Traverse City, and almost everyone in the community seems to participate in it one way or another."

"The festival actually begins the day before the main race with registration, social time, and a day-long series of free on-snow equipment demonstrations where participants can try the newest ski and snowshoe gear. That evening, there's an annual ""Vasa Pasta"" dinner, an all-you-can-eat event where contestants try to pack away as many carbohydrates as possible."

"The first races, the 27km and 50km classic competitions, start at 8:30 Saturday morning, followed by 27km and 50km freestyle races, the 12km classic/freestyle race, and finally the 3km and 10km adult touring events. In the afternoon, starting at 12:30 p.m. are the Junior Vasa races, a series of 1km and 3 km competitions for children ages 4-15."

"""Junior Vasa skiers will be the Vasa skiers of the future,"" said the Vasa's executive director, Pete LaPlaca. ""Hopefully they'll remember the fun they had on skis in this event, and continue the sport for their entire lives. The smiles on these kid's faces are our reward."""

"On Sunday, the course is regroomed and turned over to traditional-style skiers. The Gran Travers Classic race, which starts at 9 a.m., features 6km and 16km loops on a tracked trail."

"For information about the North American Vasa and other winter events, festivals and activities in beautiful Traverse City, call the Traverse City Convention & Visitors Bureau at 1-800-TRAVERSE or visit www.mytraversecity.com."
12/13/2006
December 16-17 Eastern Cups Cancelled

"With a very minimal snow base to begin with and weather forecasts that are calling for rain showers and warmer temperatures, the decision has been made to cancel this weekend's races."

"Mother Nature has not stepped up quite enough just yet.
NENSA has decided to waive its normal 50% cancellation policy and refund the entire fee and processing fee for those who have already signed up and paid. If racers have not received a credit on their bank or credit card statement by January 1, please contact Pat Cote at pat@nensa.net."

"For those still looking for a race, there are races (Coupe Atomic) on Saturday and Sunday at Foret Montmorency, about 1 hour north of Quebec City. Registration is open through Wednesday evening and can be done online at: http://www.zone4.ca/ These races will feature the top skiers from Quebec so the field should be strong. Though snow is only marginal, that the races will happen. Visit the NENSA website, www.nensa.net, for more details as they become available."
12/13/2006
Marshall Holiday Ski Camp

"The Marshall Holiday Ski Camp for children ages 5-12 will be held on Wednesday, Thursday, and Friday December 27, 28 and 29 from 1-4 pm each day at Snowflake Nordic Ski Center in Duluth, Minn. The camp is supervised by the Marshall Nordic Coaching Staff. Instruction is provided by the members of Marshall Nordic High School Team."

"Camp registration materials can be found: www.marshallschool.org/school/johnson/marshallholidayskicamp.htm. For more information email Dene Halverson, Marshall Holiday Ski Camp Coordinator at: denesallymarty@aol.com or call (218)729-0008 or (218)590-5013-cell."
12/7/2006
What's New on the Gunflint Nordic Ski Trails for this Winter

"The Gunflint Trail Winter lodges and ski resorts that began developing the Gunflint Nordic Ski Trails in the 1970s, each year continue to improve and upgrade their trails and the facilities that support the trails. This year is no exception."

"In the Upper Gunflint Ski Area winter lodge guests will find several changes. Gunflint Pines Resort notes that this winter the ""Pines"" will join Gunflint, Bearskin and Golden Eagle Lodges in offering a lit night ski trail. Gunflint Pines' lit trail will run through their campgrounds. Gunflint Lodge plans to have their new Red Peddle Bistro open daily from noon to 9 PM throughout the winter. And according to Lee Kerfoot of Gunflint, five of the lodge's cabins are being renovated; two of which will be open by Christmas. The cabins will feature king beds, hand crafted wood burning fireplaces made of native rocks and super showers with 3 showerheads. At Heston's Lodge one of their log cabins is being restored and will be open for the winter ski season."

"Along the Banadad Ski Trail System, Boundary Country Trekking is planning several changes to greet skier this winter. First, a new 1.6 km. tracked trail to the Tall Pines Yurt has been built. According to Boundary Country's Barbara Young, ""Skiers on the way to the Tall Pines Yurt will no longer have to travel along the old untracked service road."" Near the Banadad's eastern trailhead the Swamp Lake Snowshoe Trail has been expanded with the addition of a new 1/2 km connecting trail section. Boundary Country will also be offering a new luxurious ski-in two-bedroom rental cabin - the Poplar Creek Retreat. The cabin currently is under construction and will be available for rent by the end of January."

"Near the Central Gunflint Trail System, Lynn Pauloski co-owner of Clearwater Lodge plans to open the two B&B suite in their historic lodge building and a modern two bedroom cabin this winter. According to Pauloski, this will be the first time in many years that the lodge has been open during the winter. The Lodge is just a short drive from the Central Gunflint ski trails."

"The 180-km Gunflint Nordic Ski Trails consist of three interconnected trails systems. Beginning 24 miles up the Gunflint Trail from the Lake Superior coastal town of Grand Marais is the Central Gunflint Trails operated by Golden Eagle and Bearskin Lodges. Further up the Gunflint Trail around Gunflint Lake is the Upper Gunflint Trail System operated by Gunflint, Gunflint Pines, Heston's and Moosehorn lodges. Connecting these two trail systems is the BWCA longest tracked trail - the Banadad operated by Boundary Country Trekking."

For additional information on the Gunflint Nordic Trails and trail maps go to the Gunflint Trail Association's cross country skiing website at - www.gunflint-trail.com/winter/xcski.html or call (218)387-3191 or (800)338-6932.
12/7/2006
Great Glen Trails Snowmaking Begins and Opening Day Close Behind

"Great Glen Trails Outdoor Center began snowmaking operations on Sunday, December 3 and planned to open for skiing the following Friday or Saturday."

"(Opening day is always special,÷ said Howie Wemyss, General Manager of Great Glen Trails Outdoor Center. (We're fortunate to have a snowmaking system that allows us to offer skiing before the natural snow falls, and we can't wait to see people out there taking advantage of it this weekend.÷"

"Great Glen Trails Outdoor Center will continue making snow throughout the week and the official opening day will be announced on their website, www.greatglentrails.com. When the Center does open, they should be the first Nordic ski area in New England to do so."

"Along with opening day, Great Glen Trails Outdoor Center is hosting two events this week: Winter Warm Up Open House and Nordic Sprint Race presented by Atomic."

"Winter Warm Up Open House, Thursday, December 7, 6:00pm v 8:00pm: An evening full of information and ideas to get skiers ready for the upcoming season: Clothing and equipment updates, training and nutrition, a wax clinic and a slideshow from the 2006 Olympics. The Great Glen Outfitter Store will also be open."

"Nordic Sprint Race presented by Atomic, Saturday, December 9, 12:00pm: The first race of the season in New England. Sprints are the most exciting Nordic race format in New England, the United States or Europe. This sprint race is for all ages and abilities. The format is individual, freestyle. The entry fee will cover an afternoon trail pass: good from 12-4 PM. This is an ideal spectator event!! Prizes for 1st, 2nd and 3rd place finishers"

"For more information about snowmaking, opening day or events, call (603)466-2333 or go to www.greatglentrails.com."
12/7/2006
Women's Winter Escape at Great Glen Trails Outdoor Center

"Great Glen Trails Outdoor Center announces the Women's Winter Escape on January 12 - 13, 2007. A snow country getaway for women only, this new event is designed by women for women and will feature cross country ski clinics, wine tasting, a fashion show, yoga, dog sled rides and more. Women's Winter Escape is a women-only winter getaway focused on fun, relaxation and learning. Featuring world-class instruction from former Olympians and NCAA All-Americans, the cross country ski clinics are designed for all ability levels."

"(There aren't enough opportunities for women to come together to enjoy the outdoors,÷ said Mary Power, Events Director Great Glen Trails Outdoor Center. (Women's Winter Escape is a chance to getaway from it all, relax, share some laughs and be healthy.÷"

"The cost is $130 per person, which includes meals. Special lodging packages available are at the Lodge at Jackson Village. For more information contact Mary Power at Great Glen Trails Outdoor Center (603)466-2333."
12/7/2006
"Inaugural CXC Youth Festival : Saturday, December 30"

"Central Cross Country Ski Association is pleased to announce the inaugural CXC Youth Festival at the Hayward Golf and Tennis Club on Saturday, December 30, 2006 from 2:00pm to 4:30pm."

"Live entertainment, organized children's activities, dog sledding, horse-drawn hay wagon rides and a dazzling fireworks display will highlight the event."

"Hot chocolate and popcorn will be available on site to keep you warm. Registration and Bib pick-up will be held from 2 to 2:15 p.m. Saturday, December 30, 2006 at the Hayward Golf and Tennis Club located on the North Edge of the City of Hayward at 16005 Witter Street. The fee for children 12 and under is $5.00 and paid upon registration at the site."

"(This will be a very exciting atmosphere for children under 12 years old and their parents as well. CXC has been planning for this type of event for a long time and finally it will happen right before New Year's Eve. This Youth Festival will be a fun season opener for many youth programs in our region. The combination of the Youth Festival as an opener and Barnebirkie as a season finale will outline a fun season for our youth skiers,÷ commented Yuriy Gusev, Chief Executive Officer of Central Cross Country Ski Association."

Event Schedule:
2:00-2:15 - Registration and BIB pick-up
2:15-3:15 - Play Stations and Activity Areas
(To include: games and contests; inflatable bouncing rides; dog Sledding; horse drawn hay wagon rides and more)
3:15-3.30 - Break (A bell will ring signaling everyone to gather at the start area)
3.30-4:00 - Nordic Jam Fun 500m Race-everyone is a winner!
4:00-4:15 - Fireworks
4:30 - A Bell will Ring (Good By!÷


For further details and a downloadable colorful Youth Festival flyer visit www.cxcskiing.org.
12/7/2006
2006-07 Colorado Cup Announced

"Rocky Mountain Nordic announces the second season of the Colorado Cup in conjunction with RMN's new administrative role in the cumulatively scored series of Nordic ski races throughout Colorado. Rocky Mountain Nordic, a division of the United States Ski and Snowboard Association (USSA), is the Rocky Mountain region's official governing body for Nordic ski racing. The Colorado Cup's first season took place in the 2005-06 winter and resulted in a successful combination of citizen and elite ski racing, Colorado's best races and the establishment of a body of Nordic competition in the region."

"The 2006-07 schedule includes the Snow Mountain Stampede and the Crested Butte Alley Loop·the two biggest and most prestigious ski marathons in the state·as well as the Owl Creek Chase, a 25km freestyle race included in the USSA SuperTour series of national level races. A full schedule of events and details can be found at www.rmnordic.org."

"The Colorado Cup's goals are to integrate Nordic races and recreational events in an organized body of events that both serve the racing and recreational skier while also serving to develop and support world-class athletes to compete on the international level. Together with the new Rocky Mountain Nordic Tour events which will allow recreational skiers to enjoy non-competitive events on unique courses throughout the state, the Colorado Cup aims to benefit skiers, racers, ski areas and the sport as a whole. Eventually, Colorado Cup races hope to include juniors, collegiate, masters and elite racers."

"Racers in the Colorado Cup earn points based on their finishing place. The points are tallied cumulatively throughout the season based on official USSA five-year age groups and overall categories by gender. At the end of the season, overall male and female winners are declared the Colorado State Champions and age-group winners are named to the RMN Select Team. Overall and age group leaders are identified in each race by special bibs that denote their status.Summing up the upcoming season, spokesperson Matt Muir says, ""We're all excited and the hope is that we can continue to improve Nordic events for everyone involved and for the good of the sport as well.÷"

"For more information, contact spokesperson Matt Muir at matt@skifire.com or RMN executive director Ivana Radlova at ivana@rmnordic.org."
11/21/2006
JANUARY FUN AT LAPLAND LAKE NORDIC VACATION CENTER!

Lapland Lake Nordic Vacation Center will host several special events during the month of January.

"Winter Trails Day - Saturday, January 6, 1:00 - 4:30pm: Winter Trails is a national event that offers those new to snow sports an opportunity to try snowshoeing and/or cross country skiing for the first time free of charge. Facility use pass, equipment rentals and instruction are complimentary! Pre-registration is required."

"Martin Luther King, Jr. Weekend: Saturday, January 13 will feature a snowshoe tour to benefit Lapland Lake's Volunteer Nordic Ski Patrol. The tour will be led by Mike Kazmierczak, licensed guide and Tubbs Snowshoe representative. Participants will meet at 3:30pm at the resort's ""Finnish Line"" Lodge for equipment fitting, compliments of Tubbs Snowshoes. At 4:30pm Mike will lead the group over Lapland Lake's scenic snowshoe trail system, stopping by to enjoy a mug of Glogg (hot mulled wine) or hot chocolate at a lakeside campfire. The tour will conclude at 6:30pm. If desired, dinner service is available at the resort's Tuulen Tupa Grill where a menu featuring Finnish specialties, American and vegetarian fare is served until 7:30pm. Dinner reservations are advised; cost of dinner is not included in the program. Space is limited; pre-registration is required."

"On Sunday, January 14 two back country tours, one for snowshoeing and one for back country skiing, will be led by Mike Kazmierczak, licensed guide and representative of Karhu Skis and Tubbs Snowshoes. The tours will gather at the Benson Trailhead of the N"

"Monday, January 15 is Lapland Lake's annual Dynamite Demo Day. One of the resort's most popular events of the season, Demo Day takes place from 9am-4pm and features representatives from major manufacturers including Atomic, Karhu, Rossignol, Swix & Tubbs Snowshoes. Guests may sample equipment from these companies free of charge. Lapland Lake's Volunteer Ski Patrol will host a fund-raising BBQ from noon-2pm. Weekend facility use fees apply on this holiday Monday."

"Lapland Ladies Love to Ski - Saturday, January 20: From 10:30-3:30 beginner and intermediate level female skiers will receive instruction in classic technique, enjoy lunch with an equipment and fashion discussion, participate in a social group ski and enjoy a group wrap up at the end of the day with a hot beverage. The program is led by Lapland Lake's PSIA-certified instructors Sherry Dixon & Susan Henriksson. Cost for the five-hour program is $30 per person. Rental equipment, if needed, and facility use fee are additional. Space is limited; pre-registration is required."

"Napa Kiikku, a Finnish children's ice sled ride : 12:30am - 2:00pm every Saturday and Sunday as well as the Martin Luther King Jr. holiday Monday. Visiting with the resort's domesticated reindeer is also fun! Ski lessons for all abilities are available daily, and popular Kids' Clubs instructional sessions are offered every Saturday and Sunday as well as the holiday Monday (lesson reservations are advised). Lunch and snacks are available daily."

"Tubing & Ice Skating: Every Saturday evening beginning December 30, 4km of beginner and intermediate trails, tubing on the resort's junior hill and ice-skating will be illuminated from 4:30-9pm. A popular lakeside campfire under the stars is a delightfully romantic destination. Skiers holding a same-day facility use pass or enjoying dinner at the resort's Tuulen Tupa Grill receive free illuminated night skiing, tubing and ice-skating. Dinner service will also be offered Sunday, January 14."

"For a 24-hour taped condition report at 800-453-SNOW, or contact Lapland Lake's main office for further information at (518) 863-4974; or visit www.laplandlake.com."
11/20/2006
Manitoba Loppet

"The town of Pinawa Manitoba will host the 31st Manitoba Loppet and Ski Fest. The two-day event includes activities for both families and competitive skiers. Saturday January 27 is Ski Fest day with clinics for adults and several family friendly races including: a relay, individual sprint, obstacle course and a scrabble derby. Sunday, January 28 is the Loppet day with distances of 3 and 6 km for youth, and 15 km, 25 km and 50 km for adults. Pre-registration is required to compete in the 50 km distance. More information is available at www.ccski.mb.ca/events_information.htm."
11/17/2006
BSA Backcountry Bash

"Celebrate winter at the 14th Annual Backcountry Bash on Friday, December 1 at the REI Flagship store in Denver. The event runs from 6:30 to 10:30 pm, features music by Mando Lounge, food and drink, a winter slideshow and live and silent auctions featuring hut stays, telemark skis, AT gear, massages, Avy courses and lots of sweet winter gear. For a complete list of auction items go to www.backcountryalliance.org/fundraisers/2006-donars.php. The Backcountry Bash raises awareness and funds for the Backcountry Snowsports Alliance, a non-profit organization representing winter backcountry recreationalists by advocating for the creation, preservation and management of non-motorized areas on Colorado's public lands. Ticket cost is $25 ($30 at the door) and can be purchased at www.backcountryalliance.org, REI Denver and Boulder or by calling (303)494-5266."
11/17/2006
Crested Butte Nordic to Host 6th Annual Thanksgiving Training Camp November 24-26

"Start the Nordic season off right with cross country ski clinics designed for the beginner to advanced skiers wishing to hone their skate or classical skiing techniques. All abilities are welcome. Both skate skiing and classical skiing clinics will be offered for all levels. The team of expert clinicians includes: 2006 Olympian Rebecca Dussault; former Olympian Ingrid Butts and former Olympic coach, Kendall Butts; Western State Nordic coach, Jesse Crandall; PSIA instructor and Rossignol demonstration team member, Ross Matlock; and CBNC Ski School Director, Jenny Abraham."

"A Grey Hares Group skate skiing clinic for the over 50 crowd will be offered Saturday along with beginner, intermediate, advanced and women's skate clinics. Other events include wax clinics, backcountry awareness classes and 5k ski and skate races on Sunday."

"The training camp will again feature a Nordic Dinner and Silent Auction on Saturday evening that benefits the Crested Butte Nordic Center. Join local Nordic supporters to bid on several items, such as two nights at a 10th Mountain Division hut, spa and hot springs lodging packages, private lessons with camp clinicians, and more. Call 349-1707 or email michele@cbnordic.org for more information or to register."
11/17/2006
Skijor Training Camp to be Held in Lake Placid

"Registration has opened for the Pennsylvania Sled Dog Club (PSDC) and Down East Sled Dog Club (DESDC) first annual Mushing USA Skijor Training Camp and Clinic in Lake Placid, New York on New Year's weekend 2006/2007."

"The training camp will be hosted by the Olympic Sports Complex venue in Lake Placid. Camp registration is open to 20 skijor participants and 20 Nordic ski participants. The camp will include one daily skijor session, two daily skate skiing sessions and two evening lectures. Nordic ski instruction and workouts will be facilitated by Nordic ski coaches with national, collegiate and high school coaching experience. The camp will also feature a European Nordic coach, sponsored by the Norwegian and Swedish National Federation for Sled Dog Sports."

This is a great opportunity for Nordic skiers to get some hands-on experience with skijoring and also taking advantage of three days of skate ski technique work.

"For more information contact: Jason G. Sperry, P.E., (315) 451-0875, jsperry@brierleyassociates.com."
11/16/2006
OHIO STATE PARK RESORTS ANNOUNCE COLD-WEATHER VACATION PACKAGES

"Xanterra Parks & Resorts operates seven Ohio State Park Resorts. During the 2006/2007 winter months a selection of value-added and theme vacation packages will be offered. Travelers with have the opportunity to explore the many cold-weather recreational offerings of Ohio's state parks, including cross country skiing, bird watching and simply relaxing in a cozy chair by a roaring fire."

"""Winter weather in Ohio can range from crisp to blustery, so the resorts offer a variety of indoor and outdoor pastimes,"" said Sabreena Beaverson, director of reservations for Ohio State Park Resorts. ""Those of us who work in the parks look forward to the winter months not only because the parks are incredibly beautiful, but also because there is simply so much to do if you have a sense of adventure."""

"Xanterra Parks & Resorts operates the lodges at Maumee Bay, Salt Fork, Mohican, Hueston Woods, Punderson Manor, Shawnee and Burr Oak State Park Resorts. Resorts are located within an easy drive of the region's major cities including Cleveland, Columbus, Cincinnati, Dayton, Toledo, Detroit, Pittsburgh and others."

"A complete listing of packages can be found at www.atapark.com or calling 1-800-AT-A-Park (1-800-282-7275. In addition to published packages, Ohio State Park Resorts frequently offer last-minute specials called ""Hot Dates"" via the web site."
11/16/2006
JACKSON SKI TOURING ANNOUNCES MAJOR CROSS COUNTRY SKI EVENTS FOR 2006-2007 SEASON

"New this year is a unique art display of 50 photographs of the hands of prominent New England Cross Country Skiers, by photographer Sally Taylor. The photos will be on display at the Jackson Ski Touring Center Base Lodge from November 19 - December 1, 2006. There are 50 photos on the display, of these approximately 25 will remain at Jackson Ski Touring throughout the winter; the remaining will be available for viewing at the New England Ski Museum. There is no charge to view the photographs; the public is encouraged to stop by during operating hours."

"On January 20, the third annual White Mountain Classic 30K marathon race and tour will be held at Jackson Ski Touring. A major fundraiser for the valley-wide Junior Nordic ski program, this race is now a part of the NENSA (New England Nordic Ski Association) marathon series. Registration is online at www.skireg.com."

"On January 26 and 27, 2007 the UNH Winter Carnival Races will be held at Jackson. The 31st Annual Jackson Jaunt Citizens Race will also be run on January 27. On January 28, the Jackson Ski Touring Foundation will be hosting this year's New England Women's XC Ski Day. Held at different locations in New England each year, this event offers a day of cross country skiing for women, by women. Activities include clinics, workshops, lunch, a raffle and an optional fun one km relay race with prizes. Proceeds from this event will benefit Starting Point, which provides services for victims of domestic violence in Carroll County, New Hampshire. For more information and to register for this event, go online to www.nensa.net."

"February brings the second annual ""Hearts of Jackson"" Inn Tour on Sunday, February 11, 2007 from 12:00 - 4:00 pm. Participants can ski, snowshoe or drive from inn to inn, stopping along the way for a surprise ""heart"" themed treat or gift. Everyone will be greeted with warm hospitality by the local innkeepers and will have an opportunity to tour the different inns. Maps will be provided and a small commemorative gift will be given to all participants of the tour. The inns on the Heart Proceeds from this event benefit the American Heart Association. The Hearts of Jackson Tour is limited to 150 people and reservations are recommended. The cost of the tour is $25 per person, which includes a trail pass, and a small commemorative gift. To sign up for the Heart Tour, call the Jackson Ski Foundation at (603) 383-9355 or e-mail the Touring Center at info@jacksonxc.org."

"Some of the country's finest college Nordic skiers will be competing in Jackson during the NCAA National Collegiate Cross Country Ski Championships, on March 7-9, 2007. This prestigious event features 78 of the top cross country collegiate skiers in the United States. The competition was held previously in Jackson both in 1984 and 1995. The Alpine ski events will be held at nearby Attitash Mountain, in Bartlett New Hampshire. Spectators are encouraged to attend the races, which provide exceptional access and viewing opportunities to the public."
11/16/2006
"Challenge Aspen Leads Groundbreaking ""Ultimate Outdoor Adventure"" for Newly Injured Soldiers"

"Challenge Aspen is a charitable organization widely respected for its progressive winter sports programs and a competitive ski race program that draws disabled athletes and participants from all over the world. The ""Ultimate Outdoor Adventure"" recently w"

"""For some of the soldiers, it was only a matter of months since their injury,"" Williams explains. ""It was clearly evident that this trip not only challenged their physical abilities, but proved to be a catalyst for emotional and psychological breakthroughs. These guys have been so busy healing that they have all this to learn about real possibilities down the road. The experience was invaluable for all involved, building confidence by adapting and succeeding and ultimately leading to a smoother transition back into society,"" she adds."

"Several of the soldiers were transitioning from a hospital bed to this more practical therapy offered by Challenge Aspen in the unique terrain of the Grand Canyon. ""For some, it had only been months since their injury in Iraq or Afghanistan,"" explains Kri"

"Joey Bozik, a 28-year old was injured in Iraq 18 months ago, suffering a triple amputation. ""The Grand Canyon trip came at the perfect time. I was able to let go of all the things that had been weighing me down and just enjoy the nature that was surrounding me. You may never know how much you have helped me, but I will always carry your gracious love for soldiers with me,"" he wrote in a letter of thanks to the staff of Challenge Aspen."

"Another physical therapist that accompanied a group of newly injured soldiers on the excursion offered her perspective on the therapeutic growth on the trip, ""It's difficult to put into words what the guys obtained from the opportunity to do ""normal"" outdoor activities,"" she says. ""Over the course of the trip, many guys appeared to grow in confidence: they attempted new challenges, trying to outdo each other. They also seemed to be less afraid of asking for help and less embarrassed by stumbles or falls. The Challenge Aspen staff/volunteers were instrumental in facilitating this growth, not treating the guys as babies or invalids, but encouraging and providing assistance in dignifying ways."""
11/16/2006
"""Tri-It"" Camp for Women - A Workshop for Blind Athletes and Sighted Guides"

"A fun three-day instructional camp aimed at introducing visually impaired women and sighted guides to the sport of triathlon will be offered April 19-22, 2007 in Glenwood Springs, Colo. Participants will be introduced to basic swim, bike, and run/walk skills necessary to complete a sprint triathlon. Sighted guides and blind athletes will learn the fundamentals of swimming together with a bungee cord, riding together on a tandem bicycle and running together with a tether. The camp will conclude with a mini-tri on Sunday morning."

"The camp is open to adventurous blind or visually impaired women who have a desire to learn the sport of triathlon. In addition, courageous sighted women who wish to give the gift of guiding to a visually impaired woman are invited to participate. Visually impaired women are encouraged to recruit and bring their own sighted guides."

"Participants should be in good health and complete a physician consent form and waiver prior to camp. Participants should have elementary skills in swimming, biking and run/walking: be able to swim two lengths of a pool freestyle, ride a bike if you are a sighted guide, be able to ride a tandem if you are visually impaired, and be able to walk/run a mile under 20 minutes."

"For more information on coaches, costs or how to apply, contact Nancy Stevens at nstevens@sopris.net or call (970) 945-2171."
11/16/2006
Michigan's ABR Ski Trails Opens October 14 and 15

"An early October snowstorm hit Ironwood, Michigan, a small town of 6,238 people on the Wisconsin border, on October 12, 2006. It ended up dropping about 19 inches of snowfall. The ground was still warm, but blanketed with the white magic which got trail groomer Eric Anderson and his team from ABR Ski Trails to take a gamble and prepare a portion of their 42 km cross country ski trail system for skiing."

"""We knew this snow was coming from the weather reports, we just did not know if the folks down south would come up this early. They are biking, golfing and gardening now. We opened October 28 and 29 in 2003, and had over 300 hundred skiers so we figured we would give it a try"" says Eric Anderson head groomer and co-owner of ABR. ""This weekend we had 219 skiers on Saturday and another 104 on Sunday. Conditions were pretty good on Saturday until the sun came out and the skier traffic wore out the snow in the afternoon. We groomed and opened up another eight-10 km of trails on Sunday, and had good early season skiing on Sunday right up until 6 PM as we closed with the St. Olaf Ski team from Northfield, Minn."""

"Randy Coleman, an Ironwood native now living in Richland Center, Wis. is the unofficial Nordic ski historian of the Midwest. He cannot remember an earlier opening of groomed skied trails for the Midwest in the last 32 years."

"Matt Liebsch, CXC team skier from Minneapolis, Minn., was headed to train on hiking trails and roller skis in Duluth. ""I saw they had snow and our team changed plans fast. Skiing on snow trains different muscles and mostly helps motivate us for upcoming season."""

"Marty Wacker a recreational skier of Stevens Point, Wis. came up to ski and planned to go muskie fishing on the way home on the Turtle Flambeau Flowage. He said has never seen October skiing in his 34 years of skiing."

"Ollie Garrison, coach of St. Olaf Ski Team had a weekend planned to dryland train and quickly changed plans to train on snow with his team from Northfield Minn. ""The team is ecstatic to be on snow this early, sometimes we have a difficult time finding snow during the main season."""

"ABR (Active Backwoods Retreats) has just completed 10 years of expansion and refinement. Originally a bare bones cross country ski area with just 12 kilometers of trails, they're now a full-service cross country ski center. This winter you can enjoy 42 kilometers of groomed trails spread over 600 acres, complemented by a ski shop and ski-in/ski-out lodging."
11/16/2006
Lake Superior College Online Sponsors Nordic Spirit Ski Event

"Lake Superior College in Duluth, Minn. and LSC Online are the title sponsors of this year's Nordic Spirit Ski Race and Tour. The event will take place on the scenic and challenging Spirit Mountain/Magney-Snively ski trail system on Sunday, January 28, 2007."

"The Nordic Spirit Ski Race and Tour is conducted by the Duluth XC Ski Club. It features three race categories: a 10k Classic event and 13 and 25k freestyle races, providing opportunities for both serious racers and recreational skiers."

"""We believe that the Nordic Spirit is sure to become a premiere regional sporting event,"" Barry Dahl, LSC's vice president of technology and the Virtual Campus, explained. ""It's a great partnership opportunity for us because of the Duluth XC Ski Club's focus on education and training. It promises to be a high-quality, mid-season race that will attract increasing numbers of skiers to our community."""

"LSC is a leading provider of online training programs for recreational sports. In recent years the college has offered college credit courses in cooperation with Grandma's Marathon, the American Birkebeiner and the NorthShore Inline Marathon."

For more information about the race visit www.DuluthXC.com. Information about LSC Online and its related physical education classes is online at www.lsc.edu/online.
11/16/2006
Maplelag Fall News and Notes

"With frost gracing the low lying areas and the first accumulating snowfall forecasted, Maplelag Resort is excited for the 2006/2007-winter season."

"New Ski Trail and Nordic Fun Area: Work has been completed on a new intermediate ski trail of approximately 3.3km in length. The trail will be double tracked for classic skiers adding to the extensive network of classic groomed trails at Maplelag. With this new trail the total kilometers of groomed trails at Maplelag is now at 64km. Other cat work this fall included the building of ""Mount Maplelag"" and the Nordic Fun area. Plans are to enhance the area with rails, barrels, flat box jumps and kickers for the Jib skaters and other Nordic trick-seeking enthusiasts."

"High School Ski Camps: Once again, Maplelag will be hosting the popular high school ski camps featuring members of the skinnyski.com racing team the second and third weekends of December. The camps include a classic ski race, clinics covering both classic and skate technique, waxing, training and nutrition seminars and ski games on Sunday. Space is limited so coaches, parents and boosters clubs are encouraged to register early."
11/16/2006
News from Craftsbury Nordic Ski Center

"Facility improvements: A new yurt has been purchased that will serve as race headquarters away from the bustle of the Touring Center. The trails are seeing a major revamp as well to accommodate the increasing skier numbers, higher speeds and to prepare for minimal snow situations. The Touring Center is undergoing a renovation as well."

Season Passes: Season pass deals for individuals and families will be available before December 1 through the Center. The Craftsbury Nordic Ski Club will again be selling multi-area passes including Craftsbury and three areas in Stowe.

"Events: Craftsbury has a winter calendar of events that starts in early December with the traditional Craftsbury Opener, the Sled Dog Race Weekend and Marathon in January, Family Fun Week in February, and Spring Fling in March."

"Marathon Marathon Marathon: The TD Banknorth Craftsbury Marathon will take place on Saturday, January 27, 2007. Craftsbury and surrounding communities have backed this event with nearly 200 volunteers and local businesses have partnered with the race to create the famous food stations along the course."

"Every year more women participate in the marathon thanks to the special Women's Race within the Marathon. If you're not sure if you're ready to enter the 25 to 50 Km events, check out Craftsbury's list of Frequently Asked Questions. A three-month Craftsbury Marathon training plan as well as individual coaching are available."

"Online registration opened in November and the maximum of 1,000 racers will fill quickly. Non- racing family members are encouraged to sign up as volunteers, get a t-shirt and be entered in a special drawing for merchandise prizes."

For more information on the marathon visit: www.craftsbury.com/skiing.
11/16/2006
Norsk is Back

"Norsk, which closed at its previous location last year, is back with a new base of operations at Dexter's Inn, 258 Stagecoach Road, Sunapee."

"The new Norsk is collaboration between Dexter's Inn and Norsk Outdoors. John and Maureen Chiarella will be building and maintaining the trails and staffing the shop. Dexter's Inn is the owner of the facility and will own the ski operation as well. There are five landowners who are also allowing access to their land. Dexter's Inn is surrounded by lands protected by conservation easements, so there are no concerns about future developments affecting the trails."

"Plans call for the opening of 15 kilometers of trails groomed for classic skiing with more ungroomed trails available on conservation land surrounding the Inn. The trails are gentle by the Inn with some great intermediate and advanced terrain outside of the inner ring. The Inn offers fantastic views, great food and a relaxing environment."

"""Dexter's has almost everything that we had wished for in the old Norsk and amazing potential as a ski and recreation center. This is like Vermont skiing, but a lot farther East,"" said an optimistic John Chiarella."

"Ski and snowshoe packages will be available for rental and a small retail shop with hats, gloves and waxes will also be available. Lessons will be offered on Saturday morning and by appointment."

For more details visit www.norskoutdoors.com.
11/16/2006
Early Season Fun at Lapland Lake Nordic Vacation Center!

Lapland Lake Cross Country Ski Center celebrates its 29th anniversary season with several exciting activities during the months of November and December.

"The resort's Annual Open House and Equipment Sale takes place over two days, Friday and Saturday, November 24th and 25th from 9:00am-4:30pm each day. Visitors are welcome to visit with the Finnish style vacation center's two domesticated reindeer that will be welcoming guests at their lakeside home!"

"Open House is free of charge to visitors. Daily facility use passes to cross country ski, snowshoe, tube and ice-skate on November 24 and 25 will be offered two-for-one for adults and free for children through age 15. If there is no snow, attendees are welcome to enjoy free hiking on the resort's 50km private trail system. An outdoor barbecue will be held from noon-2pm both days."

"Lapland Lake's 29th Annual Reindeer Roundup Pursuit Cross Country Ski Race will take place Saturday, December 16 at 10am. Participants will ski a total of 10 kilometers, the first 5km using the classic ski technique immediately followed by 5km of freestyle technique. Open to all skiers, the event is an Empire State Games Qualifier. Day of race registration will take place from 8:00-9:30am. Recreational skiers not participating in the race and arriving at the resort before 11am will receive a discounted facility use pass."

"The Empire Orienteering Club will host a Ski Orienteering Race at Lapland Lake on Saturday, December 23. Participants navigate through a series of points on a prearranged cross country ski course and are timed as individuals or as group members. The race is an Empire State Games Qualifier. An abbreviated 2-3km course will be available and appropriate for juniors and adult first-timers. Registration takes place from 10am-Noon; the $10.00 entry fee includes day-long use of the resort's ski and snowshoe trails, ice-skating pond and jr. tubing hill."

"On Christmas Day, Monday, December 25, Lapland Lake's xc ski and snowshoe trails, ice-skating pond, jr. tubing hill, warming lodge and rental and retail shops will be open from 11:00am-4:30pm."

"Saturday, December 30 marks the start of Lapland Lake's Finn-tastic Saturdays. Illuminated night skiing, tubing and ice-skating are offered until 9pm every Saturday until March 24. Lakeside campfires are featured along with dinner service at the resort's Tuulen Tupa Grill until 7:30pm. Night facility use passes are complimentary to dinner guests and to those holding a same-day facility pass."

"Interested individuals may visit online at www.laplandlake.com or call the resort's 24-hour taped condition report at 800-453-SNOW, or contact Lapland Lake's main office for further information at (518) 863-4974."
11/16/2006
"Vermont Skiing, Maple Syrup and B&B's"

"If you're planning a ski trip to Vermont one way to experience the local ""flavor"" is to stay at one of five maple syrup farms that also serve as B&Bs. Each is located near a major ski resort and provides a quintessential Vermont breakfast, complete with maple syrup made right on the premises."

"The five B&Bs are: Kedron's Sugar Makers B&B, South Woodstock; Couture's Maple Shop and B&B, only two hours from Montreal; Top Acres Farm B&B, South Woodstock; Hillsboro Sugarworks, Hillsboro Mountain; and Maple Crest Farm B&B. The ""2007 Ski & Maple Map & Guide"" covers both Nordic and downhill ski centers and shows where the nearest sugarhouses are. Free copies can be obtained by calling the Vermont Department of Tourism & Marketing at 800-837-6668 and are also available at all Vermont Welcome Centers and Chambers of Commerce."
11/16/2006
"WANTED: Paid Coaching Internship. Nordic Coach. Green Mountain Valley School. Waitsfield, VT"

"Coach with one of the country's premier high school Nordic programs and one of the leading high school coaches in the U.S., former Norwegian National Team member and world champion, Jon Arne Enevoldsen. The GMVS team is growing and assistance is needed in the development of younger junior skiers. This will be a great learning environment for any coach. Must be an accomplished skier, knowledge of both classic and skate skiing technique, dryland training, waxing and competition a necessity. Practices to be designed to work with coach's schedule. Ten to 20 hours per week, December 1-April 1. Excellent pay package commensurate with experience, food/meals covered at school. Great parental and school support"

"If interested, contact Jon Arne Enevoldsen at (802) 583-7836 or via email at jenevoldsen@gmvs.org."
11/16/2006
AJ De Rosa's Wooden Boat River Tours Launches Wildlife Snowshoe Adventures

"AJ De Rosa's Wooden Boat River Tours has recently launched a new one-of-a-kind winter business - Wildlife Snowshoe Adventures. In keeping with his signature level of customer service and expertise, guests will enjoy an exhilarating walk through the forest, which leads them to a cozy tipi on the banks of the Snake River. Inside the tipi a warm fire crackling in the wood stove, warm beverages and a hot lunch await. Abundant wildlife, including moose, deer, elk and eagles abound and hikers will revel in the beauty and solitude of this unique wooden snowshoe tour."

"AJ De Rosa, a guide and outfitter for over 30 years has always had a passion for sharing his knowledge and expertise of the natural surroundings. ""We wanted to provide our winter guest with the same quality experience of our popular wooden boat tours,"" said owner AJ De Rosa. ""We allow the guest to step back in time to travel through the woods as the first explorers did with the support of modern day luxuries."""

"""It's an extraordinary winter experience to be outside in this beautiful valley and find yourself in a setting in which all you see and hear is your natural surroundings,"" said Tony. He added, ""Over the past several years AJ and his staff have provided us with many wonderful outdoor experiences and their knowledge of the Greater Yellowstone Ecosystem is extensive."""

"AJ has chosen wooden snowshoes in order to reflect back at traditional materials and craftsmanship. AJ humbly says, ""I'm just a traditionalist at heart."" For more information on wildlife snowshoe adventures visit www.woodboattours.com."
11/16/2006
Sugarbush Trail Enhancements

"The Sugarbush Trail Association has completed the addition of a 6km connector trail and the addition of a 5km cross-country ski trail for skijoring. The extensive 65km Sugarbush Trail cross country ski trail system is located near Tofte, Minn. and is accessed by three trailheads Moose Fence, Britton Peak and Oberg Mountain."

"Grooming will continue this year on the 4km Summit View trail for skijoring, which is accessed from the Britton Peak trailhead, 3 miles north of the Sawbill Trail from Tofte. The new 5km skijoring trail will be accessible from the Moose Fence trailhead, 6.5 miles north of the Sawbill Trail from Tofte. This beautiful, rolling trail encompasses the Upland Loop and a portion of the Maple Loop. The new skijoring section will have a one-year trial period."

"After three years of overgrowth and non-use, the connector trail from the Sugarbush Trail system to the Lutsen Trail system has been opened again. This 6km connector allows skiers to ski all of the Sugarbush system then proceed to the Lutsen/Tofte Nordic Center at Superior National golf course. From the Nordic center, skiers can then ski an additional 20km to the Cascade trails near Lutsen, Minn."

"The Sugarbush Trail Association along with the cooperation of the U.S. Forest Service is also pleased to announce the expansion of the parking lot at the Britton Peak trailhead near Tofte, Minn. The popular trailhead, which is two miles north of the Sawbill Trail from Highway 61, is used to access the 65km Sugarbush ski trail system along with the Superior Hiking Trail."

"The existing parking lot has been expanded to accommodate an additional 20 vehicles. Future improvements scheduled for completion include a three-sided information kiosk, a donation box and a handicap accessible toilet."

"Hikers, on their way to Britton Peak, Carlton Peak or the Superior Hiking Trail will find more room for their vehicles. In the winter, cross country skiers will enjoy the additional space provided, instead of parking out to the Sawbill Trail."

More information on the Sugarbush ski trails is located at www.sugarbushtrail.org
Return to News archives