Vancouver-Whistler
Selected As Host City For
2010 Winter Olympics



In July, the International Olympic Committee announced the selection of Vancouver-Whistler as host city for the 2010 Winter Olympic and Paralympic Games, scheduled for February 12 – 28, 2010 and March 12 – 21, 2010 respectively. Alpine and Nordic (cross country, jumping and Nordic combined) skiing will take place in and around the Whistler region. Paralympic events are also scheduled for Whistler. For further information visit www.2010tourismnews.ca or visit www.winter2010.com.

SECOND EDITION OF COLLEGIATE SKIING BOOK RELEASED


The second edition of One Week in March: A Manual For Prospective Collegiate Nordic Skiers by Corey Coogan and published by Rockmine Press is now available. Designed to meet the needs of a variety of skiers, from recreational to U.S. Ski Team hopefuls, the second edition of One Week in March leads athletes and their parents step-by-step through the process of choosing a school and ski team. It includes information on making initial contact with the head coaches, visiting the schools and teams, seeking athletic scholarships and registering with the NCAA Clearinghouse. Readers find contact information for every collegiate Nordic ski team or club in the United States, as well as in-depth profiles of nearly all of the collegiate ski team programs. Corey Coogan is Head Coach of the Nordic Ski Team at the Convent of the Visitation School in Mendota Heights, Minnesota. For further information visit www.pressenter.com/~bstepchu/Rockmine_Press.html




CROSS COUNTRY AND SNOWSHOE
RESORTS GET A NORTH AMERICAN
WEB SITE OF THEIR OWN



Nordic skiers can now plan their vacations on the web. The recently launched xcskiresorts.com describes North America's top cross country skiing and snowshoeing destinations. It is the only web site with such an extensive coverage of Nordic ski resorts in both the USA and Canada with links to descriptions and contact information about nearby accommodations, restaurants and après ski activities. Visit www.crosscountryskiresorts.com and www.nordicskiresorts.com for more information.
www.xcskiresorts.com
www.crosscountryskiresorts.com
www.nordicskiresorts.com



Army Biathlon Team Reunion Held In Alaska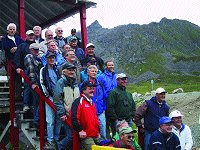 During a biathlon World Cup event almost three years ago, many of the volunteers were former members of the U.S. Biathlon Team. Between 1958 and 1973, the biathlon team was sponsored by the U.S. Army and was based at Fort Richardson, Alaska. The group planned a reunion that was held in Alaska this summer, on the 30th anniversary of the Army's decision to end its biathlon sponsorship. During the July 23 – 26 reunion, more than 50 ex-biathletes and their families visited the old Independence Gold Mine in the Talkeetna Mountains where they had trained each fall and toured Fort Richardson.



US SKI TEAM NEWS

USSA Announces 2004 Team
Olympians Kris Freeman, Carl Swenson and Justin Freeman are among six skiers named to the U.S. Cross Country Ski Team for the coming season.

"Kris and Carl had great results last season and we look for them to keep that momentum going. Adding Justin Freeman gives us another strong classic skier, the only person in the U.S. who's been able to really challenge, and beat, Kris in classic, so that's good as we look toward the Olympic relay in 2006 because we've wanted to boost our classic skiing," reported Luke Bodensteiner, U.S. Nordic Director.

Candace Cable who won three gold medals for sit-skiers at the World Championships last winter and captured the World Cup title, heads a group of six disabled cross country racers.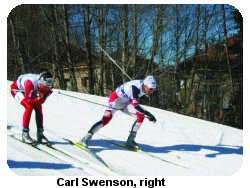 Swenson Honored By USSA
New Hampshire native, Carl Swenson, collected the U.S. Ski and Snowboard Association's highest athletic honor at the final banquet for USSA's 2003 Congress. Swenson, a two-time Olympic competitor, received the Buddy Werner Award, given annually to the USSA athlete "who demonstrated leadership and good sportsmanship in national or international competition."

Other top honors included John Estle (Fairbanks, AK), the driving force of the Nordic Ski Club of Fairbanks, which staged the cross country Junior Olympics, who received the Paul Bacon Award for event organization and Stratton Mountain School (VT) as Cross Country Club of the Year. In addition, Todd Wilson of the Steamboat Springs Winter Sports Club was chosen as USSA Development Coach of the Year and Nordic Combined Domestic Coach of the Year.
USSA to Cut $2 Million from Budget
The U.S. Ski and Snowboard Association will trim $2 million from its budget for the coming fiscal year due to predicted revenue shortfalls. The cutbacks, $1 million in athletic programs and $1 million elsewhere, will leave USSA with a budget similar to that in fiscal 2000, two years before the Salt Lake City Olympics.

"It's difficult because we've got good momentum," said Bill Marolt, USSA's president and CEO, "We're really rolling. But at the same time, we need to be pro-active and responsible now, so that we'll be in a position to move ahead aggressively when the economy does turn around."
"Unbelievable" Snow for New Zealand Training Camp.
Members of the United States Ski Team experienced midwinter snow conditions when they participated in a three-week training camp at the Snow Farm on New Zealand's South Island this summer. The terrain had a little of everything – some rolling, some flats, some big hills. "It's just a nice situation," Head Coach Trond Nystad reported. "We were able to push through at full steam every day." Development Coach Chris Grover also conducted training sessions for his seven-member squad at the Snow Farm. "The snow was just so good and I think our technique was better than it was at midseason a year ago," the coach said.

Carl Swenson was the only member of the team not in attendance. Swenson was competing in mountain bike racing events.