W hen the autumn nights in the Black Hills return with their characteristic crisp chill, and I wake to see powdered ponderosa pines, I'm reminded of why I love living in the highest reaches of this ancient mountain range. The beginning of each winter brings the promise of days on the trails in sun and silence. I recall my first taste of cross country skiing at nearby Eagle Cliff Trails, which remain my favorite place to ski.

Of course, snow didn't bring the first settlers to the Black Hills -– a mountain oasis in a sea of prairie called the Great Plains. Nor was it a million and a half acres of pine-covered hills, clear-running streams, free-roaming wildlife and azure skies. The miners, muleskinners and madams who rushed to the western frontier community of Deadwood in 1876 were drawn by gold.
The potential for riches still attracts two million visitors annually to that tiny Old West town situated in what once was a gold-filled gulch. Some still strike it rich in Deadwood's 80 purposefully quaint gaming halls, saloons and restaurants. But most travelers find the real reward in the friendly atmosphere and slow pace. Revenues from gaming have provided more than $150 million for historic preservation over the past 13 years, making Deadwood the largest historic restoration project in the United States. Tireless efforts have allowed Deadwood to distinguish itself as one of a handful of communities listed as a National Historic Landmark.
With brick streets, period lighting, old-time trolleys and Victorian architecture, Deadwood's historic flair is unmistakable. And the variety of entertainment -- from gambling to live entertainment -- and economical off-season rates for dining and lodging make Deadwood a satisfying home base for a winter vacation. The town is located in the midst of the region's premier outdoor winter recreation area –- the northern Black Hills. In the northern hills, elevations range from 5,000 to 7,000 feet, and skiers can expect an average of 150 inches of snow every year.
Seven years ago, my brother called to invite me to go cross country skiing during one of his rare free weekends. I accepted though I had never skied. I learned to love skiing that day.
From the trailhead, we headed out into a broad uphill meadow and soon turned into the ponderosa forests. My brother was leading and I followed in the tracks he left in the powdery snow. I recall how falling down was more funny than painful, how warm I was, and how in the afternoon the sunbeams and shadows of the trees cut across the trails. I enjoyued the greetings of other skiers and the sense of accomplishment after skiing a big loop in the wilderness. I had found my new favorite way of spending a winter's day.
Local skiing enthusiasts developed Eagle Cliff Trails in the mid 1980s. At an elevation of 5,760 to 6,520 feet, the 27 miles of trails form a self-guided loop system with all levels of difficulty. Today the U.S. Forest Service and the Black Hills Nordic Ski Club maintain the trails, which are well marked and mapped, but not groomed. After each new snow, the first skier blazes a path through the powder.
One of the primary draws to Eagle Cliff is its pristine isolation -- the chance to see wildlife, forest, snow and a land of almost too much sky. There are no powerlines to interrupt the vistas, and snowmobiles are not allowed on these trails, as they are on most others in the Black Hills.
Every day is different on the trails, which are rarely crowded.
Even beginning skiers often have the opportunity to ski through unmarked snow along the well-marked way. In fact, beyond a trail arrow or the occasional barbed wire fence, you'll not see much sign of humans in this part of the world. Tracks made by birds, elk, deer, big horn sheep, Rocky Mountain goats and the occasional mountain lion are more common in the Black Hills back country.
Relaxed by my slow, steady pace through the snow, the sound of my breathing sometimes lost in the rush of wind combing through the branches of towering pines. I listen for the screech of a circling hawk and the bugle of a bull elk. But mostly there is only the steady swoosh of skis through unbroken snow.
On days when I ski by myself, I often hesitate to turn around, and must talk myself out of adding just one more trail to my route. When the light or the weather changes or I attack the uphill after flying down it earlier in the day, I realize that with all my years of skiing there, I still find something new each time at Eagle Cliff. It is my kind of skiing -– out of the tracks, into the woods, away from it all.
Recommended Trails at Eagle Cliff:
Dead Ox Trail winds tightly through a steep-walled draw along a stream bed. You may reach this trail via other routes at Eagle Cliff or start out from your car at an unofficial trailhead that begins in the driveway of generous homeowners. On Dead Ox you'll have to stand aside for others to pass and be ready for a number of quick and short hills and sharp turns. It's a technical trail that may become much colder than others in the afternoon shade.
Bratwurst is a 2.9-mile trail that provides a popular and relatively easy path connecting the three main trailheads. Although Bratwurst roughly parallels the highway, you'll not see the road from the forest. On any given day at Eagle Cliff you'll probably ski some of it regardless of your chosen route.
The Loop and Hidden Basin both open to wide meadows where you can take a break for lunch or bird watching.
Two of my favorite downhills are Wipeout and Lost Run. Despite the name, Wipeout requires fewer step turns and much less tree-dodging than does Lost Run.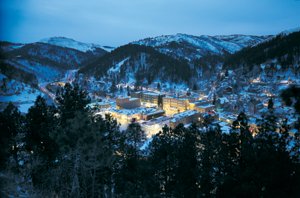 Other Ski Touring Areas in the Black Hills:
Big Hill -- Located about 7 miles south of Spearfish, Big Hill is a 16-mile loop system of easy to moderate trails. Take one to the rim of Spearfish Canyon. The trails are mapped, marked and groomed, and there is no trail fee.
Bear Mountain Trails -- Approximately 12 miles northwest of Custer, the Bear Mountain Trails are 16 miles of groomed high-mountain trails known for the gorgeous views and abundant wildlife. There are no fees for use of the Bear Mountain trails or for use of trails within Black Hills National Forest.
Deer Mountain Ski Resort -- Although Deer Mountain is primarily a downhill skiing destination, it does have four marked, track-set skiing loops totaling about 10 miles. Follow an old railroad grade through the forests and along a stream. Ski all day for only $5.

Cross country skiers will pay entrance fees at State Parks and the 109-mile Mickelson Trail is funded by user fees. Mickelson Trail-goers age 12 and older pay either a $2 daily or $10 annual fee. Trail passes are available at registration sites along the Mickelson Trail, through authorized vendors and at some State Park offices. (No fee is required within city limits of towns located along the trail.) For further information about the Mickelson Trail, visit www.mickelsontrail.com.
Destination Deadwood:
Deadwood, where you can hit the trails by day and the jackpots by night, remains one of the region's most popular winter destinations. Visitors enjoy nightly entertainment, rock-bottom off-season lodging rates, gorgeous drives from town to the trails, skiing in relative isolation (you might see just one or two other skiers during a whole afternoon on the trails), opportunities to explore the history of the Old West, and two downhill skiing areas for a change of pace.
Deadwood is located 50 miles northwest of Rapid City Regional Airport. Take Interstate 90 west to U.S. 14A (Exit 30) then west 13 miles through scenic Boulder Canyon to Deadwood.
The Black Hills also lay claim to the highest concentration of national parks, monuments and memorials in the country. Among those are Mount Rushmore National Memorial, Wind Cave National Park, Badlands National Park, Devil's Tower National Monument and Jewel Cave National Monument. You also can visit Crazy Horse Memorial –- the mountain carving in-progress depicting the legendary Lakota leader atop his steed –- and Custer State Park, home to stunning scenery and America's largest publicly owned bison herd.
Arriving and Departing:
Rapid City Regional Airport is the closest commercial airport for the Black Hills. Northwest, Delta and United all have daily flights to Rapid City. Once you've arrived you can rent a car from Avis, Budget, Hertz, National or Thrifty.
Ski Rental:
Rent skis and equipment from Ski Cross Country in Spearfish (605-722-3851), Deer Mountain Ski Area west of Lead (605-584-3230), or Scheels All Sports in Rapid City (605-342-9033).
Recommended Dining and Lodging:
For help planning your Black Hills adventure and excellent skiing vacation packages, call Black Hills Central Reservations at 1-800-529-0105.
Tom Griffith is a freelance writer and author whose books include South Dakota, published by Random House, and America's Shrine of Democracy, with a foreword by President Reagan. He and his wife, Nyla, live, write and play in the Black Hills.