CRAFTSBURY
OUTDOOR CENTER




By ANDREW NEMETHY




We're a colorful caravan on an epic journey: wildebeest trekking across the veldt, a throng of elegiac elk crossing the tundra. Well, OK, actually we're just some 600 cross country skiers in gaudy Lycra, rustling wind pants or wool, and the green pastures we seek really are a steamy high school gym 15 miles away on Craftsbury Common in Vermont. But there's no disputing that our trek through the snow-covered fields and forests between the rural towns of Greensboro and Craftsbury is compelling, in a migratory sort of way.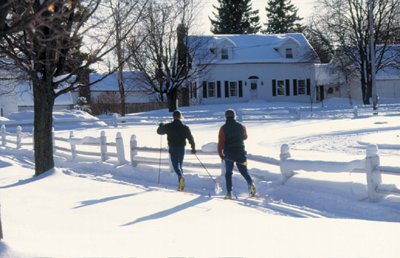 Compelling too is the story behind this event, the Craftsbury Marathon Race and Tour. It's a tale of how the Craftsbury Outdoor Center almost single-handedly revived ski marathoning in New England, and of why this place in far northern Vermont has become a cross country ski shrine for everyone who loves to kick and glide or ski skate. But I'm getting ahead of myself.
If your image of marathoners is grim, frost-faced, lactic-acid-overloaded skiers, we don't exactly fit the picture. I'm cruising along at a relaxed pace, taking in myriad memorable views, such as the one I see the moment we emerge from a hardwood forest high on a Vermont hillside above the village of Craftsbury. Below is a bright red barn, a white farmhouse, rolling snow-covered hills and trees dusted with white. I stop briefly to admire the classic New England scene, and then slide down a glorious long hill to encounter a classic New England treat, a bowl of hearty split-pea soup, served with home-baked bread and cookies.
Not exactly your racer's on-the-fly Gatorade and power bar, but then this is not exactly your old-fashioned ski marathon. With about 400 others, I'm in a special "touring" class of folks lured by the idea of skiing point to point across some of New England's sweetest pastoral countryside. Instead of experiencing hard grunts and the prospect of "hitting the wall," we're happy daytrippers on a scenic adventure fueled by gourmet food stations, a moveable feast of comings and goings, cocktail canapes on snow, a chatty garden party in the wilds.
The Craftsbury Outdoor Center has been sponsoring marathons for more than two decades despite the fickle whims of the snow gods, who've been capriciously cruel over many of those years. By the end of the 1990s, Craftsbury's 25k and 50k event was the last ski marathon still surviving in New England. It was drawing only about 150 racers, and putting on such an extensive -- and expensive -- event for such a small number was hardly cost effective.
In his small office in the old farmhouse where he oversees ski operations, Craftsbury Nordic Director John Brodhead thought hard on how to attract more skiers. As an enthusiastic proponent of the health benefits and outdoor pleasures of the Nordic lifestyle, putting skiers on snow in Craftsbury's beautiful hills is a passion as well as his livelihood. And as an avid ski racer, medalist at the World Master's Championships in Cross Country, and perennial winner who beats folks half his age (58) in triathlons, Brodhead wanted to keep marathoning alive. What kept coming to the fore in his thoughts is the sense of fun, accomplishment and adventure that goes with actually going someplace on skis, rather than going in circles or doing laps.
"I had been lamenting the loss of the point-to-point marathons in the Northeast for years, and complaining about it to no avail. So I finally decided we might as well be the ones to do it," he explains.
Three years ago, despite the greatly increased logistical headaches of shuttling participants via school buses, Brodhead decoded to can his two-lap marathon and instead run the event on the lovely rolling terrain between Highland Lodge, in nearby Greensboro, and Craftsbury. His stroke of genius was to add a touring class so that families and skiers of all ages could enjoy a safe, supported cross-country adventure. And for even more appeal, he added gourmet food stops.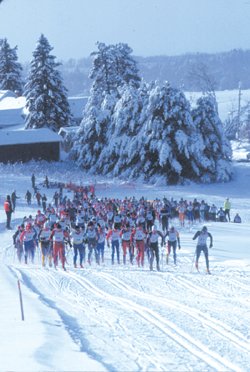 Bingo! The idea was an instant winner, and Craftsbury's concept of a marathon tour has since expanded into a New England circuit that includes the Great Glen to Bretton Woods event in New Hampshire, and one in Rangely, Maine. Because of demand, this year's signup limit at Craftsbury has been boosted from 600 to 800 skier/racers -- not bad for an event that hardly was on the radar a few years ago.
It is not surprising that Craftsbury Outdoor Center was the agency to revive the New England marathon. Since its founding in 1976, the center has been a sort of nordic revival tent, dedicated to spreading the gospel of skinny skis. Today it ranks with the Trapp Family Lodge and Jackson in New Hampshire as one of those places where scenery, trails, impeccable grooming and passion for the sport place bespeak top-of-the-line excellence.
With an 85 kilometer network, it has one of the largest trail systems in the Northeast, and it is located in a well-known snow belt in the Northeastern corner of Vermont. (A few years ago, when a sudden thaw wiped out trails in Stowe, guess who offered to host the NCAAA nationals and pulled it off? That's right, Craftsbury.) Unlike Stowe or Jackson, though, Craftsbury is the middle of a lovely nowhere, far from major ski resort areas and the common flow of tourists; it has had to carve its own unique path to success. It was created out of the semi-rundown Cutler Academy, a private school that closed its doors around 1970. The campus, two miles off the pavement on a twisting gravel road above Big Hosmer Lake, had two weather-beaten dormitory/classroom buildings, a rustic cafeteria, an old farmhouse and some smaller buildings arrayed around a soccer field.
Seeing promise for the property required the rosiest of glasses, not to mention abundant ambition. Enter Russell Spring., Russell was a stockbroker from Stowe, looking for a new career. Where everyone else saw futility, the Springs saw a spectacular landscape that could be a four-season school for fitness fans, with cross-country skiing in winter, sculling in summer on Hosmer Pond, perhaps running and bird watching as well.
So Spring bought the place in 1976. Bringing in well-respected race coaches and hiring a ski director, Spring rode the rising interest in Nordic skiing in the late 1970's and quickly put Craftsbury on the ski map with races, racing camps and training clinics, drawing many of the U.S. best athletes to its rustic surroundings.
Craftsbury rode the rising interest in Nordic skiing in the 1970s and quickly put itself on the map with races, racing camps and training clinics. It drew many of the best American athletes to its rustic home. It made up with enthusiasm and expertise what it lacked in creature comforts. Skiers stayed in funky old dormitory bunkrooms, sharing bathrooms and showers, and chowing down on hearty fare in a cafeteria that resembled something from old summer camps, but no one seemed to mind. Brodhead, who was hired to run the center's sports programs in1980, recalls skiers crashing in sleeping bags on the floor for $4 a night."
At 76 Brodhead continues to be active around the center, which now is run by his son and daughter. He blithely jokes about racking up over $400,000 in loss "carry-forwards" by the 1980s. Fortunately, Spring turned out to be a patient investor. The debt is long since paid, and Cutler Academy students would hardly recognize the old wooden dormitories. They have been remodeled to provide cozy rooms and suites that, along with four nice cabins, now accommodate 90 people. "This is what we wanted to do and by gum, we were going to do it," says Spring.
One thing that hasn't changed over the years is that enthusiasm. All the ski staff at the center have racing and athletic pedigrees, and that influences the grooming, which is legendary.
Keith Woodard joins me and Brodhead as we're having a lunch of hearty corn chowder, stromboli and fresh salad. The head groomer, Woodard has been winning ski and running races and triathlons for decades; he has run the grueling Mt. Washington Hill Climb 22 years in a row. He brings that same intensity to making good trails. When no one else has decent skiing, Craftsbury always seems able to provide it. Trails are all 14-feet wide and are groomed daily for both classical and skating, and when cover is thin, Woodard and his crew go out and "create trails out of nothing," says Brodhead. They do it by scooping snow by hand from the woods.
Because 15 kilometers of trail are on Little and Big Hosmer Lakes, Craftsbury often can offer early skiing on the frozen surface with only an inch or two of snow. Until this year, when the center purchased a Pisten Bully groomer and tiller, grooming was done mostly by snowmobile and yet excellence was maintained. The center guarantees skiable snow from January until Mid-March, and skiers usually vanish long before the snow disappears in April. Though it now racks up some 10,000 skier visits a winter, trails here never seem crowded because they disperse in several directions from the touring center.
Last year one day, when my local forest trails were crusted and life-threatening, I headed up to Craftsbury to find the trails perfect for a blue klister binder with hard wax on top -- fast with great glide and kick, and soft enough to easily set an edge and feel safely in control. Heading out on my favorite trail, the 11.5k Ruthie's Run (rated difficult), I had difficulty imagining how anyone could have doubted Russell Spring's conviction that skiers would love it here. First you head down the meadow on Elinor's Hill, a swooping "S" curve dropping past a hillside farm, then along and gradually up for a kilometer through pretty glades that open to wide sunny pastures. That's followed by a rollicking 2K roller coaster downhill to the Black River and a frosted beaver swamp, then a winding journey back to the center through woods and the hills at the Woodridge Tennis Camp.
Set amid two lakes, spectacular open farm fields, frozen meadows, beaver ponds and dark fir forests, Craftsbury's trails are a veritable New England visual sampler. There's something for everyone, a mix of gentle rolling trails for novices and challenge for intermediate skiers and experts. Surrounding the center are easy novice and intermediate trails, such as the pretty 3k Duck Pond Loop, the sheltered former soccer field where lessons are given and two meadows where novices and intermediate skiers can test their legs on short safe downhills.
For racers, hard-core skaters and serious skiers, Ruthie's and Sam's Runs are perfect training loops. There are hills and gorgeous views aplenty on the Grand Tour trail, which winds up and down from famed Craftsbury Common. Over the years the extensive trail system has been refined to create easily identified loops and clear trail intersection markings so newcomers don't have to consult maps at every turn.
In addition to its suites, housekeeping cabins, and double rooms, Craftsbury has a fitness room, sauna and several pleasant sitting rooms. The setup is ideal for ski groups, clubs and extended families, as well as for the 10 Elderhostel sessions Craftsbury offers each winter.
The center offers activities other than skiing, by the way. Along with full ski rentals and lessons and pulks for kids, the Touring Center has ice skates -- kids love the popular skating pond next to the center -- and snowshoes for those who prefer bird watching or more leisurely trail exploring.
If you stay at Craftsbury, you'll find an eclectic mix of families, elders, wool-clad tourers, hard-core hard charging lycra-bedecked racers, and enthusiastic kids. Winter visitors tend to hail from urban southern New England and places like Washington, D.C., and Pennsylvania. There also are local skiers like me who call Craftsbury our "ski home away from home."
The inn thing goes hand in glove with cross-country skiing, of course, and two excellent inns and several local B&Bs cater to those who want to get cozy in an old New England setting rather than former dorm rooms. Craftsbury's trails run past the elegant Inn on the Common and the homey Craftsbury Inn in the village.
A few years ago, taking a look at the Center's success, some investors approached the Spring family with grandiose and glitzy resort visions that included a golf course and replacing all the old buildings with a modern hotel. Russell Spring told them the place wasn't for sale. While he has control, the Craftsbury Outdoor Center is going to stay the way it is, the way he made it, a perfect reflection of the unique character of Vermont's rural Northeast Kingdom.
For more information
Craftsbury Outdoor Center, P.O. Box 31, Craftsbury Common, VT. 05827. 800-729-7751, 802-586-7767, www.craftsbury.com. Daily trail fee $14, $9 for 60 and over, $7 juniors (6-12). Center guests ski free. Rentals $10, lessons $30, ski packages available. Rooms rates $140-$208 D.O., include three meals daily; add 9 percent Vt. tax..
Andrew Nemethy is a travel writer who lives and skis in Adamant, Vt. He has traveled widely in America and Europe to write about nordic skiing since he got hooked on the sports at the Trapp Family Lodge in 1971.