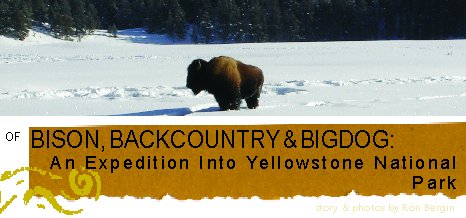 Yellowstone National Park—our country's first and perhaps most revered national park—is a monument to the conservation ethic and vision of our predecessors who saw fit to set it aside for eternity. Yellowstone provides geologic wonders, wilderness and wildlife and like many of our national parks sees the majority of visitors during the summer. Sadly, most people visiting Yellowstone prefer to remain along the park's paved pathways never venturing much further from their vehicles than a campground, nature trail or one of the park's concessions.
In the winter, the absence of plowed roads greatly changes access options, reducing visitation to less than ten percent of the summer. Although snow season visitors can ski or snowshoe into the park from one of several boundary roads, to venture into the park's bowels requires a multi-day, self-supported excursion that may not appeal to many. From November to mid-April, snowcoaches or snowmobiles provide the only way to penetrate the interior.
Snowcoach tours are available for day-trips or shuttles into the park. Skiers seeking a self-guided or guided tour to any of the park's nearly infinite backcountry destinations can engage a coach to drop them off and pick them up at designated time and place. Proper preparation, map and compass skills and a good dose of backcountry wanderlust are all that's needed for an off-the-beaten path Yellowstone adventure.
One national park lodge-Old Faithful Inn—remains open during the winter, providing a destination base for more in-depth exploration of the park's inner reaches. From here, not only can you visit the world's most famous geyser, but you can also ski a series of trails originating from the lodge. The 1988 fires came within a few miles of Old Faithful, the blackened Lodgepole pines on the surrounding hillsides serving as stark reminders of Yellowstone's most significant natural disaster. For the skier, the best way to experience Yellowstone in the winter, and definitely an experience of a different color, is to spend some time with Yellowstone Expeditions at their yurt camp near Canyon Junction. Since 1981, Yellowstone Expeditions has offered backcountry skiing experiences and yurt accommodations at a camp tucked into a small meadow just a short jaunt from the main drag over a narrow, bumpy access road. The Roller Coaster Ski Trail passes through the camp, providing access to several other area trails.
A round structure approximately 14 feet in diameter, a yurt is supported by a latticework frame around a wood platform and covered by heavy canvas with a shallow-peaked roof. Yellowstone Expedition's camp is comprised of two main yurts, one exclusively set up as a kitchen, the other for dining, relaxing and socializing.
Sleeping quarters at Camp Yellowstone Expeditions are distinctly different. Though not technically a yurt, the plywood "yurtlets," as they are affectionately known, are about the size of a backyard tool shed with a canvas roof. Each with a platform bed, the yurtlets are void of furnishings, save for a clothesline and a few hooks to hang wet ski clothes. Most importantly, a propane wall heater spews out warmth. With flannel bed sheets, a sleeping bag comforter and the heater, sleeping in the yurtlet is toasty, despite outside temperatures that might dip to minus 20 Fahrenheit. Although definitely on the low end of the luxury scale, when you consider the alternative—sleeping in a tent—the yurt camp takes on a romantic, rustic appeal as splendid as any grand hotel.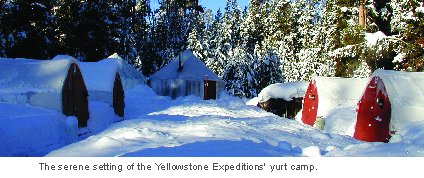 My winter visit to Yellowstone began in West Yellowstone, Montana, the western gateway to the park known for its early season skiing, great local trails and as one of the more popular snowmobile destinations in the country. There I was met by Erica Hutchings of Yellowstone Expeditions. After picking up Louise, another intrepid adventurer, we began our snowcoach journey to the yurt camp.
Snowcoaches come in a variety of sizes and shapes. Some are compact and close to the ground, capable of operating at relatively high speeds. Others, like the Yellowstone Expeditions' fleet, known as Bumpus, Canadian and Hayden, are conversion jobs—passenger vans with caterpillar tracks where the wheels ought to be. A "Mad Max Meets Skidoo" behemoth of a vehicle and by no means "sporty," a snowcoach is immensely practical for traversing the park's snow-covered roads.
As if the scenery wasn't already enough to overload our senses, our 40-mile snowcoach trek was punctuated from the get-go by Erica's gushing of interpretive information. Terms like ryolite, caldera, magma flows, silica, geysers, mud pots, steam vents, hot springs, sulphur crystals and pencil frost flowed fast and furious. For a moment, I felt like I was in a college geology class. Erica definitely knows her stuff, and everything we talked about on the way to camp was seen, visited or reinforced during our ski outings. Of course, there's the wildlife, so plentiful that sightings of elk, bison and trumpeter swans almost became taken for granted.
The Yellowstone Expeditions' yurt camp can accommodate a maximum of 12 skiers. In addition to the two main yurts and the eight yurtlets, other Camp Y.E. buildings included a ski and equipment storage building, two outhouses, a shower and a sauna. The shower and both outhouses are also gas heated. Consisting of a five-gallon pail partially filled with warm/hot water heated in the kitchen yurt, the shower sported a sun-shower nozzle to sprinkle yourself. The cozy sauna occupied another hut about the size of a yurtlet.
Visitors can bring their own equipment or use Yellowstone Expedition's skis or snowshoes. While there is some groomed skiing in the park, the majority of my experience was off-trail or on a skied-in track. My Madshus Rondane, waxless skis served me well as would any wide touring ski. For those looking to gain some elevation and "earn a few turns," metal-edged tele skis or a beefier, more aggressive backcountry ski would be the ticket. Although I used an old skate boot with the cuff loosened, a medium-heavy touring boot should work well for most. Gaiters are highly recommended, as the snow can be quite deep. Also, consider poles with larger baskets to help float you through the seemingly bottomless Yellowstone powder.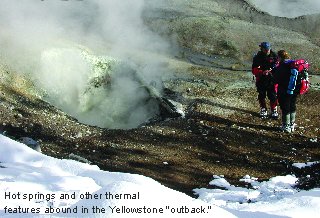 Part of any experience like this, of course, is the people. The crew at Yellowstone Expeditions goes out of their way to make you feel comfortable and tend to your needs. Arden Bailey, Y.E. founder and boss-man, provides the overall camp structure while second-in-command Erica mother hens guests. "Young" Danny, an accomplished skier, guides and is camp chef; and camp clown Buford acts as both mechanic and guide. Good humor, great stories and instant camaraderie made this an experience that I hope to repeat. Another guest at the camp, Larry from Illinois, was making his sixth consecutive visit to the camp, a testament to the crew's skills.
Over the past several years, I've developed a growing enjoyment in off-track skiing, so the Yellowstone experience was just my cup of tea. While I did ski the narrow Roller Trail with its several rollicking hills, the majority of my skiing occurred on our daylong outings to various destinations less than an hour's snowcoach ride from the camp. On the evening of our arrival, Erica escorted us to nearby trails, along some snow-covered roads for a twilight view of Yellowstone Falls and dramatic views of the Yellowstone River. Each subsequent day found us trekking through backcountry forests, hillsides and meadows, usually seeking a remote hot springs where we would doff our skis and explore the area on foot. Though we were usually out five to six hours, we often would cover only a few miles as skiing was slow, steadily breaking trail. Traversing wooded areas with dense tree cover or deadfall required numerous minor detours.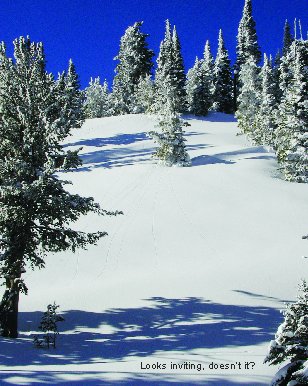 Our treks took us into Ebro Spring, Washburn Hot Springs and Cascade Lake. Along the trail, we would find a sunny hillside or meadow and dig a pit. We'd sit on our thermarest pads dangling our feet in the pit while we munched sandwiches and snacks made from a smorgasbord of goodies set out for us each morning.
Just what you'd expect and want for a rigorous winter experience, meals at Camp Y.E. were full of good food and lots of it. Everyone pitched in with evening meal preparations while Chef Danny would whip the main course into shape, which ranged from steak to stir-fry. A hot, hearty breakfast was usually ready and waiting when we arose. I grew particularly fond of "yurt-o-meal," the house concoction of oatmeal, fruit and other components.
Although our journeys netted visuals and experiences too numerous to recount, each day left an indelible wildlife picture with us. While none of the routes we skied were marked in any fashion, our guides more-or-less knew where they were going or had their own "secret" route. In some instances, however, local residents dictated our route, requiring alternative choices for safety. Skiing along Pelican Creek one morning, a couple of bison that had assumed squatter's rights over part of the trail forced us to make a wide detour around. It was no big deal, but we learned to maintain a healthy respect for bison and do nothing to cause them to exert themselves more than they had to, for any energy expended trying to run away from us was energy they might ultimately need simply to survive the winter. Another morning we crested a hill on our way to Cascade Lake and suddenly, only 25 feet away, arose the massive snow-covered head of a bison that had been rooting around looking for a bite to eat. I considered trying to snap a quick photo of the beast, but discretion gave way to valor and I skied on, "tip toeing" around the big boy (or girl).
On a lunch break after skiing into the Valley of Death, nicknamed so for a bison skull and other bones strewn about, we hiked up the ridge for a spectacular panoramic view of the area. Danny related an earlier trip to this site when he had the great fortune to catch a glimpse of a wolf pack as they disappeared over the ridge top.
At another lunch stop, Arden stood at the top of the surreal, volcano-esqe geothermal landscape and casually motioned for us to join him. Hiking up to where he stood, we looked down. A light snow had fallen the previous evening leaving an inch or so in most places, except where the thermal effect had exposed the bare moist ground. In one such spot, there it was, the elusive mark of the Bigdog, a hand-sized paw print of a wolf.
Once, when Erica returned from a "visit to the trees," I grabbed her pack to hand it to her. I was stunned at its weight—probably 30 pounds or better—which she carried effortlessly everywhere we skied, barely acknowledging its presence. But the guides' packs proved worthy. Returning from one day's journey, I snagged my pole on some underbrush beneath the snow. I thought little of it until I yanked it out and saw I had relinquished my pole basket to the brush. Arden and I wielded small shovels looking for the AWOL basket, digging down over three feet into the granular snow base to no avail. All was not lost, however, for withdrawing a circular piece of cardboard from the bowels of his pack, Arden lashed it to my pole with what else? Duct tape!
As much as we stuck to the backcountry, snowmobiles were still omnipresent in Yellowstone, a paradox in this land of beauty and solitude. Though I did not see any gas masked park rangers near snowmobile routes, miles into the backcountry we could still hear the "distant drone of the evil-demon two-stroke machine." The noise was not appreciably less—perhaps 20 percent—when encountering groups of the newer, four-stroke engine sleds. Though the machines are restricted to park roads, every once in a while I'd see the track of a renegade "'biler," off the road, high marking the bank or running into an adjacent meadow. Although most large snowmobile groups toured the roads, many ignored the 45-mile-per-hour speed limit. Others, on guided tours out of West Yellowstone, would stop at hot springs or for wildlife viewing, enjoying the park's natural beauty.
Just as I was leaving, two older couples arrived. They were not, at least on the surface, hard-core skiers or backcountry enthusiasts, just average folks looking to enjoy Yellowstone in the winter.
By sheer coincidence on the bus to Bozeman following my Yellowstone expedition, I ran into Mary, whose reputation preceded her. At the yurt camp, a group of three women including 67-year-young Mary from Switzerland became known as the Ya-Ya sisters. Taking a sauna one night, the three spontaneously ran out of the sauna naked to make snow angels. This same group also persuaded Arden to take them up to Dunraven Pass where they all--including Arden--turned somersaults in the powder under the near-full moon. (I presume they were fully clothed.) Overhearing her tales of her Yellowstone adventures, I knew it had to be her. After we struck up a conversation, she shared more yurt camp tales, commenting, "It's a good way to spend a number of days with happy laughing people."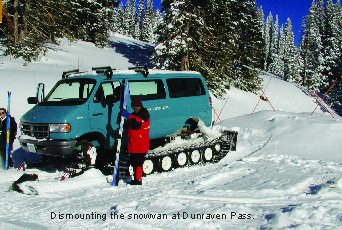 As I left Yellowstone's wilderness, I wondered what Teddy Roosevelt, principal architect of our first national park, would think. Would his vision of Yellowstone National Park have included snowmobiles? I am inclined to believe not and that his vision would have been closer to Yellowstone Expeditions' and their yurt camp.
Contacts:
Yellowstone National Park
P. O. Box 168 - Yellowstone National Park, 82190
www.nps.gov/yell
West Yellowstone Chamber of Commerce
P. O. Box 458 - West Yellowstone, MT 59758
(406)646-7701 - www.westyellowstonechamber.com
Yellowstone Expeditions
P. O. Box 865 • West Yellowstone, MT 59758
(800) 728-9333
info@YellowstoneExpeditions.com
www.YellowstoneExpeditions.com
Free Heel and Wheel
40 Yellowstone Ave. - West Yellowstone, MT 59758
(406)646-7744
freeheel@wyellowstone.com
www.freeheelandwheel.com.
WEST YELLOWSTONE - SIDEBAR
A visit to Yellowstone National Park in the winter would not be complete without spending some time in West Yellowstone. This classic western town, though dominated by snowmobiles much of the winter, has a strong Nordic skiing subculture. The Rendezvous Trails abut the edge of town, an easy walk from most downtown hotels. Well-designed with comfortable hills, sweeping turns and a wonderful flow, the 16- to 18-foot-wide trails are groomed for classical and skating. With easy and intermediate terrain dominating the area, only a couple of grunt hills provide big challenges, along with two expert loops—Volunteer and Windy Ridge. Windy Ridge is groomed less frequently due to its distance, remoteness and the expense to do so. Well-marked with large silk-screened signs, the trails wind through pine forests, some with big sky openings and distant views.
Rendezvous Trails offers unique features. At 6,666 feet about sea level, skiing here requires a couple days of acclimation if coming from a much lower elevation, a plus for those looking for high-altitude training. A kid's loop, set with a narrower space between the tracks to accommodate a diminutive skier's stance, and a sledding hill attract children. In the heart of the trail system, the biathlon range is used primarily in November and December or when biathlon teams visit for training.
The Rendezvous Trails are also some of the best-groomed trails in the country. There's little wonder why this is true, as head groomer Doug Edgerton, whose home is adjacent to the trail system, is a nationally recognized grooming authority and manufacturer of Yellowstone Tracking Systems grooming equipment. He was also named lead groomer for the Soldier Hollow Nordic venue during the 2002 Winter Olympics.
West Yellowstone makes the most of its advantageous elevation with early season snow. November is truly Nordic ski month with the town hosting the Rendezvous Training Camps, which attract 150 – 200 skiers. Upwards of 1,000 other skiers drop in to take advantage of the usually early season snow. On the other end of the season in March, Rendezvous Trails host the Yellowstone Rendezvous, 25 km and 50 km races attracting up to 950 participants.
Nearby, on the east edge of town, the Riverside Trail takes you inside Yellowstone National Park, nearly six miles along the Madison River. On an early morning ski along the river, you will very likely be able to see geese, elk and bison.
While in town, stop in at Free Heel and Wheel, the primary West Yellowstone Nordic Ski and Bike shop. Owners Kelli Sanders and Melissa Buller serve up tasty bites to eat at their coffee bar/deli with some local Nordic knowledge on the side. Along with members of the West Yellowstone Ski Education Foundation, Sanders and Buller are among the movers and shakers in the West Yellowstone Nordic skiing community, working with local businesses to help them better understand cross country skiing's potential benefit to the area.