Tony Wise would be pleased. His promotion of Nordic skiing in America's northland took hold in a big way. In 2003, cross country ski enthusiasts will celebrate the 30th anniversary of the American Birkebeiner and Kortelopet, races that draw thousands of skiers and spectators to the Wisconsin north woods.
Did Wise, back in 1973, envision that his little race would grow into North America's largest cross country ski race?
Did he even guess that the Birkie would become one of 14 races that are part of the esteemed Worldloppet international circuit, part of the International Ski Federation (FIS) Marathon Cup series and part of the American Ski Marathon Series?
Did he think that his race eventually would become an event drawing thousands of cross country skiers, including Olympians and international racers, to northern Wisconsin each year?
Given his outlook and personality -- big as the hills of the Birkie trail -- it's entirely possible that he did envision exactly what will play out this year.
Numbers are expected to soar to 10,000 participants and 20,000 spectators for Birkie 2003 festivities. That's a far cry from the 1973 race, which involved 53 skiers.
Anniversary festivities begin Thursday, February 20, and continue through Saturday, February 22. Highlights include the Salomon Elite Sprints, Hayward Chamber of Commerce Citizen Sprints, Century Tel Junior Birkie, Chequamegon Communications 10K, Telemark's Over the Hill race, and the Sons of Norway/Swiss Miss Barnebirkie, the largest children's cross country skiing event in the nation. Anniversary events culminate with the 51K Johnson Bank American Birkebeiner and 23K Kortelopet.
In addition to ski events for all ages and fitness levels, a candlelight ski reenactment of the escape of the two Birkebeiners with Baby Hakon will highlight festivities. A 30th anniversary slide show, hot air balloons, Native American programs and dancers, opening and closing ceremonies and post-race music by Big Top Chautauqua's Blue Canvas Orchestra, sponsored by Leinenkugel's Brewing Co., are among the many activities planned.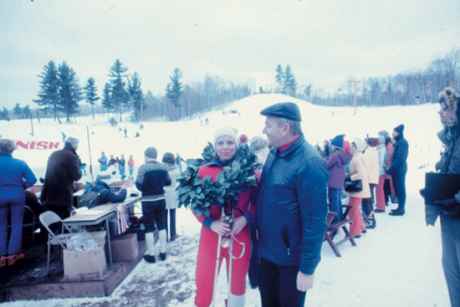 American Birkibeiner founder Tony Wise, at 1975 finish.
Where did Wise come up with this vision that has so changed the face of cross-country skiing and Northern Wisconsin?
During the post-World War II occupation of Germany, Wise, a Hayward native, was stationed near Garmisch in Bavaria, the site of the 1936 Winter Olympics skiing events. He became aware of the widespread enthusiasm for skiing there.
The memory held when he returned to the United States to finish his MBA at Harvard. When he went home to Hayward, he took with him a dream of promoting skiing in the north woods. Buying the land around the biggest hill in the area and naming it Mount Telemark was the first step in transforming Cable and Hayward, two communities used to hibernating during the winte, into a skiing Mecca.
By 1949, Mount Telemark attracted 77,000 visitors, according to the Milwaukee Sentinel. Phil Van Valkenberg, marketing director at Telemark Resort, said, "Wise kept Telemark at the peak of prestige in the Midwest by making it more than just a place to ski."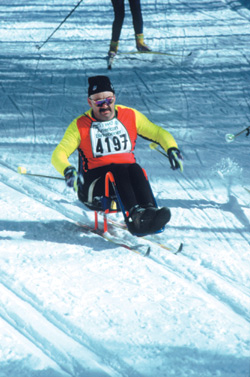 Jeff Pagels, first sit-skier to ski the Birkie (1993).
The colorful chalet with its Rathskeller Bar, ski shop, heat lamp sun deck, restaurants and fireplace was the spot to be," Van Valkenberg said. In the swinging '60s it even had a dance club named The Lovin' Roomful. The 1960s also saw Telemark do pioneer work with man-made snow, creating what was at the time the world's largest snowmaking system.
Van Valkenberg said Telemark's revival of cross country skiing in the early 1970s coincided with the building of a new meeting and convention lodge.
"Wise launched into both in his typical way," Van Valkenberg said. "He got Herb Fritz, a student of Frank Lloyd Wright, to render the concept of the star-shaped resort core centered around a soaring 55 foot fieldstone fireplace."
The lodge opened for its 25th anniversary season in December of 1972. Cross-country ski trails designed by U.S. Olympic Coach Sven Wiik opened at the same time. Two months later, in February, 1973, 35 skiers lined up on Lake Hayward for the first American Birkebeiner, and 18 skiers entered the half race. Wise figured the publicity generated by the race would attract skiers to his trails.
Jacque Lindskoog, the only woman to enter the race in 1973, says the Birkie has done much for people beyond promoting skiing. Now 62, she spends many of her days now with the "Birkie girls."
"In addition to skiing, I go out on the Birkie trail with a group of women to hike and bike and snowshoe. The Birkie trail has provided us with a year-round, outdoor health club," says Lindskoog, who has completed 28 Birkies. Her husband, Wayne, has completed 27.
"Tony's vision has impacted the way we live," she says. "He was at the forefront of endurance events. Once we got into the Birkie we found we had to do something to stay in shape all year round. It became a lifestyle."
The four Wisconsin men who have completed every race since 1973 agree with Lindskoog. Karl Andresen of Eau Claire, John Kotar of Madison, Dave Landgraf of Bloomer and Ernie St. Germaine of Lac du Flambeau are hooked on the energy and dream created by Tony Wise. They'll be back to complete their 30th race in 2003. With them will be countless other skiers who want to emulate their feat.
"One of my greatest joys is when former students are on the course beating me," says Landgraf, a native of Hayward and friend of Tony Wise.
Landgraf, now 53, had never been on skis before the 1973 race. Today he's firmly entrenched among the top 200 skiers. He trains year-round and shares that enthusiasm with up-and-coming skiers. In addition to teaching physical education at Bloomer Middle School, Landgraf coaches track at the high school level and teaches cross-country skiing to about 250 students each year. Many, including his wife, daughter and son, have gone on to ski races including the Birkie and Kortelopet.
Andresen and Kotar also have brought many people to the event as spectators or participants. Kotar will bring his 5-year-old daughter Katerina back in 2003 to complete her third Barnebirkie. Andresen and Kotar agree that the Birkie is a tradition that encourages dreams and camaraderie, teaches the setting of goals, and gives participants an sense of accomplishment.
It's certain that Tony Wise would have embraced such thoughts. Wise envisioned a race that would attract individuals from all walks of life, all ages and abilities. He wanted each to gain a sense of victory in finishing a race on challenging and grueling terrain. He wanted skiers to rise to the legend and race namesake of the two Viking warriors, called "Birkebeiners" for the birch bark leggings they wore, who carried the infant prince and future king of Norway 55 kilometers to safety.
Today, skiers from all 50 states and 20 foreign countries gather every February to celebrate and ski the race which has become the most revered tradition in the cross-country ski world. For some it's the competition, for others it's the physical and mental challenge, for all it's the adventure and sense of accomplishment that goes with completing a personal ski odyssey.
"Tony had an incredible vision," says Ernie St. Germaine, longtime Wise friend and skier of every race since 1973. "I am lucky and blessed to have helped make that a reality. It's been an honor to be part of his dream."
For more information or to register for the Johnson Bank American Birkebeiner, Kortelopet, Salomon Elite Sprints, Hayward Chamber of Commerce Citizen Sprints, Century Tel Junior Birkie, Telemark Lodge Over the Hill race, Chequamegon Communications Cooperative 10K, or the Sons of Norway/Swiss Miss Barnebirkie, call 715-634-5025, e-mail birkie@birkie.com, or log on to www.birkie.com.