new equipment



By ROGER LOHR




Cross country ski equipment mostly falls into one of four categories: racing, backcountry, performance and recreational.

Racing calls for equipment that is the most lightweight and built for speed on groomed trails. Backcountry gear is the heaviest to provide stability on untracked hills and trails. Performance equipment is lightweight and intended mostly for tracks and groomed trails. And recreational cross country skiers usually need something in between, because they ski golf courses and local parks, at cross country ski areas with groomed trails, and off tracks.

But the overriding question is: Are you the type of skier that likes to rip and hear the wind roar by, or do you dread going fast and not having complete control on your skis?

You can talk with retailers, go to equipment demos, and calculate your height, weight and athletic/coordination level, but when selecting equipment, you must also consider the that question. Answer it honestly and then find the equipment to meet your need.

You can find equipment that will go fast or, if you prefer, you can get set up on equipment that will help you turn better, be more stable, and actually go slower.

Each year snow sports retailers go to Las Vegas or Salt Lake City in mid-winter to see what's new and place orders for the following winter's equipment. Orders are signed by late spring, and products are shipped to retailers in late summer and early fall. Skiers usually first see the new products in stores in late fall.

As with automobiles, cross country ski equipment gets a makeover each year. There are innovations in product design and construction, new cosmetics, packaging, and marketing themes. Cross Country Skier provides an early glimpse of new products this year. But for full details about the new products, skiers still have to go to stores, read catalogs, or go to manufacturer web sites, which are listed after each section in this article. Many of the web sites include listings of dealers that carry that brand of products.

Our preview will look at what's new in cross country skiing recreational equipment for the coming winter.

Last season, Fischer Skis put its Nordic Cruising skis to a serious consumer test, with more than 2,000 skier days in the rental fleet at the Royal Gorge Cross Country Ski Resort in Soda Springs, Calif., America's largest commercial Nordic ski area. Fischer drastically changed the traditional ski shape. The Nordic Cruiser is wide at the tip, goes narrow, gets wide again at the foot, narrow again and finally flairs wide again at the tail section. According to Fischer this design, called "Widebody Technology, " creates a more stable platform, provides increased grip, improves turning capabilities, and produces a smoother, straighter glide.

The Fischer Cruising Series includes skis with different dimensions according to how they're to be used. The Orbiter is for in-track skiers. For skiers, who venture both in-track and out-of-track, there is both the Cruiser, which is Fischer's price point ski and is a little heavier and wider, and the Voyager, which runs a little lighter than the Cruiser. There also is a junior ski in the series. Each ski comes in only three lengths, thus simplifying the selection process. www.skifischer.com/.

Rossignol debuts its new Evo Nordic line, offering two models that are 20 centimeters shorter than traditional cross country skis and available in a small, medium or large length. The Evo Classic is an in-track ski with more sidecut, while the Evo Free is intended for daredevil park skiing with carved out whoopedeedoos, banked turns, jumps, and similar thrills. According to Rossignol, the Evo line also works well on snowmobile trails and is suitable for first timers who are interested in cutting the learning curve. The Evo Classic is available in three 150 centimeters for women, 170 centimeters for taller women and smaller men, and 190 centimeters for taller men. The Free lengths start at 130 centimeters for kids, go to 150 centimeters for shorter adults and top at 170 centimeters for taller folks.


Rossognol Evo Classic 150




Fischer NC Orbiter




Alpina Discovery


The Rossignol X-Ium skating line comes in four models, offering different flexes for hardpack or softpack conditions and Ultra highspeed versions. www.rossignol.com/
The Karhu Sweeper was developed to give people a hybrid waxless sliding snowshoe that floats over the snow like a snowshoe, glides like a ski, and climbs easily. The width dimensions are 135 millimeters at the tip, 110 centimeters at the waist and 120 centimeters at the tail. Karhu has updated its integrated Sweeper binding to improve durability and connection. The binding now is all aluminum with a pivot plate underfoot and a ratchet buckle binding piece. It is compatible with three-pin ski boots or regular winter boots. The base incorporates BearFur, which is a mohair-type material to make uphill travel easier. www.karhu.com/
The Atomic Nordic Racing Concept has been extended deep into the Atomic ski racing line, incorporating its Beta Nordic Profile and Nordic Race Shape to provide a higher pushoff rate and extra control. New this year are varying side cuts (narrowness) to accommodate the race. The skis are fast and stable. The Beta series has a range that includes hard and soft, skating and classical, junior, a low-priced recreational race ski, and a waxless base version. Atomic even incorporates the Beta design into one of its mountaineering skis. www.atomicski.com/
Norwegian ski maker Madshus debuts the new MultiGrip Vario 3D waxless base with varying zones of structure at varying depths that go from shallow on the ends of the pattern to deep directly underfoot. It looks like a standard fish-scale bottom and will be on 11 of its ski models. The new waxless pattern also has different edge configurations and Madshus claims that the base provides more lateral stability and is quieter than other available waxless bases. www.alpinasports.com/
Alpina Sports Corp. is the distributor of Madshus in the USA, but it also offers its own ski line, which includes packaged Alpina skis, boots, and matching bindings, designed to look good together. They also are performance matched. Another new ski is the Alpina Discovery, which is a backcountry non-wax ski with steel edges, for entry level off track skiers.
Visu cross county skis are sold by Reliable Racing Supply, and are manufactured in the world's second largest Nordic ski factory, which builds skis for most of the other cross country ski suppliers. Reliable's Wintersports Catalog is one of North America's oldest mail order sources for Hartjes Nordic ski boots, poles, roller skis and a complete line of Nordic ski products. For a copy of the catalog call (800) 223-4448. www.reliableracing.com/
Peltonen skis are available from Garmont, which adds a new dimension and metal edge to its recreational ski range. The "Explore" model is a lightweight cap construction ski that has 80 percent metal edge and a no-wax variable base. www.garmontusa.com/
Cross Country Ski Boots
It has been said that the boots are the most important aspect of a skier's equipment. Much of a skier's support, warmth, and control come from ski boots. Some models provide a stiff sole and some offer a high upper. Fit is the key issue, and boots are not the place to skimp on price.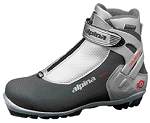 Alpina has added new styling to its touring boots (NNN 248 and 238) with injected plastic hinged cuffs to provide more support and stability. Additionally, the boots now have a centered zip closure over the laces to improve ease of entry and provide a waterproof covering. The new women's 530 provides the features of Alpina's performance line but puts it on a woman's last for a proper fit. For bushwhackers or skiers who want extra stability, the company offers the BC Outbound. It features a power strap, heel counter and lace cover in a ruggedly constructed boots that provide good torsional support and edge control. www.alpinasports.com/
Salomon's cross country ski boots offer a new carbon chassis technology that provides a lighter, more torsionally rigid platform. According to Salomon, this boot's sole, plate, and construction transmit power efficiently. It is said to store a skier's energy in the glide phase and releases it in the kick phase. While this is presently racing-oriented technology, you can bet it soon will trickle down to recreational boots. Salomon's quicklace one-pull lacing system also ensures a snug fit.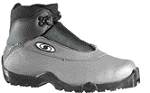 A new hiking boot sole on Salomon's recreational Nordic ski boots provides excellent grip while walking. The Vitane models for women all feature Autofit self-molding foam in the ankle pocket to provide support and comfort.


The top of the line Escape and Vitane models include Thinsulate insulation and lace covers. www.salomonsports.com/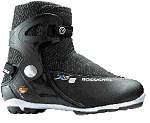 Rossignol's X6 boot now sports an upper cuff and heel counter and has the look of a suede hiking boot. The lace cover features a side zipper and the boot incorporates a quick dry lining, which wicks moisture away from the skier's foot.
Fischer introduces a Cruiser Thinsulate-lined boot to match its new skis.. Karhu brings Italian-made Sirius 75 mm boots with two ratcheted buckles for the recreational skier who goes into the backcountry. Norwegian cross country ski boots made by Alfa are available through Erik Sports. Alfa is one of the oldest Nordic ski boot lines around. It was long available only in black; now you can get Alfa boots in other colors. Erik Sports also distributes wooden Asnes cross country skis. www.eriksports.com/
Waxes and Poles
The news at Swix Sports, the long-dominate company in waxing and accessories -- besides the fact that it carries hat and clothing lines, underwear, luggage, and ski poles -- is that Swix has reduced the number of waxes for recreational skiers from thirteen to eight. The Swix line of poles includes the new Horizon adjustable pole (120 -155 cm), which reportedly has the lowest price on the market. www.swixsport.com/
Garmont introduces its Exel cross country ski pole composite index, which allows simple comparisons of each model's features and benefits with regard to staff materials, stiffness, weight and strength.
Toko USA has designed a new Website to address waxing needs. It makes wax recommendations, offers downloadable waxing manuals, and gives the visitor the ability to present technical questions directly to a wax technician.www..tokous.com/
That's the equipment and product preview for the coming season. Keep in mind that this article did not preview the many new products available in soft goods (clothing), racing equipment, or alpine touring (serious backcountry). For more information about any of the companies or their products, see the company advertisements and check out the Web site addresses provided.