It's that time of year again, when we parade the newest, latest and greatest cross country ski equipment on the market. In an on-going effort to keep you informed about what's out there, we present this equipment without subjective evaluation—just the facts. This report is not intended to be an all-encompassing buyer's guide, but rather just some of the highlights of this season's equipment line-up. Additional information and photos can be viewed on the manufacturers' web sites. Of course, your local retailer will ultimately be one of your best sources of information. So get ready, get set, get geared!
If you missed Part One of our preview in our January/February 2003 issue, it can be viewed at www.crosscountryskier.com.
ALPINA The big news in 2003 from Alpina is its women's specific boot line. For information on these and other boot developments for the coming season, see Cross Country Skier, January/February 2003 or visit www.crosscountryskier.com and www.alpinasports.com.

ATOMIC Rugged Touring Series
For 2003 Atomic introduces a new series of three waxless Rugged Touring skis (RTS). The Cascade, Sierra and Rainier each address a different aspect of cross country skiing. The lightest and narrowest of the series, the Cascade is equally at home in or out of groomed tracks with its 59 mm shovel. It is appropriate for use with a standard touring boot on an old logging road or trail packed by other skiers. The next step for out-of-track touring, the Sierra adds metal edges and a 70-60-65 mm sidecut, a good choice for rolling off-track terrain with secure edging on icy downhills. A slightly heavier BC boot or perhaps a lighter 75 mm is recommended. Finally, the Rainier, a serious off-piste ski, sports an 88-60-78 mm sidecut. Paired with light plastic or heavy leather 75 mm boots, it works well climbing or descending. All three skis come in lengths of 170 cm, 180 cm, or 190 cm; have an air channeled wood core; cap construction and waxless bases.

NX Series
Fitness skis seem to be the rage this year. Atomic's entry in this category is its NX Series (Nordicross) designed to appeal to fitness-oriented individuals who are into various forms of cross training and wellness. The NX features lightweight cap construction, a high quality core and a wider, more forgiving platform for in- or out-of-track skiing. The NX Series consists of four levels of skis: the top of the line NX:10 features beta race cap, ultra high densolite core, 49-44-48 mm sidecut and 3D-Grip NoWax bases; NX:9 uses NordiCap construction with slightly wider sidecut of 50-45-48 mm and 3D Grip No Wax bases; NX:8 Classic with a waxable base and NX:8 3D-grip waxless bases employ NordiCap profile with lighter sidecut; and the waxable NX:7 Classic and waxless NX:7 3D-Grip for in- or out-of-track use.
BETA RS:10 JR AND BETA RC:10 JR
Atomic brings its Beta racing construction design to its top junior racing models for the 2003 season. The skate and classic skis feature Beta race cap, ultra high densolite core and the original racing sidecut of 46-44-45 mm as well as Atomic's BI 200 racing base.
SX Series
The new Nordic cross discipline ski, NordiX, debuted last year. A cross between Nordic skiing, snowboard terrain park courses and sprint racing, NordiX racing events feature everything from ugly uphill sections to banked slalom turns to steeps and jumps. To participate in this new discipline, Atomic has introduced its SX Series. Built with an Ultra High Densolite Core, Beta Race Cap construction and Digital flex patterns, the two models include the SX:11 and SX:10. They utilize the original racing sidecut of 44-42-43 and are covered with Atomic's Speed Skin top sheet for less friction, reduced suction effect in wet snow and less snow adherence.
Tele Daddy
Telemark skis have taken on radical widths and sidecuts in recent years. Atomic's Tele Daddy is an adaptation of its Alpine predecessor, the Sugar Daddy. Tweaked specifically for the subtleties of Telemark skiing, this super-fatty utilizes Atomic's Beta construction for edge grip and power transfer and comes in 163 cm, 173 cm and 183 cm lengths with an outrageous sidecut profile of 124-99-114 mm. For more information visit www.atomicsnow.com.
EXEL • GARMONT • ROTTEFELLA
Excel Fitness Skis Perhaps better known for its poles, Exel, distributed by Garmont North America, is launching its own brand of Nordic skis aimed at the fitness market. According to Garmont, the new ski is intended to attract non-skiing lifestyle fitness converts--men and women, 20 – 50 years old who walk, jog or bike and aerobically exercise three to five days a week. The goal is to provide a means for this group to maintain their aerobic health during the winter. Exel's T-body and Spectra skis are pre-waxed and come with an additional application of Start fluorinated wax. The skis will be packaged with corresponding Exel poles and Sportful boots along with a CD that includes training programs, stretches, weight control information and education programs.


Garmont Tele Boots
For 2003 Garmont also adds new molds for the Ener-G and Syner-G Telemark boots to better size aggressive women skiers. The boots also include a new bottom buckle attachment system to prevent snow and rocks from knocking open the lower buckles. To create a snugger fit for smaller feet, the foam surrounding the foot has been increased by one mm. The foam compacts for larger feet when the liner is thermo-formed. Both models have cuff cant adjustment, removable spoiler, top buckles that can be moved by 18 mm and a micro adjustment on each buckle.
Rottefella Bindings
Other news from Garmont includes the introduction of three new Rottefella Telemark bindings. The Cobra R8 (Red) has been designed for quick edge-to-edge control. It has a large, wide surface under the ball of the foot for ski edging control and steel connecting rods to minimize lateral movement. The women's Cobra R6 (blue) has the same steel connecting rods and toe piece along with wide surface for edging control, but the flex of the compression springs is fine-tuned for aggressive women skiers. Cobra R4 (Orange) has a flexible steel cable that works in concert with forward-mounted cable guides designed to enable a smooth, natural stride while securely anchoring the foot with compression springs. Standard on all 2003 Rottefella Cobra bindings are a 20 mm riser, heat-treated steel toe piece and heel riser, compression springs and anti-ice plates. For more information visit www.garmontusa.com.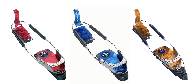 FISCHER
In Part One of our 2003 Equipment Preview, we profiled Fischer's innovations in their RCS racing skis, specifically the Speed Tip and Speed Tail changes. We also gave you a look at the new additions to the revolutionary Nordic Cruising line of skis--the Pacer and Jupiter. See www.crosscountryskier.com for more information. This year Fischer is also rolling out the RCS Pursuit, a racing boot for pursuit competition. It features Extended Fit (wider lacing), Power Wedge (elevated heel), Triple Fit (three variably adjustable velcro straps) and Speed Lacing (drawstring/cam locking lacing system). With a medium sole flex and medium shell flex, the boot is designed to deliver power transfer and support for both classic and skating techniques. For more information visit www.fischerskis.com.
KARHU
Introduced last season, Karhu's KV Taper BC design is based on two arcs originating from the waist of the ski. Karhu's two new skis utilizing V-Taper design are the Dorado and Pyxis. The Dorado bridges the gap between telemark and backcountry with a lighter and more versatile ski designed for aggressive downhill backcountry performance, but with good touring grip and glide. The Pyxis is a slimmed down version of the Dorado made for skiers who enjoy mountain touring on lightweight gear with efficient grip and glide. Both models feature single seam cap construction with an aspen/birch Macro Core, 3D Fiberwrap and full metal edges. With its wide dimensions of 88-68-75 mm (Size 185), the Dorado targets those individuals looking for a telemark/backcountry hybrid ski. The Pyxis dimensions of 78-62-69 mm (Size 185) make it a good choice for lightweight mountain and hilly backcountry skiing.
Karhu also introduces a new 75 mm leather telemark ski boot, the Sirius, to complement the new skis and complete the package. Constructed with a wraparound polyurethane molded shaft reinforcement, the Sirius features an 8 mm nylon injected sole, two ratcheting buckles and the Vibram 75 mm Outback sole.
This year Karhu launches a new ski, the Pegasus, utilizing KTS—Karhu Tubular Structure. KTS is a superlight liquid injected cap construction featuring the KR Tube and Carbon Flex Rods. The KR Tube primarily applies direct pressure to the edges for maximum edge-to-edge control. The tube also adds torsional rigidity and longitudinal stiffness. Carbon flex rods provide additional longitudinal stiffness without adding weight. Although the Pegasus targets those individuals seeking an all-around backcountry experience, with dimensions of 67-56-58 mm (Size 185), it is effective in the tracks as well as out of the tracks.

Snowblaze Series
For 2003, Karhu also introduces its entry in the fitness ski category, the Snowblaze Series. By combining Hyperbolic Camber and KV Taper TR, Karhu takes a new approach to cross country ski design. KV Taper TR incorporates dual sidecuts originating at the middle of the ski with the Hyperbolic Camber making the tip and tail softer to allow for smoother initiation of the Nordic stride. Within the wax pocket, the ski is stiffer so more weight is required to achieve the most aggressive pattern contact. All models in this series feature the NRG tip design that makes breaking new trails less difficult. All skis are equipped with the Karhu Omnitrak No-Wax base.

The Snowblaze Series features four new skis: Aero, Nova and Solar and Escape. All incorporate single seam cap construction.

The Aero, Nova and Solar feature Isocore--an extremely lightweight core offering a combination of compression strength and flexibility. With the most traditional sidecut design of 50-47-48 mm, the Aero offers the highest level of in-track touring performance. A highlight of this ski is KONIC (Karhu Offset Nordic In-Track Centering) Design. By slightly widening the dimension in the front of the ski, the KONIC design self-centers the ski during the initial weight transfer of the ski in the glide phase. The Aero will be offered in sizes 170, 180, 190 and 200 cm in both Omnitrak NoWax base and waxable bases. For touring quickness in a short/wide ski, the Nova with dimensions of 55-50-52 mm provides greater lightweight touring efficiency. The Nova is also available in both Omnitrak No-Wax base and Waxable bases in sizes 160, 175 and 190. With dimensions of 60-55-56 mm and short/wide sizing, the Solar is an ideal lightweight in-track/off-track touring ski available with the Omnitrak NoWax base in sizes 165, 175, 185 and 195 cm. Rounding out the Snowblaze series, the Escape features an air-channeled aspen/birch core with dimensions of 60-55-56 mm. Sizes are 160, 175 and 190 cm.

Karhu Kruzer

For 2003, Karhu adds the Kruzer to the Sweeper collection. This Kruzer is the shortest design introduced thus far with a length of 99 cm. Targeted for entry-level skiers who ski on mostly groomed terrain, its oversized wood-core cap construction with metal edges offers maximum stability and control. The Kruzer also incorporates the "grippable" Bearskin™ base for vertical ascents and is equipped with the Karhu Universal Fit Binding Karhu will continue to offer the Meta at 120 cm and the Karver (formerly known as Morph) at 130 cm. Last season, Karhu developed the Universal Fit binding for the Sweeper. The binding combines an aluminum telescoping base plate with a contoured cross country specific polyurethane high back. The adjustable binding allows the foot to flex normally at its pivot point. With a wide ratcheting instep strap, a skier can comfortably secure a boot for maximum energy transfer between the boot and the ski. A smaller front ratcheting buckle keeps the forefoot centered over the base plate of the binding. For more information visit www.karhu.com.

LEKI
Leki has long been a player among products for all sports requiring poles. The German-made line of ski poles runs the gamut from carbon fiber to aluminum to adjustable. On the high end for serious racers, the Lite Carbon pole features a 16 mm elliptical shaped 100% carbon shaft, transverse and double longitudinal fiber module mesh with a carbide tip and Super Race basket. Available in 150 to 180 cm and suitable for diagonal or skating, the pole is fitted with the two-component Nordic COR-TEC grips and Super Power Cross Trigger Straps. Ambitious athletes should pick up the Pro Carbon pole. Available in lengths from 140 to 170 cm, it has most of the same features as the Lite Carbon, except the elliptical-shaped shaft. For athletic citizen racers, the Sport Carbon is similar to the others but with a 60% carbon and 40% fiber mesh composition. Leki also fields a six-pole line of aluminum shaft poles. They range from the Skate Airfoil to the CC Junior. Probably most intriguing, the Vario adjustable poles convert from a skating pole to a classic pole with the push of a button. The Carbon Vario has an 18 mm aluminum top section and a 16 mm carbon lower section, adjusting in increments of 2.5 cm. The Alu Vario is a full-aluminum adjustable pole. Among its 2003 innovations, Leki touts it Super Power Cross Trigger Strap. The fully adjustable strap can be fit to all hand sizes with adjustable velcro fasteners. Integral to the strap system, the Nordic Trigger System forms the connection between the strap and the pole directing all power into the pole and relieving pressure on the hand. The trigger can be released by simply lifting a tab at the top of the grip. The grips are slim and comprised of Leki's two-component technology—a harder material at the core covered by a softer shell for comfort. For further information visit www.leki.de.


LOUIS GARNEAU
Louis Garneau is best known for stylish, sporty ski suits and outdoor wear. Four years ago, the company introduced bicycles to broaden the selection of cycling products. Now Garneau has now followed suit in the 2003-2004 winter season by introducing LG skis for a wide range of uses to the company's XC product line. At this time the skis are only available in Canada.
The high-performance Marathon Skate or waxable Classic include cap construction with Air Channel, carbon and sintered graphite bases with numerical milled finish and a sidecut of 45-45-45 mm. Lengths range from 170, 180, 190, 195, 200, 205 and 210 cm.
The Adrenaline Classic sport ski uses cap construction with a wood core, sintered base for better wax adherence and numerical milled finish with tail protector. Its sidecut is 54-48-52 mm and it is available in lengths of 170, 180, 190, 200 and 210 cm.
A touring ski, the Expedition offers an easy to ride profiled ski with cap construction, wood core and transparent waxable base. Its sidecut is 54-48-52 mm and comes in lengths of 170, 180, 190, 200 and 210 cm.
Another touring ski, the Explorer is a resistant profiled ski with Snow Grip for easy climbs. Built with a wood core cap construction and no-wax transparent base, the ski features dimensions of 54-48-52 mm and lengths of 170, 180, 190, 200 and 210 cm.
A backcountry expedition ski, the Rev Ultra uses cap construction with air channel core and steel edges suitable for all terrains. With transparent waxable bases and ground finish, the wider ski features a sidecut of 68-60-65 mm and comes in 170, 180 or 190 cm lengths.
A profiled ski for developing juniors, the Adrenaline Junior uses cap construction with a wood core, sintered base and tail protector. Its sidecut is 54-48-52 mm and comes in lengths of 140, 150 or 160 cm.
The Explorer Junior, designed for children and juniors, uses cap construction with a wood core, a no-wax transparent base, tail protector and a sidecut of 54-48-52 mm. It is available in lengths of 110, 120, 130, 140, 150 and 160 cm. For further information visit www.louisgarneau.com.
MADSHUS
Cross Country Skier previewed much of the new Madshus line in our January/February 2003 issue including its new color-coded ski selector system. One of the company's latest developments is the Multigrip Vario waxless base. A new take on waxless ski bases, the patented high-performance waxfree system uses a progressive depth and density of the "fish scale" pattern in the kick area as well as varying the pattern shape in three zones (3Z) and five zones (5Z). The 5Z pattern starts with long shallow fish scales, progresses to shorter slightly deeper scales and reaches the deepest, shortest scales in the middle of the kick zone. It then retreats toward the tail in reverse order of aggressiveness. Used primarily on race and performance level skis, the 3Z pattern is shorter and only uses the first three zones of the 5Z pattern. With a steering groove running continuously through the length of the ski, the Multigrip Vario is designed to accommodate all weather conditions and prevent icing in the kick pattern. The forgiving pattern accommodates different body weights, skiing styles and technique levels while the variable pattern has an improved friction coefficient resulting in less noise. Madshus offers the Multigrip Vario system in most of its models. For more information visit www.alpinasports.com.
ROSSIGNOL
X-ium
For 2003, Rossignol refines its X-ium skating line by reducing the offerings from four to three. Each 2003 ski exhibits very different characteristics and is intended for very specific applications. The F1 is a uniquely designed ski with greater camber height and flex for hard conditions or high speed skiing such as sprint competition. The F2 is an all-around, versatile ski for a variety of conditions and moderate to fast speeds. With its thinner sidecut profile, the F3 is intended for softer snow and generally slower snow conditions. Rossi's X-plate, designed to distribute energy over the whole ski and apply more pressure to the edge when pushing off, is located under the binding placement. Rossignol's X-ium Classic line now includes a Powder version with longer and lower flex for non-transformed snow as well as a Klister ski for transformed snow.
Delta Skating/Max Skating and Classic
The second tier Delta Skating now also utilizes the X-plate design. Rossi's Max Skating and Max Classic represent its best value-priced ski. The Max Skating utilizes the same base as the X-ium with a thinner sidecut like the F3. The Max Classic also has the same geometry as the X-ium classic as well as the same base, but with ultra air construction--a wood core with very large air chambers.
Evolution
Rossignol introduced the Evolution line last year. For 2003 the Evo Free and Evo Classic remain essentially the same. The former Tempo line, however, has been incorporated into the Evo stable with a new tip profile, graphics and new names: Evo Tour, Evo Action, Evo Trail and Evo Quest.
Backcountry
Rossignol's Backcountry line has seen a complete makeover. The metal-edged three-ski series offers options for all levels of backcountry experiences with the skis labeled according to the shovel profile width. In waxless and waxable versions, the Backcountry 61 could be considered more entry-level and is sized to allow in-track skiing. The out-of-track 68, with its wider footprint, is designed for backcountry touring while the BC 83 is wide enough for wilderness trekking and tackling some steeps.
Telemark
Rossignol beefs up its Telemark line for 2003 with four offerings intended to meet the needs of free heelers from entry level to big mountain powder hounds. For beginners, the T1 has a medium to soft flex and is appropriate for lift-served skiing and occasional off-piste. The T2 is also more of a lift-served ski but with more versatility to venture out in the backcountry with its medium to stiff flex. For those who want a backcountry ski that will perform equally well on a groomed surface, the T3 is Rossignol's offering. With a medium to soft flex, it can easily swing from short to long radius turns. For fat boards, the T4 with a 122-94-112 mm profile is Rossi's big mountain ride with the versatility to tackle all kinds of snow from powder to crud to hardpack.
Rossignol Boots
Rossignol's high-end racing boots remain unchanged for 2003; however, its top line touring boots--the X6, X5 and Saphir 5--are all new. Utilizing high end materials, all three boots are thermo adjustable with a quick dry lining, neoprene lace cover and a central zipper. The all around skating or touring X6 has a polyurethane pivoting cuff while the performance touring X5 and women's fit Saphir 5 have a PU ergonomic cuff. Rounding out the line, the X3 and Saphir 3 touring boots offer many of the same characteristics of the higher tier performance boots. The Saphir 3 also comes with a women's last. Look for some dynamic offerings in backcountry boots from Rossignol in 2003. Starting with the BC X8, a 75 mm sole designed for wide, lightweight metal-edged backcountry skis, the line also includes the BC X6 with a PU free pivoting cuff. This handsome boot has received rave reviews and should be a top backcountry performer for Rossignol. The BC X3 and X2 are lower price point boots with many of the same features. The 8, 6 and 3 all have thermo adjustable fit and quick dry lining. The 6, 3 and 2 have an NNN-style BC sole. For more information visit www.rossignol.com.
SALOMON
Salomon continues its tradition of ski boot innovation with the new Salomon Advanced Chassis Carbon Technology. The result of collaboration between two of the world's greatest racers, Bjorn Daehlie and Per Elofsson, this new line of racing boot boasts lightness, fit and transmission in its design. A tight fit around the foot for enhanced control, a carbon sole for flexibility and power transmission, plus less weight allow for more rapid turnover and ultimately greater speed. High-end features pack into the Carbon Pro Skate boot: SNS Pilot Pro two-part outsole, rear part with a high cradle, Carbon energyzed plate, rear foot beam support, double action energyzer symmetrical hinged cuff, adjustable heel strap, lower leg memo strap, sensifit overlap construction, quick lace, lace cover with zipper and zipper lock and autofit. The Carbon Pro Classic has all the same features without double action energizer and hinged cuff. For more information visit www.salomonsports.com
SWIX
New Swix waxes appearing on the market for this upcoming season are FC7, FC8, FC10, FC1, FC2, HF4BD, HF10BD, LF3 and VR55. The revamped Cera wax line-up has been simplified and condensed, so that it is less expensive to purchase the complete array. Replacing the 040 and 100 in Cera F powders, FC7 targets 28 F to -22 F for colder, dryer conditions than past generations of Cera. Now the most popular Cera F powder, FC8 aims at warmer conditions from 25 F to 40 F on new or old snow. A new Cera F reformulated from the old successful 080, FC10 adds Swix BD for warm, wet conditions from 36 F to 68 F. New breeds on the block, FC1 and FC2 are Cera F solids with Swix BD additive. While FC1 can be used for new or old snow from 36 F to -22 F, FC2 is for wet snow in the temperature range of 36 F to 68 F. Both are less expensive than before. The 2003 HFBD wax line, which is used for manmade snow, high humidity conditions and when durability is key, sees the addition of HF6BD, HF7BD, HF8BD, HF4BD and HF10BD. Ideal for temperatures from 14 F to -25 F, a new cold powder, the LF3, is easy-to-apply. A new silver/violet kickwax, the VR55 is designed for slightly moist new snow around freezing and older transformed snow below freezing. For more information visit www.swixsport.com.
TOKO
With the recent reorganization of Toko USA and its assumption of the Yoko product line, Toko will "debut" its line-up of poles this year. All poles boast the 232 cork grip system and an unconditional one-year warranty. The Toko P232 power pole, available in lengths from 140 to175 cm at five-centimeter increments, weighs in at 58 grams per meter as one of the lightest and stiffest poles on the market. Consequently, Team Rossignol and the Subaru Fischer Factory Team have adopted the P232 as their official pole. With a 100% carbon fiber shaft and weighing 76 g/m, the Toko C232 pole is also available in lengths from 140 to 175 cm. Having a 60% carbon fiber shaft and weighing 82.5 g/m, the Toko A161 pole ranges in lengths from 135 to175 cm.
Also new from Toko is its revamped Wax Mouse Iron with adjustable dial, thick base plate and a smooth design at a very affordable price point.
See www.crosscountryskier.com for more info on Toko's HelX fluorine te lemore wax and other product innovations and introductions for 2003 as profiled in Cross Country Skier, January/February 2003 or visit www.tokoUS.com.